7 Most Romantic Valentines Day Getaways in China
***This post may contain affiliate links.***
It's that time of year! That special season where couples around the world celebrate their love and everyone else without a significant other gets not so subtly reminded of what they're lacking.
Just kidding…kind of.
Personally, Justin and I don't celebrate Valentines Day. I would like to say it's because "every day is a celebration of our love"…but really, we usually just forget. The day doesn't have any special meaning to either of us so it usually ends up passing by without either of us noticing.
Two years ago we happened to go out to the local Indian restaurant by our apartment for dinner and were surprised to find the restaurant filled with other couples, the men touting bouquets with flowers and hearts for their dates. We were both quite confused until we checked the date. Oh yeah, it's Valentines Day.
Justin said, "Hey, look I took you to dinner for Valentines Day!" Clearly, he hasn't grasped the concept that he doesn't get credit for happy accidents.
It was pretty amusing, and we haven't celebrated since.
But, I do know that unlike us Valentines Day scrooges, the majority of couples out there actually partake in the holiday. So, with that in mind, I've put together a list of what I think are the most romantic Valentines Day getaways in China. Most places we've been to and a couple we haven't, but they're on our list!
This one's for all the lovers out there who happen to find themselves in the Middle Kingdom on Valentines Day. Start swooning over these magical spots and take your loved one on a romantic getaway, China style.
Related Posts
1. Sanya, Hainan
Take your loved one on the ultimate tropical getaway to the Hawaii of China. That's right, China has their own version of Hawaii. A tropical island paradise with beach resorts aplenty. Break out the bikinis, enjoy some warm weather, sunshine, and beaches this Valentines Day and head on down to Hainan Island.
While we've bike toured around Hainan before, we were never able to make it to the beach town of Sanya, although I would love to go check it out. Most of the island is mountainous and we spent the majority of our time riding through the mountains on gorgeous roads. We were only there for a weekend and as it was a holiday, flights to Sanya were really expensive so we flew instead to Haikou at the other end of the island.
The great thing about Valentines Day is that it's not a big holiday in China so it would be a great time to go and explore this tropical paradise! There are so many amazing things to do in Hainan you would never expect to be doing in China, including snorkeling and swimming in beautiful clear ocean water!
2. Xingping, Guilin
The tiny town of Xingping transports you back in time to the oriental paradise China once was. Meander through the town's old style alleyways full of beautiful restaurants and traditional craft shops.
The best and most scenic route to take to Xingping is via a bamboo raft down the Li River. Floating on a bamboo raft from Yangdi to Xingping takes you down the most scenic part of the Li River, past towering mountains and cormorant fishermen out searching for the day's catch.
Once arriving in Xingping you can enjoy the famous view from the back of the 20 yuan note before wandering into town. In addition to your scenic ride down the Li River, we would also highly recommend climbing the stairs up to the top of Laozhai Mountain for sunset. The climb starts just a few minutes walk down the road from Xingping old town.
Laozhai Mountain has, without a doubt, the most incredible views over the entire Li River valley. Add a nice sunset, and it's a truly magical experience. You really can't get much more romantic.
3. Harbin
Head way up north in China to the city of Harbin and snuggle up together to keep warm while admiring the magnificent snow and ice sculptures that adorn the city during Harbin's annual Ice and Snow Festival.
Harbin's Ice and Snow Festival is the ultimate winter festival. It steals the show with the title of World's Biggest Ice Sculpture Festival, where its tallest ice sculptures reach over 45 meters high! While it originally started as a Chinese festival, 10 years ago it went international and has had booming participation and attendance ever since. The festival lasts for around two months, from the end of December to the end of February.
As much as I hate the cold I would love to go see all the ice sculptures lit up around the city. And when I say cold, I mean it. Valentines Day temps in Harbin generally hang out around -15 degrees C (5 degrees F) for a high. Too bad you can't have an ice festival somewhere warmer!
Harbin is a super unique Chinese city, not just because of its Ice Festival, but also due to its heavy Russian and European influence. Located next to Russia, the city's architecture is very European, a stark contrast to the modern flashy buildings in most big Chinese cities. You can even find a cathedral in the middle of town, St. Sophia Orthodox Church, the largest Orthodox church in the far east.
4. Tongli Water Town
Who wouldn't want to take a romantic gondola ride down the canals with their special someone? You heard right, a gondola ride, just like Venice. In fact, Tongli Ancient Town is often referred to as the Venice of The East.
This thousand-year-old canal town was built during the Song Dynasty and is adorned with many gardens, beautiful ancient bridges, and quaint alleyways. Tongli's classical architecture, unique waterways, and beautiful preservation earned it the prestigious title of UNESCO World Heritage Site.
This beautiful Chinese Venice is located just 10 kilometers outside of Suzhou and 80 kilometers outside of Shanghai and is easily accessible by train and sightseeing bus.
5. Lijiang
Lijiang is the crowning jewel of Yunnan Province. It's one of the most picturesque places we've ever been to, both the town and the countryside.
You'll walk back in time through Lijiang's 4 different ancient villages, immerse yourself in colorful minority culture, and stare jaw dropped at the stunning Jade Dragon Snow Mountain and the surrounding countryside.
Leave all the shiny lights, loud chaotic streets, and smog behind and head to Lijiang for a romantic getaway to the China of world's past. We spent most of our time in Lijiang meandering down cobblestone streets, through the little known old towns, Baisha and Shuhe on the outskirts of the city, and wishing we had time to make an ascent on Jade Dragon Snow Mountain.
Lijiang also has some of the best food we've ever tasted in China, and for cheap. The street grills here are to die for! Be sure to get some meat and veggies on a stick from a street vendor. It will be one of the best meals you'll ever have in China, guaranteed (especially if you're a spicy food lover).
6. Hong Kong
A foodie heaven with one of the world's most epic city skylines, Hong Kong caters to both the luxury and adventurous outdoorsy romantics. Taste foods from all across the world by night while hiking mountaintops and walking along picturesque white sand beaches by day.
While Valentines Day is a bit too cold in Hong Kong to enjoy the turquoise waters, you can still take a romantic harbor cruise or enjoy one of Hong Kong's many mountaintop vistas of both city and countryside. Our best picks would be Victoria Peak, Kowloon Peak, Tian Tan Buddha, Lantau Peak, and the Star City Harbor Cruise or ride on the Aqua Luna.
Hong Kong is by far my favorite city to get lost in, and what could be more romantic than wandering through Hong Kong's winding alleys, through local markets and past old temples with that special someone?
7. Chuxiong
Most people, Chinese included, have never even heard of this picturesque town in Yunnan Province. It's part of what makes Chuxiong such a great Valentines Day getaway.
Located just a short train ride from Kunming, or a couple hour bus ride from Dali, Chuxiong is the quaintest and cleanest little off the beaten path town we've ever found in China. The entire town is built in the traditional Chinese architecture with beautiful canals, bridges, boutique hotels, traditional restaurants, amazing street food, and the most laid back old street I've ever seen in China.
Strung above the cobblestone streets you'll find beautiful Chinese lanterns. While the town itself isn't more than a few streets, it's its picturesque beauty and quaint charm that makes it such a great romantic getaway destination.
Stroll hand in hand down beautiful streets and across arched bridges over turquoise blue canals to your heart's content without another tourist in sight!
China can be quite the romantic place, if only you know where to go. Enjoy your trip!
WANT TO TRAVEL CHEAPER & EASIER?
Subscribe to follow our blog and be the first to read our new posts!
Success! Happy dance optional :) P.S. check your inbox for goodies!
Like this post? Share the love and pin it on Pinterest!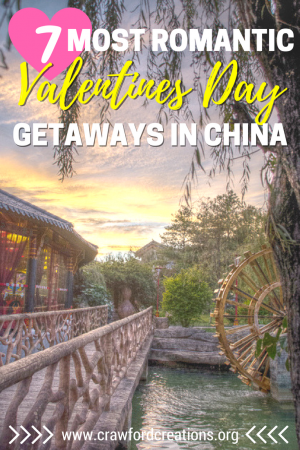 *** This post may contain affiliate links. By purchasing a product or service through these links you are helping to support this blog at no extra cost to you! We only recommend products we personally use and love! ***