The No Nonsense Guide to Traveling in China Without Speaking Chinese
***This post may contain affiliate links.***
For a much more in-depth version of this article, be sure to check out my guest post on 2 Americans in China.
The number one worry I hear from travelers hesitant about coming to China is the language barrier. And I get it. Not only can you not speak or read the language, but the majority of the people in China can't speak English. Sounds like a bit of a predicament. But guess what, I've met tons of backpackers in China traveling to some of the most remote places in the country without speaking a word of Chinese. If they're traveling in China without speaking Chinese, you can too! Here's how.
1. Book an International Hotel/Hostelling International
This has to do with the fact that 1) not all hotels in China accept foreigners, and 2) International hotels and hostels tend to have English speaking staff.
2. Make sure you know the Chinese name of your hotel.
The best way to do this is to take a picture or a screenshot of the name and address from the booking site you used and save it on your phone. This way all you have to do is show the name and address of the place to the taxi driver, no confusion required.
3. Study a little bit of Chinese culture.
Reading a couple articles about Chinese culture will really go a long way in ensuring you have a smooth trip. This will teach you about the different social norms and the way the system works here in China. Trust me, it will drastically different from anything you're used to.
4. Research your destinations ahead of time.
You won't generally find much information in English around tourist destinations in China, so if you like to know the history of the places you're visiting, it's best to look them up before your trip.
5. Ask your hotel for a business card.
Once you get to your hotel, grab a business card off the front desk and stick it in your wallet, (most places in China have them readily available). This way if your phone dies or has some sort of a problem you can still get home easily.
6. Download an offline translator app.
Our recommendation is Pleco, a FREE offline English-Chinese dictionary that is super accurate. We use Pleco on a daily basis here in China and it has never steered us wrong!
7. Eat at restaurants with a picture menu.
The ultimate lifesaver when it comes to ordering delicious food off of a menu you can't read is to find one with photographs of every dish. This way you can just point and motion for how many of the dishes you want.
8. Use Body Language to Communicate.
All of the non-Chinese speaking backpackers we've come across have really developed the skill of using hand gestures to communicate. They'll motion for sleep, eat, drink, refill, numbers, and so much more! Another helpful snippet I learned from a friend is that if you're having trouble communicating in English (and you're not a native English speaker, and the person you're talking to either can't speak English at all or very little) talk to them in your native language. When you speak your native language you're naturally much better at communicating through your vocal inflection and body language and so will be more easily understood.
9. Get advice from your hotel receptionist.
These people are usually locals, who can give you the best insider tips for where to go and what to see. Plus, they're there to help you in the first place, so take advantage of it. The receptionists are usually more than happy to tell you how to get someplace, call a car to drive you somewhere, and offer suggestions on restaurants and destinations in the area.
10. Use a calculator to bargain.
All the local markets in China require bargaining. To make this easier most sellers will have a physical calculator they use to calculate prices that you can borrow to punch in your asking price. If they don't have a calculator you can use, just use your phone or a piece of paper. Anywhere you can write down an amount and show them will work.
Ready to start traveling China without speaking Chinese?
China is such an amazing place with so many unique destinations seen nowhere else in the world. Don't miss out because of the language barrier. Keep an adventurous attitude, a sense of humor, and these tips in mind and you'll be crisscrossing the country like a pro having the time of your life!
WANT TO TRAVEL CHEAPER & EASIER?
Subscribe to follow our blog and be the first to read our new posts!
Success! Happy dance optional :) P.S. check your inbox for goodies!
Like this post? Share the love and pin it on Pinterest!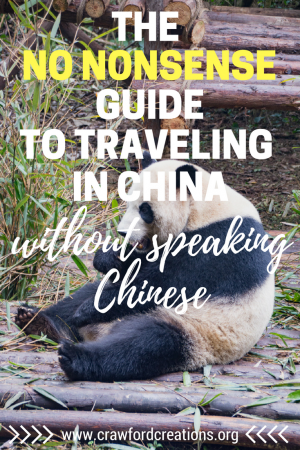 *** This post may contain affiliate links. By purchasing a product or service through these links you are helping to support this blog at no extra cost to you! We only recommend products we personally use and love! ***