How to Travel to Tibet WITHOUT A Tour
***This post may contain affiliate links.***
If I had a dollar for every person that's ever wished that they could go to Tibet, but… "It's too much of a hassle." "It's too expensive." "I don't have the permit." "I don't want to go with a tour guide." Some of these excuses coming from people who are actually ALREADY IN TIBET, they just don't know it!
I know what you're thinking, "What?! How is that even possible?"
Because the (former) country of Tibet (or autonomous region as China calls it) is not actually defined by the land border we see on a map. China likes to make you think it is, labeling it as Tibet on the map and requiring all sorts of extra permits and a tour guide just to enter the region (cha-ching, your money, straight to the government in fees), but the truth is, they lied to you.
Here's the straight skinny.
Tibet as a country, pre-China takeover, actually consumed one-quarter of what is today's China. The country was broken up into 3 provinces: Central Tibet (which the Tibetans refer to as Lhasa), Kham, and Amdo. In fact, these provinces still exist today, just in "Autonomous Areas" rather than actual provinces.
The province that the Tibetans call Lhasa is what we see on the map as the entirety of Tibet. Kham is now a Tibet Autonomous Area encompassing parts of northern Yunnan Province and western Sichuan Province. Amdo is now another Tibet Autonomous Area encompassing parts of northwestern Sichuan Province, Qinghai Province, and Gansu Province. Whereas what was the province of Lhasa is now referred to as the Tibet Autonomous Region (not to be confused with the previously mentioned Tibet Autonomous Areas).
Are you confused yet?
I was too when I traveled to the Kham Tibet Autonomous Area earlier this summer. Thankfully, a local Tibetan man set the record straight for me without even knowing it. After a painstakingly long 9-hour bus ride from Chengdu (the capital of Sichuan Province) to Kangding, followed by another 2-hour van ride the next morning, I finally arrived in the tiny Tibetan town of Tagong.
Waiting in the town square for the ride to my guesthouse I was approached by a local man, sauntering over to say hello to the lonely foreign tourist that was myself. He asked me where I was from and if I was here traveling, and after exchanging some pleasantries back and forth (a limited conversation as he couldn't speak much Chinese I knew nothing of Tibetan) he waves goodbye and says "Welcome to Tibet!"
At first, I thought he was nuts. I mean, I knew that this was culturally and historically a Tibetan area and that the locals were Tibetan and not Chinese, but surely this couldn't actually be Tibet?! I hadn't crossed any borders into the Tibet Autonomous Region, hadn't acquired any special permits or booked any tours, so how could it be?
The border is a lie.
It makes sense once I talked to some more locals and my host, Angela (a long time resident of the region), at Khampa Nomad Ecolodge where I stayed during my visit.
Basically, the government broke up the Tibetan provinces into different areas and incorporated them into the existing Chinese provinces, Sichuan, Yunnan, and Qinghai. With the country being broken up and dissolved into multiple different provinces, the Chinese government now has more control over the people and can more easily prevent an uprising or protest should political tensions start rising. The Chinese named only the province of Lhasa "Tibet", as the city of Lhasa, Tibet's capital, lies in this region.
So yes, the border of Tibet is a logical border, both geologically (the Yangtze River runs between Tibet and its neighboring provinces) and politically (as it was historically a provincial border within the country of Tibet) but it most definitely does NOT define the country as a whole.
When traveling to the Kham and Amdo Tibet Autonomous Areas you are still on the Tibetan Plateau, experiencing the same scenery, same architecture, and same culture as you would across the border in the Tibet Autonomous Region, but there are no permits or tour guides necessary.
Do you really need a tour guide and permit to enter the Tibet Autonomous Region?
YES!!! 100% yes, no ifs, ands, buts, or exceptions of any kind. The only people in the entire world who don't need a tour guide and permit to enter the Tibet Autonomous Region are Chinese nationals and citizens of Hong Kong and Macau. You can check out Divergent Travelers' guide for more info on the crazy process that us foreigners have to go through to travel to Tibet.
So why do foreigners have to jump through so many hoops to travel to the Tibet Autonomous Region, but can freely travel in and out of the Tibet Autonomous Areas using only their regular Chinese tourist visa?
Well, this answer is a bit convoluted and up in the air as to the actual reason. But the current train of thought is that historically the Lhasa region of Tibet has been more prone to uprisings and has higher political tensions than the Kham and Amdo regions. By restricting foreigners from freely traveling in and out of the region via required entry permits and tour groups, the Chinese government hopes to decrease the chances of any major protests or uprising occurring.
Whether this strategy has actually worked or has just caused lots of headaches for travelers is up for debate. These days there actually seems to be more unrest in Tibet Autonomous Areas, specifically Kham than in Lhasa. There was a major police presence in Tagong during the time I was visiting, with many groups of policemen spontaneously visiting the guesthouse I was staying at as it's a popular spot for foreign tourists. The visits we did get were super friendly, just saying hi, some of them asked me where I was from, but that was about it. Super quick in-and-out routine check, but it is common.
So, how can you travel to Tibet without a permit?
Visit the Kham or Amdo regions of Tibet! You'll get to explore all the amazing goodness that makes Tibet the "Rooftop of the World" but without the restrictions, you'd be placed under if going to Lhasa. You can bike, hike, take a bus, hire a car, all on your own time, and go wherever, whenever you want.
If you're looking for inspiration of some cool Kham and Amdo towns to visit be sure to check these out.
Kham
Kangding
The gateway city into Kham, Tibet from China. The city of 100,000 is a vibrant split of Tibetan and Han Chinese cultures. A gushing river runs through the center of town with multiple bridges connecting the two halves. Running Horse Mountain towers over the town, a popular hiking destination with stunning views over the city from the summit. The city is also home to multiple monasteries open to tourists.
To get there, either fly directly into Kangding Airport (often a pricey option) or take a (much cheaper) 9-hour long bus ride from Chengdu. There are currently no trains to Kangding, unfortunately. The bus to Kangding leaves from Xin Nan Men Bus Station in Chengdu, with the last bus leaving at 2:00 pm.
Tagong
A long climb up from Kangding, Tagong is the first Tibetan town you'll come to on the Tibetan Plateau. This picturesque town is located in the beautiful Tibetan grasslands at an elevation of 3600 meters. The town is populated by local Tibetan people and the surrounding countryside is dotted with nomadic tents, yaks, and horses.
The main attractions in town are the Lhagang Gompa, which is located right in the town square, the Lhagang Monastery (Lhagang is the Tibetan name of the town of Tagong), just ten minutes walk down the road from the town.
Outside of town, Tagong is a spectacular place to go hiking, horse trekking, and experience a Tibetan homestay. Mt. Yala, standing at over 5800 meters, overlooks the town making for spectacular views and some great hiking.
*If you're interested in hiking, horseback riding, or a Tibetan homestay in Tagong, Angela at Khampa Nomad Ecolodge is your best option to arrange an absolutely amazing experience! I had the best time hiking and horse trekking in Tagong with Khampa Nomad Ecolodge and can 100% recommend them to anyone looking to explore the stunning Tagong grasslands.
To get there, take a van from Kangding. Vans can be found across the street from the bus station. The ride is 2 hours driving up the mountain onto the Tibetan Plateau to Tagong.
Yushu
Located in southern Qinghai Province, Yushu is a small Tibetan town filled with both Tibetan nomads and Chinese traders. The town is known mostly for the nearby Sanjiangyuan National Nature Reserve which contains the origins of 3 of China's greatest rivers: Yangtze River, Yellow River, and Mekong River.
Admittedly, this place is a pain in the ass to get to. Your only budget-friendly option is to take a bus from Xining that takes 17 hours. If you've got the cash you can fly into Yushu Batang Airport from Xining for a hefty fare.
Litang
Advertised as the world's first high city, Litang lies on the southwest edge of the Tibet Plateau in Sichuan Province at an elevation of around 4100 meters. This city of 60,000 people is made up of mostly Tibetans and is a trading hub for the Kham Tibet area. Litang fuses modern and traditional, we even saw monks driving tractors at the monastery!
Litang is known for its incredible week-long horse racing festival, usually taking place around the first week of August. At the festival, people and horses are dressed to the nines in their most luxurious outfits, and the games show an amazing display of horsemanship and athleticism.
The Litang monastery at the north end of town is another must-see attraction of the area. Built in 1580 to honor the third Dali Lama, the Litang Monastery is one of the biggest monasteries in the Kham region. All the buildings are adorned with gold set against the stunning backdrop of rolling grassland hills and rocky peaks.
To get there take a bus from Kangding. Buses leave once a day at 6:00 am and the ride will take approximately 8 hours.
Yading
A small village on the eastern edge of the Tibet Plateau, Yading is primarily visited by travelers as a base for exploring the incredible Yading Nature Reserve. The nature reserve occupies an area of around 1300 square kilometers with an elevation of around 4000 meters. Within this area lies 3 of Tibet's holy mountains, Chenrezig, Jampayang, and Chenadorje, all with peaks around 6000 meters tall. Inside the triangle of holy peaks lies pristine alpine rivers and lakes, snowcapped peaks, rolling green meadows, and an abundance of wildlife.
The Yading Nature Reserve offers some of the most incredible hiking opportunities in the area and is a must-see for nature lovers.
To get there, take a shared minivan from Daocheng. The ride will take about 3 hours.
Shangri-la
Formerly known as Zhongdian, this town won the battle to be renamed Shangri-La as a tourist attraction after the famous fictional town in James Hilton's book, The Lost Horizon. Surprisingly, Shangri-La is actually not on the Tibet Plateau but lies at a much lower altitude of 3000 meters along the Tibet-China border in Yunnan Province. The town is home to a mix of Tibetans, Han Chinese, and Chinese minority groups.
The town itself is a typical "Old Town" in China. Most of the buildings in old town Shangri-La are new reconstructions of old buildings. When we were visiting the area in 2016, parts of the town were still being renovated due to a fire that had ravaged the town a couple years before.
While the actual town itself is nothing special compared to other "Old Towns" in China, the main attractions of Shangri-La are the stunning natural scenery surrounding the town, and the beautiful Songzanlin Monastery, the largest Tibetan monastery in Yunnan Province.
The Songzanlin Monastery, built in the style of the Potala Palace in Lhasa by the 5th Dali Lama, is home to around 700 monks with temples dedicated to 3 different sects of Buddhism.
The crowning jewel of Shangri-La's surrounding scenery is the Pudacuo National Park, located 20 kilometers east of the town center. Pudacuo is one of China's first national parks ever created and is now a UNESCO World Heritage Site, Three Parallel Rivers Scenic Area, named after the 3 major rivers, Nu River, Yangtze River, and Mekong River, which run parallel to each other between the mountains of Shangri-La.
The park is famous for its rich green hills and crystal clear lakes which are home to an incredible diversity of animal and plant life. Overlooking Shangri-La, in stark contrast to lush hills of the town, lies towering rocky peaks. This contrast, described in depth in the book Lost Horizon, is part of the reason why the town won the bid to change its name to Shangri-La.
To get there take a bus from the Keyun Bus Station in Lijiang. The bus to Shangri-La leaves every hour starting at 7:30 am and ending at 5:00 pm. The ride takes approximately 5 hours.
Daocheng
Famous as the base for exploring nearby Yading Nature Reserve, an area famous for its breathtaking natural beauty. Yading Nature Reserve is home to 3 holy peaks: Chenresig, Jampelyang, and Chandorje, the highest of which, Mt. Chenresig is summited as a pilgrimage every year by the local Tibetans.
Nearby Haizi Mountain is also an incredible natural attraction and must see in the area. The character hai (海) in Chinese is the character for ocean, and while this mountain is nowhere near the ocean, its 1000 lakes earn it its nautical name. These alpine lakes are some of the most pristine in the world and are absolutely stunning to behold.
To get there you can either fly into Daocheng Yading Airport, located 50km north of town, or take a bus from Shangri-La (Zhongdian) or Kangding depending on which direction you're coming from. From Shangri-La, you can buy tickets at the Zhongdian Bus Station. The bus leaves once a day, every morning at 7:00 am, and the ride will take around 11 hours. From Kangding, take a bus from the Kangding Bus Station. The bus leaves once a day at 6:00 am and takes around 12 hours.
Amdo
Tongren
With a history dating back to the 1300s, this town is known for its rich Tibetan culture. The most famous attraction in town is the Longwu Monastery, around which the town was originally built. Tongren's Longwu Monastery is home to hundreds of monks and is made up of 3 different schools for teaching.
Nearby Wutong Monastery is also a major draw for tourists. This monastery is known for their exquisite artwork of Thangka paintings made by the resident monks. Some of this artwork is even for sale, making for an extremely unique, if not a little expensive, souvenir.
To get there take a bus from Xining. Buses leave approximately every 30 minutes from the bus terminal, located across the street from the train station in downtown Xining. The ride will take approximately 4 hours.
Songpan
With a history dating back to the Tang Dynasty (618-907), Songpan is one of the oldest remaining Tibetan towns. At the time of establishment, Songpan was located at the border of the Tibetan and Chinese empires. Today it is home to over 68,000 residents, both Tibetan and Chinese.
Songpan is known to travelers mostly as a base for exploring the surrounding Tibetan grasslands. Horse trekking, hiking, and mountain biking tours are all popular options for adventuring into the Tibetan countryside.
From Songpan you can also take a day trip to the popular Huanglong National Park to see the stunning multicolored terraced pools that run down the mountainside. The park is small, and a little expensive, but absolutely stunning to behold!
To get there take a bus from Chengdu. Buses leave at 7:00 and 11:30 am from the Chadianzi Bus Station in Chengdu. The ride will take around 10 hours.
Ready to visit Tibet and have an easy and hassle-free experience? Tibet is so much more than just Lhasa and the Tibet Autonomous Region. Come explore the Kham and Amdo and we promise you won't be disappointed or feel like you've missed out on any of your Tibetan experience. This is the REAL Tibet!
WANT TO TRAVEL CHEAPER & EASIER?
Subscribe to follow our blog and be the first to read our new posts!
Success! Happy dance optional :) P.S. check your inbox for goodies!
Like this post? Share the love and pin it on Pinterest!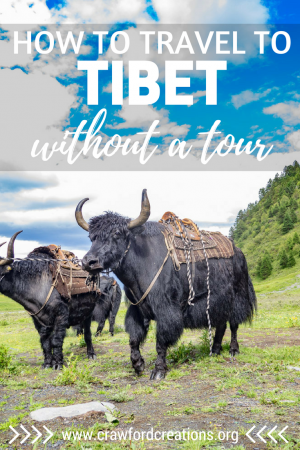 *** This post may contain affiliate links. By purchasing a product or service through these links you are helping to support this blog at no extra cost to you! We only recommend products we personally use and love! ***