How to Travel for FREE with Workaway
***This post may contain affiliate links.***
This is not a paid endorsement. I just had a great experience with Workaway and want to share so you too can travel for free!
Here's the problem. Travel costs money.
But what if I told you that there is a way that you can, in fact, travel with an empty bank account.
You probably think I'm bullshitting you, but before you close this post hear me out.
The way I see it there are three problems with conventional vacations.
1. They're expensive.
The unanimous winner of reasons why people don't or "can't" travel the world is lack of money. And it's true, you need money to take a lavish vacation.
2. They're inauthentic.
A stay in an all-inclusive resort or an international hotel in the tourist part of town is like putting yourself in a bubble. You're getting an artificial sense of the culture. The shiny outer coating of the m&m without the chocolate inside.
3. They're way too short.
This one we can't always help with. If you're stuck with shitty vacation time, I feel you. We're fighting that battle too.
If you feel limited to short vacations because they're expensive, well then this post is for you.
Related Posts
How Workaway Cures Your Travel Woes
With Workaway you get free accommodation, free meals, plus, most of the time, free transport from the city to the actual place you're staying.
This means the only expenses you have to worry about are the cost of getting yourself to and from the country, often a plane or train ticket, plus any extra activities or souvenirs you take part in or buy.
Instead of staying in an expensive hotel in a tourist town, you'll be staying with a local family for free in your own room or house depending upon the amenities available. This means you not only get free accommodation, but you get to experience the local culture up close and personal, plus get delicious home cooked meals made fresh for you every day.
I don't know about you guys but when I travel for even 2 weeks at a time I get sick of eating out at restaurants for every meal. Often times it's the same things over and over and what starts out being delicious leaves me wishing for change. Also, eating out all the time is really unhealthy and just not good for keeping fit on the road.
What is Workaway?
Workaway is a website that connects travelers with hosts or businesses looking for volunteers. Basically, it's a platform where travelers and locals can exchange skills.
The traveler provides services such as teaching a language, cooking, childcare, cleaning, farming, caring for animals, construction, website design, photography, etc. in exchange for free housing and meals.
Travelers work a maximum of 5 hours a day 5 days a week and have the rest of the time to explore the area, relax, and generally do whatever they please.
How Workaway Works
I'll break down Workaway for you step by step based on how I go about using it and finding volunteer opportunities in other countries.
Step 1
Go to www.workaway.info
Step 2
Find available opportunities by clicking on Host List in the menu at the top of the site.
Step 3
In the drop-down menu under Where click on the region of the world you want to travel to. There will then be another drop-down menu that pops up with the option to select a specific country within that region if you have one. Otherwise, leave the country dropdown alone.
Step 4
If you have a specific skill you like to volunteer, type that in the search bar under Search Word or Phrase.
Step 5
Click on the blue Show Results button.
Step 6
Scroll through the results and favorite the opportunities that appeal to you by clicking on the dark blue button with a heart that says Add to My Host List.
Step 7
Decide on an opportunity or two in a certain country that you're sure you want to do this year.
Step 8
Register as a Workawayer by clicking the orange button on the search result page or by clicking Register in the top menu and then in the drop-down menu click Sign Up Workawayer.
Step 9
Unfortunately using Workaway itself isn't completely free. Workaway charges 34 USD/year for an individual membership or 44 USD/year for a couple membership. Fill in the info and make your yearly payment.
Step 11
Fill out your profile as thoroughly as possible. Hosts can search your profile just like you can search there's so make sure you showcase yourself and all the skills you can offer.
I've had many hosts actually contacting me about opportunities based on my horseback riding and animal care experience, which gives me new ideas for places to go I might not have thought much about before.
Step 12
Check the host's availability and decide approximately when is best for you to come.
Step 13
Contact the host you're interested in volunteering with by clicking on the contact button under their profile and send them a message. You must be registered with Workaway in order to contact a host.
In the message, I generally include who I am, why I'm interested in working with them, what skills I can provide to help, and when I'm available to come.
Step 14
Wait for a reply and then converse with the host via Workaway messages to arrange your stay.
It is your responsibility to arrange with your host how you will get to their place if they will pick you up and where, how long you will stay, what exact work you'll be doing, and for how long each day you'll be doing it. It's always best to confirm what they have written in your profile.
Workaway is simply a platform for travelers and host families or businesses to connect with each other and exchange services. Arranging the details of your trip is up to you and the host.
Generally, hosts prefer their volunteers to stay for a longer period of time, like 2-4 weeks. Usually, 2 weeks is about the minimum people want. This is because they're basically training you to do the work they need done as well as inviting you into their home.
It always takes a little while for strangers to get comfortable with each other and really get into a good routine, so short week-long time frames often don't work very well here.
This is not saying there aren't hosts who would gladly accept you for only a week. There are some hostels and other businesses using the site who are more used to people coming and going that would be fine with a shorter stay.
Usually, hosts write on their profile their preferred length of stay for their volunteers as well as how many volunteers they can accommodate at one time so you'll know if you'll be alone or with other volunteers while you're there.
My Workaway Experience
Ok, so now y'all know how this whole Workaway thing works and what it's about. Hopefully, I didn't bore you to death with too much detail.
Now let's talk about my personal experience completing a Workaway volunteer experience abroad.
I only signed up on this platform in May of 2017 and have just one experience under my belt so far. I've heard that every experience using Workaway is unique because you're basically staying with a local family and both parties come into the arrangement with different sets of expectations that may or may not line up.
Communication is key. If you're in doubt of what your host expects of you, just ask. Most times you can easily come to a solid work agreement pretty quickly.
Anyway, that aside, I had an AMAZING experience on my first Workaway so far. I used Workaway to set up a 3-week homestay working on a horse farm in Tuscany, Italy.
There was one other volunteer from Australia there working the same time I was and we shared a room together. I really enjoyed getting to know a fellow traveler and horse lover, and having her there was a great communication help because she spoke some Italian and I spoke nothing.
My host family could speak a little bit of English, but not much. Despite that, they were all eager to improve their English language skills and really made a wholehearted effort to talk to both of us in English, however long it took them to get their thoughts across.
Having lived in China for 3 years I've learned a thing or two about language barriers and how hard it is to learn another language.  Because of this, communicating with them in broken English didn't bother me at all, and I'm very much used to being patient with people in conversation. I also really wanted to learn some Italian so I just took the experience as a time to soak up as much as I could of the language.
The Italian family I stayed with was so incredibly nice and accommodating. They were always asking me if everything was ok, or if I needed anything. They were also incredibly chill and gave me and the other volunteer complete autonomy with our work. They showed us on the first day what the routine was for feeding, turning out the horses, and taking care of the barn, and then just let us get to work.
They were also very flexible with work hours in terms of when we worked. There wasn't a hard and fast start and end time to the day. If we woke up and it was raining, we would just eat a lazy breakfast and wait for the rain to stop before feeding the horses. We could ride the horses in the afternoons or evenings whenever we wanted. Basically, as long as we got the work done we could do whatever we wanted.
They also made it very clear that we were there to take care of the horses and the barn and nothing else, so we were never required to help in the house with cooking or cleaning or any of that. They were more than happy to provide all of our meals and house cleaning as long as we took care of the horses, which worked perfectly for me.
On our days off the family would drive my Australian friend and me 20 minutes into town to the train station so that we could go explore different towns for the day. One of their daughters goes to school in Siena and when she was home for the weekend she volunteered to drive us an hour to Siena for our day off and then showed us where the bus station was to catch the bus back to the farm.
Basically my working days went like this: 7:45 am wake up, eat breakfast, feed and turn out the horses, clean stalls, eat lunch, relax, work on the blog, and talk to Justin until about 5 pm, ride a horse, bring the horses in, do evening feed, shower, eat a late Italian dinner around 9:00 pm, relax in bed, sleep.
Oh and an added bonus that just put the cherry on top of my Workaway experience, my family were all amazing cooks. We ate the best homemade Italian food for lunch and dinner every day. It was fabulous.
Gain Authentic Cultural Experiences & Save Tons of Money
Sign up for Workaway and find out all the cool work exchanges waiting for you across the world. During my 3 weeks working on a horse farm in Tuscany, I only spent $318 USD which included my train ride to and from Rome at the beginning and end of the trip, snacks bought at the local grocery store and 3 travel days. That's a mere 15 dollars a day. An impossible feat had I had to pay for 3 weeks of accommodation and food in Italy.
By using Workaway I was able to extend my stay in Italy by three weeks and ride horses again, which is something I love and was really missing, both of which wouldn't have been financially feasible without volunteering through Workaway.
Other Volunteer Travel Experiences
WWOOFing – http://wwoof.net/
Hostels/Ecolodges – most hostels and ecolodges are always looking for volunteers to run the front desk or work in the restaurant and are happy to provide you with a free dorm room stay in exchange for a couple hours of work a day.
WANT TO TRAVEL CHEAPER & EASIER?
Subscribe to follow our blog and be the first to read our new posts!
Success! Happy dance optional :) P.S. check your inbox for goodies!
Like this post? Share the love and pin it on Pinterest!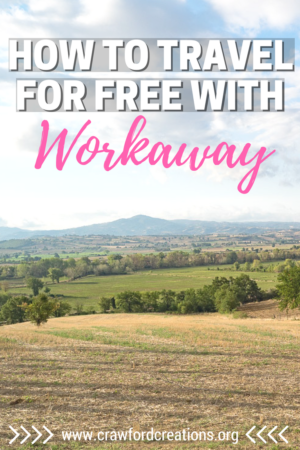 *** This post may contain affiliate links. By purchasing a product or service through these links you are helping to support this blog at no extra cost to you! We only recommend products we personally use and love! ***