25 Best Things To Do In & Around Beijing: Incredible Beijing Experiences You Can't Miss
***This post may contain affiliate links.***
The country's capital and one of the most iconic places to visit in China, Beijing is a must-see on a lot of tourist's lists when coming to China. The general sentiment being "you can't come to China without going to Beijing".
Not being a city girl, I was a skeptic about Beijing for a long time. In fact, I avoided going there for the first 3 years of living in China, favoring more off the beaten path destinations to the hustle and bustle of the big city. But, alas, I succumbed, and, as it turns out, there are some pretty cool things to do in Beijing.
Of course, I had always wanted to see the Great Wall, and it's no secret that Beijing is the place to be in that regard. But Beijing also has a ton of history and culture, more than almost anywhere else in China. Established as China's capital in 1403, it's one of the longest reigning capital cities of any country in the world.
With that said, if you're one of those people who loves diving into the history and culture of a country, there's almost no better place in the world for you to explore than Beijing. The history of Beijing itself dates back millennia, with the earliest traces of human habitation dating back around 250,000 years. Crazy!
Nowadays, Beijing is the most populated capital city in the world, and China's second largest city, right after Shanghai. It's a place where modern skyscrapers meet centuries-old temples, and the bustle of modern life stands in contrast to a more traditional lifestyle that can still be found tucked deep in the old hutong alleyways.
One of the coolest things about Beijing is that it's surrounded on 3 sides by mountains. As a result, just an hours drive outside of Beijing lies some of the most beautiful undeveloped countryside where you can find mountain biking and hiking trails, the Great Wall, a canyon, and a gorge. Don't worry, you'll find more details about all of that below.
No matter if you're a country girl like me or a lover of city life, you'll have plenty of incredible things to do in Beijing.
Read More From Beijing
Best Things to Do In Beijing
1. Jingshan Park
Jingshan Park is seriously one of the coolest places in all of Beijing. On the surface, it seems like it's just another city park, but it is so much more! Why? Because it has the most epic view you'll ever see over the Forbidden City.
In all honesty, I thought the view over the Forbidden City from Jingshan Park was actually better than walking through the Forbidden City itself. You just get a much better feel and appreciation for the massive scale of this ancient city being able to look down on the entire thing. It's just incredible.
Travel Tip: Head to Jingshan Park for sunrise or sunset for the best view with the least amount of crowds.
Since Jingshan Park is located right across the street from the exit to the Forbidden City, naturally most people go to the park right after they're done walking through the Forbidden City. Basically, that means the park is jam-packed during the day. So if you're looking to avoid the crowds hit up Jingshan Park in the early morning or evening.
Ticket Price
2 RMB
Opening Hours
6:00am – 9:00pm
How To Get To Jingshan Park
Take bus 58 and get off at Jingshan Dongmen Station (east gate), Xibanqiao Station (west gate), or Gugong Station (Forbidden City) .
2. Summer Palace
The Summer Palace is the largest royal park in all of China, and functioned as the summer residence of China's late Ming Dynasty emperors.
When you walk in, you'll see a bunch of temple looking structures built on the side of a hill with a lake in front of them. You can explore the temples, walk to the top of the hill and take in the view of the surrounding area, and walk or take a boat ride around the lake. The boat ride will cost you a bit extra, of course.
Ticket Price
30 RMB
Opening Hours
6:30am – 6:00pm
How To Get To The Summer Palace
Take subway line 4 to Beigongmen Station and exit from Exit D.
3. Temple of Heaven
The Temple of Heaven is the largest completely wooden temple in existence in China. It was built in 1420 during the Ming Dynasty and was historically where the emperors would hold a Heaven Worship Ceremony and come to pray for good weather and abundant harvests.
The original temple was actually struck by lightning and burned down in the 1800s. The temple as it stands today was reconstructed several years later, with an added lightning rod on top of course.
The Temple of Heaven is unique, not just in the fact that's completely made out of wood (I mean the temple doesn't even have a single nail in it) but also in its circular design and incredibly intricate painting.
The temple itself is located inside of a park, which conveniently, requires a separate entrance fee in addition to paying to get into the actual temple. So you'll need to either buy two tickets or one combo ticket to see the Temple of Heaven. And, no, there is no way to avoid this. You have to go through the park to get to the temple. Unfortunate, but the entrance fees really are actually pretty cheap.
Ticket Price
Temple of Heaven Park: 15 RMB
Temple of Heaven: 20 RMB
Opening Hours
Park: 6:00am – 10:00pm
Temples: 8:00am – 5:30pm
How To Get To The Temple of Heaven
Take subway line 5 to Tiantan Dongmen Station and use Exit A.
4. Tiananmen Square
Probably the most iconic image of Beijing, Tiananmen Square is the national symbol of the People's Republic of China. It's the spot where Chairman Mao declared the founding of the People's Republic of China on October 1, 1949, a date that is still celebrated and observed at Tiananmen Square every year.
Tiananmen Square is one of the largest squares in the world and is home to Tiananmen Tower (the building with Chairman Mao's face on it), the Monument to the People's Heroes (which has carved eight relief sculptures depicting China's development), the Great Hall of The People (the site of the China National People's Congress meetings), the Memorial Hall of Chairman Mao (where you can find Chairman Mao's actual corpse encased in a crystal coffin), and the National Museum of China (a Chinese history and revolutionary museum).
Travel Tip: Go early in the morning or later in the evening to avoid peak crowds.
Plus, if you get there at sunrise or sunset you'll get to watch the flag raising/lowering ceremony.
Tiananmen Square is pretty much always crowded, so don't expect to ever get this place to yourself. Also, although it is free to visit the square you have to go through airport style security to get there, so be prepared for waits up to an hour long.
Ticket Price
Free to enter & an optional 15 RMB to climb Tiananmen Tower.
Opening Hours
Sunrise – Sunset
How To Get To Tiananmen Square
Take subway line 1 to Tiananmen Dong or Tiananmen Xi Station.
5. Forbidden City
After walking through Tiananmen Square, you'll come to the entrance of the Forbidden City, a place that served as the imperial palace for 24 emperors throughout the Ming and Qing Dynasties. The city took 14 years to build and it was forbidden for anyone to enter without special permission, hence the name Forbidden City.
Today, the Forbidden City stands as the world's largest palace complex covering an area of 74 hectares and housing 8700 rooms! The city is surrounded by a 52-meter wide moat and 10-meter high wall.
The Forbidden City is divided into two main areas, the outer court and the inner court. The outer court was where the emperor conducted business and ruled the nation, whereas the inner court was where the royal family lived.
To visit the Forbidden City, you start at Tiananmen Square and walk straight back through the entrance gate to the Forbidden City. While you can walk all around the squares and alleyways in the city, you can't actually go inside any of the main buildings. You can see inside through, which leads to about 100 tourists at a time pressing up against a glass window to take a look.
The city is massive, and even without going inside any of the buildings it will still take you a good couple hours to walk through.
Travel Tip: Only 80,000 people are allowed to visit the Forbidden City in one day, so make sure you get there early to secure a spot.
In the off-season this isn't really an issue, but during peak season you could very well be out of luck if you just show up in the afternoon wanting to visit the Forbidden City.
Ticket Price
April – October: 60 RMB
November – March: 40 RMB
There's been some confusion recently about how to buy tickets to the Forbidden City. They changed the system such that Chinese citizens can only buy tickets online or by scanning a QR code at the entrance. But this is NOT the case for foreigners.
After walking through Tiananmen Square there's a ticket booth on the right specifically for foreigners. There will be a sign that says something to the effect of "Foreign Passport Holders". You walk up to the window, present your passport, and get your ticket. Easy peasy. The people at the booth even speak English!
You won't get an actual ticket though. They'll scan your passport, which then somehow becomes your ticket. So all you do once you've paid at the ticket booth is present your passport at the entrance gate.
Opening Hours
8:30am – 5:00pm
Ticket sales stop at 4:00pm
How To Get To The Forbidden City
Take subway line 1 and get off at Tiananmen Dong (use exit A) or Tiananmen Xi Station (use exit B).
Stand in line for security, walk through Tiananmen Square, and you'll have arrived at the Forbidden City.
6. Lama Temple
Lama Temple is simply incredible. Also known as Yonghe Temple, it's the largest and best-preserved lamasery in all of China. The temple was originally built in 1694 during the Qing Dynasty and is one of the few Buddhist lamaseries that was protected from destruction during China's cultural revolution.
Lama Temple contains 3 bronze Buddhas and one giant 18 meter tall Buddha carved out of a single piece of sandalwood. The tall Buddha was carved in Tibet and took almost 3 years to transport it to Beijing and erect it inside of the 3 story tall Wanfuge Hall.
This temple stands apart from the other Chinese temples in Beijing in that it's Buddhist and not Confucius. You'll find not only many statues of Buddha, but also Tibetan prayer wheels, Tibetan writing, and other traditional Tibetan Buddhist artwork.
Ticket Price
25 RMB
Opening Hours
9:00am – 4:30pm
How To Get To Lama Temple
Take Subway Line 2 or 5 to Yonghegong Station and use exit C. Walk 400 meters down the road and you'll find the entrance to the temple.
7. Beihai Park
Beihai Park is one of the oldest and best-preserved imperial gardens in China. It's made up of 3 hills and a large lake, the layout of which is said to be based on an ancient legend. The legend tells of 3 magic mountains located east of a lake that are home to an herb that can grant humans immortality.
Many emperors sought these mountains after hearing about these legends, and so a replica was made in the form of Beihai Park. The park was initially built during the Liao Dynasty sometime between 916-1125 and was opened to the public in 1925.
Beihai Park covers an impressive 175 acres, half of which is taken up by the lake. The park's most iconic monument is the giant white pagoda that sits atop Jade Flower Islet in the center of the park. The pagoda is 37 meters high with 14 bronze bells hanging around it.
As the highest point in the park, the pagoda offers amazing views of the surrounding area, including neighboring Jingshan Park and the Forbidden City.
Ticket Price
April – October: 10 RMB
November – March: 5 RMB
Opening Hours
6:30am – 9:00pm
How To Get To Beihai Park
Take subway line 6 and get off at Beihai Bei Station. Use exit B and walk 5 minutes to the north gate of the park.
8. Eat Beijing Duck
Probably China's most famous dish, Beijing Duck is eaten as a soft taco of sorts with crispy duck skin, duck meat, cucumber, green onion, and a barbecue type sauce inside. Here's how it works, you order a whole roast duck on the menu, the duck is then brought out to your table where they first slice off just the skin and arrange it on a plate, then they slice up the duck breast and arrange that on another plate, and then they bring out a platter of all the condiments as well as a pile of crepes. Finally, you make your own duck wraps at the table putting as much of each ingredient in your wrap as you'd like.
Once you've gotten all your food for the wraps, the chef will take the duck into the back and chop up the remaining carcass and meat. The rest of the duck then gets brought back to your table for you to munch on, that is if you're even hungry enough to eat it after gorging yourself on all the duck crepes you've made.
One order of Beijing Duck can generally feed a family of 4 people. Plus you can always order side dishes at the restaurant as well. We ordered one duck plus two side dishes for 3 people, mostly because we just wanted to try a bunch of different dishes, and it was entirely too much food. We would have been good with just the duck.
Where To Eat Beijing Duck in Beijing?
Deyuan Roast Duck Restaurant located on Dashilan Pedestrian Street.
Address: 57 Dashilan West Street, Beijing 北京市西城区大栅拦西街57号
Price
150 RMB for one roast duck.
How To Get To Deyuan Roast Duck Restaurant
Take subway line 2 to 前门 Station (Qian Men) and take Exit C.
Turn left at the exit and take the underground walkway to cross the street.
Turn left after you come out of the walkway and follow the road for 380 meters.
Turn right onto Dashilar (大栅栏) Pedestrian Street, walk straight for 250 meters and Deyuan Roast Duck Restaurant 德缘烤鸭店 will be on your left.
9. Food Tour
Beijing is the place to be if you're a foodie like me. There are so many amazing local dishes to try like Beijing Duck, dumplings, fried sauce noodles, and so much more. I have to stop because my mouth is literally watering. The food is so good! Especially the duck, you have to order it!
Anyway, there are two great guided food tours that take you through the Hutongs in Beijing while trying lots of local Beijing food and drinks, Untour Food Tours and Lost Plate Food Tours if you want to check them out, but, I have to warn you, they're expensive.
If the price tag puts you off, no worries, you can totally DIY it with our DIY Beijing Food Tour. The great thing about doing your own food tour is that you can spread these dishes out over your trip and eat full meals instead of just tasting a bit of each all in one night.
10. Cooking Class
If you like cooking and you love Chinese food, you should definitely consider taking a cooking class when you're in Beijing. Cooking classes aimed at teaching foreigners haven't really taken off yet in China so take advantage of their existence in Beijing and learn how to cook some delicious Chinese food!
The two best cooking schools in Beijing are The Hutong and Beijing Cooking School.
I took a hand pulled noodle class at The Hutong when I was in Beijing and it was so much fun! The staff all speaks great English and they'll not only teach you how to make Chinese food but also the history behind the dishes you're making as well and which regions of China they come from.
At both cooking schools the classes are arranged either by region of Chinese food or a specific dish. For example, you can choose from classes such as hand pulled noodles, dumplings, dim sum, Sichuan Food, Cantonese Food, etc. There are so many options it was hard to choose just one!
Different classes are offered on different days so be sure to check the schedule for the class you want to take and make sure you're available on that date.
Price
The Hutong: 300 RMB/person
Beijing Cooking School: 350 RMB/person
11. Bike Tour
Bike tours are one of the best ways to see any city. It's faster than walking, but slower than a car, and you can stop whenever wherever you want to take photos or check out something that looks interesting.
You can rent a bike and ride around the city on your own, or take a guided tour, both can be arranged through Bike Beijing. Alternatively, if you have one of China's many bike share apps such as Mobike or Hello Bike, you can also get one of those to ride around the city, although they won't be nearly as fast or comfortable as renting a bike.
12. Panjiayuan Antique Market
Panjiayuan Antique Market is by far the coolest market in Beijing, especially when it comes to souvenirs. The place is jam-packed with all sorts of replicas and traditional Chinese things like scrolls, calligraphy, paintings, knots, fans, etc..
It's certainly the most unique market in town and you really can't go wrong with paying this place a visit. Just remember to hone your bargaining skills and never take the first price offered by the vendors. They will most definitely try to rip you off. Nothing unique to this particular market, they do that at every market in China.
Ticket Price
Free
Opening Hours
8:30am – 6:00pm
How To Get To Panjiayuan Antique Market
Take subway line 10 and get off at Panjiayuan Station.
13. Dashilar Pedestrian Street
Dashilar (also pronounced Dashilan) Pedestrian Street is the oldest and most distinctive Hutong in all of Beijing. The street was built in the Yuan Dynasty during the 1300s and its proximity to the Forbidden City meant ancient Beijing's rich frequented this area and allowed it to prosper.
In the 1960s Dashilar became the first asphalt road in the city, and with the addition of gates became Beijing's first pedestrian street. The architecture is incredibly well preserved in this hutong and a lot of the buildings house famous old shops, some of which have been around for hundreds of years.
One of the best shops on the street definitely has to be Deyuan Roast Duck Restaurant where you can get amazing roast duck at local prices.
Opening Hours
The street is open 24/7 but shops open from 8:00am – 10:00pm.
How To Get To Dashilar Pedestrian Street
Take subway line 2 and get off at Qianmen Station. Use exit C, cross the street via the underground walkway. Turn left and walk straight for around 400 meters and you'll arrive at the entrance to Dashilar.
14. Muslim Street (Niujie)
Get a bit off the beaten path and check out Beijing's Muslim Quarters on Niujie. Niujie is Beijing's Muslim neighborhood whose residents are mostly Chinese Hui Muslim people. The street is famous for having Beijing's oldest mosque, which was built in 996 to accommodate the city's growing Muslim population.
Niujie is also popular for its Muslim snacks and dishes, including the famous Mongolian Hot Pot, or Mutton Hot Pot. It's the only place in Beijing where you can find authentic Muslim food as well as see ancient Arabic written on the buildings.
Opening Hours
24/7
How To Get To Muslim Street
Take subway line 7 and get off at Guang'anmennei Station. Use exit C, turn right down the road and walk for 400 meters and then turn right onto Niujie.
15. Wangfujing Snack Street
While Wangfujing Snack Street is short, at just one block long, what it lacks in length it makes up for in density. The entire street is jam-packed with street food vendors selling foods from all over China. You can pretty much find anything on a stick here, from delicious meats, to seafood, to bugs.
It's a great place to sample lots of different Chinese foods, all grilled to order. Street food is my favorite food in virtually all country's and China's street food certainly doesn't disappoint. You can easily make an entire dinner out of the street food at Wangfujing, and you definitely should!
Opening Hours
9:30am – 10:00pm
How To Get To Wangfujing Snack Street
Take subway line 1 to Wangfujing Station and use exit A.
Upon exiting the station turn right and then right again walking for 100 meters before veering left onto Wangfujing Dajie. Once you reach the major road, turn right. Walk straight for 130 meters to the next 4-way intersection and turn left. Wangfujing Snack Street will be the first street on your right
16. Ghost Street (Guijie)
Named for what was once the ghostly light of market vendors' lanterns glowing in the dark during the Qing Dynasty, Ghost Street today is a bustling food street. The street is decorated with red lanterns on both sides, and while it appears quiet during the day, it is absolutely hopping once the sun sets.
All the vendors set up their stalls with tables and chairs outside for diners to sit and enjoy a meal or snack on the street. The most popular dish here by far is spicy crayfish, which you can find at many restaurants and food vendors along the street.
Of the 150 storefronts along Guijie Pedestrian Street, 90% of them are restaurants, making it an extremely popular spot for both locals and tourist to come have a meal and enjoy the night.
Opening Hours
24/7, even a lot of the restaurants here are open all night.
How to Get To Ghost Street
Take subway line 2 to Dongzhimen Station. Use exit D, turn right and walk 100 meters to Guijie.
17. Nanluoguxiang Hutong
Nanluoguxiang was originally built in 1750 during the Qing Dynasty and has since become one of Beijing's most beautiful hutong alleyways. Today, Nanluoguxiang is lined with restaurants, live music, coffee shops, and souvenirs. To walk the entire length of the Hutong, or alleyway, is 800 meters.
Opening Hours
24/7
How To Get To Nanluoguxiang Hutong
Take subway line 6 and get off at Nanluoguxiang Station. Use exit A or B and Nanluoguxiang will be directly across the street.
18. Liulichang Cultural Street
By far one of the most unique hutongs in Beijing, Liulichang is lined with shops making and selling different Chinese artwork, calligraphy, sculptures, bookshops, and art supplies. The street name, Liulichang, literally translates as Colored Glaze Factory and was named after a famous glazed tile factory that was established during the Yuan Dynasty and made glazed tiles for use in Beijing's temples and palaces.
Liulichang is the perfect place to observe the workings of China's cultural heritage in action as well as buy some pretty damn cool souvenirs. If you're looking for quality souvenirs or to take home a piece of Chinese artwork, Liulichang is the place to be. And even if you're not, it's still something unique to see, and very different from what has become a now commercialized Beijing.
Walking down Liulichang it almost feels like you've stepped back in time to ancient China. Not only are there lots of traditional craftshops, but the architecture and painting of the buildings is really beautiful. And the best, part, Liulichang is not made for tourists. In fact, you'll hardly see any around down this quaint little alleyway.
Opening Hours
Shops are open from 9:00am – 6:30 pm.
How To Get To Liulichang Cultural Street
Take subway line 2 and get off at Hepingmen Station. Use exit D. Turn left out of Exit D, walk towards the big intersection and turn right. Continue straight for 500 meters and you'll arrive at Liulichang.
19. 798 Arts District
798 Arts District is Bejing's modern art hub built in and named after the 798 factory, a warehouse built in the 1950s that to this day still bears revolution-era Maoist slogans on the walls. The district is a unique mix of modern art, galleries, museums, shops, and cafes.
You could easily spend an afternoon here (especially if you're into art) looking through all the different warehouses and even admiring some of Beijing's only graffiti. 798 is the place to come to experience Beijing's modern creative side. It's a world away from both the ancient relics of the Forbidden city and the boring grey high rises that characterize much of the rest of the city.
If you happen to be in Beijing in May or October be sure to head to 798 Arts District to check out the 798 Arts Festival (May) and the 798 Creative Art Festival (October).
Ticket Price
Free, although a couple of the galleries charge for admission.
Opening Hours
10:00am – 6:00pm
How To Get To 798 Arts District
1. Take a taxi which will drop you off at the entrance to the 798 District
2. Take subway line 14 and get off at Wangjing Nan Station. Use Exit B1, turn left out of the subway and then left again onto G101 road. Walk straight for 680 meters. At the traffic light turn right and cross the street. Walk for 200 meters and you'll reach the entrance to 798 Arts District.
20. Bai Gong Fang (100 Handicraftsmen Workshop)
Bai Gong Fang is basically a massive arts space dedicated to reviving traditional Chinese arts. The space is composed of 30 different studios that together feature more than 100 kinds traditional Chinese art. The art is created by masters who have each dedicated their life to their craft.
Some of the arts practiced are wicked traditional Chinese, and (somewhat controversial) such as ivory carving, jade sculpture, and palace embroidery while others hold a broader appeal such as glass making, pottery, and paper arts.
If you want to get more involved and try your hand at making some traditional Chinese art, the third floor of Baigongfang offers classes on paper cutting, Chinese calligraphy, and mask painting among others.
Ticket Price
Free
Opening Hours
9:00am – 5:00pm
How to Get To Baigongfang
Take Bus 60 and get of at Beijing Tiyuguan Station 北京体育馆站. Continue walking in the same direction the bus was going and turn right at the traffic light. Baigongfang will be on your left.
21. Watch An Acrobatics Show
Enjoy a breathtaking routine of human stunts, from balancing on heads to riding bicycles while standing on the seats, to impressive jumps and flips and even people riding motorcycles inside of a globe, you just never know what gravity defying stunt you'll get to witness at a Chinese acrobatics show.
An acrobatics show is a truly unique experience, and you'll be sure to leave amazed! There are multiple theaters in Beijing that perform acrobatics shows, the two most popular being Chaoyang Theatre and Dongtu Theatre.
Ticket Price
Prices range from 120 – 600 RMB depending on seating.
Opening Hours
Chaoyang Theatre: 4:00pm, 5:30pm, 7:00pm
Dongtu Theatre: 5:30pm & 7:30pm
How To Get To Chaoyang Theatre & Dongtu Theatre
Chaoyang Theatre: Take subway line 6 and get off at Hujialou Station. Use exit C, turn left out of the exit and theatre will be on your left.
Dongtu Theatre: Take subway line 5 to Bexinqiao Station and use exit A. Turn right out of exit A and walk 50 meters.
Day Trips From Beijing
22. Great Wall of China
No visit to Beijing is complete without seeing the Great Wall. While there are many sections of the wall to visit at varying distances from Beijing City, I would recommend choosing Jinshanling for its beautiful scenery, great hiking, and lack of crowds.
Located 130 kilometers outside of Beijing, the Jinshanling Great Wall is definitely one of the further sections from Beijing, but the 2.5-hour drive to get there is totally worth it to experience a beautiful section of the wall without hardly any other tourists.
The Jinshanling Great Wall was originally built in 1358 and was restored in 1567, but since then it's only been maintained, not restored, so it's about half in good shape, and half crumbling. Because of this when you visit Jinshanling you get a really cool mix of wild and restored wall. It's the best of both worlds when it comes to scenery.
Walking the length of the Jinshanling Great Wall takes about 4 hours, including lots of photo breaks, which, trust me, you'll take. This part of the wall runs along a rolling mountain ridge so there's a lot of up and down along the way. Most of the hike is pretty gradual, with just a couple of steep sections, the hardest of which being the initial climb up to the wall itself.
Ticket Price
65 RMB
Opening Hours
8:00am – 5:00pm
How To Get To The Jinshanling Great Wall
The best way to get to Jinshanling, especially if you're going with more than one person, is to hire a driver for the day. The easiest, and also the most expensive, way to do this is to ask your hotel to arrange a car for you. The price will be around 900 RMB.
Alternatively, if you're traveling during peak season from April – October you can take a bus from Wangjing West Station. The bus leaves Beijing at 8:00am and picks up from the Jinshanling Great Wall ticket gate at 3:00pm to return to Beijing.
23. Jingdong Grand Canyon
The Jingdong Grand Canyon is a beautiful canyon located inside of Jingtai Mountain Scenic area 85 kilometers from downtown Beijing. The area has many incredible landmarks including the Pond of 5 Dragons, Tongtian Gorge, many gravity-defying plank walkways, Longmen Lake, a cableway, a glass bridge, and a toboggan ride.
Jingdong Grand Canyon is one of the best places to see Beijing's beautiful natural scenery. There are some really cool hiking trails and walkways that run along the cliffside in the canyon, and the views are amazing (if the air quality is good that is).
The only downside of visiting the canyon is that everything except walking up the stairs and along the wooden walkways costs extra, on top of an already somewhat steep entrance fee (by China standards). If you love hiking, you'll really enjoy this place, but if you're not fit you'll probably end up paying a lot of money to get around without climbing the mountains.
Ticket Price
78 RMB for the entrance fee (cable car, glass bridge, and toboggan not included).
Opening Hours
8:00am – 6:30pm
How To Get To The Jingdong Grand Canyon
From Dongzhimen Bus Station take bus number 852 to Pinggu 平谷 and get off at Pingguqu Yiyuan Station 平谷区医院 (Pinggu Hospital Station). From Pinggu take bus number 12 to Jingdong Daxiagu 京东大峡谷 (Jingdong Grand Canyon).
Alternatively, you can also hire a driver for the day.
24. Longqing Gorge
The Longqing Gorge offers some beautiful natural scenery with towering mountains and clear teal water just 85 kilometers outside of Beijing. Your first view, which is not so natural, is of the Longqing Dam and rather outdated Dragon Escalator, which unfortunately you have to take to get to the top of the dam. It looks cool from the outside, but once inside it's a tube with nasty windows that you can no longer see out of.
Besides the tacky escalator, the one thing I don't like about this place is that you're forced to pay an additional 100 RMB for a boat ride down the river. The ride is gorgeous, but the fact that there's no other way to get to the hiking trails besides forking over a bunch of money is super frustrating.
Once you've gotten off the boat, you can start climbing up the mountain for a view over the gorge. The trails are super steep so be prepared, but the view from the top is totally worth it (well, on a clear day anyways).
This is definitely a place I wouldn't recommend visiting on a smoggy or rainy day as you won't be able to see enough to make the drive worth it. So definitely check the weather before you come.
Ticket Price
40 RMB entrance fee + 100 RMB boat ride
Opening Hours
April 10 – November 15: 7:30am – 4:30pm
January 15 – February 28 (Ice Lantern Festival): 9:00am – 10:00pm
How To Get To The Longqing Gorge
Take bus 919 from Deshengmen Bus Station to Yanqing Dongguan Station. Then transfer to bus Y15 and get off at Longqingxia Station 龙庆峡站 (Longqing Gorge).
Alternatively, you can hire a driver and take a car.
25. Peking Man Site at Zhoukoudian (once the main cave re-opens in 2020)
The Peking Man Site is the first evidence ever found of prehistoric human existence in Asia. The site contains fossils of human remains from 18,000 – 11,000 B.C. Zhoukoudian contains 27 sites and caves containing 118 different kinds of animal fossils and proves the existence of prehistorical human societies in Asia.
The Peking Man Site was first discovered in 1921 and since then many more excavations have been done revealing more caves full of fossils.
Unfortunately, the main cave is currently under excavation and construction by a team of archaeologists and is currently closed to the public. The cave system is set to reopen in 2020 and will be awesome once it does, but until then I would abstain from going as it's not really worth a visit without being able to explore the caves.
Ticket Price
30 RMB for Peking Man Site
30 RMB for Muesum
Opening Hours
8:30am – 4:30pm
How To Get To Zhoukoudian
Take bus 616 from Beijing West South Side Bus Station to Liangxiang Ximen Station. Then change to bus 38 and get off at Zhoukoudian.
WANT TO TRAVEL CHEAPER & EASIER?
Subscribe to follow our blog and be the first to read our new posts!
Success! Happy dance optional :) P.S. check your inbox for goodies!
Like this post? Share the love and pin it on Pinterest!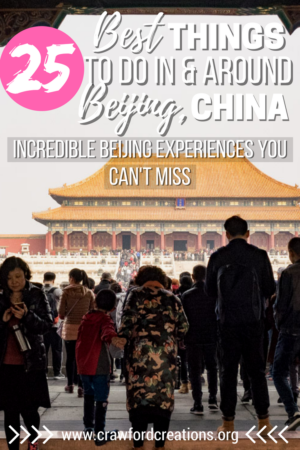 *** This post may contain affiliate links. By purchasing a product or service through these links you are helping to support this blog at no extra cost to you! We only recommend products we personally use and love! ***