cute couple dates
The Expat's Guide to Taobao Part 1: Taobao Explained, What It Is and Why You Need It
***This post may contain affiliate links.***
Table of Contents
You are currently reading post #1 in the 5 part series: The Expat's Guide to Taobao
Taobao Explained
---
One of the biggest struggles when moving to a foreign country is figuring out where in the world to get the things you need, whether it be furniture, clothes, food, etc. Oftentimes brands will be unfamiliar and you're a little lost as to which store sells what. In China this is compounded even more by the fact that you can't read the language and there is extremely little in the way of foreign goods for sale in the local shops.
As a new expat moving to China for the first time you'll hear the word Taobao thrown around alot, and it will often be the answer to your questions regarding where to find things. Ask any Chinese person where they got something and half the time their answer will be Taobao. Whether you're looking for foreign goods or Chinese, Taobao is the place to go.
What is Taobao?
Basically, Taobao is China's online shopping Mecca. Anything you want (almost), available with the click of a button. Taobao functions like a combination of Ebay and Amazon in that it's a storefront for businesses to sell their goods, no bidding involved.
Taobao is a subsidiary of the Chinese Internet giant Alibaba. It's basically the retail shop to Alibaba's wholesale, with one major difference, NO ENGLISH. This is where things start to get complicated. How in the world are you supposed to shop for things online in a language you don't speak and can't read? More on this later, but in short, translators are a beautiful thing.
Why You Need Taobao
A giant shift has been happening in the Chinese marketplace to online shopping. As the internet made its way to China the people hopped on board with vigor, happy to not have to walk the streets for hours in order to get what they need. The Internet also exposed Chinese shoppers to foreign products for the first time, and made different brands of Chinese products widely available. They no longer had to settle for just what the local mom and pop shop had in stock.
The same goes for us expats. Instead of walking from shop to shop trying to communicate what you're looking for, and failing time and time again to find it, you can simply search for a product or brand and scroll through the results to find the thing you want at the best price. No haggling or awkward miscommunication involved.
The beauty of Taobao is that you can often find imported goods not readily available anywhere else in China. The price will probably be more expensive than you would normally pay in your home country, but if you're looking for a specific brand or kind of good, search on Taobao and in most cases, it will be there. The moral of the story: don't let the local stores fool you into thinking that you can't find something in China.
Now, on the flip side, if you've searched on Taobao, are positive you have the right translation or brand name, and the product is nowhere to be found, that's when you know you're shit outta luck. I think this has only happened to us once, in over 2 years. That's some pretty good odds.
Taobao Convenience
So, now we can find all the things that were previously alluding us in China, awesome! But, another amazing use for Taobao is to order heavy or bulk items that would normally be a pain to lug back by yourself from the store, and have them delivered right to your door. This is probably what changed my life the most in China. No longer do I have to lug heavy bags of flour or rice, for example, back to my apartment. I find a bag on Taobao, order it, and the next day it shows up at my door.
Yea, about that delivery. Next day, at my door, FOR FREE. Yes, this is real life. The things you buy on Taobao ship from wherever they're manufactured or stored, so if that's close to you (as it will often be for staple foods) they'll be there the next day. If it's far, it might take a week, but you can see all this up front before you click purchase. Taobao shows you the full address of where the product is shipping from so if you need something right away, choose one that's shipping from a city near you. Most of the time shipping is completely free, but on the off chance it's not, be prepared to spend about 1 USD. Breaking the bank, I know.
So basically if you want access to endless variety of things delivered straight to your door for free, then Taobao is for you.
Are you an expat in China? Do you want to find everything you need with the click of a button, delivered straight to your apartment?
Yes! Then stay tuned for our upcoming articles where we walk you though all the steps of setting up and using Taobao.
WANT TO TRAVEL CHEAPER & EASIER?
Subscribe to follow our blog and be the first to read our new posts!
Success! Happy dance optional :) P.S. check your inbox for goodies!
Like this post? Share the love and pin it on Pinterest!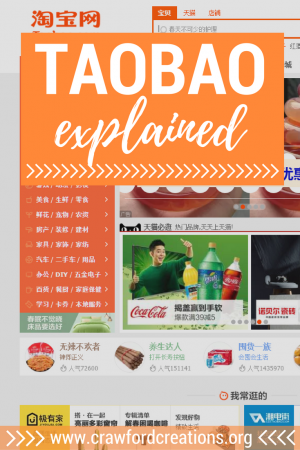 *** This post may contain affiliate links. By purchasing a product or service through these links you are helping to support this blog at no extra cost to you! We only recommend products we personally use and love! ***