The Expat's Guide to Taobao Part 2: How to Set Up Taobao
***This post may contain affiliate links.***
Table of Contents
You are currently reading post #2 in the 5 part series: The Expat's Guide to Taobao
How to Set Up Taobao
---
Welcome to Part 2 of our Expat's Guide to Taobao series!  Now that we know all about what exactly Taobao is and a little about why it's so amazing it's time to sign up.
The first step to taking advantage of the awesomeness that is Taobao is to create an account.  By creating an account you enable Taobao to save all of your information in one place so that when you click the purchase button all you have to do is enter your pass code and boom, transaction completed.
If you're reading this wondering what in the world we're talking about with this whole Taobao thing, rewind and check out Part 1 in our Taobao series: Taobao Explained: What It Is and Why You Need It.
What You Need to Create an Account on Taobao
A Chinese phone number
Your address in Chinese characters
(preferably) A Chinese bank account
You can use a foreign credit card but will get charged an extra fee.
Lets do it.
Step 1
Go to www.taobao.com. It will take you to the homepage of the website, which should look like this.
Step 2
Click the sign up link in the upper left hand corner of the page (I've highlighted it in yellow).  The characters should look like this : 免费注册.  The translation: sign up for free.
Step 3
Click the big orange button to agree to the Taobao User Agreement contract.  Before you ask, no, I have no idea what it says.  If you would like to take the time to read it, go right ahead, but it's all in Chinese so hey, good luck.

Step 4
Click the button for English in the upper right hand corner.
Step 5
Celebrate because part of this sign up process can be done in English!!!!
Once you're done celebrating, enter your Chinese phone number, slide to verify, check the box that says "Create your Alipay account by your Taobao account" and then click next.
IT IS VERY IMPORTANT THAT YOU CHECK THE BOX.  This prevents you from having to go through the very frustrating and headache inducing process of creating an Alipay account separately and then manually linking the two accounts together.
Step 6
Taobao will now send you a verification code via text message.  Type in the 6 digit code and press confirm.
Step 7
Create a password and username of your choosing and press submit.
Your Taobao sign up process is now complete!
Just log in and start shopping!
Extra Tips
If you find yourself on the homepage of Taobao and you're not logged in then follow these instructions.
Step 1
Click the log in link in the upper left hand corner.  The characters will look like this: 亲,请登录.  The translation: Dear, Please log in.
Step 2
In the first blank enter your username.  In the second blank enter your password.  Then click the orange button to submit.
When you're successfully logged in you will see your username in the upper left hand corner of the screen where I've scribbled mine out with a blue line。
Helpful Tip
After you click the log in button on the home page, if your screen looks like the one below, no worries.  Taobao is not that smart, and for some reason sometimes it will think you're on a phone and give you this QR code to scan.
All you have to do is click on the orange computer icon in the upper right corner of the square and you'll be taken to the above log in page where you can enter your username and password.
WANT TO TRAVEL CHEAPER & EASIER?
Subscribe to follow our blog and be the first to read our new posts!
Success! Happy dance optional :) P.S. check your inbox for goodies!
Like this post? Share the love and pin it on Pinterest!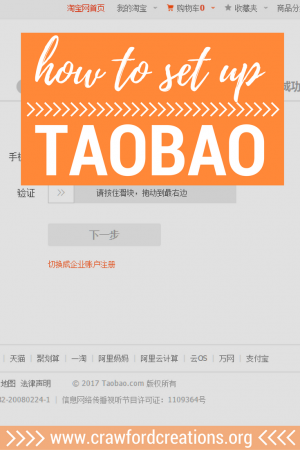 *** This post may contain affiliate links. By purchasing a product or service through these links you are helping to support this blog at no extra cost to you! We only recommend products we personally use and love! ***