How To Travel The World Even When You're Broke AF Part 2: 25 Genius Ways To Save Money While Traveling
***This post may contain affiliate links.***
Need some ideas on how to make that dream trip of yours affordable enough to actually come to life?
I got you. Luckily for you, there's a whole slew of ways you can save money on your trip without cramping your style or taking away from the experience in any way, shape, or form.
Welcome to part 2 of our series, How to Travel the World Even When You're Broke AF. If you need to stockpile some money away first before you can even think about going anywhere, no worries, you can check out part 1 of our series here where we talk about 15 Easy Ways to Save Money for Travel.
Once you've got enough money to start booking your trip, then it's on to part 2 of becoming a budget travel ninja, how to save money on your trip itself. These tips are the bread and butter of how we can afford to travel so often throughout the year. They're the accumulation of all of the best tricks of the trade we've learned after 4 years of trials and errors in our own travels.
25 Genius Ways to Save Money While Traveling
1. Get A Charles Schwab Bank Account (US Citizens)
How does never paying another foreign transaction fee sound? Awesome?! We thought so too, which is why we jumped on the Charles Schwab bandwagon hard when we heard about their checking account that has no foreign transaction fees and refunds all ATM fees.
There's just one teeny, tiny catch, and that's the fact that you're required to open a brokerage account with Charles Schwab in order to be able to put money in their High Yield Investor Checking Account. But don't worry, you don't have to put any money into the brokerage account. You just have to open one. We've had an investment account at Charles Schwab Bank with absolutely zero dollars in it for years, no questions asked.
Just like with any debit card, make sure you notify the bank of your pending travels before you leave the country so they don't lock your card. To do this go on the Charles Schwab website, click on your checking account and click on "submit a travel notice". You'll need to do this for every country you plan to travel to.
We've never once had an issue using our Charles Schwab debit card overseas. Being able to seamlessly take money out of the ATM while abroad truly makes our lives so much easier.
Click here to check out the Charles Schwab website for more info.
2. Travel During the Off/Shoulder Seasons
The easiest way to save tons of money on your trip is to travel during the off-season. Around the world, off-season travel is significantly cheaper than traveling during peak season. In the off-season, you'll often find huge discounts on hotels, flights, and activities.
So how do you know what the off-season is? For most destinations, it's the winter time. The exception to that is those places that specialize in winter activities, such as ski resorts, or tropical destinations where winter is often the cooler, dry season. You can always do a quick Google search for "(insert destination) off-season".
The catch is that you might have to fight the elements a bit, and, in tourist towns, you might run into an issue with attractions being closed. To combat this, you can try traveling in the shoulder season instead.
For example, if peak season at your destination is the summer, you can save money, avoid crowds, and still have access to all the amenities and attractions in the region by traveling there in say April or October instead. You might not get as much of a discount as during the true off-season, but hey, every little bit helps.
3. Use Skyscanner To Find Cheap Flights
While there are many flight searching tools out there, Skyscanner is our preferred search engine for finding the best deals on flights. We usually search using multiple sites, and probably 90% of the time Skyscanner is the winner when it comes to finding the cheapest flight.
You can book roundtrip, one-way, and multi-city trips super easily on the Skyscanner website. It also has a nifty little function called "everywhere" where you can simply type in the airport you're leaving from, and then in the "to" box, click "everywhere" and it will find the cheapest flights out of that airport to anywhere in the world.
It's awesome for those times when you just want to go somewhere new and don't really care where. You can get some insanely discounted flights this way.
4. Fly on Tuesdays or Wednesdays
Most people travel either on the weekends or at the beginning and end of the week, and transportation costs reflect this. As such the cheapest days of the week to travel are Tuesdays and Wednesdays, while the most expensive days of the week to travel are Saturdays and Sundays.
It stinks, but, in reality, it's just business at work. An increased demand for flights on the weekend with the same number of planes in the sky leads to an increase in price for weekend flights.
Book flights on Tuesdays or Wednesdays to find the best deals on plane tickets.
5. Be Flexible with Your Schedule
Having a flexible schedule enables you to take advantage of last-minute deals, book cheap transport at odd hours, or even find travel buddies at your hostel to split tour costs with. It also allows you to experience locally run activities that aren't advertised online.
Keeping a flexible schedule works insanely well in places like Asia and South/Central America where hotels and tours are readily available and are always much cheaper to book on location. In developed (expensive) areas such as Europe, Australia, and North America it's best to leave the flexibility to activities only and book your accommodation and transport ahead of time to avoid panickily scrounging for a place to sleep.
6. Don't Try to Cram Everything Into 1 Trip
It never fails. On every single trip, we've taken the world over, transportation has been our number one money drain. This means the more places you try to cram into one trip, the more that trip is going to cost you.
Instead, try exploring one place for longer, or, if you're dead set on traveling to a bunch of places in one trip, use local public transportation to keep your costs down.
By staying in one city or town for a longer period of time, you'll not only cut costs, but you'll also have a more relaxing and enjoyable trip. How does that work?
When you visit fewer places on one trip you cut out all the stressful running around to bus stations, train stations, and airports, cut out the time you would have spent getting to said bus, train, or plane, cut out the time spent waiting on said bus, train, or plane, and instead actually get to unpack your stuff for a little while and spend the time you would have spent sitting on public transport actually out exploring the new place you've traveled so far to see.
It's a win-win really.
7. Bring Your Own Snacks to The Airport
Everything sold in an airport is sold at an insane markup. So unless you're down with paying $4 dollars for a snack sized bag of chips, keep your wallet in your bag and pack snacks from home instead.
And if you're already on the road, buy snacks at the local grocery store or market ahead of time to bring to the airport. It might seem like a small price to pay to quench your hunger, but all those small costs really add up, especially when you start traveling more and more.
8. Find Free Activities to Do On The Road
So many of the best things in life are free, activities included. You might be surprised at just how many things you can do while traveling that are completely free.
For example, many cities offer free walking tours, some hostels often offer free cooking classes or another local cultural activity for their guests, temples, and churches almost always offer free admission, or, if you're outdoorsy like us head to the trails and go hiking out in the countryside. The point is, you don't always have to pay to play.
9. Take Advantage of Student Discounts
Many tourist attractions around the world offer student discounts. All you need to do is ask if they offer a student discount and then show your current student ID at the ticket counter while purchasing your tickets. Helping a broke student out, one discounted attraction at a time.
10. Eat Locally
We all crave a taste of home from time to time when we're on the road, but if you can suppress that craving while you're traveling you can save a bundle of money by the end of your trip. Eat local food where the locals eat it, and you'll be treated to some awesome local cuisine at a fraction of the price of a foreign restaurant. Plus, trying new local foods is half the fun of traveling anyway.
11. Cook for Yourself When You Can
If you're renting an Airbnb or your hostel has a kitchen, brave the local market and try your hand at cooking a meal for yourself during your trip instead of constantly eating out. Not only does eating out get tiring after a while, but it also puts quite a strain on your wallet, especially in places like North America and Europe.
A cool way to go about this, if you like to cook, is to take a local cooking class and then try your hand at cooking those dishes yourself back at your accommodation.
12. Use Public Transportation as Much as Possible
The cheapest way to go long distances when traveling is to use public transportation. Walk when you can (it's free!) but, if it's too far, opt for buses or trains whenever possible.
Avoid taxis as much as possible as they're often the biggest ripoff, even when the meter is on. In many countries, taxi drivers will purposely try to scam you into paying more simply because you're a tourist. If you have to take a taxi, look up what the cost should be beforehand so you know if you're getting ripped off or not.
13. Use Uber to Save Money on Taxis
If you need to take a car somewhere on your travels, book it through Uber to get a better price and avoid having to negotiate with taxi drivers. I'm not sure why, but Uber always offers car rides for a significantly cheaper price than taking a taxi.
Simply download the Uber app on your phone, enter your credit card information, choose your starting and ending locations on the map, and wait for the closest Uber driver to come pick you up.
14. Walk Whenever Possible
Walking is always free. If someplace is walkable and you have the time, walk instead of paying for transportation.
In addition to saving money, by walking you'll also get to see a lot more of the town you're in than you would in a car or on public transport, and you'll get some good exercise in the process.
15. Bring Your Own Snacks When You're Out & About
Avoid getting hangry and running into the first overpriced restaurant you see by bringing some snacks with you when you're out and about. Bringing snacks you bought at a local grocery store will give you the freedom to get away from the tourist attractions and find a more local place to eat.
This will save you money both on the snacks themselves and the meals you eat since you won't be impulse buying all your food. The advice to never grocery shop when hungry couldn't be more true, not just for grocery shopping but for eating out as well.
16. Carry A Reusable Water Bottle
Save money and reduce your plastic waste by carrying a reusable water bottle with you while you travel. If you want to up your money saving travel game even more bring a filtered water bottle so you can fill up from the tap anywhere in the world, even when the water isn't potable.
17. Stay in Hostels Instead of Hotels
Skip the hotels and stay in hostels instead. You'll not only save money, but you'll also get to meet a lot of really cool people in the process.
Hostels are community oriented, often with really cool common areas and super friendly staff that know everything there is to know about the area. And don't be scared by the name. Hostels have evolved over the years. They're no longer just ratty dorm rooms only suitable for college kids.
Nowadays, hostels have both dorm rooms and private rooms with ensuite bathrooms that give hotel rooms a run for their money. We've stayed in many private rooms in hostels that are way nicer than the local hotels.
For a full list of hostels in the city/town you're traveling to, check out Hostelworld.
18. Split an Airbnb With Family/Friends
If you're traveling as a group, save money on your accommodation by booking an Airbnb instead of a hotel. On Airbnb, you can rent entire apartments or houses, the cost of which can be split amongst everyone traveling in your group.
Booking an Airbnb also gives you access to a kitchen which enables you to save even more money by cooking some meals at home instead of eating out.
If you've never used Airbnb before here's how it works. Go to Airbnb.com and search for the city/town you need accommodation in. Enter your travel dates and press "go". Scroll through the results until you find a place you want to book. Press "book" and enter in your payment information. You'll get an email confirming your booking.
Then, once you know when you'll be arriving at the accommodation, message your host through Airbnb so that they can come meet you and give you the key.
If you're a new Airbnb user, click here to save $40 off your first booking.
19. Stay for Free in a Local Homestay by Couchsurfing
If you're interested in participating in a local homestay during your travels, you can stay for free with a local in their home by Couchsurfing.
So what exactly is Couchsurfing?
It's a website that connects local hosts with travelers. Couchsurfing allows travelers to stay for free with locals and lets locals meet travelers from other parts of the country or world.
To get started, sign up for free on couchsurfing.com.
20. House or Pet Sit Abroad in Exchange for Free Accommodation Using Trusted House Sitters
Another great option to find affordable housing abroad is by applying to house or pet sit through a website called Trusted House Sitters. Once you've created an account, all you have to do is find a house available in the area you want to stay on the dates you're available to housesit and contact the owner of the house.
You can often score some pretty sweet accommodations this way for the small price of taking care of a yard or a pet while you stay for free in someone's empty house.
The only downside is that this service isn't completely free. You have to pay a fee of $119 dollars per year in order to sign up with Trusted House Sitters. If you use it often though that fee more than pays for itself in savings.
For more info, check out the Trusted House Sitters website at https://www.trustedhousesitters.com/us/.
21. Go Camping
If you love the outdoors and enjoy spending your holiday in nature, camping is another awesome way to stay for free in places that would often otherwise be extremely expensive. You might be surprised at how many places have campsites where you can stay for free.
Even a city as big as Hong Kong has tons of campsites on the beaches and in the mountains around the city where you can sleep for free in one of the most expensive cities in the world. The only downside is that you'd have to pack a tent and related gear on your trip.
22. Avoid Eating or Shopping Near Popular Tourist Spots
Any restaurant or store located right next to a popular tourist attraction is going to be more expensive and often times worse quality (if it's a restaurant) than a comparable place outside of the tourist area. Any restaurants or shops next to tourist attractions will be nothing but a money suck.
To avoid wasting money on mediocre food, walk a few extra blocks away from a tourist attraction before sitting down to eat or shop. Again, bringing snacks with you will help keep you from getting hangry and eating at the first place you see.
23. Carpool for Free Using BlaBla Car
Take Uber one step further and ride for free using an app called BlaBla Car. BlaBla Car connects commuters with drivers heading in the same direction. It's like hitchhiking, except without having to stand on the side of the road and stick your thumb out.
The only downside to Blabla Car is that it's not super popular outside of Europe, so finding a ride through their website in other parts of the world might be tricky.
Check out their website, blablacar.co.uk try it out on your next trip.
24. Trade Part-Time Work for Free Accommodation & Food with Workaway
Workaway is an especially great money-saving option for travelers with a bit more time on their hands who are willing to work part-time in exchange for free accommodation and food.
Workaway has volunteer opportunities for nearly every skill set. From taking care of animals to nannying, to working in hostels, you'll be sure to find something you're interested in that fits your skillsets.
Here's how it works. Workaway connects travelers looking to work off their costs with hosts who need jobs done. Simply search for the town or country you'll be traveling to and scroll through the results until you find a job that interests you. You can also narrow the search results by category so you'll only see, for example, childcare jobs.
The next step is contacting the host. To do this you'll need to create an account and pay a small fee of $25 for the year. Next, send the host a message and ask if they're available for you to come work during your available dates.
It's best to exchange contact info with the host outside of Workaway as all the website does is put you in contact with hosts. It's up to you and the host to arrange the details.
If you're interested in working off part of your vacation costs head over to workaway.info to find what's available in the places you're traveling to or check out our post about how to travel for free with Workaway.
25. Work on Farms Around the World in Exchange for Free Room & Board with WWOOF
WWOOF stands for World Wide Opportunities on Organic Farms. If you're interested specifically in working on a local organic farm during your travels in exchange for free room and board, WWOOFing is the perfect option for you.
Similar to Workaway, with WWOOF, you generally work half a day each day you're there in exchange for free room and board. The work includes mostly manual labor working on an organic farm and learning about sustainable agriculture.
WWOOF's website simply enables you to find working opportunities and connect with hosts. All other details such as arranging visas (if you need them), coordinating transportation to the farm, and the details of exactly how much you're expected to work and what exactly you'll be doing are coordinated between you and the host, not by WWOOF.
For more info about WWOOFing, check out their website at https://wwoofinternational.org/.
Get More Money Saving Travel Tips
WANT TO TRAVEL CHEAPER & EASIER?
Subscribe to follow our blog and be the first to read our new posts!
Success! Happy dance optional :) P.S. check your inbox for goodies!
Like this post? Share the love and pin it on Pinterest!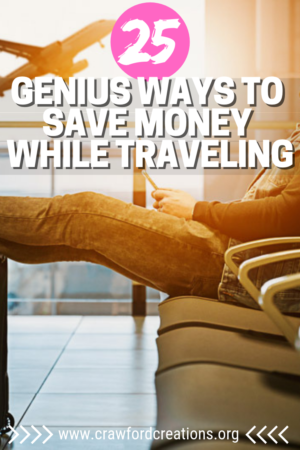 *** This post may contain affiliate links. By purchasing a product or service through these links you are helping to support this blog at no extra cost to you! We only recommend products we personally use and love! ***