SafetyWing Review: The BEST (And Most Affordable) Travel Insurance for Long Term Travelers and Digital Nomads
***This post may contain affiliate links.***
I know what you're thinking…ewww insurance. It's not a fun topic, it's not fun to use, and it certainly ain't no fun to pay for. But trust me when I tell you that SafetyWing changes all of that.
Welcome to the first EVER affordably priced, easy to use, travel medical insurance that will cover you wherever you are in the world (including your home country!).
Is Travel Insurance Worth It?
The quick answer is, if you plan to travel long term (say a gap year, 6 months abroad, etc.) or reside full time in a foreign country, travel insurance is 100% worth the investment.
I can tell you from first hand experience how scary it is to end up in the hospital in a foreign country. You'll already have enough worries running through your head trying to figure out what's wrong and communicate with doctors who don't speak your language that there's no need to add figuring out how to pay for your medical bills on top of that.
But, maybe you're thinking, hold up, I'm a perfectly healthy 20-something year old and I'm only traveling for a week, do I really need travel insurance?
I'll let you in on a little secret. Before we started living abroad, and now traveling long term, we never bought travel insurance! Like you, we were healthy 20 somethings who realized that the chances of something bad happening on our one short vacation abroad per year were slim to none.
And if this is the box you fit into, cool. If you're comfortable traveling without it, as we were, then travel insurance is probably not the right purchase for you at this time.
BUT maybe you're going on an adventure tour and the company requires that you have travel insurance, or maybe you're taking some time off to go on a long term trip, or maybe you want to try out the digital nomad life for awhile and now not having any sort of insurance seems a little scarier. What now?
This is the exact situation we found ourselves in just a few months ago. We had just finished up our long 4 year work contract in China where the company Justin worked for provided us with global health insurance, and were in the process of planning a year long bike tour cycling from Thailand to Europe on our tandem bike.
Common sense told us that, for the first time in our lives, travel insurance would be a good thing to have on this trip. So I sat down with my friend Google and started researching about the best travel insurance for long term travelers.
Why We Chose SafetyWing
I already knew that everyone and their mother recommended World Nomads, but at $120/month (per person!) it always seemed crazy expensive to me. Plus, the biggest downfall for us was that with World Nomads you are required to give both a specific start AND end date for your travels, which we didn't have, plus a list of all the countries you are planning to travel to, which was also subject to change as we got further along into our trip.
There's nothing I hate more than being locked into something that I can't get out of. Especially on a trip like our current around the world bike tour. We can't hardly tell you where we're going to be at the end of the day, let alone months from now.
In short, World Nomads is not the right fit for most long term travelers or digital nomads who often go to new countries on a whim and whose travel plans change as often as you change your underwear.
Back to the drawing board I went.
It wasn't until I came across a blog article (if I could remember which one I would link it here for you, sorry!) about this new company that supposedly offers incredible travel and medical insurance geared specifically towards digital nomads that I discovered SafetyWing. Naturally, I was curious so I clicked over to the SafetyWing website to find out more info.
And, WOW! A travel insurance company for nomads by nomads? Now that is something I can get behind!
SafetyWing Review
SafetyWing addressed all the issues I had with World Nomads and other more traditional insurance companies. The company operates on a monthly subscription based model so we could sign up shortly before we left for our trip and can cancel our coverage whenever we want once we're done.
SafetyWing has got you covered everywhere EXCEPT North Korea, Iran, and Cuba. Considering the UN recognizes 193 countries in the world I'd say even excluding these 3 countries you've still got an extremely exhaustive list of places to choose from when putting together your travel itinerary.
Another box that SafetyWing checked off on our "must have travel insurance checklist" was that it covers cycling and bike touring, as well as a wide range of other sports activities. This was a huge must for us as our entire trip revolves around us riding our tandem bicycle!
You'd be surprised at how many travel insurance companies don't cover you for sports or any adventure activities. And, as adventure travel is our jam, SafetyWing has got us covered in an exhaustive list of adventure and sports activities including horseback riding, hiking, scuba diving, kayaking, bungee jumping, and riding in a hot air balloon just to name a few!
Another major selling point for us was that not only did the SafetyWing insurance plan function exactly the way we needed it to, and cover us for exactly what we needed it to, but it was also the MOST AFFORDABLE travel insurance plan on the market with complete global travel and medical insurance coverage priced at just $37 dollars a month.
In comparison, here's what some of the other popular travel insurance companies charge per month.
Travel Insurance Pricing
| Travel Insurance | Monthly Price |
| --- | --- |
| SafetyWing | $37 |
| World Nomads | $120 |
| Patriot Travel Medical Insurance | $31 |
| Travelex | $81 |
| Allianz | $76 |
| Seven Corners | $63 |
I mean how could we possibly debate about a travel insurance company that provides the most value for the least cost? Decision made, and SafetyWing was the clear winner!
Click here to sign up for SafetyWing and get covered just like we did! Or continue reading for more info.
Everything You Need To Know About SafetyWing
SafetyWing is an insurance company created for nomads by nomads. Their goal is to build a global social system specifically geared towards long term travelers, digital nomads, and remote workers. Currently that includes travel and medical insurance, but, in the future, they are planning on offering comprehensive health insurance, disability, and pension. All of which will be available to anyone worldwide!
Purchasing insurance with SafetyWing means that you are covered should you be involved in an accident or get sick and need to see a doctor while outside of your home country. A SafetyWing insurance plan also covers you for unforseen travel mishaps, such as travel delays, lost luggage, natural disaster, etc.
FAQ
I've Never Heard of SafetyWing, How Do I Know I Can Trust Them?
I totally get it. We had never heard of SafetyWing either! SafetyWing's insurance policy is administered by Tokyo Marine, one of the largest insurance companies in the world. So even though SafetyWing itself is the new kid on the block, it's backed by one of the most experienced and widely trusted companies in the insurance biz.
What Is Covered Under A SafetyWing Insurance Plan?
Safety Wing covers you for both travel, and travel medical insurance up to a $250,000 dollar maximum limit with a $250 deductible.
Travel vs. Travel Medical Insurance
| Travel Insurance | Travel Medical Insurance |
| --- | --- |
| Lost luggage | Hospital emergency room & nursing services |
| Delayed flights | Intensive care |
| Trip interruption | Ambulance |
| Natural disaster | Urgent care |
| Political evacuation | Physical therapy/chiropractic (as ordered by a doctor) |
| Emergency medical evacuation | Emergency dental |
| Personal liability | Emergency medical evacuation |
| Accidental death and dismemberment | |
| Crisis response (mugging, kidnapping, etc.) | |
| Repatriation of remains | |
Can I Buy SafetyWing Insurance Abroad After I've Already Started My Trip?
Yes! SafetyWing is available for purchase in 180 countries and you can purchase it at any time before or during your trip.
Am I Covered In My Home Country?
Yes, but only for a limited time. For every 90 days you have an insurance plan with SafetyWing you are allotted 30 days of coverage in your home country or 15 days of home country coverage for those of you from the US (it's a bummer, I know).
How Do I Know Which Hospitals To Go To?
After you've made an account with SafetyWing, all you have to do is go to their website safetywing.com. In the top right corner of the homepage you'll see a "My profile" button. Hover over "my profile" to pull up a dropdown menu and click on "Find a hospital".
Click "start search" and select which country you're in. From there it will tell you in what cities services are available and which services you can choose from. Then press search, and vuala!
If by chance there are no results, you can always claim after your hospital visit and SafetyWing will reimburse you.
Does SafetyWing Cover Motorcycle or Scooter Accidents?
Yes! As long as you weren't doing anything stupid like driving drunk.
Am I Covered In Case of Injury During A Sports or Adventure Activity?
In most cases, yes! Almost all recreational sports and adventure activities are covered by SafetyWing. Click here for a full list of which sports are covered/excluded.
Can I Add Children to My Plan?
Yes, you can add one child per person to your plan for free as long as they are under 10 years old.
How Do I Cancel My Insurance Once I'm Done Traveling?
It's super easy. All you have to do is just go to your profile on the SafetyWing website and click the button that says "stop insurance". Your policy will be canceled and you will NOT be charged for the next billing period. It's as simple as that!
How To Make A Claim
Go to your profile on the SafetyWing website and click "make a claim". Fill out the claims form and email it to service@hccmis.com
What is NOT Covered Under SafetyWing's Insurance Policy?
Existing medical conditions
Cancer treatment
Routine Check-ups
Professional sports
Extreme adventure sports (ex: mountaineering above 4500m, white water rafting, etc.)
Lost/stolen electronics*
Burglary (i.e. theft of items from a hotel room while you're gone)*
* SafetyWing plans to add burglary/theft as well as electronics coverage to their plan by the end of 2019
Check out SafetyWing's FAQ page for a complete list of all sports/activities that are included/excluded from coverage.
Is There A Deductible (Excess)?
Yes, SafetyWing has a $250 deductible which means that if something happens, like you end up in the hospital, you have to pay $250 out of pocket and then SafetyWing will cover the rest.
Pricing
SafetyWing
| Age Range | Monthly Price | Price Including US Coverage |
| --- | --- | --- |
| 18-39 | $37 | $68 |
| 40-49 | $60 | $111 |
| 50-59 | $94 | $184 |
| 60-69 | $128 | $251 |
Price Comparison: SafetyWing vs. Other Travel Insurance Companies
Curious as to what else is out there on the travel insurance market? Here are what the other major travel insurance companies charge for a plan.
* These are quotes for what I would be charged as a 27 year old female traveling to Thailand for 1 month. All prices are for the cheapest available plan as stated on the company's website.
| Travel Insurance | Monthly Price |
| --- | --- |
| SafetyWing | $37 |
| World Nomads | $120 |
| Patriot Travel Medical Insurance | $31 |
| Travelex | $81 |
| Allianz | $76 |
| Seven Corners | $63 |
SafetyWing
SafetyWing's price includes both travel and medical insurance. You pay one price ($37) no matter which country, or however many countries you're traveling to and you can cancel at any time. It works like any subscription service (think Netflix).
World Nomads
Their price includes both travel and medical insurance everywhere in the world (no country is excluded, plus it includes coverage for all your electronics), but it costs 3x as much as SafetyWing.
Patriot Travel
Patriot's price includes both travel and medical insurance. It has a maximum limit of only $50,000 (as compared with $250,000 with SafetyWing), and you are locked into your dates and countries of travel. Patriot is about the same price as SafetyWing but with little to no flexibility in your travel plans and a much smaller maximum limit that they will pay out.
Travelex
Travelex does NOT cover adventure sports and is twice the price of SafetyWing.
Allianz
Allianz only provides $10,000 in emergency medical and is twice the price of SafetyWing.
Seven Corners
Most adventure activities are NOT covered with Seven Corners and it's almost twice the cost of SafetyWing.
Ready to Sign Up?
Head over to safetywing.com and click on the button in the top right corner that says "sign me up".
Enter in your personal and payment information and that's it. You're done and are officially insured for as short or long as you want to be!
We hope this article helped you narrow down your choice of travel insurance. If you're planning an extended trip or looking to try out the digital nomad lifestyle SafetyWing is the perfect fit for you. We are two very happy customers of SafetyWing travel insurance and we know that you will be too!
Click here for all the latest info about SafetyWing!!!
Read More
WANT TO TRAVEL CHEAPER & EASIER?
Subscribe to follow our blog and be the first to read our new posts!
Success! Happy dance optional :) P.S. check your inbox for goodies!
Like this post? Share the love and pin it on Pinterest!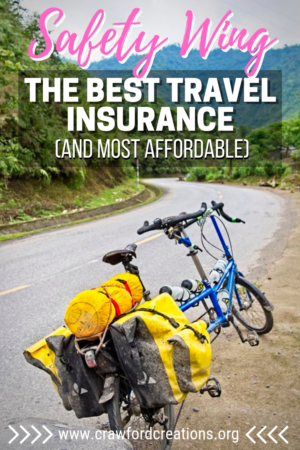 *** This post may contain affiliate links. By purchasing a product or service through these links you are helping to support this blog at no extra cost to you! We only recommend products we personally use and love! ***