Ping'an Village, Guilin: A Remote Rice Terraced Paradise
***This post may contain affiliate links.***
After paying the 100 RMB/person entrance fee to Guilin's Longji Rice Terraces, we rode our tandem bicycle up the grueling climb to the entrance of Ping'an village. Upon arriving at the village entrance, a friendly, hunchbacked and weathered woman came to offer to us her services as a sherpa. I have to say, we were slightly concerned about her ability to carry our heavy panyards the rest of the way up the mountain, but she insisted, and honestly, we were far too tired to try and carry our own gear in the first place.
She placed all of our belongings into a large woven basket that had been creatively fastened into a backpack, and off we went up, and up, and up, the mountain. This was some strong woman, because 20 minutes and countless steps later, which was way more than I could have accomplished with all our gear, we arrived at her little guest house which would be our residence for the night.
Tired and sweaty from the ride, we put hunger aside for a few minutes to take showers. Multiple flicks of the light switch and turns of the faucet later we came to the conclusion that we would not only be showering in the dark but would also be going old school with no hot water. Fabulous. But hey, at least the room had air conditioning!
After two rather quick rinses, it was off to drag our exhausted selves to find some very much needed food. Luckily, our trusty sherpa offered to make us lunch so at least we could get something to eat and start to be functional human beings again. Unfortunately, much to our dismay, our lunch came out pretty terrible, and you know it's bad when the best part of lunch was the steamed rice.  Oh well, it would sustain us until dinner.  We were so hungry we really couldn't afford to be choosy.
Related Posts:
Fortunately, we were able to redeem ourselves at our dinner location.  After having a look around up and down the mountainside, we decided on a restaurant with outdoor seating overlooking the valley. The mountains, dotted with rice shoots growing on the terraces, made for a picturesque background as we enjoyed a wonderful meal.
The whole village of Ping'an is basically just a blip on the side of a mountain. The town is nothing more than a little cluster of log cabins, stairs, and farming terraces housing just 700 permanent residents. The whole village is self-sustaining, with the new influx of tourism revenue being used to afford needed supplies from outside the village. Up until the past few years, Ping'an was completely isolated and its people self-dependent.
At dinner, as we ate under the lights and listened to music blaring out from the bars across from us, we couldn't help but wonder what the locals really think of their town's newfound discovery on the map, and its subsequent marketing as a tourist destination. Do they appreciate the influx of capital and enjoy sharing their fabulous views with the tourists, or on the contrary, feel invaded by the outside world ruining their little piece of paradise with obnoxious tourists? There are most likely a mixture of feelings involved, but we were certainly glad for the opportunity to experience the beauty of their mountains, farms, and village.
After we awoke the next morning we explored around the village and decided to switch hotels to one in which had some better accommodations, now that we had the energy to look around. We found a bigger hotel higher up the mountain with fabulous views and a bathroom light that actually worked… we were sold.  Using my new Chinese language skills, they come in handy in a place where no one speaks English, I booked us a room. As we were moving our bags in we noticed a sign at the front desk that said "In order to conserve electricity the hot water is only turned on between 6pm and 10 am" and we both thought, "how much you wanna bet all the hotels up here do that and that's why we couldn't get hot water in our other room at 2:00 in the afternoon after our bike ride!"  Oh the wonder of a simple sign.
Our breakfast this morning proved interesting. After switching hotels we found a cute little café that served western style breakfasts.  Little tip, be very wary of western breakfasts in China. China, as a country, just doesn't do breakfast. It's seriously not their thing, like at all. The traditional Chinese breakfast choices are conge (rice porridge), a plain noodle bowl, or occasionally some type of steamed bun. Basically, everything is really plain, and just super unappetizing. This place looked like it could have something decent, but after chewing through a fruit salad with apples, oranges, bananas, and cherry tomatoes (yes really, cherry tomatoes, which in China are eaten like a fruit) topped with, of all things, mayonnaise (and I shouldn't even really say topped, it was more like smothered in) I was not too impressed. With that came a "pancake" a.k.a. dense as clay circular shaped bread item. Needless to say, Justin's oatmeal was a much better choice.
Our digestive systems had a little bit of a rough night last night (thanks most likely to our less than stellar lunch the day before) so we took it easy after breakfast and just hung around the hotel taking in the views.  After a relaxing morning of recovery, we went for a hike, which took us to the top of the mountain and along the ridge a-ways where the trail ended on a different mountaintop. The views were spectacular all day, with a Kodak moment around every bend. It was certainly a shame to have to hike down for a meal.
After some snooping, we ended up at another little guest house where the woman running it insisted on making us some local food for lunch. She was so nice and was the first local we'd come into contact with who actually spoke English, and good English at that, so we sat down on the porch to order some food.  I ordered up some chicken, which she explained she would prepare in a very good local soup.  This was one of those moments where we just had to go "sure, why not!".
A few minutes later out came our boiling pot of soup with chicken, mini snails, jujubes, and ginger slices boiling in stock. As we had never tried this cuisine before she sat down with a pile of toothpicks and instructed us on how to eat the snails. For all who are wondering, you open up their little flap of a shell, poke a toothpick at the flesh inside, and gently pull out the meat.  Surprisingly, they weren't bad.  Tasted like slightly rubbery chicken stock.
On the side, we were served another local specialty of…actually, I have no idea, but it was some sort of brown, gelatinous substance that was deep fried and covered in sugar.  It tasted basically like anything deep fried and covered in sugar tastes, so, of course, Justin liked it, but I wasn't such a fan of the texture. And I can't forget the white rice. There is always white rice in China, but when you are surrounded by rice terraces it really just seems like a must-have at every meal knowing it's homegrown. Overall, lunch was surprisingly good considering you just never know what you will be putting in your mouth when the Chinese tell you they serve the local specialty.
We finished lunch and sat for a little while enjoying the view and the company of our chef, who seemed very interested to talk to us and tell us some more about Ping'an. Through our conversation, we learned just how self-sufficient these people really are, and she couldn't stress enough what hard work it is to live in this village. Their whole life is farming, women and children included, and the mountain provides them everything they need for survival.  Each family owns a portion of the mountains around the village, which they use to farm. In order for their children to go to school they have to travel down the mountain and along the road for miles until they reach Longsheng, where the children can stay during the week for their schooling, and then return home to Ping'an on the weekends.
All of the hotels and guest houses are owned and run by the local village families. Tourism is a very recent phenomenon for the people of Ping'an, but she seemed optimistic that life in the village is getting better.  She really took an interest in talking to us and we certainly appreciated her hospitality and kindness, which can sometimes be rare when traveling, as a lot of locals in tourist towns only want to talk to you to try and entice or pester you to buy some product or service.
Ping'an, your hospitality, charm, and natural beauty were truly touching. We hope our visit supported the local community and that tourism here continues to have a positive influence on the local lifestyle.
WANT TO TRAVEL CHEAPER & EASIER?
Subscribe to follow our blog and be the first to read our new posts!
Success! Happy dance optional :) P.S. check your inbox for goodies!
Like this post? Share the love and pin it on Pinterest!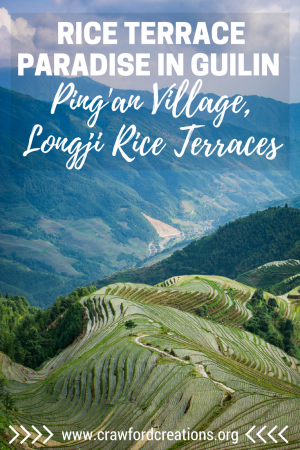 *** This post may contain affiliate links. By purchasing a product or service through these links you are helping to support this blog at no extra cost to you! We only recommend products we personally use and love! ***