Walking Through History: A Photo Tour of Prambanan
***This post may contain affiliate links.***
Prambanan Temple, located 10km outside of Yogyakarta city, is a mixture of ruins and reconstructed Hindu temples originally built in the 9th century.  The temples were built to honor the 3 great Hindu deities: Brahma, Vishnu, and Shiva as well as 3 temples dedicated to the animals that served them.  Which animals they are I have no idea (my research has failed me) so if anyone knows please enlighten me.
The temple complex consists of Prambanan, Lumbung, and Sewu Temples housing 240 buildings in total (a lot of the temples still lay in ruins yet to be reconstructed). By the 16th century a large earthquake caused most of the temples to collapse and fall into disrepair and the temples were all but forgotten.  While the ruins of Prambanan were rediscovered in the 19th century, restoration work didn't begin until 1990 when the Indonesian government officially declared the area an Archaeological Park and spent vast resources reconstructing the ruins to what you see today.  The temple has only been reconstructed in its current condition since 2009.
Today, the Prambanan Temple Complex is a UNESCO World Heritage Site and the largest Hindu temple grounds in Indonesia.  As such it's one of the main tourist attractions on the island of Java. Come check it out!
WANT TO TRAVEL CHEAPER & EASIER?
Subscribe to follow our blog and be the first to read our new posts!
Success! Happy dance optional :) P.S. check your inbox for goodies!
Like this post? Share the love and pin it on Pinterest!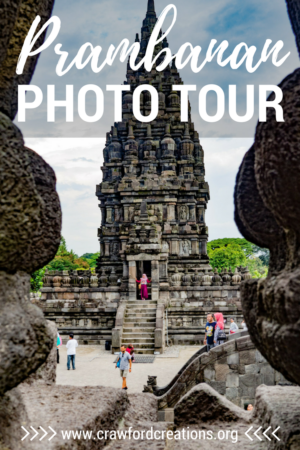 *** This post may contain affiliate links. By purchasing a product or service through these links you are helping to support this blog at no extra cost to you! We only recommend products we personally use and love! ***