How To Hike The Path Of The Gods Trail: Amalfi Coast, Italy
***This post may contain affiliate links.***
If there's one quintessential experience you've got to partake in when exploring Italy's stunning Amalfi Coast, it's hiking the Path Of The Gods Trail. While walking the 7 km path across the ridge from Nocelle to Bomerano, you'll be rewarded with stunning views of the Amalfi coastline from the moment you step foot onto the trail, until the moment you leave.
The Path of The Gods, or II Sentiero Degli Dei in Italian, is a historic trail connecting the two mountainside hamlets of Nocelle and Bomerano. In the past, it was the only way for locals to get from one town to the other. Now, it's preserved for tourism and all of our hiking pleasures.
The path got its name due to its incredible awe-inducing views, much like one would imagine when looking up into the heavens.
Related Posts
How Long Is The Trail?
The Path of the Gods trail is a 7km point to point trail. Walking the length of the trail one way will take 1.5-2 hours depending on your speed and how much you stop to take pictures and breaks. We hike pretty fast, but also stopped to take a bunch of photos and it took us 1.5 hours to hike the length of the trail.
Difficulty Level
Easy
We saw people of all ages on the trail, from little kids to Grandparents. It's mostly flat the entire way except for the start in Nocelle.
Where To Start
The Path of The Gods is a point to point trail. As such, you can start at either the town of Bomerano or Nocelle. Most people recommend hiking from Bomerano to Nocelle for two reasons. One, it's slightly easier as most of the path is a slight downhill grade, and two, you get better views as you're walking perpendicular to the peninsula the entire time.
Our recommendation? Hike both directions, starting and ending at the same point. The Path of The Gods is an easy hike in both directions, especially for those that hike regularly. It only took us an hour and a half to walk the entire length of the trail in one direction. For more of a half day outing, you'll definitely want to hike both directions. Plus, more time on the trail means more time soaking in those stunning coastline views!
Starting and ending at the same trailhead also makes getting to and from the trail much easier. We picked the trailhead that was closest to our AirBnB, which if you're coming from Sorrento or Positano will be Nocelle. If you're coming from Amalfi, the trailhead you'll want to start at is Bomerano.
There's only one main road from Sorrento to Amalfi, which means everyone who wants to travel between those places is driving the same route. Once you get close to Positano, it's a huge bottleneck of traffic pretty much from there to Amalfi. Save yourself the undue stress and time of sitting in traffic and put your vacation to better use walking on one of the most gorgeous trails in the world.
How To Get To The Trail Head
Nocelle
To start your hike in Nocelle, you need to first get to Positano. To do this you can either take a bus, drive or ride a scooter or bicycle from your hotel. It's an extremely scenic route along the ocean, so if you have a bike or scooter we would highly recommend riding to town.
I would avoid driving into Positano as parking is super limited, which is the main source of the traffic jams that occur on the way into town. Taking two wheels instead of four also allows you to bypass the traffic jam and arrive at the trailhead faster.
If you can, ride or drive all the way up to Nocelle. Take Via Corvo, a one lane scenic mountain road that winds up the mountain from the edge of Positano closest to Sorrento. It will be the first road on your left just as your coming into Positano before you arrive at the town itself.
The village of Nocelle sits around 443 meters (1700 feet) above Positano. There is a small parking lot in Nocelle where you can park your vehicle before starting the trail.
If you don't have your own form of transportation, not to worry. You have three options.
1. Take a SITA bus that runs from Sorrento to Positano every half hour. Get off in town at Positano Sponda and walk down the main road to Pezzi Pazzi Sas Di De Martino Celeste where you'll see a set of stairs heading up the mountain. Walk up the 1700 steps up all the way to Nocelle.
2. Alternately, you can take bus 507037 (Amalfi) and get off at Airenzo where you'll have to walk back down the road a few meters to find the stairs up the mountain to Nocelle.
3. If you're super adventurous you can try and get off the 507037(Amalfi) bus at Bivio Montepertuso bus stop and then catch a local bus from there up the mountain to Nocelle. Buses depart for Nocelle from the center of Positano every hour so you might have to wait for a bit at the Bivio Montepertuso bus stop depending on when you get there.
If you're taking a bus, expect it to take around 2 hours to get from Sorrento to your final stop in Positano (not including walking up the stairs). It will take 2-3 hours to reach the trailhead in Nocelle.
Seriously, if you can rent a scooter or bicycle to get there, do it. Riding our tandem bicycle it took just over an hour to get from Sorrento to Nocelle.
Bomerano
There are regular buses from both Amalfi and Positano that run to the town of Bomerano. From Amalfi take bus number 508808 (San Lazzaro) which runs from the Amalfi Terminal Bus Station every 1-2 hours.
From Positano you'll have to take two buses to get there. First, catch bus 507037 (Amalfi) from Positano Sponda and ride it to Furore, then walk to Furore Municipio and catch bus number 508808 (San Lazzaro) to Bomerano. Buses leave from Positano every hour.
From Sorrento you'll have to take bus 507037 to Furore and then bus 508808 from Furore Municipio to Bomerano.
Expect around a 30-minute bus ride from Amalfi, around 1.5-2 hours from Positano, and around 2-3 hours from Sorrento.
Tickets for all buses in Italy can be bought at any Tabaccheria in the town you are staying.
On The Trail
Path of The Gods is probably the most idiot-proof trail we've ever been on. It is impossible to get lost as it is the only path around. Plus, it's basically flat the entire way.
You can hike the trail at any time of day in any season, just make sure to bring a bottle of water if you're hiking during the summer months. There are some great picnic spots along the route, so if you want you can definitely pack a lunch or some snacks to enjoy with your view.
Water
You can buy water in Nocelle or fill up your water bottle at the start/end of the trail in Bomerano where they have a spigot with drinking water. As it's a short trail, there is nowhere to get water along the route.
Where to Stay
If your primary focus when coming to the Amalfi Coast region is to hike this trail, then we would definitely recommend you stay in either the town of Amalfi, San Lazzaro, or Bomerano which are all super close to the Bomerano trailhead. Amalfi is definitely the more expensive option of the three.
If you're looking for cheaper accommodation and access to more things to do outside of just the trail, than the Sorrento area will be your best option.
If money is no option, stay in Positano.
Recommendations
Do it! While this trail can get busy come mid-morning, we didn't find it too overwhelmed with people at all. There was plenty of space for everyone to enjoy their hike, stop to soak in the amazing views, and of course, snap tons of photos.
You certainly won't be alone in nature on this trail (although if you get up super early and hit the trail just after sunrise you could definitely swing it) but the incredible scenery makes up for it in spades. Plus, it's about the least crowded activity you can do on the Amalfi Coast!
The worst part about this trail is getting to the trailhead and back. Really the only way to get there from the Sorrento area, without pulling your hair out, is to rent a scooter or bike and ride yourself. You won't regret feeling the wind on your face down Amalfi's ocean road and being able to stop at all the lookouts for photos.
We stayed in Sorrento and rode our tandem bike around the peninsula, and felt it was a great option! For those who aren't avid cyclists though I would definitely recommend renting a scooter for transportation. It's way faster and easier to maneuver than a car on the narrow cliffside roads, and through the insane coastal traffic.
WANT TO TRAVEL CHEAPER & EASIER?
Subscribe to follow our blog and be the first to read our new posts!
Success! Happy dance optional :) P.S. check your inbox for goodies!
Like this post? Share the love and pin it on Pinterest!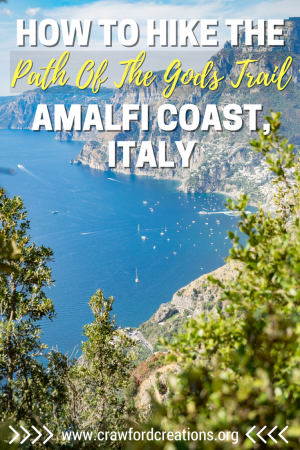 *** This post may contain affiliate links. By purchasing a product or service through these links you are helping to support this blog at no extra cost to you! We only recommend products we personally use and love! ***