His & Hers Lightweight Summer Travel Packing List for Couples
***This post may contain affiliate links.***
We're coming up on a very beautiful time of year. Summertime. And why, you ask is summer time so gosh darn beautiful? Well, because SUMMER VACATION. School's out, the sun is shining, it's warm, you can cook outside, take a dip in the ocean, eat all the ice cream, you know the summertime drill. It's amazing, and it's one of my absolute favorite times of the year.
I know I talk a lot on here about not traveling over the summer, especially in China, to avoid the (inevitably gigantic) crowds. But I'll be the first to admit, summer is peak travel season for a reason. In most places summer simply offers the best weather for getting out and exploring. Plus, if you're rocking that family life, it's also the one big break your kids have off from school to travel.
So for a lot of very practical reasons, summer is indeed the best time to travel. But where should you go? For how long? How are you going to get there? And the ultimate question, how in the world do you pack for summer vacation? Or more specifically, how do you pack without bringing your entire wardrobe?
Let me start this answer by telling you a secret. I absolutely, positively, with a mother freakin passion, HATE packing. I literally love every single thing about trip planning, except for the packing part. I dread it every single time I have to do it. And because of this I also procrastinate packing for every single trip. It drives Justin crazy. But I just hate it that much.
Luckily my love for travel astronomically overwhelms my hate for packing, and so over the years as I've gotten more and more opportunities to travel, I've slowly gotten better and better at packing. It actually used to take me hours to pack one bag, hours! I don't think in my case practice has made perfect, but I've developed a process and a packing list that streamlines the ever so painstaking packing process.
Read More Travel Gear Posts
Packing Considerations
Before you actually start packing, there are a couple of questions you need to answer that are individual to you and your specific trip.
1. Are you going somewhere with unique summer weather?
Examples of this are like somewhere super far north (or south) where it doesn't ever get hot or traveling high in the mountains at altitude, where again, you won't experience typical summer weather.
2. Are there any special activities you'll be doing on your trip that require certain clothing or gear?
Examples of this could be a multiple day hiking trip, camping, kayaking, cycling, etc.
3. What do you NEED to bring to be comfortable?
This is a tricky one because the line between need and want gets blurry, but, for example, and I'm writing from a girl's perspective here, if you straighten your hair every single day and would feel ugly and just not yourself if you went without a hair straightener on your vacation, then you should bring your hair straightener.
On the contrary, if you're someone, like me, who only straightens her hair occasionally, do NOT bring a straightener "just in case" you might decide you want to straighten your hair on vacation.
Pack only your DAILY NECESSITIES and nothing more.
List these things out separately and add them to the packing list below.
The Goldilocks Goal of Packing
No matter what kind of trip I'm packing for, I always channel my inner Goldilocks during the packing process. The goal is to balance bag weight with comfort. In essence, any time you pack for a trip you should aim for that perfect middle ground where you pack not too much and not too little.
You don't want to forget things and have to make an emergency run to go buy something on your trip, but you also don't want to bring things you never use and end up lugging a gigantic bag around your entire vacation.
I always try and pack just enough, and not a thing more. This is especially true for short trips that are only a week or two. You can live without a lot of things for a week and be perfectly happy.
What Bag To Bring On Vacation
We're almost to the packing part, I promise, but there's just one little detail left to address before we get there. And that is, what should you pack your stuff in? A travel backpack, a rolling suitcase, a book bag, a hiking backpack?
If you're going on an international trip you should definitely consider investing in a travel backpack if you don't have one already. They make it super easy to get through airport security with your electronics, and because they zip open 180 degrees and lie flat, travel backpacks make it really convenient for you to see everything in your bag at once and pull out something you need without having to remove anything else from your bag to get to it. Also, they're just way easier to handle than a rolling suitcase. Plus you can get away with never checking a bag, always a plus when traveling.
With that said, if you're looking to lighten your load and are either an airport security pro, or not traveling by plane, a lightweight hiking backpack will do the trick. I've been traveling with a 40 liter super lightweight hiking backpack for the past 2 years and it's worked great.
Must-haves You Need To Pack for Any and Every Vacation
Here are the basics that everyone, no matter if you're male, female, whatever, needs to put in their backpack before they leave for summer vacation.
Comfy (preferably also lightweight) shoes
Shoe brands we love to travel with:
Refillable Liquid Containers
Small Medicine Bags
Rain Jacket
Travel Towel
Sunglasses
Find your perfect sunglasses on Amazon here.
Sunscreen
Find travel sized sunscreen on Amazon here.
Bug Repellent
Plug adapter (if traveling internationally)
Refillable Water Bottle
We love sports style squeezable water bottles for travel!
Ok, now that we've got the basics down, let's dive into the nitty-gritty.
Lightweight Summer Travel Packing List (Hers)
A complete list of everything a girl's gotta to bring for a minimum 1 week to maximum 1 month summer vacation.
Clothes
| | |
| --- | --- |
| Dress | 1 |
| Shorts/Skirts | 2 |
| Tops | 3 |
| Underwear | 7 |
| Bra (Regular) | 1 |
| Bra (Sport) | 1 |
| Athletic Shorts | 1 |
| Athletic Tops | 1 |
| Light Sweater/Jacket | 1 |
| Pajamas | 1 |
| Bathing Suit | 1 |
| Pants | 1 |
| Socks | 2 |
| Sandals | 1 |
| Sneakers | 1 |
| Rain Jacket | 1 |
Toiletries
| | |
| --- | --- |
| Shampoo | 100 ml |
| Conditioner | 100 ml |
| Body Wash | 100 ml |
| Face Wash | 100 ml |
| Tampons/Diva Cup | If Needed |
| Individual Medicine | If Needed |
| Deodorant | 1 Stick |
| Brush | 1 |
| Razor | 1 |
| Toothbrush | 1 |
Lightweight Summer Travel Packing List (His)
A complete list of everything a man's gotta have for a minimum 1 week to maximum 1 month summer vacation.
Clothes
| | |
| --- | --- |
| Shorts | 1 |
| Tops | 3 |
| Underwear | 3 |
| Athletic Shorts | 1 |
| Athletic Tops | 1 |
| Bathing Suit (use athletic shorts) | 0 |
| Convertible Pants | 2 |
| Socks | 2 |
| Sandals | 1 |
| Sneakers | 1 |
| Rain Jacket | 1 |
| Light Sweater/Jacket | 1 |
Toiletries
| | |
| --- | --- |
| Body Wash | 100 ml |
| Shampoo | 100 ml (if use) |
| Deodorant | 1 Stick |
| Individual Medicine | If Needed |
| Razor | 1 |
| Toothbrush | 1 |
Shared Items
One of the beauties of traveling as a couple is that no one person has to travel with EVERYTHING. There are certain packing essentials that can easily be shared between the two of you. This is awesome because it means that combined, you can actually travel lighter as a couple than you would as an individual. Some things that can be easily shared?
| | |
| --- | --- |
| Travel Towel | 1 |
| Toothpaste | <100 ml |
| Pain Medicine | 1 small bottle |
| Diarrhea Medicine | 1 small bottle |
| Sunscreen | 100 ml |
| Bug Repellent | <100 ml |
| Nail Clippers | 1 |
| Water Bottles | 2 |
Electronics
Electronics are another thing that we often share, either to save weight or simply because it's unnecessary for both of us to have the same thing.
| | |
| --- | --- |
| Phone | 1 per person |
| Camera | 1 |
| Kindle | 1 per person |
| Travel Tripod | 1 |
| Chargers | phone, camera, kindle |
| Plug Adapter | if traveling internationally |
| Computer | 1 (only if necessary) |
A note about traveling with a computer. On a short trip, we'll usually leave the computer behind as it adds a lot of weight. Plus it's always nice to disconnect and really live in the moment on vacation. Unfortunately for us as bloggers, it's not always possible to leave the computer behind, especially if we're taking a longer trip.
Sometimes we're not able to schedule everything out ahead of time and so we have to take a computer to publish content while we're on the road. If you can take the time off from work we would definitely recommend NOT bringing a computer on vacation. It really does make your experience so much nicer.
How To Pack Your Bag
Let's start with the order. I always think about two things when it comes to this. One, the order in which I'll be using the items in my bag timewise, and two, things that I know I'll need to take out when going through security at an airport.
Usually, I start with shoes at the bottom (so they don't get my clothes dirty), then all my clothes, then my toiletries, and finally on top goes my camera. I always pack my toiletries and electronics last because those are the things I always have to remove from my bag to go through security.
Also, a super handy tip for making sure your clothes don't get wrinkled when you pack is to roll instead of fold your clothes. It's ingenious.
Also, if you're really trying to make the most of your limited luggage space you should definitely invest in packing cubes. They'll not only pack down your clothes but also keep your bag super organized as you can color coordinate your cubes based on what's in them. So if you want to change tops, for instance, you can just grab the blue cube and grab your top without having to rummage through and mess up all your clothes looking for the one thing you want that inevitably always ends up being at the bottom of your bag.
Backpack Weight
This is the weight of each bag fully packed and ready to go for summer vacation.
Hers
13.4 lbs (6 kg)
His
12 lbs (5.4 kg)
How can this possibly be enough stuff for up to a month of traveling?
By washing your clothes. No matter where you go on vacation you'll be able to find a washing machine somewhere, whether it's at your hotel/hostel or at a laundromat. And the worst case scenario? You can always hand wash one or two things in the sink using hand soap or body wash. We've done it plenty a time and it works just fine and is way preferable to bringing a bigger heavier bag.
Did this packing list help streamline your packing process and lighten your load? What do you normally bring on vacation? Let us know in the comments!
WANT TO TRAVEL CHEAPER & EASIER?
Subscribe to follow our blog and be the first to read our new posts!
Success! Happy dance optional :) P.S. check your inbox for goodies!
Like this post? Share the love and pin it on Pinterest!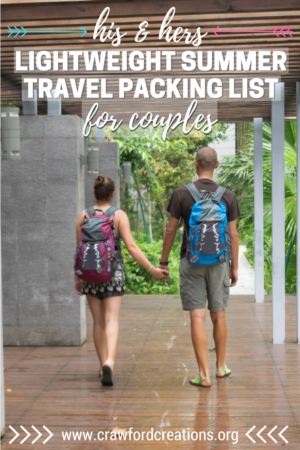 *** This post may contain affiliate links. By purchasing a product or service through these links you are helping to support this blog at no extra cost to you! We only recommend products we personally use and love! ***