The BEST Way to Experience Guilin: Li River Bamboo Raft
***This post may contain affiliate links.***
No visit to Guilin is complete without a boat ride down the Li River, or at least that's what we were told…Nonetheless, we were not about to miss out on the chance to take part in this quintessential Guilin experience.
Getting to Yangdi Pier from Guilin
Unable to pass up the smells of waffles and pancakes being cooked up in the kitchen of our hostel, we caved and indulged in a western breakfast to fuel up for our day of epicness on the river. With full stomachs, we peddled off on our tandem for Yangdi Pier, the start of the most famous Li River scenic float.
Our route followed the main road, which turned out to be rather unfortunate as it was one continuous flat construction zone on either side. Instead of marveling at the beautiful scenery around us, we had a nice view of blue metal walls and dust-filled air.  The construction completely detracted from what would have otherwise been spectacular Guilin mountain vistas.  Finally, reaching our turn-off onto the road that leads down to the Li River, we were greeted with peace, quiet, and wonderful mountain scenery and terrain, as the road wound it's way down to the river.
If you're not crazy like us and don't want to ride 50 km on a bike which you then carry onto a bamboo raft, you can take a bus! There is a direct bus from Guilin Main Bus Station to Yangdi Pier which takes approximately 1 hour and costs 19 RMB.
Related Posts
Ticket Price
After parking the bike, we then proceeded to wander around like lost puppies trying to figure out how in the world to rent a bamboo raft (signs were sorely lacking, both in Chinese and English).  Luckily, the lost puppy dog look really works for us as two women came up to us, and, with their help, we got our raft booked and paid for, a total cost of 300 RMB (150 RMB/person).
UPDATE: while we paid 150 RMB/person heavy government taxes were rolled out in February of 2016 which significantly increased the raft prices. You can now expect to pay anywhere from 200-300 RMB for the trip.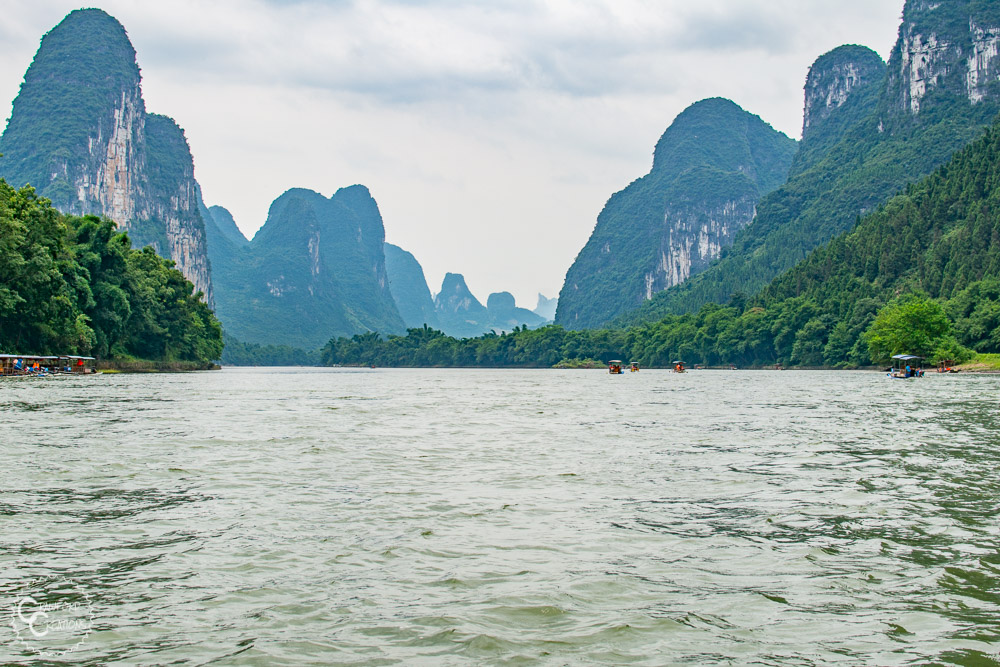 Li River Bamboo Raft
The rafts meander about 10km down the Li River from Yangdi Pier to a little town called Xingping, about 30km north of Yangshuo. The rafts depart from 8:30 – 10:30 am and 12:00 noon – 3:30 pm. In between are the times when the big cruise ships come by. We arrived in Yangdi at 11:00 am which left us with about an hour to kill before setting sail down the river…uhh minus an actual sail, but you catch my drift.
Come 12:00 we very skillfully loaded ourselves and our bike, which we had to carry from raft to raft out into the river, onto our designated boat. They basically have a system of organized chaos when it comes to boarding the rafts (an improvement over the typical plain chaos we're accustomed to). Everyone just kind of crowds around the rafts, then at noon they let you board onto the sea of rafts floating in the river and pick whichever one you want, starting at the furthest end and working your way toward the shore. All the rafts seat 4 people, so we ended up sharing ours with another young Chinese couple vacationing in Guilin.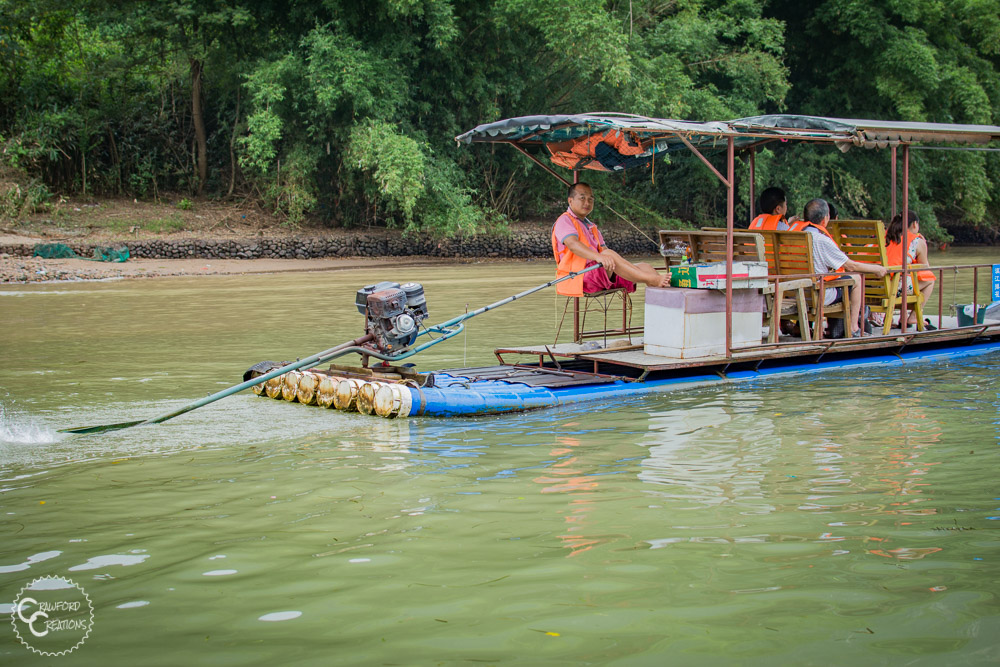 The rafts, although advertised as (and I'm sure once were) made out of bamboo, are now constructed out of PVC which has been bent up at either end to form bamboo like creases, and equipped with a motor for less laborious and faster travel time. Everyone on board a bamboo raft is required to wear a life jacket, which we thought was a bit unfortunate as they're not the most comfortable things in the world, but you are literally on a raft directly on top of the water so I guess it could theoretically be relatively easy to fall in the water, and if you can't swim (as most of the Chinese can't) then well, this would be a problem.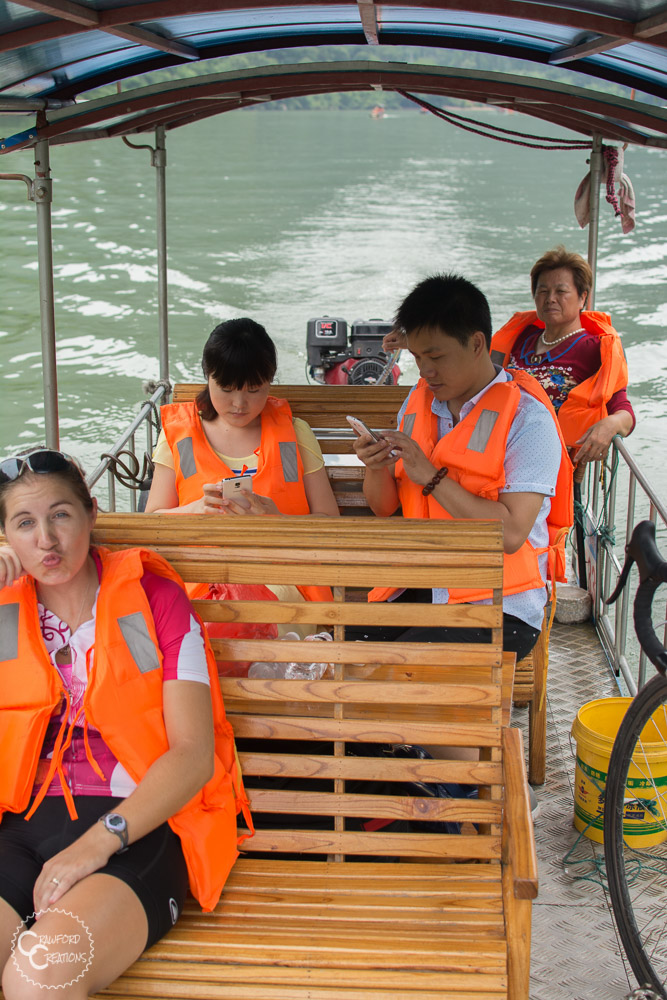 Li River Sights
We stopped at a couple places along the riverbank that were particularly famous photographing spots, including the spot where they took the image on the 20 RMB note, and Nine Horses Hill. Legend has it that a herdsman from heaven brought his horses to the Li River. When an artist discovered them he was so awestruck that he wanted to create a painting of the magnificent horses, but in doing so frightened the herd such that they all ran into the mountain and never came out. Far be it from me to question ancient Chinese folklore, but try as I might, I saw absolutely no resemblance of any horses in the cliff.  Regardless, we took the obligatory photo anyway.
During our time on the shore attempting to make out the horses on the cliffside, we chatted with the Chinese couple sharing our boat.  It turns out they are also living in Zhuhai (where we currently live), and in talking with the woman I found out that while I am in Zhuhai studying Chinese, she is there studying English.  Just a reminder that even when you live halfway across the world in a place like China, which is home to hundreds of millions of people, it is still such a small world we live in!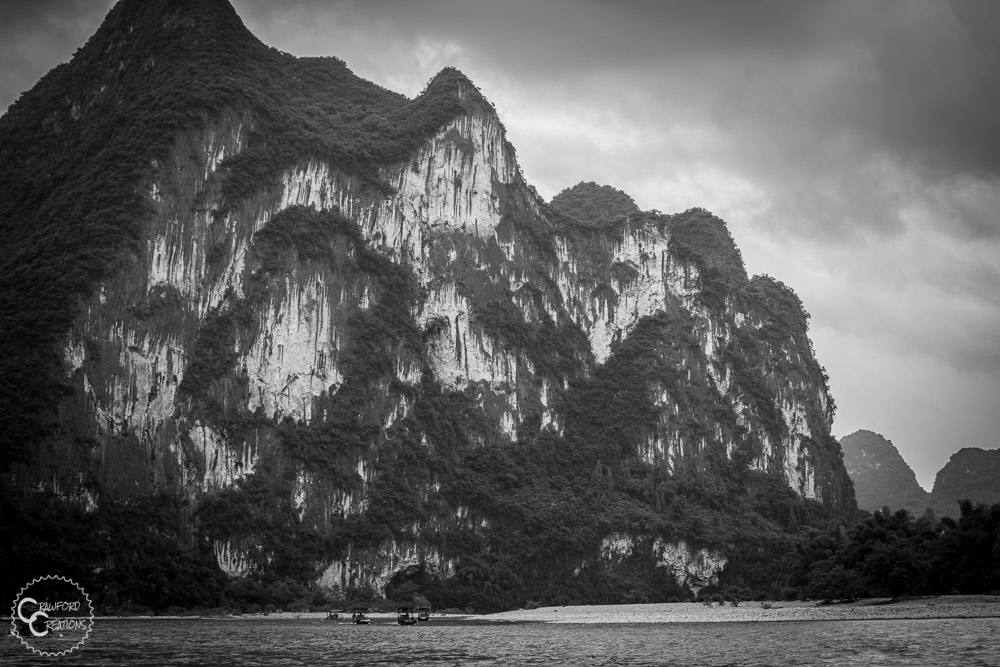 Overall, our "bamboo" raft ride down the river was gorgeous with stunning mountain cliffs jutting up on either side, surrounding us in a protective basin. It was almost too peaceful on the raft, as after two days in a row of long bike rides, the river threatened to lull me into sleep, counteracted, of course, by lots of harassing from Justin. After approximately 2 hours on the water, we docked, paid the raft "captain" an extra 20 RMB for transporting the tandem, and then rode the bike about a mile down the road to the itty bitty town of Xingping.
From Xingping you can easily take a bus to Yangshuo, a much bigger and more well-known town, but we had heard that Xingping is a super cool little town that is quickly becoming the new spot for tourists who want an off the beaten path adventure, so of course we opted to stay there instead of continuing on, and it turned out to be a great decision!
WANT TO TRAVEL CHEAPER & EASIER?
Subscribe to follow our blog and be the first to read our new posts!
Success! Happy dance optional :) P.S. check your inbox for goodies!
Like this post? Share the love and pin it on Pinterest!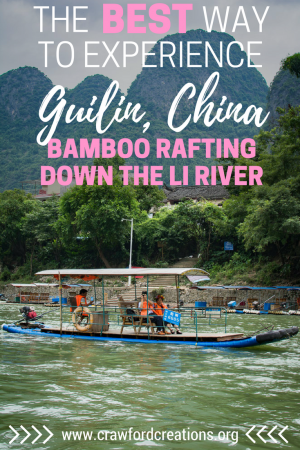 *** This post may contain affiliate links. By purchasing a product or service through these links you are helping to support this blog at no extra cost to you! We only recommend products we personally use and love! ***