How to Travel the World Even When You're Broke AF Part 1: 15 Easy Ways to Save Money for Travel
***This post may contain affiliate links.***
Have you always wanted to travel the world, but could never afford it?
If so, I totally get it. I used to see photos online of these incredibly picturesque places, and read stories of people having the time of their lives going on far off adventures like meeting nomadic reindeer herders in Mongolia, wine tasting in Tuscany, or feeding elephants in Thailand and think, "Wow, if only I could do something like that".
I'd Google these experiences, see ridiculous price tags attached to them, look at my dwindling bank account and laugh thinking "Must be nice" before turning my attention back to the real world. But the truth is, you don't have to be rich to travel.
There's a whole subset of "broke backpackers" out there traveling the world for next to nothing that, at the time, I never even knew existed. What you see in the media is just skimming the surface of what's actually out there in the big wide world.
Of course, there's no denying that travel, as with most things in life, costs money, just not as much as you might think. In fact, you can travel the world for an entire year for exactly the same cost as you would spend living at home.
Seriously. According to Quicken, one of the leading accounting services in the US, the average cost of living for a single American earning a salary of 35,000 a year is approximately $1500 a month, the same cost of traveling the world full time on $50 a day.
Of course, this assumes that while traveling the world full time you don't have any outstanding payments at home, like car insurance, rent, or mortgage payments, which might not be the case, but still. When I first did the calculations of how much it costs to simply live at home, I was shocked.
We're all so used to the idea of travel being an extravagance that when someone tells us travel is affordable it seems blasphemous. The truth is, travel, just like living at home, can be as cheap or as expensive as you make it.
Think about it this way, two people making the same exact salary can live two completely different lifestyles. One can live above their means, buy a house and car that they can't afford, and, from the outside, look a lot richer than they are, while the other can live on a tight budget and save as much of their income as possible and, from the outside, look poorer than they are.
It's just two ends of the same spectrum. And yes, you can save money while making $35,000 a year.
If you want to travel abroad but don't believe you could ever afford it, I hope I can change your mind and help you make your dream trip a reality. Whether you're looking to go on a 1-week trip or quit your job and travel long term, here are some tips to help you save money you didn't even know you had.
15 Easy Ways to Save Money for Travel
1. Fly for Free with a Travel Credit Card
One of the best ways to save money for travel is to get a travel credit card. Which is ironic, because you have to spend money to get money, but trust me, it's totally worth it.
The magic of paying for things with a travel credit card is that when you have enough points, you can earn free flights anywhere in the world. Given that the biggest expense on any trip abroad is always your flight in and out of the country, being able to fly for free cuts a giant chunk out of the cost of your trip.
Which travel credit card should you get?
The best travel credit card available today is the Chase Sapphire Preferred card.
With the Chase Sapphire Preferred card you can take advantage of no annual fees for the first year, a 50,000 Ultimate Rewards Points sign up bonus when you spend $4000 in the first 3 months of having the card, and each dollar you spend on the card translates to an added 1 Ultimate Rewards Point in your account.
Ultimate Rewards Points can be transferred to a select number of airlines (we transfer to United) and exchanged for free or extremely discounted flights. For up to date information about the conversion rates between points and free flights to destinations around the world as well as anything else you would ever want to know about travel hacking, check out thepointsguy.com.
Click here to apply for your new Chase Sapphire Preferred card and start flying for free today.
2. Track Your Income and Expenses
The best place to start saving money is by tracking where your money is currently going. If you've never tracked your income and expenses before you might be surprised as to where your money actually goes each month and how much you spend on certain things.
Two great resources to start tracking your money are Personal Capital and Mint.
Personal Capital
Personal Capital is a free website and app that aggregates all of your different accounts into one place so you can look at all of your financial data at once. It allows you to get a holistic picture of your finances and has tools to help you track your savings, investments, and net worth.
As well as automatically pulling data from your online accounts, you can also manually enter cash transactions.
Personal Capital can also do statistical analysis to produce graphs that visually show you exactly where your money went. For example, you can see a breakdown of how much money you spend every month going out to eat or buying extraneous items, in addition to many other categories.
And the best part is, you get all this functionality completely free!
Click here to create your free account with Personal Capital.
Mint
Similar to Personal Capital, Mint is another great free website and app that also allows you to look at all of your online accounts and cash transactions in one place.
Where Mint wins over Personal Capital is in its budgeting function. With Mint you can set a monthly budget for each category you spend money in and it will track your spending in each category throughout the month and show you your real-time progress towards meeting your monthly spending goals.
What Mint lacks compared to Personal Capital is investment analysis. Mint will show you the total amount in your investment accounts but doesn't give you any breakdown of your individual investments.
Track and budget your money for free with Mint.
Click here to create your free account with Mint.
For more information about how you can completely change your life simply by tracking your finances check out the book, Your Money or Your Life by Vicki Robbin.
3. Stick to a Monthly Budget
Once you've started tracking your money, the next step to saving money for travel is to create a budget. You don't have to go too crazy with this, but it's helpful to decide what percentage of your take-home pay you want to save every month and give yourself a spending allowance.
A good way to start is by taking your after-tax monthly income (or take-home pay) and subtracting out all your necessary monthly payments. These include things like rent/mortgage payments, utilities, phone bill, and car and health insurance payments. What's left is the money you have to budget.
Look at your remaining money and decide, based on your tracking, how much you can afford to cut back on your spending and move to a savings account. A good baseline savings rate is 10% of your after-tax income.
A great tool to help you stick to a monthly budget is Mint. As explained in step 2, Mint allows you to set monthly budget goals and track your progress towards those goals in real time. Oh, and in case you forgot, it's completely free!
Click here to create an account with Mint and start tracking and budgeting your money today.
4. Create a Travel Savings Account and Set Up Automatic Transfers
The best way to make sure you don't dip into your allotted savings money is to create a separate high-interest savings account specifically for your trip.  Then set up automatic transfers into that account straight out of your paycheck so you never even have to touch that money.
If you can only afford to save 10% of your monthly income and don't want all of that savings to be allotted for travel, maybe contribute 5% into your travel savings account and another 5% into a separate emergency fund savings account. Whatever works for you.
5. Download Money Saving Apps
Money saving apps come in different forms. Some are phone apps, and others are browser extensions for your computer. They work by finding coupons for the sites and stores you shop in and giving you money back on your purchases.
The two best apps for this are Ebates and Ibota.
Ebates
Ebates is a free browser extension that automatically gives you money back on almost all of your online purchases. It also automatically finds discount codes for all of the websites and searches through them to see if any codes apply to your purchase.
Ebates is one stop savings. All you have to do is download the browser extension and then Ebates does the rest.
Click here to sign up for Ebates and start saving money on your online purchases today.
Ibotta
Ibota is a free app for your phone that finds coupons for hundreds of stores around the country. The coupons are made to use in store.
To use the app, you simply search for the products you want to buy in the Ibotta app or scroll through the items at the store you're going to shop at, select the coupons you want, buy the items at the store, and then take a photo of your receipt in the app. Ibotta will then match the items you bought with the coupons you selected and give you cash back.
Your cash back will be deposited into your Ibotta account which you can then transfer to PayPal.
Click here to sign up for Ibotta and get access to thousands of coupons to save money on all your in-store purchases.
6. Cook at Home
Simply foregoing restaurant meals and cooking at home is such an easy way to save loads of money. And, as an added bonus, it's also way healthier than eating out all the time.
Contrary to popular belief, cooking doesn't have to take a ton of time and effort. Nor do you have to be the next Gordon Ramsay to make good food.
If you need some dinner ideas websites like Delish and Tasty devote entire sections of their sites to easy dinner recipes that come together in just 30 minutes or less.
If you need something even quicker than that during the workweek, you can always cook a couple big meals on the weekend, portion them out into individual meal sized containers, and then freeze them for use during the week. Then, when you're pressed for time and need to eat and run, just pop one of your homemade frozen meals into the microwave and you're good to go.
7. Skip the Drinks
You know what's an even worse deal than eating out? You guessed it, drinking out. I have absolutely no idea why ordering drinks is such a huge ripoff, but it always is, no matter what you order.
I mean, how is it possible that 1 cup of coffee at Starbucks costs half of what an entire meal costs?  That's crazy! And while you might not have the power to change drink prices you do have the power to chose not to go out for drinks and make them at home instead.
You might as well since you're now eating at home a lot more anyway, right?!
Instead of grabbing a Starbucks on the way to work, make coffee at home. Instead of going out to the bar for drinks, buy a bottle of wine or a pack of beer, have some friends over, and drink at home. You and your wallet will be much happier for it.
8. Cut the Cable
There are so many options nowadays for watching TV without paying for expensive cable. Instead of paying upwards of $80 dollars a month for cable, consider just paying for internet and switching to an Internet-based TV service such as Netflix instead.
With Netflix, you can replace that $60-80 dollar a month cable bill with a $7.99/month basic Netflix subscription. Talk about an easy way to save!
9. Buy Generic
Another easy way to cut your costs is to switch from name brand products to generic, store brand products. When you buy generic brands at the grocery store instead of the name brand, you get 95% of the quality for %50 of the price. In a lot of cases, I can't even tell the difference between the name brand vs the generic product, but my bank account sure can.
10. Cancel Any Unused Memberships or Subscriptions
Are you still getting old magazines in the mail, paying for a gym membership you never use or forking out money for premium online services, such as Amazon Prime, that you never use? What are you waiting for, cancel that shit.
If you haven't used the membership or subscription in months, then it's not worth paying for.
11. Switch to Google Fi
Google Fi is Google's new affordably priced phone plan that has the ability to save you tons of money on your phone bill every month. A phone plan through Google costs just $30/month and includes unlimited domestic and international calls and texts, plus 1 GB of international data.
If 1 GB of data doesn't seem like enough, don't worry. You can use as much data as you'd like at a cost of $10 per GB up to 6 GB. After that Google will cap your bill at $80 and any additional data usage is free for the rest of the month.
Google Fi is a pay as you go plan with no contracts or hidden fees. You can transfer your current number, and can even use your current phone as long as it's compatible with the Google Fi network. You can check for compatibility on the Google Fi website. If your phone isn't compatible you can always invest in a Google Pixel phone, which is made to work on the Fi network.
For more info about Google Fi, check out their website at fi.google.com.
12.  Sell Your Unwanted Stuff
Going through your house and selling everything you don't want or haven't used in years is a great way to pick up some extra cash for your travels. It's also a great way to declutter your house, so, ya know, win, win.
Some of the best places to sell you stuff include Craigslist, eBay, Facebook, Flea Markets, and Garage Sales.
13. Buy Used
If you need to buy something, especially expensive items like computers, phones, cameras etc. save money on your purchases by buying used items instead of new. You can find gently used or refurbished items on eBay for half the price of what you would pay new in the store with 99% of the quality.
14. Carry A Reusable Water Bottle
It might not seem like you spend much money on water and drinks while you're out and about, but a couple dollars here and there adds up fast. Instead of buying water or soda while you're out, bring a reusable water bottle that you can fill up from the tap.
15. Take Advantage of Free Activities at Home
Limit the number of activities you pay for and take advantage of the host of free things to do in your hometown instead. You don't need to spend money to have a good time. Go hiking, fishing, or bike riding. Invite your friends over for a potluck dinner instead of going out to a restaurant. Have a tailgate at your house, or host a game night. The opportunities are endless!
Conclusion
No matter which tips you implement, be sure to keep track of your savings and put that remaining money into your travel savings account at the end of every month. One easy way to keep track of your savings is to keep a minimum base amount of money in your checking account that's enough to cover all of your basic monthly needs (rent, utilities, insurance payments, groceries) plus a small cushion above that, and then transfer any additional money left at the end of the month to your savings account.
Whether you want to take a weeklong vacation, or go on a long-term trip of a couple months or more, if you follow these tips, you'll be well on your way to funding your travels.
WANT TO TRAVEL CHEAPER & EASIER?
Subscribe to follow our blog and be the first to read our new posts!
Success! Happy dance optional :) P.S. check your inbox for goodies!
Like this post? Share the love and pin it on Pinterest!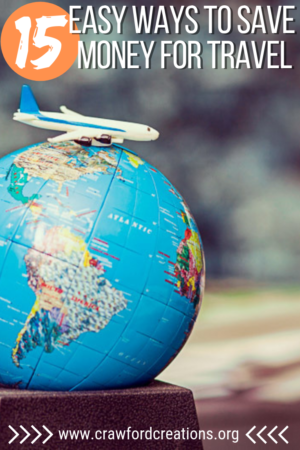 *** This post may contain affiliate links. By purchasing a product or service through these links you are helping to support this blog at no extra cost to you! We only recommend products we personally use and love! ***