https://crawfordcreations.org/hotshot-hookup-asian/
25 Insane Photos of Guilin, China That Will Make You Want to Pack Your Bags
***This post may contain affiliate links.***
If the title of "Best Karst Landscape in the World" doesn't make you want to come to Guilin, China, then, we promise, these photos will! Guilin has one of the most iconic landscapes in the world. The incredible scenery of Guilin is unmistakable, no matter the photographer. If the natural wonder of Guilin's sharp-peaked mountains lining the Li River isn't tickling your fancy, don't stop reading yet, because this place has literally everything but the beach. You can float down the Li River on a bamboo raft (or a cruise boat if that's more to your liking), hike through the rice terraces and ancient mountain villages, kayak along the quieter Yulong River, hike up steps to the peaks of the tallest mountains for incredible sunset views over the river, grab a harness and rope and rock climb up the karst cliffs, explore inside one of the many incredible caves of the region, bathe in a natural hot springs, cycle through old village pathways along the river, shop in one of Guilin cities vibrant outdoor markets, sample the regions local specialty of beer fish and Guilin noodles, and so much more! My fingers were getting tired just typing that list, but seriously as long as it doesn't involve salt water, Guilin's got it.
*Just a note about locations. I'm using Guilin as a blanket location for this entire region since all the cool places are either in the city or within an 80 km radius of the city. The main places to see in Guilin are: the temples, parks, and markets of Guilin City, the rice terraces of Longsheng and Ping'an villages, the Li River and old town in Xingping, and the caves and outdoor activities in Yangshuo.
Related Posts:
Ready to see the awesomeness that Guilin has in store?
Guilin City
Xingping
Ping'an Village/Longji Rice Terraces
Yangshuo
What do you think? Ready to explore this stunning area of southern China?
WANT TO TRAVEL CHEAPER & EASIER?
Subscribe to follow our blog and be the first to read our new posts!
Success! Happy dance optional :) P.S. check your inbox for goodies!
Like this post? Share the love and pin it on Pinterest!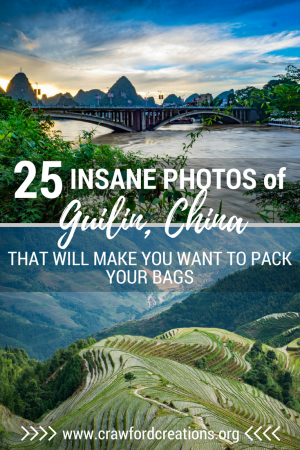 *** This post may contain affiliate links. By purchasing a product or service through these links you are helping to support this blog at no extra cost to you! We only recommend products we personally use and love! ***