Follow Us To ITALY: Our 2 Week Italy Itinerary in Photos
***This post may contain affiliate links.***
I'm resurrecting the photo essay.
The past two times I've gone to publish a proper photo essay on here I've blatantly failed, and instead left you with 2000 word posts. So, in the spirit of not doing the same thing a third time and expecting a different result, I'm starting a new kind of photo series called Follow Us To.
Follow Us To is a chronological collection of photos from one country or trip we've taken. The posts are made up of one photo from each attraction visited and activity done on our trip that you can scroll through in the order we did them. My hope is that this series will help you guys to see how we plan our trips, and will help you to create a similar trip if you so desire.
Think of Follow Us To as a timeline of our entire trip in photo form. You can see all the places we went to and everything we saw all in one post.
Sound cool? Comment below if you don't like this post and think this whole concept is totally lame. I won't be offended. Would love your honest opinion. Or if you really like it, you can comment that too.
Read More From Italy
Without further ado, come follow us to Italy!
Trip dates: September 23 – October 8, 2017
Arrive in Rome (Day 1)
First stop, the Colosseum. We did a self-guided bike tour on the back of our tandem stopping outside of a lot of the major tourist attractions to familiarize ourselves with the city.
Entrance to the Roman Forum. There might be a few tourists in Rome. And we went in the shoulder season…
Inside the Roman Forum. It was really cool to see ancient ruins right in the heart of a major city. In Asia they seem to build their cities next to the ruins instead of around them. The Roman ruins give Rome a ton of character. We're fans.
The National Monument of Vittorio Emmanuel II, a monument built in honor of Victor Emmanuel the first King of unified Italy. The building houses the Museum of Italian Reunification inside. On the outside you can climb to the top for beautiful views over the city.
The stunning view from the top of the National Monument.
The Capitoline Hill Cordonata as we rode past on our bike.
Travel to Faicchio (Day 2)
Meeting our Italian family for the first time! Faicchio is where my (Cara's) grandmother was born and raised.
Faicchio (Day 3)
Looking down on Faicchio from the San Pasquale Convent. Faicchio is a beautiful little town located right at the base of the Matese Mountains in the beautiful and very lush Campania region.
Cusano Mutri (Day 4)
We rode our tandem bike from my family's house in Faicchio to the hilltop medieval town of Cusano Mutri. This is the stunning view from the high point of the town.
Travel to Sorrento (Day 5)
We rode our tandem bike from our family's home in Faicchio to the town of Sorrento on the Amalfi Coast. The ride was around 100 km and absolutely beautiful.
Ruins of Pompeii (Day 6)
Our first full day in Italy we rode the train for 45 minutes from Sorrento to Pompeii to explore the ancient ruined city. Finding the ticket booth to get into Pompeii was not at all obvious and somehow we accidentally ended up paying for a guided tour of the ruins. I actually think it was a happy accident because even though it was more expensive we learned a lot of cool stuff that made walking around the ruins much more interesting than if we were just doing it on our own with no clue what we were looking at.
Sorrento (Day 7)
We looked on the map and found this cool lookout point right at the tip of the Sorrento peninsula. We rode our bike up the mountain until the road dead-ended at a gate, took the hiking path around the fence and found this amazing 270 degree view! To find this place you literally look on the map for the mountain right at the tip of the penninsula and drive or ride up the only road that winds up the mountain. There's also a church on top of the mountain with cool views that you'll pass shortly before you get to the end of the road.
We also researched where to find hidden beaches on the Amalfi Coast and came across one with a cool hike that lead down to a pebble beach. This was the view from the hiking trail.
The beautiful Baia di Ieranto beach, only reachable by an hour-long hike from the nearest town. Beautiful hike, beautiful beach, beautiful water, amazing spot. If you swim around the corner to the right there's another even more secluded beach that's only reachable by swimming to it!
Sorrento (Day 8)
We rode our tandem to the village of Nocelle to hike the Path of the Gods trail. The Path of the Gods is a beautiful 7km long point to point trail that links the villages of Nocelle and Bomerano. We hiked from Nocelle to Bomerano and back for a total of 14 km.
After hiking the Path of the Gods we rode back to Sorrento to go for a dip in this natural pool filled by a narrow archway into the ocean. It's a beautiful secluded spot right next to the Roman Ruins of Pollius Felix Villa. There's no sign for the arch so to find it look for signs for the ruins and follow the path down to the water.
Looking down on the pool from above. I couldn't get enough and was just hanging on that rock down there looking at the arch. Justin jumped in from somewhere up here. It was really high, and I wouldn't necessarily recommend it safety wise, but he survived so the pool is certainly deep enough. Just make sure to pick a spot devoid of rocks.
View of Mount Vesuvius from on top of the arch at Regina Giovanna.
Travel to Florence (Day 9)
This was pretty much a full day of travel. We took the train from Sorrento to Naples which took about an hour and fifteen minutes and then took a fast train from Naples to Florence which took 3 hours. After arriving in Florence Justin rode the tandem by himself to La Tinia Farmhouse 15 km outside of Florence where we were staying while I carted our luggage and waited with my parents to get their rental car in Florence. The rental car process took a good hour. They were not very efficient.
Florence (Day 10)
We had our only rainy day of the trip in Florence so we spent the day wandering around the city with our umbrella peaking into all the shops and exploring the Duomo. Travel tip, it looks way better from the outside than the inside.
Inside the Florence Duomo. It's super bare and quite uninspiring, but it is free.
Hanging out at the Ponte Vecchio. It's a cool looking bridge from the outside but walking through it is nothing special. It's just lined with a bunch of fancy jewelry shops you could find anywhere in the world. Nothing particularly Italian or worth looking at.
We basically just walked around the city for the day. Honestly, we weren't too impressed with Florence. Rome was way better.
Tuscany (Day 11)
We spent the day hiking on the mountain right across from the farmhouse where we were staying. Found some nice mountain biking trails to hike on and some good lookout points. Tuscany is definitely better for bike riding, but we made do by hiking what were technically bike trails. Semantics.
Tuscany (Day 12)
We rode our tandem bike through the mountains of Tuscany up to the medieval hilltop town of Certaldo. The views were breathtaking.
The ancient church of Certaldo.
Inside the church, we found a mummified nun put on display! So cool, and a little creepy.
After Certaldo we rode over to Vinci, the town where Leonardo DaVinci was born and raised. There we saw the house where he was born as well as the DaVinci museum where they had replicas of all his inventions.
Tuscany (Day 12)
Today we rode in the car with my parents for a tour of the Chianti wine towns. The drive was beautiful with lots of scenic views and beautiful overlooks. We would also recommend doing this tour by bike!
Our first stop was Castellina in Chianti, followed by Radda in Chianti and Greve in Chianti. We tasted a lot of delicious wine.
Travel to Rome (Day 13)
We hung out in Florence most of the morning after returning the rental car before catching an afternoon train back to Rome.
Rome (Day 14)
We spent our last day in Italy properly exploring more of Rome. We used our bike as transportation. Our first stop, Vatican City. We went early in the morning to try and avoid the major crowds.
It was still super crowded as you can see by the giant line of people. But the line to get into Saint Peter's Bascilica went surprisingly fast.
The view as we walked into St. Peter's Basilica was just jaw dropping. It's so ornate!
The alter in St. Peter's Basilica is just stunning.
Our next, very brief, stop was the Trevi Fountain. I had Justin take this photo over people's heads so you could actually see how cool it looks because I was too short. The crowds there were incredible! You will certainly not have this place to yourself. Oh, and you think this place would be located in like a large piazza or something, nope, it's tucked away down some back alleys behind a bunch of other buildings. Wierd, and definitely not an ideal location for large crowds.
After the Trevi Fountain we went to the Pantheon, which is basically just one big circular room. The Pantheon is a former Roman temple now converted into a church.
Next stop was the church where the pope actually holds mass in Rome, Archbasilica of Saint John Lateran. This is what it looks like from the outside.
And this is what it looks like from the inside. Incredible!
Our last stop of the day was the Castle Sant'Angelo.
The inside of the actual castle wasn't that impressive, but the views from the walkways around the outside were insane. So beautiful!
The best part was watching the sun set behind St. Peter's Basilica. Amazing, and totally worth the price of admission just to see this. We would HIGHLY recommend going to the castle just before sunset.
Welp, this ended up being another long one. I just love giving you guys lots of juicy info on all these pics. I sincerely hope that you get to experience some of these amazing places we've been with your own eyes one day and that maybe these posts can not only inspire but help you get there as well.
So there you have it, everything we did on our two week trip to Italy.
Planning your own two-week trip? Check out another version of our Italy itinerary for those without family to visit 🙂
Rome – Amalfi Coast – Tuscany – Venice – Rome
Rome (1 Day) – Colosseum, Roman Forum, Palatine Hill, National Monument, Centro Storico, Aventine Hill Keyhole
Amalfi Coast (3 Days) – Path of the Gods, Iberanto Bay, Regina Giovanna Natural Arch, Isle of Capri, Pompeii
Tuscany (4 Days) – Florence, Sienna, Wine Country, Medieval Towns
Venice + Dolomites (4 Days) – Venice, Belluno, National Park of Belluno Dolomites
Rome (1 Day) – Vatican City, Trevi Fountain, Pantheon, Arch Basilica of Saint John Lateran, Castle Sant'Angelo for sunset
Have you been to Italy? Where did you go and what did you think? Let us know in the comments!
WANT TO TRAVEL CHEAPER & EASIER?
Subscribe to follow our blog and be the first to read our new posts!
Success! Happy dance optional :) P.S. check your inbox for goodies!
Like this post? Share the love and pin it on Pinterest!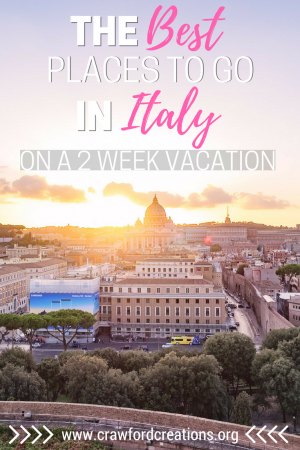 *** This post may contain affiliate links. By purchasing a product or service through these links you are helping to support this blog at no extra cost to you! We only recommend products we personally use and love! ***