The Backpacker's Guide To Budget Travel In Guilin, China
***This post may contain affiliate links.***
You know that place you could travel to over and over again and never get tired of it? Guilin is that place for us. It's as close as we've come to an annual vacation spot in China, having visited 3 times in the past 4 years. We just can't help but be in awe of Guilin's incredible karst mountains, winding rivers, and cascading rice terraces.
Over the years, Guilin has become quite a popular tourist destination in China. And with a rise in popularity, of course, comes a rise in prices. Luckily, budget travel in Guilin is still really easy to do with some insider guidance.
There are tons of cheap eats, free things to do, and awesome, budget-friendly places to stay in and around Guilin. You will not have to skimp on comfort to travel on a backpacker's budget in Guilin.
Why Should You Travel To Guilin?
In case you weren't already convinced before coming across this post, let me cement your decision to come to Guilin right here and now.
To put it simply, you should travel to Guilin because it's one of the most beautiful places in the entire world. That's right, I went there. It's a bold claim, but I truly believe it's so.
The scenery of Guilin is incredibly unique. I haven't seen or heard of anywhere else in the world that looks like Guilin. Drive 2 hours to the north and you've got incredible rice terraces perched high up in the mountains. Drive 1 hour south and you've got the tranquil Li River surrounded by thousands of individual peaks that seem to have sprouted out of the ground as if each grew from an individual seed.
If you love nature and the outdoors you will adore Guilin. When it comes to outdoor activities this place is endless. Hiking, cycling, rock climbing, kayaking, floating on a bamboo raft, and paragliding are all readily available in Guilin. Whether you want to take to the earth, sky, or water, you can do it in Guilin.
Besides Guilin's stunning natural beauty, it's also insanely tourist friendly for foreigners. Lots of people here speak English, there are tons of really nice affordable hotels and hostels that cater to foreigners, and it's super easy to get around in the surrounding countryside without your own transportation.
Read More From Guilin
When To Visit Guilin
Best Time To Visit Guilin
May
The best time to visit Guilin is from late April to early June. This is the time of year when you'll be guaranteed to get the best weather, including pleasant temperatures of 25 degrees C (77 degrees F), sunshine, and relatively little rain.
It's also a month where there are ideal conditions both on the Li River in Guilin/Yangshuo and at the rice terraces in Longsheng. From late April to early June the Li River is calm and the water is a beautiful turquoise blue. Meanwhile, at the rice terraces, the farmers have just planted new rice for the season and the terraces are flooded with water creating beautiful reflections of the sky and surrounding mountains.
Visiting in May also means that you'll come during the shoulder season when prices are lower and crowds are non-existent. Just make sure to avoid coming during the Labor Day holiday (May 1) when all the Chinese get a long weekend.
When Not To Visit Guilin
Summer/Winter
The worst times of year to come to Guilin are in the summer and winter seasons.
Summer is the rainy season in Guilin as well as both the hottest time of year and the most tourist-packed with all the kids out of school. In addition to having to fight the crowds and the heat, you also run the risk of the Li River being flooded and therefore not being able to go out on the water.
This is a serious bummer as taking a boat down the river is one of the best experiences to have in Guilin, and when the river is flooded all boats are shut down. The Li River also becomes an eyesore in the summertime as all the runoff from the summer rains turns the river muddy brown.
Winter is chilly in Guilin as the area's humid subtropical climate makes it feel colder than the actual temperature reading outside. Temperatures in the winter time generally sit at around 10-12 degrees C (50 – 55 degrees F), which, ya know, is not exactly boating weather. It's also cloudy and really dreary for just about the entire winter. It's entirely possible to go an entire month during this time without seeing the sun.
How To Plan Your Trip To Guilin
You can break Guilin down into 3 main areas. The first is the city of Guilin, which is the travel hub for the area, the second is the town of Longsheng, 2 hours north of Guilin city where the Longji Rice Terraces are located, and the third is the town of Yangshuo, 1 hour south of Guilin, where you'll find the best views of the Li River and surrounding karst mountains.
To experience all three of these areas, you should plan to spend at least 1 week in Guilin.
We generally structure our week-long trips as such:
Guilin – Rice Terraces – Guilin – Yangshuo
For more information on how to structure your time in Guilin, check out our Ultimate 1-Week Guilin Itinerary.
How To Get To Guilin
1. By Train
Train travel is always the cheapest and easiest option when it comes to traveling around China, but, if you happen to be in Southern China already anywhere in Guilin's surrounding provinces of Guangdong, Guizhou, Hunan or Yunnan Province the train is absolutely the best way for you to get to Guilin. Since you're already relatively close, the train will be a cheaper, easier, and faster option than flying.
To give you an idea of timing and price, coming from Guangzhou by train it takes 3 hours to get to Guilin City and costs just 164 Yuan (approximately 23 US dollars).
You can look up train times to Guilin from any city in China on trip.com. You can also book your tickets on trip.com as well, but I'd recommend going to the train station to buy them instead as even if you book online you still have to stand in line at the ticket booth to exchange your online booking for an actual paper ticket. It's not a very efficient system.
2. By Plane
Flying is usually more expensive than taking the train, but if you're coming from somewhere as far away as, say, Beijing, you'll probably want to hop on a plane to head to Guilin. Flying not only saves time, but at that distance, it's often not much more expensive to fly than to take the train, so, ya know, might as well save yourself 12 hours of ass time.
To give you an example, for an upcoming trip from Beijing to Guilin, it costs 822 Yuan to fly and 806 Yuan to take the train. Not much difference.
The best place to book domestic flights in China is, once again, trip.com. We've found the best deals on flights and hotels in China over the past 4 years using trip.com (formerly Ctrip) so we really can't recommend it enough.
What To See In Guilin
As previously mentioned, Guilin is best broken down into 3 sections, Guilin City, Longsheng, and Yangshuo. Not being city people, we prefer to spend most of our time at the rice terraces and in the countryside around Yangshuo and use Guilin as a way to break up the two places and shorten our travel days. For logistical reasons, you'll want to start your trip in Guilin City as this is the travel hub for the area.
Guilin City
Guilin City is where you'll find food and shopping street heaven, nightlife, riverside walks, mountaintop city views, and hip hostels. Think, typical Chinese city, but surrounded by epic karst mountain scenery and winding rivers.
Best Free Things To Do In Guilin
1. Sun & Moon Pagodas
One of the most iconic symbols of the city, the Sun and Moon Pagodas are a set of twin pagodas built in the middle of Fir Lake right in the heart of Guilin. While you do have to pay if you want to go inside the pagodas, a walk around the lake to admire the pagodas from the outside is completely free.
2. Zhengyang Pedestrian Street
Zhengyang Pedestrian Street is the place to go for an awesome meal, incredible street food, and the best souvenir shopping in the city. Each time we go to Guilin we end up here for dinner every night. It just never fails. There are so many incredible street food snack and restaurant choices all in one place we simply can't come up with a reason to go anywhere else.
Longsheng
Longsheng is where the incredible Longji Rice Terraces are located, arguably the most beautiful and impressive rice terraces in the world. The rice terraces are broken down into two sections, Ping'an and Dazhai (Jinkeng) which are located in different parts of the mountains about a half hour's drive, or 6-hour hike, from one another.
Longji Rice Terraces
Ping'an vs. Dazhai Rice Terraces
The Ping'an Rice Terraces are located 2 hours and 100 kilometers from Guilin, and the village is much larger and more commercialized than the villages at Dazhai. The Ping'an Rice Terraces themselves are also smaller in area than the Dazhai Rice Terraces.
Ping'an is, understandably, more focused on tourism than Dazhai as it's closer in distance to Guilin which means that most tourists stop here instead of driving all the way to Dazhai.
The Dazhai Rice Terraces are a 30-minute drive further away from Guilin than the Ping'an Rice Terraces, with multiple smaller villages along the mountainside. The rice terraces at Dazhai take up a larger area and are more impressive than the Ping'an Rice Terraces.
Multiple villages among the rice terraces at Dazhai also means more hiking trails to connect all the villages together. Hiking at Ping'an is pretty much limited to the couple designated viewpoints built at the top of the mountains, whereas at Dazhai it's the viewpoints plus a myriad of trails in between all the different villages.
So which section should you visit?
Definitely Dazhai.
Best Free Things To Do In Longsheng
1. Hiking the Longji Rice Terraces
Is there a better way to spend a day than hiking among mountains full of cascading rice terraces? I think not. Not to mention that the rice terraces are dotted with traditional Chinese villages home to different ethnic minority groups where you can stop and grab a bite to eat and admire the local handicrafts. Guaranteed, this will be one of the most unique hikes you ever do!
How To Get To The Longsheng Rice Terraces
From Guilin, take either the 8:30 am long-distance bus from the Guilin Bus Station or one of the tourist buses that go directly to either Dazhai or Ping'an Village from the Jinyi Holiday Hotel.
Tickets cost 30 Yuan per person for a long distance bus to the Longji Terraced Fields Ticket Office (from which you then have to catch another bus to either Ping'an or Dazhai village) or 50 Yuan per person for a direct bus from Guilin to Ping'an or Dazhai Village. Be sure to specify which village you want to go to before you buy your ticket if taking a direct bus.
Longji Terraced Fields Scenic Area Entrance Fee
No matter which village you go to you'll have to pay an entrance fee at the bottom of the mountain to enter the scenic area. It's a flat fee of 95 RMB per person for the entire area, including both Ping'an and Dazhai villages, and is good for 2 days.
Yangshuo
Located 70 kilometers south of Guilin, Yangshuo is where you'll find epic, magazine worthy views of thousands of karst peaks interwoven by meandering rivers. It's where you can experience small-town life in China in the most idyllic of settings.
Yangshuo vs. Xingping
Xingping is another, even smaller town, located 30 kilometers north of Yangshuo. It's an ancient town that's said to be the Yangshuo of years past, and a lot of travelers are starting to favor Xingping over Yangshuo saying that Yangshuo has become too crowded and touristy.
I'd say, go to both. Head to Xingping for the old town vibe and Yangshuo for the countryside attractions.
Best Free Things To Do In Yangshuo & Xingping
1. Wander Around Xingping Old Town
Xingping's charming old town is small, but it has so incredibly much charm. It's one of the cutest ancient towns I've ever seen, and it's also got some of the best lunch spots in all of Guilin. If you stop for lunch you have to try the Special Eggplant. It's the best!
2. Visit The 20 Yuan Note Scenic Spot in Xingping
Ever noticed the photo on the back of the 20 Yuan bill? It was taken right here in Xingping! Head over to this overlook and take that exact same photo for yourself.
3. Climb Laozhai Mountain for Sunset in Xingping
Laozhai Mountain has hands down the best sunset view I've ever seen. Honestly, it's yet to be topped. The hike to the top is up hundreds of stone steps, and the view is 110% worth the climb, I promise you.
4. Meander Down West Street in Yangshuo
West Street is Yangshuo's bustling pedestrian street, and when I say bustling, I mean this place is jam-packed at night time. It's still worth going though, because it's where all the best restaurants are, and even when we tried otherwise we always ended up back on West Street for dinner.
The street is more than just restaurants, it's also street food, bars, and lots of shopping.
5. Go Cycling Through the Yangshuo Countryside
Yangshuo was made for cycling. The countryside around Yangshuo is ripe with deserted back roads surrounded by towering peaks and winding rivers. You won't be short on incredible views during your ride that's for sure.
6. Hike the Yangshuo TV Tower for Sunset
This is Yangshuo's version of Laozhai Mountain, and it's almost just as epic. The view from the top of the TV Tower at sunset is of the sun dipping behind endless karst mountains. You can see almost 360 degrees around from the peak, and the view the opposite side is almost just as cool as you look out over the town of Yangshuo with endless mountains in the background.
This hike is also up hundreds of stone steps. Just don't be discouraged when you get to the top and find a locked gate. Just get the attention of the man who lives in the little hut next to the TV Tower and he'll come and let you in. For a small fee of 5 Yuan, of course.
Where To Stay In Guilin On A Budget
Guilin City
Ming Palace International Youth Hostel
Located just a few meters down the road from the back entrance to Zhengyang Pedestrian Street and within walking distance of all of Guilin's major attractions, Ming Palace International Youth Hostel has one of the best locations in all of Guilin. More importantly, it's an incredible hostel and definitely takes the cake for the nicest accommodation we've ever stayed at in China.
Prices start at $5 USD for a dorm and $17 USD for a private room.
Click here to check the latest prices and availability at Ming Palace International Youth Hostel.
Sky Palace Hostel
Sky Palace Hostel is located just across the river from Guilin's Seven Star Park and just down the road from Zhengyang Pedestrian Street giving it an A+ in terms of location for travelers. In addition to its great location, it's also got a rooftop bar and cafe with awesome views of Guilin and the surrounding mountains. This hostel is super nice, clean, and has a great atmosphere for hanging out and meeting fellow travelers.
Prices start at $5 USD for a dorm and $14 USD for a private room.
Click here to check the latest prices and availability at Sky Palace Hostel.
Longji Rice Terraces
Ping'an
Longji International Youth Hostel
Longji International Youth Hostel is located right in the heart of Ping'an Village. The hostel boasts beautiful views from not just their outdoor terrace, but their rooms as well, a restaurant and coffee shop on site, and a cozy sitting area for hanging out and relaxing after a long day of hiking.
Prices start at $4 USD for a dorm and $18 USD for a private room.
Click here to check the latest prices and availability at Longji International Youth Hostel.
Dazhai
Dazhai Dragon's Den Hostel
Located in Tiantou Village at the top of the Dazhai Rice Terraces, Dazhai Dragon's Den Hostel has a great atmosphere and incredible views of the surrounding rice terraces. There's also an onsite restaurant, at which you can order, get this, real coffee in the morning! A luxury when you're staying on a mountainside in China.
Prices start at $5 USD for a dorm and $16 USD for a private room.
Click here to check the latest prices and availability at Dazhai Dragon's Den Hostel.
Yangshuo
Xingping This Old Place International Youth Hostel
Located in Xingping Old Town 30 kilometers north of Yangshuo, Xingping This Old Place International Youth Hostel is without a doubt the best place to stay in Xingping. Rooms are basic, but clean and the hostel has an awesome rooftop hangout area with incredible views over the Li River, and a great restaurant that serves up legit wood-fired pizza, as well as other western and Chinese foods.
Prices start at $4 USD for a dorm and $14 USD for a private room.
Click here to check the latest prices and availability at Xingping This Old Place International Youth Hostel.
Yangshuo Wada Hostel West Street
Located just across the street from West Street, Yangshuo's awesome pedestrian street where all the best restaurants are located, Wada Hostel West Street has a prime location for those looking to stay in the heart of town. The atmosphere at Wada Hostel is amazing. The staff are super friendly, there's a great hang out area, and it's close to all the cool spots in town. The rooms are a bit basic, but otherwise very clean and in good condition.
Prices start at $5 USD for a dorm and $20 USD for a private room.
Click here to check the latest prices and availability at Yangshuo Wada Hostel West Street.
Mountain Stream Hostel
Located 1.5 kilometers north of the Yangshuo Town Center, Mountain Stream Hostel is the ideal place to stay for those looking to spend most of their time in the countryside. Mountain Stream has beautiful rooms, a cozy hang out area, a game room, and even a pool. It's the perfect countryside retreat on a budget. They also offer bikes and scooters for rent so you can easily get to and from the town the center.
Prices start at $4 USD for a dorm and $15 USD for a private room.
Click here to check the latest prices and availability at Mountain Stream Hostel.
Guilin Travel Budget
So, how much money should you budget for your trip to Guilin?
| | Hostel Dorm | Private Room |
| --- | --- | --- |
| Accommodation | 5 | 18 |
| Food | 12.5 | 12.5 |
| Activities/Shopping | 8 | 8 |
| Transportation | 12 | 12 |
| Total Cost | 37.5 | 50.5 |
Want more info to help you plan the perfect trip to Guilin?
Read More From Guilin
WANT TO TRAVEL CHEAPER & EASIER?
Subscribe to follow our blog and be the first to read our new posts!
Success! Happy dance optional :) P.S. check your inbox for goodies!
Like this post? Share the love and pin it on Pinterest!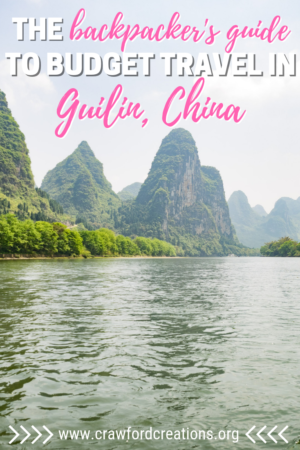 *** This post may contain affiliate links. By purchasing a product or service through these links you are helping to support this blog at no extra cost to you! We only recommend products we personally use and love! ***