The Budget Traveler's Guide To Beijing
***This post may contain affiliate links.***
After living in and traveling around China for 3 years, I thought I knew what to expect when it comes to budgeting for a trip. I've been to countless places all over the country, including other major cities, but let me tell you, Beijing is in a league of its own.
My first shock came when I was looking for hotels online. Usually, a decent Chinese hotel or private room in a hostel costs around CNY 120 or 20 US dollars, but in Beijing, nothing. Hours of searching later I finally settled on something I thought looked half decent and wouldn't bankrupt me, paying CNY 280 for the quality of room I would usually get for 120.
Just when I thought I had traveling in China down to a T (insert dramatic sigh of exasperation here). Oh well, you only go to Beijing once right?
Don't get me wrong, Bejing hotels are a total rip-off no matter how savy of a hotel deals finder you are, but you can definitely save your money in other places. After spending a few days in the city I realized you can, in fact, still travel to Beijing on a budget. It just takes a little more work than the rest of China.
Read More From Beijing
How To Travel To Beijing On A Budget
If you're looking to get the most out of Beijing without breaking the bank then this guide is for you. Beijing can easily be just as expensive as any major European city if you're not careful. But don't worry, we've got tons of budget travel hacks that will guarantee you have an amazing time in Beijing, not at the expense of your wallet.
The Best Time of Year To Visit Beijing
Spring & Fall
You can't go wrong with the weather, the decrease in crowds, or the decrease in prices from April – June or September – November.
In the spring, the weather is warming up while the smog is decreasing as the wind shifts with the change of season. Plus, of course, you can't go wrong with traveling during those spring blooms! And, as yet another added bonus, the kids are still in school so you don't have to deal with the major summer vacation wave.
In the fall, the weather is cooling off, the leaves are changing colors, and all the kids have gone back to school. Bye, bye summer vacation, hello perfect travel window. Also, the winter smog hasn't descended upon the city yet so you'll still get to enjoy great views and clean air.
Both of these times fall under Beijing's shoulder season, so prices are lower than normal.
The Cheapest Time of Year To Visit Beijing
Winter
The cheapest time of year to visit Beijing is during the winter off-season which runs from November – March. Prices for all of Beijing's attractions and hotels are discounted during the winter.
The downsides of visiting Beijing in the off-season are that it's freezing cold, it's smoggy (bad air pollution), and some of the tourist attractions are closed.
How to Get To Beijing

From Outside The Country
If you're coming from outside of China your best bet will be to fly. Beijing Capital International Airport is just a half hour train ride from the city and services all major cities from around the world.
From Within China
If you're coming from within China your two best options will be either to fly or take the train. Which one you choose depends on how far away you're coming from and how much time you have in the country.
Train Travel in China
If you have all the time in the world you can take the train. China has a world-class train system that is super fast, clean, and efficient. You can take a bullet train from Guangzhou to Beijing in just 8 hours that covers over 2100 kilometers!
The major advantages of taking the train in China is that they are always on time and you only need to show up 30 minutes before your train is scheduled to depart instead of 2 hours before like at the airport.
The major disadvantages are that they're often super crowded with both people and luggage, can be very loud with announcements, people selling stuff, and people listening to music or movies without headphones and of course are slower than airplanes.
If you've only got a limited amount of time to visit China and need to travel a long distance between cities I would definitely recommend flying.
Air Travel In China
The advantages of flying are that it's fast, the service is good, and the planes are nice.
The disadvantages of flying are that you'll often encounter delays that won't be explained (in English or Chinese) and you can randomly have your flight canceled for no reason. Of course there are the normal reasonings behind this like weather or plane malfunctions, but there's also a very Chinese reason behind why air travel schedules are so unpredictable, and that's because the Chinese Airforce controls something like 90% of the airspace in the country.
This means that airlines only have 10% of the country's airspace to fly thousands of flights per day moving people from place to place. As you can imagine, this limited airspace can get congested, causing delays. China's limited airspace also means that if there's an issue regarding weather, it can sometimes be hard to route a flight around that, meaning the flight has no choice but to wait at the airport until weather conditions have improved before taking off.
Local Currency
The local currency in China is CNY or Chinese Yuan. Colloquially, it's referred to as "kuai" or RMB (ren min bi).
How To Take Out Money & Pay For Things in Beijing
ATMs in China can be rather confusing to use. A lot of them start out in Chinese, and even more of them refuse to accept foreign debit cards. If you need to get money out of the ATM your best bet is to look for a Bank of China, ICBC, or China Construction Bank ATM machine. These are the main banks that accept foreign cards.
A little tip when using an ATM in China, there is always a button to change the interface to English, but it's not always in the same place at every bank. If you don't see an English button on the screen when you walk up, insert your card, enter your pin, and then look for a button to change the language. If you use one of the above banks they will always have an option to change the language, so don't worry about having to navigate an ATM in Chinese.
Beijing is a special city in China in that it is the only city I've been to in China that takes foreign credit cards. Don't go too crazy, they only take Visa and sometimes Mastercard, but that is basically unheard of in China. Don't expect your foreign credit cards to work anywhere else in the country.
How To Get Around in Beijing
The best, cheapest, and easiest way to get around in Beijing is to take the subway. The Beijing subway is awesome. There are so many lines and stops you can literally get anywhere in the city within a 10-minute walk of a subway station. It's insane.
The confusing part comes when you have to get out of the subway. Every subway station has at least 4 exits, and the exits are nowhere near each other, I'm talking, if you take the wrong exit you could come out on the opposite side of a 4 lane highway nowhere near each other. So you need to make sure when you're taking the metro in Beijing that you know not only what stop to get off at, but also which exit to take out of the subway station. Baidu Maps or Maps.me should tell you which exit to use.
Also, the Beijing subway stations really like to put their directions on the ground instead of on signs at eye level, so look for giant arrows painted on the floor to tell you which way to go inside of the stations.
Where To Stay In Beijing
If you're a solo traveler or traveling with a group of friends, hostel dorm rooms will save your wallet on this trip. Dodge the pricey hotel rooms all together and stay in one of Beijing's many hostel dorms.
The only snafu you might run into is the fact that for some weird reason foreigners and locals are not allowed to stay in the same room in Beijing. It's a strange local rule that I've never come across elsewhere in China. As long as you book ahead online you should be fine as the hostel staff will know how many foreigners and locals are staying with them and can arrange your rooms accordingly. If you're booking a private room or a normal hotel room than this rule won't affect you at all.
The Best Budget Accommodation In Beijing
Beijing 161 Wangfujing Hotel
With clean twin and double rooms for as low as $50 US dollars a night, friendly and helpful English speaking staff, and an amazing cafe with coffee and western breakfast 161 Wangfujing Hotel is the best bang for your buck when it comes to budget hotels in Beijing.
Check the current availability at 161 Wangfujing Hotel here.
365 Inn
Located just a 10-minute walk from Tiananmen Square, 365 Inn has a location and prices that can't be beaten in Beijing. With dorm rooms for $15 US dollars a night and privates for $50, a super friendly and helpful English speaking staff, and an onsite bar serving drinks as well as Chinese and Western food 365 Inn is by far one of the best and cheapest places to stay in Beijing.
Check the current availability at 365 Inn here.
Leo Hostel
Leo Hostel is known for its incredible atmosphere, amazing location, and great prices. Located on the beautiful Dashilan Pedestrian Street, one of the oldest and most historic streets in Beijing, Leo Hostel is close to all the major tourist attractions and is within a 10-minute walk to the Qianmen subway station.
With dorm rooms for as low as $10 US dollars a night and privates starting at $50, a library, a game room, an onsite bar and restaurant, and super helpful staff, there really is no better value for your money when it comes to hostels in Beijing.
Check the current availability at Leo Hostel here.
Where To Find Cheap Eats In Beijing
One of the best things about Beijing is that you can eat cheap and dine on delicious food at the same time.
How do you do that?
By eating a combination of incredible street food, dumplings, and noodles.
Beijing is the king of street food in China. There are countless streets dedicated to the craft, lined on either side with more vendors than you can count.
Where To Find The Best Street Food In Beijing
Some great places to go for a cheap and delicious dinner on the street include Ghost Street (Gui Jie), Wangfujing Snack Street, and Muslim Street (Niu Jie).
Where To Find The Best Dumplings & Noodles In Beijing
Look for mom and pop hole-in-the-wall type shops that only serve dumplings or noodles. Bonus if there's no English and the place is chock full of locals! To help you on your search, look for the Chinese characters for dumplings 饺子 (jiao zi) and noodles 面 (mian).
Beijing Duck
I know we're trying to travel on the cheap here and all, but I'd be remiss if I didn't mention one of the absolute best things to eat in Beijing that you simply have to splurge on while you're there, Beijing Duck.
And while whichever way you slice it Beijing Duck is not cheap, one of the cheapest and best places to eat Beijing Duck is at Deyuan Roast Duck Restaurant located on Dashilar Pedestrian Street (also called Dashilan). One whole duck that can feed 4 people costs CNY 150 or around $23 US dollars, so if you split this meal with friends it's actually very reasonable.
Want a full list of all the delicious local foods you should try in Beijing and where to find them?
Check out our DIY Beijing Food Tour for a list of the top 10 Beijing foods you need to put in your mouth when touring the city here.
Things To Do In Beijing On A Budget
Beijing is awesome for having tons of cool spots that are completely free to visit. While all the super popular attractions like the Forbidden City and most of the temples cost money to visit, there are tons of cool markets, ancient streets, neighborhoods, and parks that you can visit for less than $1 US dollar.
Jingshan Park
Skip the Forbidden City and head to Jingshan Park for an incredible view of Beijing's most famous tourist attraction for a fraction of the cost and the crowds.
In all honesty, I thought the view over the Forbidden City from Jingshan Park was actually better than walking through the Forbidden City itself. You just get a much better feel and appreciation for the massive scale of this ancient city being able to look down on the entire thing. It's just incredible.
Travel Tip: Head to Jingshan Park for sunrise or sunset for the best view with the least amount of crowds.
Since Jingshan Park is located right across the street from the exit to the Forbidden City, naturally most people go to the park right after they're done walking through the Forbidden City. Basically, that means the park is jam-packed during the day. So if you're looking to avoid the crowds hit up Jingshan Park in the early morning or evening.
Ticket Price
2 RMB
Opening Hours
6:00am – 9:00pm
How To Get To Jingshan Park
Take bus 58 and get off at Jingshan Dongmen Station (east gate), Xibanqiao Station (west gate), or Gugong Station (Forbidden City).
Panjiayuan Antique Market
Panjiayuan Antique Market is by far the coolest market in Beijing, especially when it comes to souvenirs. The place is jam-packed with all sorts of replicas and traditional Chinese things like scrolls, calligraphy, paintings, knots, fans, etc..
It's certainly the most unique market in town and you really can't go wrong with paying this place a visit. Just remember to hone your bargaining skills and never take the first price offered by the vendors. They will most definitely try to rip you off. Nothing unique to this particular market, they do that at every market in China.
Ticket Price
Free
Opening Hours
8:30am – 6:00pm
How To Get To Panjiayuan Antique Market
Take subway line 10 and get off at Panjiayuan Station.
Dashilar Pedestrian Street
Dashilar (also pronounced Dashilan) Pedestrian Street is the oldest and most distinctive Hutong in all of Beijing. The street was built in the Yuan Dynasty during the 1300s and its proximity to the Forbidden City meant ancient Beijing's rich frequented this area and allowed it to prosper.
In the 1960s Dashilar became the first asphalt road in the city, and with the addition of gates became Beijing's first pedestrian street. The architecture is incredibly well preserved in this hutong and a lot of the buildings house famous old shops, some of which have been around for hundreds of years.
One of the best shops on the street definitely has to be Deyuan Roast Duck Restaurant where you can get amazing roast duck at local prices.
Opening Hours
The street is open 24/7 but shops open from 8:00am – 10:00pm.
How To Get To Dashilar Pedestrian Street
Take subway line 2 and get off at Qianmen Station. Use exit C, cross the street via the underground walkway. Turn left and walk straight for around 400 meters and you'll arrive at the entrance to Dashilar.
Want to know more about what there is to do in Beijing?
For a full list of the best things to do in Beijing be sure to check out our blog post dedicated to finding the most incredible spots in and around Beijing here.
Beijing Travel Budget
Now that you know how to travel Beijing on the cheap, let's dig into the nitty gritty of how much you should realistically budget for a trip to Beijing.
The following table is a breakdown of the cheapest you can reasonably make traveling in Beijing while still experiencing all the city has to offer. The prices below are in US Dollars and each cost is listed per person per day.
Cost of Travel In Beijing (on a budget) Per Person Per Day
| | Hostel Dorm | Hotel/Private Room |
| --- | --- | --- |
| Accommodation | 20 | 60 |
| Food | 12 | 12 |
| Activities/Shopping | 5 | 5 |
| Transportation | 2 | 2 |
| Total Cost | 39 | 79 |
I broke this table down into two sections depending on if you choose to stay in a hostel dorm or a private room as prices differ significantly. Following all the tips talked about in the above sections of this guide for traveling in Beijing on a budget you'll need to budget either around $40 or $80 per person per day for your stay in Beijing.
Beijing Travel Tips
Beware of Scammers In The Tiananmen Square/Forbidden City Area
What's called "The Teahouse Scam" is super common in Beijing, especially around the Tiananmen Square/Forbidden City area. Basically what happens is one or two Chinese people walk up to you and strike up a conversation in English. They ask you basic questions and then invite you to go get a drink with them, usually tea, coffee, or beer.
If you say yes, they take you to a teahouse with incredibly inflated prices. You never get to see the menu so you won't know how much everything costs, but they'll order some tea and few snacks. You'll sit for a while, then when everything's done they stick you with the bill and won't let you go until you pay it.
Some people have gotten stuck with bills of over $1000 US dollars! These tea houses have doormen that will rough you up and intimidate you into paying the bill, going so far as to escort you to an ATM if you don't have enough cash on you. And going to the police doesn't help, they do absolutely nothing to stop this scam.
The best way to avoid this, and most any scam in China, is to not go anywhere with any Chinese person you don't know. It seems rude and like a really negative way to travel, but when you're in these big tourist locations in China it's the best and safest way to go for you and your wallet. Basically, if any Chinese person walks up to you and wants to do anything besides have a short conversation right where you're standing, say hi, or take a photo with you, it's probably bad news bears.
Buy A Metro Card (IC Card)
When you're using the subway in Beijing you have to stand in line to buy an individual ticket for every ride. As a tourist, this gets annoying fast as using the subway will be your primary means of traversing this very large city. Luckily for us, Beijing has a great system set up that allows tourists to buy a metro card and then return the card and get reimbursed for the cost of the card and any remaining money left on the card as you leave the city.
This makes taking the subway not only the cheapest and fastest form of transportation around Beijing but also the most convenient and hassle free.
Expect Tight Security At Metro Stations & Tourist Attractions
Being the capital, and one of the largest cities in communist China, the government takes security in Beijing very seriously. I mean almost bordering on paranoia seriously. Expect airport-style security when entering Tiananmen Square and the Forbidden City, and be prepared to put your bag through an x-ray machine and walk through a metal detector every time you enter the subway.
Navigate Using Baidu Maps or Maps.me
If you don't already know, most of what we think of as normal means of surfing the web, navigating, and communicating with one another is blocked here in China. This means you won't be able to access most of the websites and apps you're used to using every day such as Google, Google Maps, Facebook, Gmail, etc..
Instead, you'll have to use either Chinese websites or apps to get around or find ones that aren't blocked in China. Your two best options for maps in China are the Chinese Baidu Maps and Maps.me.
Baidu Maps is the most accurate is it's essentially the equivalent of Google Maps in China, but it's also only offered in Chinese, so unless you can read at least a little bit of Chinese it won't be too useful. Baidu Maps will recognize some locations in English though so it's possible to use it and then simply follow the blue line and dot to your destination.
If you're not adventurous enough for that (which, I don't think I would be if I couldn't read Chinese) then your next best bet is to use Maps.me. They have a great downloadable maps feature so that you don't need to worry about having data when you're out and about visiting all of Beijing's local sites.
WANT TO TRAVEL CHEAPER & EASIER?
Subscribe to follow our blog and be the first to read our new posts!
Success! Happy dance optional :) P.S. check your inbox for goodies!
Like this post? Share the love and pin it on Pinterest!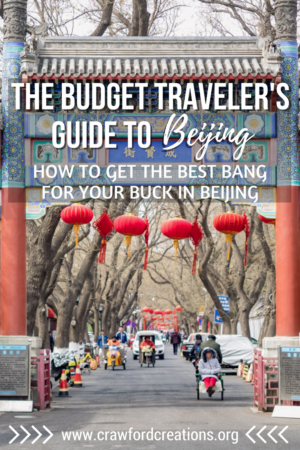 *** This post may contain affiliate links. By purchasing a product or service through these links you are helping to support this blog at no extra cost to you! We only recommend products we personally use and love! ***