Borobudur Photo Tour: Climbing the Largest Buddhist Temple in the World
***This post may contain affiliate links.***
Borobudur is the world's largest free standing Buddhist temple.  Built in the 9th century, the temple is constructed in typical Javanese Buddhist Architecture combining elements of traditional Indonesian ancestor worship with the Buddhist concept of attaining Nirvana.  Carvings on the walls of the temple reflect both ancestor and Buddha worship in a unique melding of the two religions.  In total Borobudur is adorned with 2672 relief panels and 504 Buddhist statues mostly carved into the temple walls. The structure is pyramidal in shape containing 9 different levels each stacked on top of on another with a large stupa at the top forming the peak.
The first 6 levels are formed by concentric squares.  These layers are where the ancestral reliefs are found.  Forming the final three layers on top are concentric circles of bell shaped stupas, each containing a mediating Buddha statue inside.  The final layers of stupas represent the highest level of attainment in the Buddhist religion: enlightenment.
Traditionally, Borobudur was a destination for Buddhist pilgrims to come worship.  Upon arriving at the temple the Buddhists followed a pattern, beginning at the base of the monument and slowly ascending upwards as they symbolically pass through the 3 phases of Buddhism: the world of desire, of form, and finally, of formlessness.
Following the conversion of the Javanese people to Islam in the 14th century the temple fell into disrepair until 1975 when the Indonesian government worked with UNESCO to restore the temple in its entirety.  Today, the temple is a UNESCO World Heritage Site and Indonesia's largest tourist attraction.  Borobudur is truly an amazing place not to be missed during a visit to Indonesia.
WANT TO TRAVEL CHEAPER & EASIER?
Subscribe to follow our blog and be the first to read our new posts!
Success! Happy dance optional :) P.S. check your inbox for goodies!
Like this post? Share the love and pin it on Pinterest!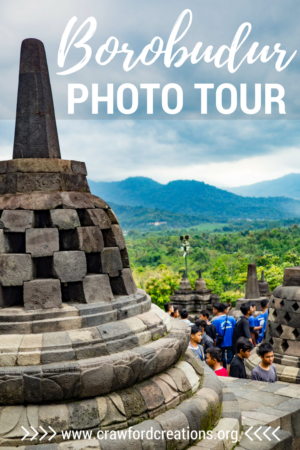 *** This post may contain affiliate links. By purchasing a product or service through these links you are helping to support this blog at no extra cost to you! We only recommend products we personally use and love! ***