20 Best Christmas Getaway Destinations In Asia: Plan An Epic Christmas Vacation in Asia Your Family Won't Forget
***This post may contain affiliate links.***
Whether you're an expat living in Asia or simply looking to escape the stress of the holiday season at home, Asia has some of the most unique and affordable Christmas getaway spots in the world. From snorkeling on a tropical island in Thailand to meeting reindeer in the snowy mountains of Mongolia, a Christmas vacation in Asia will be one for the memory books.
Now the only question is, where are you off to?
Check out these suggestions on where to go for Christmas in Asia from fellow travelers who have been there and have the Santa hat wearing photo to prove it.
Thailand
Krabi
Krabi Town, located on the west coast of southern Thailand, is a relaxing spot for a Christmas break. It's perhaps best known for its majestic limestone karsts that jut out of the water. It's also the place to go for unimpeded access to Krabi's best beaches and crystal turquoise waters of the Andaman Sea.
It's not all beaches and books though! Visit the area's lush rainforest and waterfalls, or hop on a boat to Ko Phi Phi and Ko Lanta, each just a few hours away. At night, enjoy top-notch seafood and a relaxed beach-bar vibe with decorated Christmas (palm) trees to keep you in the holiday spirit!
Written by Patrick from Adventographer
Koh Mak
We spent our last Christmas on Koh Mak and we absolutely loved it. Koh Mak is a tiny island in the Eastern Gulf of Thailand and part of the Chang islands. It's a perfect island with a laid-back atmosphere and not many people know about it (at least not yet).
Even though Koh Mak is a small island you can do many awesome things there. Besides chilling in the hammock or swinging on a swing, you can go for a snorkeling trip or snorkel on your own. We definitely recommend you to go for a dive or rent a kayak.
You can also rent a scooter to explore this cute island on your own. Koh Mak has beautiful white sand beaches such as Ao Kao or Laem Son. Ao Kao is the most popular beach with the most resorts, and this is where we opened our Christmas presents.
Go check out Ao Suon Yai with a beautiful view of Koh Kham. Enjoy your time on Koh Mak, I am sure you will love it as much as we did.
Phuket
Phuket is an unusual Christmas destination in Asia, mostly because it is warm, Buddhist and has a strong island feel. This means that your Christmas will be spent in shorts and by the beach, which is not entirely bad, and without any Christmas carols playing in the background.
Christmas in Phuket is dry so the sun is always shining, and lots of expats choose it to spend time with their families. The resorts usually put up nice dinners and events so that Christians can have a semblance of the celebration albeit in warmer climates.
Outside, in the streets, you will not find lights, but hotels might have Christmas trees with decorations and some activities for children and families.
Written by Mar from Once In A Lifetime Journey
Bangkok
Bangkok is quite easily one of the best places to visit in South East Asia and a fantastic Christmas getaway. The city has so much energy, so much going on every day, it literally never stops – not even on Christmas day. This means, for visitors, that it is an incredible getaway for the holidays, with plenty to see and do to be entertained.
Among the unmissable things to see in Bangkok, there are the temples – Wat Phra Kaew, Wat Pho, and Wat Arun. Beware that they get crowded so make sure that Christmas is not a national holiday here, or else you'll be elbowing your way to the greatest sights.
Don't skip Jim Thompson House: it's the best-kept example of a traditional home in the city. There are regular guided tours in various languages (you can't go around on your own).
If you feel like gorging on delicious food, head to Chinatown and look for the busiest spots: there's the best street food in the city!
Written by Claudia from My Adventures Across the World
Koh Lipe
Koh Lipe is a great tropical getaway, and I would recommend it even during Christmas holidays where usually it's challenging to find a suitable place for vacation. My boyfriend and I spent a few days during Christmas there and loved it!
The markup is higher in Koh Lipe in December since it's high season but it's still affordable considering that it's in Southeast Asia. Moreover, what I like about spending Christmas here is that it's not as crowded as other places. So you still get to fully enjoy the island and everything it offers.
There are tons of activities you can do in Koh Lipe including beach bumming in three different beaches, island hopping and snorkeling or just shopping, eating and strolling across Walking Street. You can have a special dinner if you want – the Thai food here is amazing and there are options for seafood meals as well.
Koh Lipe is ideal if you want a tropical vacation during Christmas.
Written by Katherine from Tara Lets Anywhere
Chiang Mai
Located in the mountains of northern Thailand, Chiang Mai is the perfect Christmas getaway for those looking to experience Thailand's incredible wildlife and mountain scenery. Give the gift of experiences this holiday season and get up close and personal with the world's largest land animal, the elephant, at Elephant Nature Park in Chiang Mai.
Chiang Mai is home to most of Thailand's ethical elephant sanctuaries. Elephant Nature Park, and those like it, are a new movement towards responsible elephant tourism in Thailand. These centers work to rescue injured and abused working elephants from the tourism and logging industries and allow tourists to visit or volunteer and help with some of the animals' day-to-day care.
Learn about the plight of the Asian Elephant in Thailand and give back by visiting one of the amazing sanctuaries that works tirelessly to help as many injured and abused elephants as possible. Your dollars spent not only allow you to hand feed bananas to an elephant, but are the driving force that enables these parks to continue helping Thailand's abused elephants as they receive little to no government support.
In addition to meeting elephants, Chiang Mai also has a host of incredible markets, temples, and restaurants that will keep you busy for as long as your vacation allows. If nature is what you're after, hike up to the top of the mountain on the outskirts of town to visit Doi Suptep temple or take a day trip to Pai where hikes and waterfalls abound.
December is the dry season in Chiang Mai with sunshine and cooler temperatures creating the perfect travel conditions for your Christmas vacation.
Philippines
Palawan

The province of Palawan is home to some of the most beautiful places in the Philippines, making it the perfect destination for a Christmas getaway in Asia! If you're looking to spend Christmas in Palawan then 3 of the best places to visit are El Nido, Coron, and Port Barton.
El Nido is perfect if you're looking to visit some stunning beaches, lagoons and snorkeling spots. You can spend your days discovering the wonderful natural attractions and your nights enjoying delicious cocktails at one of the many bars on the beachfront.
Another great option is to visit Coron Town on Busuanga Island. The island hopping tours in Coron visit pristine lagoons and lakes and much more! On top of this, Coron is home to some of the best wreck diving in the world!
If you're looking for a more chilled out alternative, head to the small coastal village of Port Barton. Island hopping tours in Port Barton are much less busy, perfect if you want to relax without the crowds!
As there are so many incredible things to do and places to visit in Palawan, it's an ideal destination for Christmas in Asia!
Written by Sam from Something of Freedom
Bohol
Bohol is one of the 7,641 islands that make up The Philippines. It's located in the Central Visayas region, between Cebu and Leyte. Bohol, like most of The Philippines, has its share of beautiful white sand beaches, but there's so much more! Bohol offers an exciting mix of underwater and above water attractions. It's an excellent destination for a diving holiday with your family.
Apart from world-class diving and snorkeling, Bohol is also home to the world's smallest primate, the tarsier. The Philippine Tarsier Sanctuary near Corella is an amazing place to visit.
The Chocolate Hills are another of Bohol's famous attractions. In this 20 square mile area near the town of Carmen, you'll find more than a thousand dome-shaped grass-covered hills. At the end of the dry season, the grass turns brown, making it seem like the whole area is covered with huge Hershey's kisses. But even when green the Chocolate Hills are an impressive sight.
The dry season in The Philippines usually runs from November to April. In March and April the temperatures can quite high, making the Christmas holiday a perfect time to visit Bohol. Keep in mind that Christmas is high season for both foreign and local tourists. Book well in advance.
Written by Lisa from Scuba Around the World
Sri Lanka
If you are looking to spend winter holidays in a place that would be as far from classic white Christmas as possible, Sri Lanka should be your choice. Swap heaps of snow for sandy beaches, Christmas trees for palm trees, and eggnog for coconut water!
December is the start of the season on the southwest coast of the island so you can explore the beautiful tropical beaches, go on a safari in one of the national parks to see elephants, or hike in the mountains of Ella and Nuwara Eliya.
Although two prevalent religions in Sri Lanka are Buddhism and Hinduism, there's a percentage of Sri Lankans who practice Catholicism and celebrate Christmas on the 25th of December. If you are in Colombo or in one of the major touristic towns like Ella or Unawatuna, you'll be able to find local restaurants that throw parties for Christmas.
Written by Yulia from That's What She Had
India
Jodhpur
Jodhpur in Rajasthan, India is the perfect place to visit over Christmas. This is when the desert weather is at its most mild, so it is very pleasant to walk around and explore.
Buy yourself a dozen presents – the fabrics, furniture, spices and ceramics for sale here are some of the best in India. Jodhpur is a center for shopping and you can get some real bargains.
Spend hours wandering through the incredible Mehrangarh fort, which dominates the city skyline.  The fort is not only beautiful, but it's also an interesting museum with displays of elephant saddles, palanquins, weapons, turbans and more.
For an adventure, there is zipline in Jodhpur that leaves from the fort and flies over gardens, lakes, and desert hills. There are spectacular views of Mehrangarh and the Blue City from the zipline.
Written by James from Travel Collecting
Madhya Pradesh
With average temperatures that oscillate between 15 and 30 degrees C, without precipitations and with skies mostly cleared; the weather is undoubtedly one of the factors that make passing December in Madhya Pradesh an excellent idea.
But there is much more, from the nature reserves where it is possible to spot tigers, to the numerous Indian monuments that can be observed there like the fort of Gwalior, the palaces of Orchha and the mosque of Bhopal. Certainly a different Christmas in Madhya Pradesh should be on the list of all travelers seeking tranquility in these dates.
Written by Inma from A World To Travel
Cambodia
Siem Reap
Home of the famous Angkor Wat temple complex, Siem Reap is the perfect Christmas getaway for those looking to channel their inner Tomb Raider. A three-day temple pass should do the trick for most, and when you get templed out, change it up with a day trip to nearby Phnom Kulen National Park or a trip to the floating and stilted villages of the Tonle Sap.
Siem Reap is steeped in history and culture, but as the tourism capital of Cambodia it's also been revamped with some modern amenities in recent years, such as western style bars and restaurants, and convenient international hotels and hostels.
The city certainly hasn't lost its local flare though. Adventurous eaters will feel right at home trying an endless array of street foods at the various stalls that pop up at night, and shoppers will be in heaven browsing through the maze of local night markets.
Spend your Christmas holiday in Cambodia and get treated to amazing cultural landmarks, abundant sunshine, balmy temperatures, and not a drop of rain to spoil your holiday.
Myanmar
Bagan
Bagan makes for a great Christmas getaway if you are looking for warmer temperatures and some exciting history.
December & January are the best months to visit Bagan. Temperatures range between 15° – 25°C. There are no rains. This makes it the perfect time to explore the numerous ancient temples of Bagan. There are more than 2000 of them!
Bagan has a short ballooning season and December is the perfect time to catch a hot-air balloon ride because of favorable winds. You can float closer to the pagodas for a very detailed look.
Pagodas pop out of the ground like mushrooms in Bagan. And some of them contain beautiful frescoes and lifelike statues. People are friendly and you can get some great food here. So, why not spend this Christmas in Bagan surrounded by beauty and smiles?
Written by Soumya from Stories by Soumya
Japan
Tokyo
Tokyo is a wonderful destination to go during Christmas. Not because they celebrate it like in Europe, but because they decorate the malls and places around the city a lot – to give it a festive spirit and atmosphere.
A fun fact about Christmas in Tokyo is the fact that a lot of Japanese people still go to KFC to have Christmas dinner as a tradition. This is due to a very successful campaign from KFC a long time ago.
It's also common that people go out and enjoy themselves during Christmas, so unlike Europe or the US, they don't really go to churches or have a big Christmas dinner at home, but instead, they enjoy the Christmas spirit with beautiful decorations.
The weather is not too bad either in Tokyo during Christmas, just make sure to bring a comfy sweater and a warm jacket.
Osaka

I love Japan for Christmas, but Osaka has won our hearts for this specific holiday!
The whole city is in full Christmas mode, with decoration, special illumination, lovely special foods in every restaurant and café (from coffee to anything you can imagine!) and amazing fairs and markets just for that period!
There are sales everywhere and shopping for amazing and affordable items is a must for everyone in Osaka during that period.
Every year, they make sure to change something or everything altogether, so it's a surprise every time.
One of the best things we did in Osaka was going to Universal Studios Japan. It was fairly uncrowded and, even though the decoration consisted of only one enormous tree and a wreath at the entry of The Wizarding World of Harry Potter, the parades were amazing, the food was adorable and it was so much easier to enjoy then during the hot summers!
Written by Thais from World Trip Diaries
South Korea
Seoul
Christmas in Seoul is absolutely magical! There are numerous festivals all across the city. Some might be surprised to hear that Christmas is such a big celebration in Seoul but there are more Christians in South Korea than in many other Asian countries. The Christians make up about 25-35% of the population in Seoul.
Make sure to visit Seoul Square on Christmas day to see the huge Christmas tree and skate around on the public ice rink. Many activities and businesses are open Christmas Day, so you can walk the streets and enjoy all the Christmas decorations.
The weather in Seoul is December is quite cold, varying about 35°F to 44°F, so it's a perfect time to enjoy the delicious fiery stews and flame grilled Korean BBQ's that Seoul is famous for. Many K-POP groups cover traditional Christmas songs so you'll hear familiar Christmas tunes as you shop on the streets of Seoul. Don't forget to try a traditional Korean Christmas cake with red bean paste when you are in Seoul!
Written by Kaila from Nylon Pink
China
Hong Kong
Hong Kong is a great city at any time of the year, but it really is an exciting place to visit at Christmas time!
China doesn't celebrate Christmas (children go to school on the big day!) but Hong Kong's historical relationship with the UK means that there are plenty of opportunities to be festive here.
You can spend a short while watching the light show on the waterfront, explore a traditional Christmas market in Stanley and even eat a Christmas dinner at one of the many restaurants across the city.
There are lights and decorations everywhere, and plenty of festive shows and performances throughout December. If you have the time, don't miss out on visiting Hong Kong Disneyland either!
What's great about Hong Kong at Christmas time is that you don't have to trudge around in snow boots to get anywhere, but it's also not really beach weather either. That means that it's perfectly comfortable to wander around the markets and Christmas attractions without getting overwhelmed by heat like in many places in Asia at this time of year!
Written by Jade from Two Tall Travellers
Zhangjiajie
Zhangjiajie is home to China's incredible "Avatar Mountains", aptly named as they inspired the creation of the floating Hallelujah mountains in the movie Avatar. This is without a doubt one of the most incredible places we have ever seen, and surely one of the most unique mountain formations in the world. I can't think of a better way to spend your Christmas vacation in Asia than hiking amongst the Avatar Mountains of Zhangjiajie.
While you won't find much of any Christmas spirit in Zhangjiajie, you will find that you have one of China's most famous and jaw-droppingly gorgeous natural landmarks all to yourself, a rarity in the world's most populous country. Visiting this place during peak season is a logistical nightmare, with tourists pushing a shoving past each other in a competition for the perfect photo. You're basically walking through a sea of selfie sticks. But not at Christmas time.
In December, when the cold weather hits and the crowds recede, you'll have this entire national park virtually all to yourself. Temperatures at Christmas time are cold, but still above freezing, even at night. Hiking up endless steps through the park, you'll be glad for the cool December weather.
Stay at one of the hotels right outside of Wulingyuan Scenic Area to maximize your time in the park. Once inside the gates take advantage of the free shuttle buses to transport you from one trailhead to the next. If you're ever too tired to hike, cable cars can take you to and from many of the mountains, plus they often have the best views.
Guilin
For milder temperatures and stunning natural scenery head to Guilin and spend your Christmas immersed in a karst mountain paradise.
Guilin has everything for the adventurous and the luxurious traveler alike. Stay in a trendy hostel or a mountain resort. Hike up endless karst peaks or take a relaxing float down the Li River. In Guilin, you can plan a Christmas vacation catered towards any style.
While most places in China can be a bit hard to travel to as a foreigner who doesn't speak Chinese, Guilin caters heavily towards tourists, making, not only for easy travels but also for some holiday festivities at the hotels and bars in town. Many boutique hotels that cater to foreign tourists even offer Christmas dinner.
Mongolia
East Taiga Tsaatan
What says Christmas more than meeting a herd of real live reindeer?! Take your Christmas vacation to a whole new level this year with an adventurous trek through the snow to meet the Tsaatan reindeer herders in Mongolia.
I know, I know, there's no snow in this picture, but that's because I visited during the summer. Picture yourself riding a majestic reindeer, walking through snow-covered valleys, and warming up by the fire with a cup of reindeer milk tea in a nomad teepee. This is the kind of epicness I'm talking about for your Christmas vacation.
I'm not gonna lie, this trip is pretty adventurous, involving multiple days of off-road travel by van and horseback, and will be very, very, cold, but talk about a once in a lifetime trip you will never forget! Oh, and make sure you bring a Santa hat for those soon to be award-winning Christmas card photos.
WANT TO TRAVEL CHEAPER & EASIER?
Subscribe to follow our blog and be the first to read our new posts!
Success! Happy dance optional :) P.S. check your inbox for goodies!
Like this post? Share the love and pin it on Pinterest!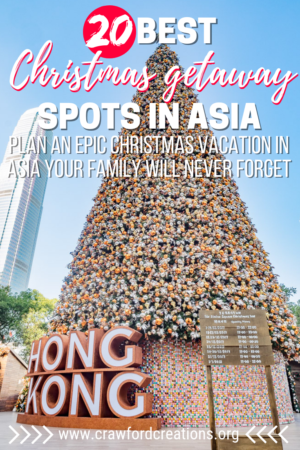 *** This post may contain affiliate links. By purchasing a product or service through these links you are helping to support this blog at no extra cost to you! We only recommend products we personally use and love! ***