senior dating website
2017: Our Most Adventurous Year Yet
***This post may contain affiliate links.***
2017 is fading fast my friends. It's been a great year, but honestly, we're less sad to see it go and more excited to bring on another new year. Why? Because 2018 marks our final year in China! This means we have one more year to pack in all the crazy Chinese adventures we can before hitting the road.
But, before we jump into the new year it's time to reflect on the adventure that was 2017. And it was quite the adventure. Perhaps our most adventurous year yet!
Let's see what kind of mischief we managed this year.
January
January started off with a waterfall hunt in Jiangmen where we discovered a secret twin waterfall and went hopelessly hiking into the mountains trying to find the correct trail in a maze of unmarked trails and dead ends. We did finally find the trail but didn't have enough daylight to complete it.
At the end of the month, we set off, tandem bike in tow, for our Chinese New Year trip to Indonesia. We spent the last week of January and first week of February riding our bike around Java, the largest island in Indonesia.
Our first week there we spent 4 days in Yogyakarta to see the Luweng Sampang Waterfall, Prambanan and Borobudur temples and the Sri Getuk Waterfall before riding our bikes up to the Dieng Plateau, one of the highest spots in Indonesia (besides the volcano peaks of course).
February
Our second week in Indonesia was spent exploring the volcanic land of the Dieng Plateau, including Telaga Warna (the colored lake) and Kawah Sikidang, a sulfur hot spring crater.
After Dieng we descended off the plateau to the beach at Pangandaran, on the southern side of the island. It was here that we got our first true taste of countryside again while staying in a hut just a 10-minute walk from the beach.
Our mission in Pangandaran was to go body rafting down the Green Canyon. We got our body rafting in just in time before the afternoon monsoon kicked in (we were traveling in Indonesia during the rainy season), and let me tell you, it was totally worth coming to Pangandaran just to body raft. It was amazing, beautiful, and so incredibly thrilling. They basically gave us all life jackets and knee pads and had us float on our backs down the rapids. At times we would climb up the rocks to jump off into deep sections of the river.
In the canyon, it felt like we had entered another world. The water was so clear and green, and the canyon walls towered tens of meters above us, trees sprouting from the sides and vines hanging down towards the water.
Pangandaran is also an excellent place to surf and is apparently famous as a being a great spot to pick up the sport.
Our last stop after Pangandaran was Bandung, where we finally got to hike to the top of a volcano, Tangkuban Parahu, and walk around the rim of the crater.
March
The majority of March was spent trip planning in anticipation of the arrival of Justin's parents. We decided on Gansu Province as our family vacation destination, as it was a place that none of us had previously been, it's where the Great Wall ends (a must see in China of course) as well as the Rainbow Mountains, a bucket list destination of ours since we arrived in China 3 years ago. Basically, it was a win-win place for everyone.
Justin's parents got here the last week of March and we spent their first few days showing them around Zhuhai and introducing them to Chinese life before jetting off to Gansu Province. Zhuhai doesn't have much to see, to be honest, but it's a good introduction to China with lots of back alley markets and seafood streets.
April
The first week in April was spend in Gansu Province with Justin's parents. We spent 2 days in Jiayuguan, where the great wall ends, and 4 days in Zhangye, where the Rainbow Mountains and Danxia geological formations are located.
The Great Wall in Gansu is nothing like the wall near Beijing. Here, the Great Wall is made to blend in with the desert and is basically constructed of mud, making it yellow instead of grey. The wall is located in the city of Jiayuguan, in the middle of a vast desert with a backdrop of giant snow-capped mountains. There are 3 different Great Wall sites to see in Jiayuguan: Jiayuguan Fort, The First Outpost of the Great Wall, and the Overhanging Great Wall.
Outside of Jiayuguan city, we found a few really cool collections of grottoes and temples carved into the mountainsides. The site we explored was called the Wenshu Grottoes, it was definitely the most unique thing we saw in Jiayuguan. I mean the Great Wall was cool and all, but rather expected.
From Jiayuguan we took a train to Zhangye where we got to see some of the most awe-inspiring landscapes we've ever encountered. The coolest one had to be the Rainbow Mountains, which completely held up to its reputation of awesomeness, by the way.
We also saw the Rainbow Mountain's sister park, Binggou Danxia, or Ice Valley, which was surprisingly cool considering how rarely people ever even mention it. Binggou isn't rainbow striped, but it's got some of the coolest nature made rock sculptures ever made, including its most famous shapes of a giant camel and the Louvre. Besides its two famous sculptures, the rest of the park is rather phallic in nature, with some epic views and backdrops.
We also hiked through China's Grand Canyon, Pingshanhu, and crawled through the passageways of Mati Temple, an ancient Buddhist temple/grotto carved into a cliffside.
We finished off April and our parental visit with a trip to Hong Kong to see some family friends, visit the Jade Market, catch the sunset from Victoria Peak, and hike some of the Hong Kong Trail.
May
This month was mostly downtime after all the traveling we did in March and April. Blog posts were written and thousands of photos edited, yes, thousands. We like snapping some pics around here.
The last weekend in May was Dragon Boat Festival here in China. We spent our Dragon Boat holiday over in Hong Kong hiking the first 4 sections of the MacLehose Trail. The MacLehose Trail is one of Hong Kong's 3 long distance trails. This trail runs the length of the mountains behind Kowloon for 100km.
The hike was steaming hot, but absolutely gorgeous. The trail leads down to 4 different secluded beaches and has some of the most stunning views of Hong Kong's many islands and city skyline. We camped along the trail over 3 days time, and if you've never camped in Hong Kong you are in for a treat.
Hong Kong's campgrounds are not only free, but have really nice flat grassy areas for pitching tents, fire pits, bathrooms, potable water, and sometimes even picnic tables. The only thing you really have to watch out for are the mosquitoes, so make sure you have a tent with mosquito netting!
June
June was a pretty chill month for us. We basically hung out in Zhuhai doing lots of bike riding and hiking. Cara hunkered down to do some major trip planning for the upcoming few months, including arranging her first volunteer experience in Kham, Tibet.
At the end of the month, we had the privilege of witnessing two of our friends get married in Xinhui, a small city about an hour outside of Zhuhai. It was our first Chinese wedding, and we got to experience many cultural differences when it comes to marriage, including the Chinese tradition of the groom "purchasing" the bride, now just a fun game where the groom gives money tucked inside of red envelops to the bride's friends until they deem him worthy of providing for her, and thus taking her hand in marriage.
July
Cara spent the first 3 weeks of July in the Tibetan town of Tagong, a14-hour bus journey from the Chinese city of Chengdu, to volunteer at Khampa Nomad Ecolodge. I first heard of Tagong when researching for my trip to Chengdu two years ago. It's known in the backpacker world as a picturesque Tibetan town with amazing hiking and horse trekking opportunities.
I was hoping to go horse trekking in Tagong, through Khampa Nomad Ecolodge, with a friend who was here visiting, but, unfortunately, we never made it there. Ever since then I've wanted to make it out there and experience all the cultural and natural beauty the town had to offer.
This July I finally made it! While I wished that Justin could have come with me, it was such a relief to finally be out in nature and away from the stifling hot and noisy city we live in. Every day at Khampa Nomad Ecolodge was spent helping out around the guest house, talking to guests, sitting outside enjoying the incredible mountains views, hiking up the grassy hills surrounding the lodge, and biking down the road to the temple or swimming hole.
I was super lucky to arrange my trip to Tagong during their annual Horse Festival, and my host, Angela, was nice enough to take me into town so that we could watch the races and games, which take place over two days. During my time there I was also able to hike to the nomad camps and spend the night with a nomad family and their yaks, as well as spend a day horseback riding.
Overall it was an amazing experience and I can highly recommend a visit to both the town of Tagong, and Khampa Nomad Ecolodge. Be sure to plan a trek or two while you're there. It's absolutely the best way to take in some of the most jaw-dropping views you'll ever see!
August
August started off with a trip to Inner Mongolia, where Justin was racing in two different bike races. I came along hoping to experience what Inner Mongolia had to offer, as the province wasn't on our list of places to go while in China. Justin had a good time racing, and swears that the countryside was beautiful, but I just couldn't see it. Inner Mongolia is basically just one big grassy plain.
Without my own form of transportation it was hard to really see much of the area. In terms of things to do, the answer is not much. You can take a pony ride and pay an insane amount of money to sleep in a yurt, but that's about it, at least in the areas we were in.
Inner Mongolia is the first place I've ever been in China that I really wouldn't recommend visiting. It was boring, the food was super mediocre, and the place overall just wasn't that interesting. My only caveat to that would be that if you were doing some sort of bike tour or horse trek through the area I could see how it would be a cool experience.
The week after we returned from Inner Mongolia, one of my good friends from the US came to visit. With only 5 full days in China we split our time between Zhuhai, Guilin, and Hong Kong.
Unfortunately, the river was flooded during the time we were in Guilin so we never got to go out on the water. But, everything happens for a reason, and since we couldn't take a bamboo raft or kayak, we ended up exploring the local caves including one with a mud bath and hot springs inside! The best-laid plans don't always work out when traveling, but that doesn't mean you won't find another awesome activity that wasn't even on your radar.
With our precious one day in Hong Kong, we walked around the city and took a bus to Repulse Bay Beach for a dip in the water. Hong Kong has some of the most amazing beaches I've ever seen. They're super nice and clean and the water is the most beautiful turquoise blue, and so warm! It's a great escape from the city and an amazing way to spend a hot summer day. After the beach, we raced up to Victoria Peak to catch the tiniest last glimpse of the sunset before nightfall (dang you long line at the tram station).
While my friend and I were exploring Guilin, Justin went on a trip of his own to Xingyi, Guizhou Province for a bike race. Guizhou is definitely one of the most underrated places in China. It's got some stunning natural beauty, including tons of waterfalls, as well as some amazing cultural history and architecture. Guizhou Province is one of the few places in China that has preserved its ancient history really well, and as a result has lots of really cute old towns, that are actually old and haven't been turned into tourist traps.
September
This month marked the beginning of our exciting European adventure. On September 1 Cara left for a solo adventure halfway across the world. My first stop was The Netherlands to reunite with an old friend from college I hadn't seen in 7 years. I spent the weekend exploring The Hague and Delft with her and her boyfriend, and getting my first taste of western life in a long time. I lucked out with the most amazing weekend weather-wise, and had a blast biking and walking around The Netherlands's adorable little towns.
After a quick weekend in The Netherlands, it was off to Italy where I would spend the next 3 weeks working on a horse farm in Tuscany. I found this work experience through a website called Workaway, where hosts post part time job listings in exchange for free housing and food.
If you're a traveler looking to save money, Workaway is a great place to start traveling for free. All you have to do is get yourself to the destination and then everything else is taken care of. You work usually 5 hours per day 5 days a week and then have the rest of the time to do whatever you want, whether it's relaxing on a mountaintop or exploring the city.
My Workaway experience was done on a farm in the Tuscan countryside, so after taking care of the horses and completing all the barn chores, I spent my remaining time enjoying the beautiful views, working on this blog, talking to Justin, and riding horses.
You could easily work somewhere like at a hostel in a town or city where, in your free time, it would be super easy to hop on public transport and go exploring. Since I live in a city in China, I purposefully chose an experience that would allow me to ride horses again and live the quiet country life. I would be exploring a lot of Italy at the end of my three weeks once the rest of our family arrived.
At the end of the month I met Justin, my parents, and my cousin in Rome, and together we embarked on a 2-week family vacation exploring my ancestral home of Italy. After Rome, our next stop was Faicchio, a tiny town in the Matese Mountains where my Grandma was born and raised. We still have a lot of extended family living there, and so with one of my Grandma's cousins as translator we got introduced to all our Italian relatives, biked around the beautiful Faicchio countryside, ate a ton of delicious home cooked food, and drank the best wine I've ever tasted, homemade in my family's basement.
October
After leaving the family it was off to Sorrento, on the Amalfi Coast for some gorgeous cliffside ocean views, hiking, beaches, and visiting the ruins of Pompeii. We loved everything about the Amalfi coast, with the exception of the traffic. If you go, be sure to hike down to some secluded beaches and take a walk down the Path of the Gods for some stunning views.
I was sad to leave Sorrento after only 3 full days there, but alas, it was back to Tuscany (for me anyway). We stayed at a beautiful farmhouse outside of Florence and spent our days exploring the many medieval hamlets and wine towns dotted throughout the countryside. Of course, we saw Florence as well, but I think we all agreed that it really didn't live up to the hype. Justin and I found that Florence paled in comparison to the Tuscan countryside and all the adorable little medieval towns perched on the hillsides. To each their own.
After departing Tuscany we had one more full day in Rome before saying goodbye to Italy, for now, not forever ;). We packed in the experiences on our last day taking in St. Peter's Basilica, The Pantheon, Trevi Fountain, Archbasilica of St. John Lateran (the church where the Pope gives mass), and finally watched the sunset from Castel Sant'Angelo.
We HIGHLY recommend heading up to the top of Castel Sant'Angelo at sunset, as you get the most amazing view of St. Peter's Basilica with the sun setting directly behind it. It's one of, if not the best sunset view in Rome I'm sure. Oh, and by the way, every single sight we packed in on our last day in Rome was completely FREE! Extra win.
After leaving Italy we spend a mere 3 full days at home in China before heading back to the US for an unexpected family visit. Luckily, Justin's work was able to give him some time off for a family emergency because he had zero vacation days left. Although it was a somber occasion, it was nice for us to be able to see some family members we hadn't seen in 3 years since we left to come to China. A silver lining for sure.
November
In November we parked our asses down and didn't leave Zhuhai. After spending a week getting over some horrible jet lag, it was nice to be able to reconnect with friends and enjoy spending time in my own apartment.
We were fortunate enough to have two Friendsgivings this year, one that we hosted with some of Justin's work colleagues, and another hosted by one of our friends and longtime Zhuhai residents full of almost every American, and some honorary Americans, in Zhuhai.
November was a reminder that it's important to appreciate both travel time and downtime.
December
December was another homebody month full of lots of writing, photo editing, and blog work. It's one thing to travel, but it's another to sit down and document all of your experiences and share them with others. It's a lot more work than it looks like, but we hope it's helpful, entertaining, and maybe inspires you to get out and travel someday.
We've also been sitting down and figuring out all the things we want to accomplish and work on in 2018 this month. It's always fun to think about the new year and what goals you can achieve in these next 365 days. Especially with this next year being our last one as expats in China, we've got a lot to pack in before we leave.
Christmas this year was spent in Hong Kong, finding as much Christmas spirit as we could. We found all the big Christmas displays and light shows on Hong Kong Island and spent the day soaking in all of Hong Kong's Christmas cheer.
2018
We've got a lot in store for 2018, so hang on to your hats and we hope you keep following along and interacting with us. As always, if you're ever in the neighborhood (aka, China or Hong Kong) drop us a line and come say hi!
Happy New Year and best wishes for an incredible 2018!
WANT TO TRAVEL CHEAPER & EASIER?
Subscribe to follow our blog and be the first to read our new posts!
Success! Happy dance optional :) P.S. check your inbox for goodies!
Like this post? Share the love and pin it on Pinterest!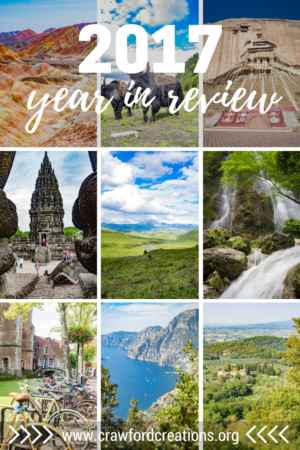 *** This post may contain affiliate links. By purchasing a product or service through these links you are helping to support this blog at no extra cost to you! We only recommend products we personally use and love! ***