Zhangjiajie Travel Guide: Everything You Need to Plan Your Trip
***This post may contain affiliate links.***
Zhangjiajie is an amazing place full of breathtaking scenery, with everything from naturally sculpted mountains to man-made bridges.  For outdoors lovers like ourselves, Zhangjiajie is a must see when it comes to the natural wonders of China.  The inspiration for the Hallelujah Mountains in the movie Avatar, Zhangjiajie is a place unlike anything we have ever experienced, and it's a destination we would love to return to in the future.
We loved our time there so much we've compiled all our research into one place and streamlined it so that you too can plan your own Avatar Mountain experience.  Happy trip planning!
Sights
Visit Tianmen Cave, take a ride on the 99 Bends Road and enjoy the sights from the longest cableway in the world.
Take in the otherworldly views of the "Avatar Mountains".
Walk on the longest glass bridge in the world spanning Zhangjiajie Grand Canyon.
Yellow Dragon Cave
– located 30 minutes by bus from Wulingyuan.
Explore this large karst cave lit with colored lights.
Baofeng Lake
– located 30 minutes by bus from Wulingyuan.
Take a boat ride on a serene mountain lake.
Getting to Zhangjiajie
Fly into Zhangjiajie Airport (Hehua Airport) from any of the major cities in China.  The airport is just 4km from Zhangjiajie city.Zhangjiajie Hehua Airport sometimes comes up as Dayong Airport when you search flights. Not to worry, this is just the old name of the airport. It is still the same place.Check the latest prices and flight times here.
When to Go
Peak season:  (May –October) – ticket prices are higher during this time, good weather.Off season: (November – April) – ticket prices are lower during this time, the weather is cold, wet, and cloudy.Best TimeEarly Summer (late May-June) or Fall (September-October)Early summer affords you views of the clouds and fog rolling below the mountain tops with warmer temperatures and low crowds.Fall means colorful foliage, pleasant temperatures, and low crowds.
When Not to Go
Summer (July-August), Winter (January-February) or during the Chinese holidaysSummer is peak tourist season and the parks will be jam packed with throngs of Chinese tourists, so unless you want to join the herds of cattle shuffling along narrow pathways try to avoid these months.Winter is low season, but it's really cold and wet, and snow and ice often accumulate on the mountains forcing the parks to close.December is OK but they close down the buses and escalators to Tianmen Cave so be aware that you will not be able to see this attraction will be forced to take the cable car both up and down Tianmen mountain.

Where to Stay?
To visit Tianmen Mountain, stay at one of the many hotels and hostels in Zhangjiajie City.To visit Wulingyuan Scenic Area, glass bridge, cave, and lake stay in Wulingyuan Village, the town just outside of the park entrance. Filter your search in Agoda to narrow the results down to only hotels in Wulingyuan.Check the latest prices and availability here.
How to Get to Wulingyuan Scenic Area?
1) Take a minibus from the bus station in Zhangjiajie City for 10rmb.  The ride will take 1 hour with buses departing every 15 minutes from approximately 8am – 6pm.2) Take a taxi from Zhangjiajie City for 100rmb.  Price will need to be negotiated as they will most likely want to charge you around 200rmb.
How to Get to the Glass Bridge, Cave, and Lake?
Take a minibus departing from the bus station in Wulingyuan Village.  Buses will cost 12rmb.
Ticket Prices
Tianmen Mountain: 258rmb (peak season) 209rmb (off season)Wulingyuan Scenic Area: 245rmb (peak season) 139rmb (off season) – tickets are good for 4 days.Zhangjiajie Grand Canyon and Glass Bridge: 258rmb (bridge + walkway down the mountain in peak season), 113rmb (bridge) and 99rmb (walkway) during the off season.Yellow Dragon Cave: 100rmbBaofeng Lake: 96rmb (includes boat ride on the lake)
Opening Hours
Tianmen Mountain: Enter: 8am – 4pm and Exit 8am – 6pmWulingyuan Scenic Area: 7am – 6pm (peak season) and 7:30am – 6pm (off season)Zhangjiajie Grand Canyon and Glass Bridge: 7:30am – 5:00pmYellow Dragon Cave: 7:30am – 8:00pmBaofeng Lake: 6:30am – 6:00pm (peak season)
Planning a trip to Zhangjiajie?  We hope this guide helps you on your way!  Leave us a comment below with any thoughts or questions about Zhangjiajie.  Have a great trip!
WANT TO TRAVEL CHEAPER & EASIER?
Subscribe to follow our blog and be the first to read our new posts!
Success! Happy dance optional :) P.S. check your inbox for goodies!
Like this post? Share the love and pin it on Pinterest!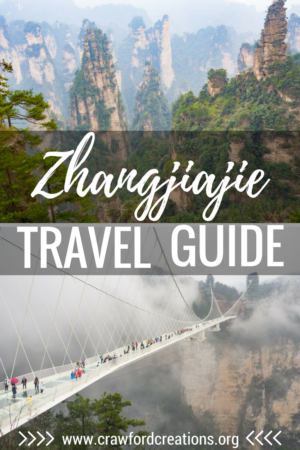 *** This post may contain affiliate links. By purchasing a product or service through these links you are helping to support this blog at no extra cost to you! We only recommend products we personally use and love! ***