How to Get & Stay Fit While Traveling
***This post may contain affiliate links.***
I feel like there's a bit of a misconception when it comes to travel and fitness. For some reason, people seem to think they don't go together.
There's a mirage of luxury painted over the lens of travel. A mirage that often brings up images of people lying on some perfect white sand beach, usually on a tropical island, sipping cocktails and taking sunset strolls along the ocean.
Basically, travel has become the only acceptable outlet through which we can pamper ourselves without seeming like self-indulgent pricks (so many things wrong with that by the way).
So, how do we end up spending our limited vacation time? Checked into a nice hotel, feasting at restaurants for every meal, ordering way too many drinks, and generally expending as little energy as possible, (bonus points if the destination is warm and sunny) am I right?
And hey, don't get me wrong, if you've got a mere 2 weeks of vacation a year, and this is how you want to spend one of them, go for it! You've earned it after all.
But, if you travel often for business, are taking a sabbatical, have a ton of vacation burning a hole in your pocket (lucky you), or just decided to make a life out of traveling (yes, believe it or not that's a thing) you might want to substitute some of that wining, dining, and lounging with something a little healthier.
Stay Active
The easiest way to stay fit on the road is to simply move your body. There's no getting around the fact that traveling from point A to point B generally involves a lot of sitting around, but that's no excuse for staying sedentary once you get to your destination. Here are some fun activities you can do on your next vacation that will get your heart pumping and your legs moving.
Go on a Walking Tour
This can be paid, or self-guided. Honestly one of my favorite things to do in a new city is to find the downtown area on a map, get myself there, and just start walking around. The more lost I get the better. That's where all the cool off the beaten path discoveries happen.
So far my favorite city to get lost in has been Hong Kong. It's super safe and has amazing back alleys, markets, and colorful buildings to explore. Our latest self-guided Christmas walking tour was so much fun, and we discovered even more cool streets in the city we had never been to before.
Although walking tours are geared more towards city traveling, you can do them in small towns or in the countryside as well. If you're in the country or a small town, simply go out for a walk, whether it's down the road or through a field. You might be surprised at the beauty you find right around the corner.
Rent a Bike
Cycling is not only great cardio but also a great way to see more in a new place. By riding a bike you get to sightsee while working out at the same time. Total win-win.
We do this by either renting bikes to ride to certain sights we want to see for the day or to just ride around the city and familiarize ourselves with the area. Justin always brings his Garmin GPS to attach to the bike so we don't get lost, but you can also use maps on your phone to plan your own bike tour.
Many cities also offer sightseeing tours by bicycle. These are another great option to partake in if you want a more structured experience and to be able to forgo planning a route. You'll also get to learn more about the culture and history of the city and make sure you hit all the famous spots.
Go Snorkeling/Swimming (if you're at the beach)
I find swimming and snorkeling an underrated exercise, mostly because a lot of people don't associate playing in the ocean as exercise, but as long as you're actually swimming and not just floating around, swimming is amazing cardio.
How cool is it that while you're swimming around playing in the waves and watching the colorful fish and coral below you, you're actually getting exercise?! I'm all for exercise that doesn't feel like exercise, and swimming in the ocean is a great one! No laps or pool lanes required.
Rent a Kayak (again, body of water required)
Take it from someone who's spent a week kayaking and camping on deserted islands in the Philippines, kayaking is a great upper body workout. Just be careful that you don't overdo it. Kayaking will definitely workout muscles in your back and shoulders you didn't even know you had, so take it easy if it's you're first time.
I always feel like there's something really special about being out on the water, whether it's in a boat or a snorkel mask. It gives you a totally different perspective of the world, viewing land from the water instead of on it, and realizing that there's this whole other world living underneath of you.
Go Hiking
Hiking is one of my all-time favorite travel activities. It gets you off the beaten path, into nature, and in contact with some (hopefully) amazing views. Become one with nature, see stunning scenery, and exercise at the same time.
As country people, we are always drawn to the natural scenery of a place. The higher the mountains, the lusher the valleys, and the bluer the water the better.
You don't have to be an experienced trekker to enjoy hiking. Just look up the popular trails in your area and head out for a morning or afternoon. You never know what beauty is lurking at the next mountain peak, or up the next set of stairs.
The best thing about hiking for me is the reward you get at the end when you've finally reached the top, or the prospect of one anyway. There's nothing I love more than marveling at a fantastic view. It's what motivates me to get to the top when I'm out of breath and my legs are burning.
Walk or Bike As Your Form of Transportation
Ya'll knew this one was coming. Riding a bike and walking are two of the easiest and cheapest ways to keep fit on the road because they double as a form of transportation. You get from point A to point B and get exercise at the same time.
If you're going somewhere a few kilometers or miles away or heading to a bunch of different places within the day, just riding your bike instead of taking a car or bus will help you burn calories without even thinking about it.
If you're staying close, then you don't even need a bike, just walk. Calorie melting and practical. Plus you see way more with the world as your window instead of a piece of glass.
Take Advantage of Your Hotel Gym (if available)
Hella obvious, but still valuable. If your hotel has a gym, and you're about that gym life, use it. Just because you're on vacation doesn't mean you can't hit the gym for half an hour.
Wake up half an hour earlier, hit the gym, shower and you'll be ready to tackle the day with your workout already behind you.
Take A Local Exercise Class
Do you know of some local sport in the country you're in that looks cool? Try it! More often than not there will be a place offering classes in English for tourists.
Some popular examples of this are learning Thai boxing in Thailand, doing Tai Chi in China, or taking a yoga class in India. Taking a local exercise class is a great opportunity to not only get some exercise and learn a new skill but to absorb the local culture as well.
Go Running
Did you bring sneakers on your trip? Great, then you can go running. Running is one of the best forms of cardio out there, and one that can be done anywhere your two feet can take you.
Run along the beach in Thailand, or past the Colosseum in Rome, make it a run with a view and heck you might even like running for once! Running is such an easily accessible activity, amazing cardio, and a great opportunity to take in more of your destination.
Make running fun and plan a different route every time so you can experience another section of the city or a different view. I know for me running can be boring, so getting in some awesome view or simply changing up the route adds some interest to keep me going. Pumping the tunes of course always helps as well (make fun of me if you will, Justin).
Follow A Home Exercise Routine
Are you a home workout person? I know I am. If I can't do something outside, I'll be in my living room doing bodyweight exercises or following Zumba or Yoga videos. The one place you sure as hell won't ever find me is in a gym, even a free one at a hotel. I find it similar to being at the doctor's office. So sterile and soulless.
The best thing about home workouts is that they require no equipment and can be done anywhere. In a hotel room, on the beach, on the lawn, in a city park, wherever the mood strikes. Don't stop working out just because you're on vacation, bring the workout on vacation too!
Eat Healthy
The second pillar of any fitness routine is healthy eating. This is definitely the harder thing to control when on the road, but it's not impossible. Part of the joy of travel is trying all the delicious local foods in your new city or country.
Unfortunately, these foods are not always healthy, but lucky for you all you really need to do is to find a balance between the kinds of foods you eat. For example, if you eat fish and chips for lunch, have a vegetable heavy dinner. Simple right?
Here are some more tips on how to eat healthy while traveling.
Make Healthy Choices at Restaurants
This is where common sense comes in. Like should you really be ordering burgers and pizza for every meal? Probably not. By all means, eat that burger and order that pizza, but in moderation.
If you plan to burger and fry it for dinner, maybe chow on some salad or healthy stir fry for lunch. Experience all the yummy foods, but ya know, have some self-control about it.
Cook for Yourself
Part of the reason why we've started staying in AirBnb's is for the kitchen. Eating out at restaurants all the time is never healthy, no matter what country you're in. You can rectify this and still experience local food culture by going to the local markets, buying some fresh ingredients, and cooking yourself a meal at home.
It'll keep you healthy, give you a fun experience of cooking with some different ingredients, and as an extra bonus, you'll save money as well. Eating out is both fat producing and wallet-draining. Yuk. Losing weight from your wallet and adding it to your body is just highly unflattering, in so many ways.
Plus, in a lot of countries, the variety of food choices at restaurants is rather limited. By cooking for yourself you can add in some more variety and avoid getting sick of the local fare.
Buy Healthy Snacks at the Local Store
If you don't have access to a kitchen, you can still make more healthy food choices by purchasing healthy snacks from the local store or market. Trying out the local fruits and dry goods is both fun, and healthy. A lot of the vendors will let you try before you buy as well if it's something you've never had before.
Keep full with some nuts and fruits between meals instead of binging at every restaurant will help you avoid packing on the pounds, without limiting your local food experiences.
Limit the Alcohol
I think it's pretty widely known nowadays that alcohol consumption tends to be correlated with weight gain. So unwind and dance your heart out at the club, but do it in moderation. Do you really need to be partying with five drinks a night or could you get the same effect with two? Probably could.
Plus you'll feel way better skipping the hangover the next day, and get to do more on your travels because of it. Quit drinking your calories and you'll thank yourself by coming back from your vaca looking the same or better than when you left.ry
Looking to Get Fit on Your Travels?
Exercise tourism (I might have just made that term up) is kind of a thing, and it's pretty cool. It involves things such as traveling for marathons (or 10ks, let's be reasonable), bike races, gran fondos, iron mans, bike touring, or trekking.
Having your entire trip revolve around some sort of epic athletic event you're participating in is a great way to explore the countryside in a new place, meet more of your tribe of people from around the world, and step up your fitness game to a whole other level. There's nothing better than connecting with someone into the same things as you are, in a cool ass place, while achieving a personal fitness goal.
We've done a couple of these kinds of trips in the form of a five-day trek to Machu Picchu, a bike tour from Lijiang to Chengdu along the Sichuan Tibet Highway, and racing the Colorful Yunnan Gran Fondo. They were both completely epic, and some of our best travel memories to date.
How do you stay fit on your travels?
WANT TO TRAVEL CHEAPER & EASIER?
Subscribe to follow our blog and be the first to read our new posts!
Success! Happy dance optional :) P.S. check your inbox for goodies!
Like this post? Share the love and pin it on Pinterest!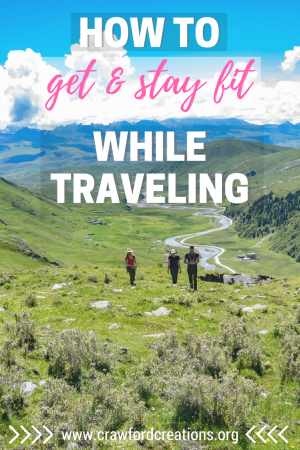 *** This post may contain affiliate links. By purchasing a product or service through these links you are helping to support this blog at no extra cost to you! We only recommend products we personally use and love! ***