15 Best Things to See & Do in Tuscany: Quintessential Tuscan Experiences You Can't Miss
***This post may contain affiliate links.***
So, Tuscany. Have you heard of it? It's that place that's kind of famous in Italy. Yeah? Phew, glad we're on the same page.
But seriously, I'm pretty sure Tuscany is one of those places you sure as hell don't need to be convinced to go to. It's made quite a name for itself in the tourist world as being an all around knock out of a destination.
Here's the problem, waayyy too many people fly through Tuscany on their whirlwind Italy trip, stopping in only one or two of the major cities before moving on to another province. Big mistake. Tuscany deserves a trip of its own or, in keeping with reality, at least some extended time to truly explore all the countless hidden gems it has to offer.
For reals, guys, get the heck out of Florence, because if I'm being honest, Florence was my least favorite part about Tuscany. I know, I know, don't hate on me just quite yet.
In total "picture is worth a thousand words" style, I'm about to show you why.
Related Posts
I spent the majority of my time in Italy working on a horse farm in Tuscany near the town of Grosseto. During my days off I traveled around the region exploring the nearby towns. My Tuscany itinerary looked like this:
3 weeks at La Ginestra Farm, Grosseto, Tuscany
4 days with family at La Tinia Farmhouse outside of Florence
Plenty of time to really peel back the layers and see as many amazing sites and stuff my face with as much amazing food as possible.
Here are the results and what we think are the best things to see and do in Tuscany.
1. Explore the Medieval Towns
This is the town of Certaldo. A medieval hamlet set on a mountaintop (as all medieval towns are, better to keep watch for any intruders) about 30km outside of Florence. Literally, every single street in this town looked like this. Italy is famous for picturesque streets, but the medieval towns of Tuscany take the cake!
An areal view of Siena, perhaps the biggest and most famous medieval town in Tuscany. The host mom I stayed with in Tuscany said that Siena is her second favorite city in all of Italy, right after Venice. Luckily, she only lives an hour from this beauty and has a daughter who goes to school here, so plenty of reasons to visit! Siena is famous for, not only its medieval beauty, but also its torrone, an Italian nougat candy with almonds or pistachios mixed in with the sticky, sugary, crunchy goodness. Torrone is a candy from my childhood and is apparently not easy to find on store shelves, even it's country of origin, so I was super excited when I found it in a boutique grocery store in Siena. Apparently, it's a local specialty!
2. Climb a Bell Tower
Both of these views are from the bell tower in Siena. Why Siena? It has the highest bell tower of all the towns we visited, with the best views. A simple choice really.
3. Get Tipsy at a Wine Tasting
Oh, Chianti. How we love you so. The Chianti wine region in Tuscany is hella fabulous. If you've made it to Florence, you definitely need to make a tour out of wine tasting at all the little Chianti wine towns. The whole wine tasting thing in Tuscany works like this: you bike or drive to one of the Chianti towns, literally named "x in Chianti" on the map (these photos were taken at Castellina in Chianti) then wander around peaking into all the cute little shops until you find the wine stores. Once you've found one simply ask the person at the counter for a tasting.
Some are free, and some are paid so make sure to clarify before you taste. While, of course, they would love for you to buy a bottle after tasting, it is not in any way expected or implied, even if the tasting is free. So don't feel pressured. A lot of the shops now seem to be implementing a kind of self-tasting service where you buy a wine card and stick it into a machine that dispenses a perfectly poured mouthful of wine into your glass. The price for one swig of wine from these machines was usually around 1.5 euros. You also generally have to put a certain amount of money on your wine card to start tasting. There are enough free tasting shops that we avoided the wine card places.
Of course, you can take an organized wine tour as well. They have both bike and non-bike options available, but, as usual, we chose to fly solo.
4. Take in the Beautiful Mountain Scenery
This was just one of the MANY incredible views from Campagnatico, the tiny tiny mountaintop hamlet just 3km up the road from the farm I worked at. After many days of admiring its perfectness as it remains perched ever so precariously atop the highest mountain around, my host family drove my friend and me up to check it out one morning after work. It was the definition of a quiet mountain retreat and a truly off the beaten path village. We were the only tourists there, and blatantly so as we walked around with our cameras out the whole time. The Campagatico locals were so nice and friendly, they even unlocked the ancient church for us to walk around in and taught us a bit about the town's history.
This is the incredible view that I was blessed to wake up to every day at the farm I worked at. The rolling hills in this part of Tuscany were so perfect for taking the horses out for a stroll, which we often did in the evenings.
5. Cycle the Chianti Hills
Tuscany is a cyclist's dream. For reals. The whole region is rolling hills and mountain climbs. And not just for road cyclists, many of the mountains in Tuscany have great mountain biking trails. One of the coolest biking routes in Tuscany is to bike through all the little wine towns, stopping at each one for a wine tasting or a bite to eat.
Another fun thing to do in the wine towns is to take a bike selfie (or just a regular selfie) at all the rooster statues! I'm not sure if all the wine regions do this, but the Chianti region in Tuscany has a rooster as their mascot. Because of this, every Chianti town has erected a giant rooster statue, so be sure to take at least one photo with the dude along your route. It's kind of like collecting stamps along a Fondo or organized group ride, except instead of a stamp you get a rooster photo and a swig of wine! Sooo much more fun than a lousy stamp book!
6. Meander Down Picturesque Streets
When I first arrived in Italy I just could not get over the perfectness the Italian streets. They are just so picturesque with the stone buildings and walkways, cute shops, the shutters, and the gorgeous doors, sigh…my heart belongs in the streets of Italy. The photos do not do it justice.
7. Watch the Sunset Through the Olive Trees
There is only one place in the world where you can watch the sky light up with color through the olive trees while the sun sets behind the umbrella pines and cyprus trees. And that is Tuscany.
8. Go Horseback Riding
I mean is there anything more romantic than riding through the hills of Tuscany on horseback, at sunset?! I think not. I was lucky enough to land the opportunity to work on a horse farm in southern Tuscany for some beautiful people who let me ride their horses every day after work. It was an amazing experience that I got through Workaway (blog post coming in the future) that enabled me to afford to stay for an extra 3 weeks in Italy AND get to ride horses. Double win.
If you just want to ride for a day, there are many different farms that offer trail rides for tourists. I'll drop a couple here and here.
9. Marvel at the Iconic Cyprus Trees
The Tuscan Cyprus tree is iconic for a reason. They are the strangest skinny trees I've ever seen. They look manicured. I promise, they're not.
10. See the Most Adorable Doors & Entryways
I mean, does it get any more perfect and adorable than this? I think not.
11. Go Stargazing
OMG. THE STARS. I actually forgot these critters existed until I came to Tuscany. Then one night I remembered to look up and bam! Explosion lights all across the sky. Amazing! The weather in Tuscany is pretty dry, so they have a lot of clear skies, perfect conditions for star gazing! Plus you can get those cool Tuscan Cyprus trees in your shots.
12. Taste All the Delicious Olive Oil
It's not all about the wine in Tuscany. The region is also a MAJOR producer of olive oil as well. Some of the wine shops that do wine tastings also offer olive oil tastings as well. Otherwise, any type of butcher or boutique dry goods store usually has olive oil and pieces of bread out for tasting. Grab a slice and get dipping!
13. Tour the Duomos
For reals with your Duomo's Italy. These are the coolest churches I have ever seen, mostly because the outside of the duomos is just as elaborate, if not even more so (cough, cough, Florence) than the inside. It's like a two for one deal! While the technical definition of a Duomo is a "cathedral with a bishop" I prefer to think of them as the green and white striped churches. Why are they all green and white striped? I have no idea.
14. Take a Dip in the Ocean
Bet you forgot Tuscany even had a coastline, didn't you? Tuscany is so well renown for its hills, olive groves, and vineyards, that we forget about its connection to the beautiful Mediterranean Sea! This is Porto Santo Stefano, a little town on an (kind of) island just off the coast of Tuscany. The island is connected to the mainland by two narrow channels of land where you can walk, bike, or take a bus from Orbetello, on the coast, to Porto Santo Stefano, on the island (ish). The area around here is not what you would expect of Tuscany. Its marshy wetlands reminded me more of the southeastern US than any scenery I've ever seen of Italy.
15. See the Old Stone Bridges
The Ponte Vecchio in Florence takes the cake for this one, but there are really too many gorgeous stone bridges in Italy to count!
The real question is, why NOT travel to Tuscany? 😉
WANT TO TRAVEL CHEAPER & EASIER?
Subscribe to follow our blog and be the first to read our new posts!
Success! Happy dance optional :) P.S. check your inbox for goodies!
Like this post? Share the love and pin it on Pinterest!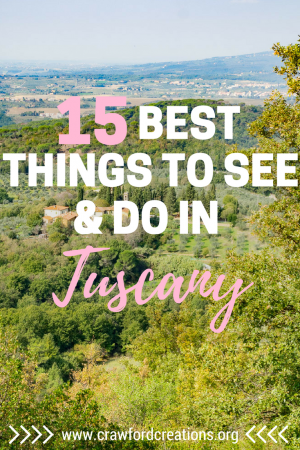 *** This post may contain affiliate links. By purchasing a product or service through these links you are helping to support this blog at no extra cost to you! We only recommend products we personally use and love! ***