15 Best Things To Do In Siem Reap, Cambodia
***This post may contain affiliate links.***
While Siem Reap is famous as the home of Angkor Wat, it is so much more than that. This little city tucked away in the jungles of northern Cambodia was once the country's capital. After Angkor fell in the 1400s the area laid dormant for years. Now, it has revived itself into the lively town of Siem Reap.
Today, Siem Reap is a bustling town full of markets, street food and 1000s of ancient temples. It is home to friendly locals, stunning sights, and great food.
With Angkor as its main draw, Siem Reap thrives on tourism. Lucky for us, that means there's plenty of awesome things to do in Siem Reap, even without Angkor Wat.
1. Angkor Archaeological Park
Angkor is the main attraction in Siem Reap for a reason. Covering an area of 400 square kilometers and encompassing over 1000 temples, you definitely can't come to Siem Reap without visiting the temples of Angkor.
The temples of Angkor Wat were built between the 10th and 14th centuries and served as the country's capital and largest city until the monarchy's fall from power. The temples of Angkor Wat are a mix of both Buddhist and Hindu monuments. As Angkor Wat was a city, and not just a place of worship, not all of the buildings are technically temples.
Siem Reap remained a sleepy town in the Cambodian countryside until the world found out about Angkor Wat. Angkor Archaeological Park was named a UNESCO World Heritage Site in 1992, and restoration has been ongoing ever since.
In 2001 a major film starring Angelina Jolie decided to set their movie in Cambodia and film some scenes at Angkor Wat. Not sure if you've heard of it, but it turned into a little film called Tomb Raider, which soon exploded into a major box office hit.
At the time the movie was released Cambodia had just fully recovered from the Khmer Rouge's reign and tourism was pretty much nonexistent. Cambodia was just not somewhere you went on vacation, until Tomb Raider.
With the wildly popular success of Tomb Raider and Angkor Wat's UNESCO title came loads of international tourists which have caused massive development in Siem Reap. I think it's safe to say Angelia Jolie effectively put Cambodia on the map. Today over 5 million tourists visit the park every year, all staying in the little city of Siem Reap, which is now host to many international hotels and restaurants catering to tourists.
Despite the crowds and obnoxious tour groups, Angkor Wat was still by far the top attraction we saw in Siem Reap. The park is so big, it's pretty easy to get away from the crowds and channel your inner Laura Croft.
2. Tonle Sap
The Tonle Sap Lake is the largest lake in Southeast Asia, and is pivotal to the health of the region. It's the largest source of fresh water in Cambodia and home to many fishing villages. The best villages to visit from Siem Reap are Chong Kneas, Kompong Phluk, and Menchrey.
Chong Kneas Floating Village
The most famous village on the Tonle Sap lake is Chong Kneas. Chong Kneas is a floating village located at the edge of the lake 15 km south of Siem Reap. The village moves around occasionally based on the season and water level at the lake. When we visited all the buildings were anchored in place at the edge of the lake where the open water meets the marsh.
There are two ways to visit Chong Kneas.
1. Arrive at the Tonle Sap Dock and pay $20 per person for a boat and guide to take you to Chong Kneas.
2. Book a tour through a reputable company such as Tara Boat.
Tours often include lunch with the outing lasting half a day, whereas simply getting a boat at the dock will give you 1-2 hours on the lake.
We rented a boat at the dock, mostly because we didn't plan ahead enough to book a tour, and all in all had a pretty good experience. The village was super interesting and taking the boat around really allowed us to get a glimpse into the locals daily lives.
Transportation is done all by boat and literally everything from houses, to markets, to churches, to schools was floating. We could actually still feel the gentle sway of the water when we stepped off the boat and into the restaurant. The tour doesn't go inside of the residential part of the village where people live, which we thought was a good thing, as the boats are really loud and would definitely be disturbing.
The only bad part about the tour was that we constantly felt treated like an atm. There are a lot of scams going on at Chong Kneas in the name of "helping the children". They will try to get you to buy a 50kg bag of rice for $50 (US dollars) to feed the children at the school for 1 day.
Our guide was really disappointed when we didn't buy any which makes us think that they get a cut. We later found out that it's a circle scheme, wherein you buy the rice for $50, give it to the school, who then sells it back to the rice dealer for $50. Technically it's helping the school because they get money, but you're not feeding the children whatsoever, so just be aware of that when you go.
Kompong Phluk
Unlike Chong Kneas, Kompong Phluk is not a floating village on the lake, but rather a stilted village. The village is located 30km south of Siem Reap.
The actual neighborhoods are located on the canals feeding into the lake, not on the open water of the lake itself. In the dry season, you can walk or ride a bike through the neighborhoods, while in the wet season you have to pay for a boat.
There are two main streets you can walk down to see the stilted houses. We tried to be as respectful as possible when taking pictures as we were walking through a local neighborhood where people actually live, not an ancient temple.
We rode our tandem bike through the village and all the kids were so enthralled by it. When I got off to walk around and take photos Justin got one of the kids on the back and took him for a ride around the neighborhood. He thought it was just the coolest thing ever, regardless of the fact that he couldn't even reach the pedals!
Mechrey
Mechrey is another stilted village located on a tributary leading into the Tonle Sap Lake. The village is located 30 km southwest of Siem Reap, and, like Kompong Phluk, is only really "floating" during the wet season.
Mechrey is newer to the tourist scene than the other two Tonle Sap villages and has been developed as more of an eco-tourism site in combination with the Prek Toal Core Bird Reserve. If you visit during the wet season boat prices will, surprise, surprise, cost $20 per person.
As with the other Tonle Sap villages, it's best to turn down the offers to buy rice for the children and donate instead to a reputable organization. One such place available at Mechrey if you wish to donate money is The Lake Clinic, a doctor's office that provides medical support to the communities that live along the Tonle Sap Lake.
3. Phnom Kulen National Park
Phnom Kulen National Park is a beautiful mountaintop park located 60 km north of Siem Reap. The ticket price, as it seems to be with most tourist attractions in Cambodia is $20 per person. Tickets can be bought either in town or at the park entrance. Our hotel got tickets for us from the office in town which is located at the City Angkor Hotel.
To get here either hire a car or rent a motorbike. If you're going by car, make sure to head out to the park in the morning, as they stop letting buses and cars up the mountain at noon. If you're on a motorbike or bicycle you can come and go at any time.
The most popular attraction in the park is Phnom Kulen Waterfall, a three-stage waterfall that was featured in the movie Tomb Raider. The waterfall is a popular picnic spot for locals on the weekend.
At the bottom of the falls is a swimming hole, but beware the water is extremely cold. We were only able to stay in for a few minutes. We went on a Sunday and the falls were super crowded which meant there wasn't a good spot to really sit and enjoy the view. There's also no good spot to leave your stuff without paying for a locker.
That being said, the waterfall is absolutely beautiful and the only one of its kind anywhere close to Siem Reap. Just don't expect peace and quiet.
The other main attractions in Phnom Kulen National Park are the 1000 Lingas stream and Phnom Kulen Temple. These are less grand than the waterfall but much more secluded and peaceful.
The 1000 Lingas stream is made up of 1000 square shaped carvings carved into the rock bed underneath the stream. There's a path along the stream for visitors to walk along and admire the carvings.
Phnom Kulen Temple is basically an outdoor Buddhist shrine at the top of the mountain. Honestly, the entrance to the temple is more impressive than the temple itself so I wouldn't really recommend spending much time inside the temple itself.
Watch out for the kids and old ladies begging for money. They'll ask you to take your shoes off before entering the temple and then try to get you to pay them $1 for watching your shoes when you come down to put them back on. This is a scam. Only give if you really want to, but don't let them pressure you into paying them just to get your shoes back. They won't hold them hostage or anything.
4. Banteay Srei Temple
Located 30 km north of Siem Reap, Banteay Srei, while included in your Angkor Wat ticket, is not technically inside of Angkor Archaeological Park, making it a destination in its own right.
"Do note though that visiting Banteay Srei will use up a day of your Angkor Wat pass, so be sure in visit it in conjunction with other Angkor Wat temples."
While it's a bit far outside of the city, it is absolutely worth the trip and ended up being one of our favorite temples. Banteay Srei is definitely the most unique looking temple we were in Cambodia. Its distinguishing features include its pink sandstone make-up, incredibly detailed carvings, and its almost miniature stature.
Because of this Banteay Srei has earned the nicknames Pink Temple and Tiny Temple. Banteay Srei is definitely the most well preserved of all the Angkor Wat temples we saw. It's hard to even comprehend the amount of painstaking detail that went into the making of this place.
To visit Banteay Srei you can either rent a scooter, bicycle, tuk-tuk, or van to get to the temple. Whatever you do be sure to get there early. Banteay Srei opens at 7:30 am and is pretty much swarmed with tour groups by 9:30. Arriving at 8:00 we had a good hour and a half to explore without having to dodge too many people.
5. Old Market
Located right in the center of Siem Reap, the Old Market is a tourist's shopping dream come true. Especially for those who, like me, can't get enough elephant print.
The market is just aisles and aisles of pants, skirts, dresses, shirts, and jewelry, most of it with an elephant theme. Bargaining is definitely necessary, although honestly, prices are so cheap you could just take it at face value and be perfectly happy. I got all of my clothes there for $4 a piece which was $1 cheaper than the advertised price.
Across the river from the clothes market is the art market where you can find beautiful Angkor Wat themed paintings at great prices. Most of the paintings are oil paint done on canvas. Anything you see can be taken off of the frame and rolled up for you to easily take home in your suitcase.
6. Beng Mealea Temple
At 60 km from Siem Reap, Beng Mealea Temple is a bit of a ride, but man is it a cool place to see. Beng Mealea has been absolutely swallowed by jungle and is completely unrestored, unlike most of the Angkor Wat temples.
To explore Beng Mealea they've built wooden walkways through the jungle and over some of the particularly precarious rubble for tourists to walk on. The temple itself is around 180 x 150 meters and is surrounded, as most of the Angkor era temples are, by a moat.
Beng Mealea is an interesting look into the power of nature, as the jungle reclaims what man has built. Banyon trees weave their way through the doorways and up the temple columns, and tourists must walk carefully through the tree roots and rubble. You'll really feel like a true adventurer exploring Beng Mealea.
To get here, hire a driver or rent a motorbike. Beng Mealea is not included in the Angkor Wat pass, but tickets are cheap and will only set you back $5.
7. Horseback Riding
I never thought I'd have the option of horseback riding in Cambodia, but thanks to Happy Ranch Horse Farm you can actually take a trail ride around Angkor Wat!
The ranch offers anywhere from 1 to 4-hour rides and caters to any skill level, from complete beginners to experienced riders, you can even pick what type of saddle you want to ride in!
Horseback riding tours run from sunrise to sunset and routes take you through rice fields and abandoned temple ruins without a tourist in sight. The founder of Happy Ranch lived in the US for 30 years where he fell in love with horseback riding and brought his new passion back to Cambodia.
He even breeds most of the horses himself, and a lot of them were born right on the ranch in Siem Reap. In addition to offering trail rides, you can also take a riding lesson at the ranch if you want.
As much as I always jump at the chance to ride horses we opted out of riding in Cambodia because for the length of time I wanted to do it was a bit expensive. Prices range from $38 for a 1-hour ride to $95 for a 4-hour ride.
8. Pottery Class
Pottery is a big part of traditional Cambodian culture. Cambodian pottery is generally found in the form of intricately carved bowls, vases, and cups. The art of ceramics is still alive and well today with the addition of classes where tourists can learn how to make Cambodian pottery.
The two main places to take pottery classes are at Khmer Ceramics and Fine Arts Center and Angkor Pottery Center. Both centers will teach you how to make bowls, cups, and vases using the pottery wheel.
We took our pottery class with Angkor Ceramics Center and had such a blast getting our hands dirty and learning how to make bowls, cups, and vases with the help of our teacher. The staff was incredibly friendly and fun. They even made sure to take pictures of us making pottery in action with our phone so we could document the experience.
9. Bike Tour
The countryside around Siem Reap is great for cycling, and riding a bike is a great way to see the surrounding countryside. The roads are flat, in good shape, and dotted with lots of local villages and temples to stop at.
We brought our own tandem bike with us, but there are plenty of shops in town to rent a bike from. If DIY is not your thing you can also book a bike tour with Cambodia Cycling. They do guided tours for all fitness levels taking you everywhere from Angkor Wat to the Tonle Sap to Beng Mealea or even a multi-day trip across country borders!
We rode our bike everywhere we went in Siem Reap. It was a great way to see more of the city and surrounding countryside at our own pace.
10. Yoga
Peace Cafe in downtown Siem Reap offers daily drop-in yoga classes in the mornings and evenings for just a few dollars a class. Morning classes run from 9 – 10:30 am and evening classes from 6:30 -8 pm on the second floor of Peace Cafe.
11. Phare Circus
Phare is often described as street art turned circus. This Cambodian circus is a project run by the nonprofit Phare Pnleu Selpak or Brightness of the Arts. The circus is first and foremost a school seeking to provide education, artistic and vocational training, and professional avenues to children and young adults in Cambodia.
The Phare Circus is the school's way of providing jobs for their graduates, entertainment for the public, and reviving the Cambodian art scene in the process.
The circus is produced solely by human performers who perform incredible feats of dance and acrobatics. Phare aims to tell the story of the Cambodian people and culture. Performers act in two shows that are rotated on a weekly basis.
Phare Circus is located near Angkor National Museum with tickets ranging from $18 – $38 depending on the section. If you're going during peak season (November – April) make sure to reserve your ticket ahead of time.
12. Cooking Class
If you love to eat on your travels, Cambodian food will not disappoint. We knew nothing about Cambodian food before we came to Siem Reap, and while it's not as famous as Thai food, it's (almost) just as delicious.
Take your food experience one step further in Siem Reap by taking a cooking class and learning how to make all that delicious Cambodian food for yourself at home. Cooking classes are a great way to learn a new skill on the road that you can take home with you and delight your tastebuds with for years to come!
The two most popular cooking schools in Siem Reap are Lily's Secret Garden and Countryside Cooking Class. Both offer 4-hour classes for only $24 per person.
13. Wildlife Reserve
Wildlife reserves designed to protect the local animals of Cambodia are becoming more and more popular around the country and make a great alternative to the typical tourist attractions for travelers.
The two main wildlife sanctuaries around Siem Reap are the Angkor Centre for Conservation of Biodiversity and the Prek Toal Bird Sanctuary.
The Angkor Center for Conservation of Biodiversity focuses on research, environmental education, wildlife rescue, and breeding. Most animals at this center come from illegal animal trading. Once the animals have been treated they are released back into the wild.
If they are unable to return to the wild or are endangered the animals are then put into the breeding program with the hopes of producing offspring that can then be introduced back into the wild.
The center also hosts seminars and workshops to educate the local community about environmental issues that affect the local wildlife as well as to help them set up their own eco-tourism projects.
The Angkor Center for Biodiversity is located 42 km northeast of Siem Reap, near Phnom Kulen National Park. Tourists can visit the center Mondays-Saturdays for a tour that starts at either 9 am or 1 pm.
The Prek Toal Bird Sanctuary is located 15 km from Siem Reap near Mechrey Floating Village. The sanctuary is home to dozens of rare species of water birds and is famous for its biodiversity. The best time to visit Prek Toal is in the dry season from December to May when the migratory birds arrive for the winter.
14. Butterfly Center
The Banteay Srey Butterfly Center is a butterfly zoo with a large variety of Cambodian butterflies. It's also the largest enclosed butterfly center in Southeast Asia.
The center consists of a netted tropical garden that houses thousands of free-flying butterflies. You can also witness the entire life cycle of the butterfly and learn about their life cycle and ecology.
The Butterfly Center is located 25 km from Siem Reap and is open 7 days a week from 9 am – 5 pm.
15. Landmine Museum
Landmines are just part of the harsh reality of life here for many Cambodians. Even after the Khmer Rouge was disbanded the landmines still remain, many in unknown locations throughout the Cambodian countryside.
The Cambodia Landmine Museum was created to educate the public on the danger of landmines as well as care for affected youth that live at the Landmine Museum's Relief Center. The museum aims to tell the story of landmines in Cambodia and how they've affected the lives of the local people.
The Landmine Museum is located 30 km north of Siem Reap near Banteay Srei Temple. The museum is open every day from 7:30 am – 5:30 pm with an admission fee of $5. The ticket price goes towards helping care for the children at their relief center as well as building schools and wells for the local community.
WANT TO TRAVEL CHEAPER & EASIER?
Subscribe to follow our blog and be the first to read our new posts!
Success! Happy dance optional :) P.S. check your inbox for goodies!
Like this post? Share the love and pin it on Pinterest!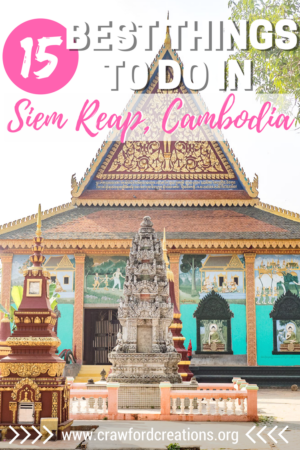 *** This post may contain affiliate links. By purchasing a product or service through these links you are helping to support this blog at no extra cost to you! We only recommend products we personally use and love! ***