The Ultimate Self Guided Tuscany Bike and Wine Tour: Pedal and Sip Your Way Through Tuscany's Chianti Wine Towns
***This post may contain affiliate links.***
You don't have to be a hardcore cyclist to go on a day tour by bicycle when there's free wine involved, am I right? If there was ever a time when you needed motivation to get on a bike, sipping free wine from a hilltop town in the Tuscan countryside should be just the ticket. Did I mention the wine is free? Ok cool, just checking.
Cyclists know how awesome Tuscany is for cycling, but for those of you who aren't part of that elite crowd of crazies, let me enlighten you. First off, it's Tuscany. For some of you, just saying that will be enough, I mean Tuscany is not exactly a hidden gem of the world. But for those who haven't already experienced the magic that is Tuscany first hand, the word Tuscany typically evokes images of rolling hills, medieval hilltop towns, hillside vineyards and olive groves, and those super skinny trees you see in all the movies.
They do exist in real life, by the way, they're called Tuscan Cyprus Trees. And yes, I did look that up on Google. Of course, it was only after spending weeks in Tuscany wondering what kind of tree that was.
Read More From Italy
Why Tour Tuscany By Bike?
Beautiful scenery is, of course, the hallmark of a great cycling spot, on par with good roads, and followed closely by little traffic, good weather, and hills. Yes, cyclists love hills. It's actually quite boring to ride on a perfectly flat road for hours at a time believe it or not. Tuscany checks all of the boxes and then some.
Doing your wine tour by bike also means you can enjoy the beautiful Tuscan weather, stop whenever the hell you want to take photos, and, most importantly, in addition to drinking wine at all your stops you can now justify pairing that wine with lots of delicious Italian food. Go ahead and pile on that pasta, you earned it.
Where To Rent A Bike In Tuscany?
Cycling is super popular in Tuscany, so renting a bike is actually super easy. There are tons of bike rental places both in Florence and in the surrounding wine towns. For this tour, the best places to rent your bike from will either be in Florence or in the closest Chianti wine town, Strada in Chianti.
Check out Tuscany Bicycle for awesome bike rentals from their shop located in Valdarno, on the outskirts of Florence.
Touring By E-Bike or Vespa
While this tour was designed around cycling, it can also easily be done by E-bike or Vespa if you're worried about your fitness level or prefer a tour that requires a bit less effort.
Check out Tuscany Scooter Rental for your choice of Vespas in Florence.
What To Bring On A Tuscany Bike & Wine Tour
You don't need to bring much as you'll be stopping in multiple towns along the route, but water is definitely a must. Two bottles of water per person will be plenty to get you through the day as you can fill up in each town along the way.
You also can't go wrong with taking a couple snacks with you just in case you need a quick refuel in between towns.
Chianti Bike & Wine Tour Length
Length – Full Day Tour
Start/Finish in Florence – 102 km (63 miles)
Start/Finish in any of the Chianti Towns – 74 km (46 miles)
Where To Start Your Chianti Bike & Wine Tour
Most of the route consists of a 74 kilometer loop around the Chianti wine towns, so if you're staying in one of the wine towns itself this loop is all you need to ride to see the majority of the sights. However, if you're staying in or around Florence you'll need to do the full 102 kilometer ride which consists of riding 17 km to the first wine town, Strada in Chianti, riding the wine town loop, and then again riding those same 17 km back to Florence at the end of the ride. At least, those last 17km are pretty much all downhill.
Alternatively, if you're staying in Florence and you have a car, you can also put your bike in the car, drive to the first wine town, park your car for the day, and then start riding. Or you can get yourself to a wine town by bus and rent a bike in one of the wine towns itself, or better yet, you can have the bike rental company deliver your bike, with or without you, to Strada in Chianti to start your tour. Options my friends, you have options.
Our advice, if you're staying in and around Florence and you have the legs, do the whole tour. Even the ride out of Florence is gorgeous, so you won't regret the extra miles. If you don't or are worried about finishing the whole thing in one day, start in Strada. You can also break this tour up into 2 days if you have space in your itinerary and want to spend more time in each town, it's entirely up to you.
What a beautiful thing it is to travel independently. You simply get to do whatever the heck you please. This tour is merely a guideline. Grab it by the horns and make it your own.
Of course, if you opt to do this tour by E-bike or Vespa you can ignore everything I just said and motor on down the road. Leg and time limitations be gone.
Self Guided Tuscany Bike & Wine Tour Route
Chianti Wine Region
While the Chianti region has no definite borders, traditionally, the area known as Chianti in Tuscany is the countryside between the cities of Florence and Siena. It's one of the most beautiful areas of Tuscany and where the Sangiovese grapes are grown that make up the bulk of a classic Chianti wine.
Must Try Chianti Wines
Vino Chianti Classico
This red wine is, as the name implies, the most classic Chianti wine there is. Produced to the highest standards, Chianti Classico is made with mostly Sangiovese grapes. To be sure the wine you're trying is a Chianti Classico look for the telltale black rooster on the bottle, the symbol of the Chianti Classico wine since 1924.
Vinsanto del Chianti Classico
Another classic Chianti wine, the Vinsanto del Chianti Classico is actually more liquor than wine. It's made from white Trebbiano and Malvasia grapes that are dried before pressing. Vinsanto del Chianti Classico is generally served as a dessert wine with Italian cookies.
How To Go Wine Tasting In Tuscany's Wine Towns
The DIY wine tasting gig in Tuscany goes as such.
Step 1
Arrive at one of the wine towns below.
Step 2
Walk into any wine shop in town and ask for a tasting. Some will be free and others will require a small fee.
Step 3
Taste all the yummy wine! P.S. don't feel pressured to buy a bottle, it's not required. Plus, I mean you're on a bike tour so carrying around a heavy glass wine bottle, not really practical.
Chianti Wine Towns
Strada in Chianti
Strada in Chianti is the first wine town you'll come to when leaving Florence riding down the scenic S222 "wine road". It's a super quaint little town without much going on, but honestly, that's part of Strada's charm. Ride through town too fast and you'll miss it.
Strada's real claim to fame lies not in its wine and olive oil, but in its famous brand of pasta, Giovanni Fabbri. One of the few dried pastas in Italy that is still made by hand the old-fashioned way. At their shop in Strada in Chianti, you can see how the pasta is made from start to finish.
Greve in Chianti
The next stop along wine road is Greve in Chianti, a bigger and more bustling town than tiny Strada, but no less quaint and beautiful. Greve is home to lots of shops and restaurants and is connected to a castle, Castle of Montefioralle located on the hilltop above town.
You can both ride and hike your way up the 1.5 km from the town center to the castle. It's a steep road, but you'll be rewarded with incredible views of the town of Greve and the surrounding countryside from the top.
Greve is known for its triangle shaped main square, underneath of which lies an incredible maze of wine cellars where you can taste an array of different Chianti wines. Also be sure to check out the wine museum where you can see all the old wine making farm equipment as well as a dizzying array of wine, both old and new.
Panzano in Chianti
Located approximately halfway between Florence and Siena, Panzano in Chianti is a hearty little medieval town that has survived numerous wars between the two feuding powers of Florence and Siena. The town has had quite an unfortunate history, being destroyed and rebuilt 4 different times from the 1200's to the 1500's. You can still see the remains of the original town center inside the bell tower of the church of Panzano Alto.
While Panzano is first and foremost a wine town, these days it's most well known for its butcher shop, Macelleria Cecchini, where eight generations of butchers have perfected the art of cured meats and sausages. At the Macelleria Cecchini butcher shop, you can buy some of the most delicious prosciutto, cured Italian sausages, and unusual cuts of fresh meat.
And meat lovers rejoice because not only is there a butcher shop where you can buy some of the world's best cured and fresh Italian meats, but right across the street, the same butcher who runs the butcher shop owns a restaurant called…wait for it… Only Meat (Ristorante Solociccia in Italian).
It's a reservations-only restaurant with dinner seatings from Thursday – Saturday night and lunchtime seating on Sunday. Meals at Ristorante Solociccia all come at a fixed price, and you can bring your own wine. I mean come on, does it get any more perfect than that for dinner in a wine town?!
Of course, you're probably not going to riding through Panzano in Chianti at dinner time, but you can always stop in, make a reservation, and come back for some delicious meaty goodness later in the week.
Castellina in Chianti
Castellina in Chianti is the furthest end of the loop in our ride through the Chianti wine towns. The town is known for its incredible city walls, which were built ever higher each time the town was destroyed in the fights between Florence and Siena many centuries ago.
Along the ancient walls, there's also an underground tunnel called Via della Volte that goes around the city. The tunnel is lined with shops and restaurants making for an interesting shopping and dining experience and a great way to escape the summer heat.
The town church, Church of San Salvatore is also worth visiting as there's a beautiful fresco inside as well as a wooden statue from the Renaissance. And once you're done at the church be sure to check out the Rocca (main fortification) and it's massive 14th-century tower for stunning views of the breathtaking Tuscan countryside.
Of course, you can't miss venturing down into the city's wine cellars. Castellina has some of the largest wine cellars open to the public that house massive barrels of wine as well as a collection of dusty old wine bottles that have been aging since the 1980's.
Radda in Chianti
Radda in Chianti is one of the oldest of all the Chianti wine towns, with settlements dating back to 2000 BC. This super cute medieval town is just drooling with history, although unfortunately, like many of the other Chianti towns, Radda has been destroyed and rebuilt several times due to many wars in the area.
Must sees in Radda, outside of the many wine shops and beautiful views, of course, are the remnants of the old city walls, the government building (the terrace of which is lined with shields of the town's previous rulers), the church, called Propositura di San Niccolo, and the town's many medieval walkways and tunnels.
Just outside of Radda in Chianti you can also pay a visit to Casa del Chianti Classico where you'll get an in-depth tour of the production of the Chianti Classico wine.
Lucolena in Chianti
Lucolena in Chianti is another one of those "but a blip on the map" kind of towns. To experience Lucolena is to experience the quiet country lifestyle of a traditional Tuscan farmer. The town is sleepy, yet beautiful, tucked perfectly into the surrounding hills and surrounded in part by forest.
The beauty of Lucolena lies in its tranquil vibe and beautiful countryside. The town was actually named after the ancient Lucolena Castle, the remains of which can still be seen outside of town.
The Black Rooster
Now for the answer you've all been waiting for, what's with the black rooster?
You'll probably notice when riding through the Chianti wine towns that in every town you go through there's a gigantic statue of a black rooster. We were a little confused as to what the significance of this black rooster was when we went, but, it turns out, the black rooster is the symbol, or mascot, if you will, of the Chianti region.
Why a black rooster?
Well, the story goes as such. Back in the medieval times, Florence and Siena didn't like each other very much. The cities were in a constant battle for the land between them that now makes up the Chianti region. In order to stop fighting and decide, once and for all, on definite borders for the two cities they did what any logical medieval person would do, challenge each other to a horse race.
The two cities decided that they would each send a rider out at the crack of dawn to ride towards the opposite city, and wherever they met up would be the border between the two regions. As this challenge took place before the invention of the alarm clock, the warring regions each picked a rooster to wake up the riders in the morning.
As the legend goes, Siena picked a white rooster and fed him massive amounts of food every morning as an incentive to wake up. Florence, on the other hand, picked a black rooster and went with the opposite strategy. They decided to underfeed their rooster hoping that he would wake up earlier and start crowing out of hunger.
In the end, Florence's strategy won the battle, as the hungry black rooster did indeed wake up Florence's rider earlier. With a massive head start, Florence conquered the Chianti wine region and in 1384 the League of Chianti officially adopted the black rooster as the symbol of the region. In 2005 the black rooster was also adopted by the Chianti Classico Wine Consortium and can now be seen on the labels of every bottle of Chianti Classico wine.
Want a fun game to play on your bike and wine tour?
Take a selfie in front of the black rooster statue in every town you pass through! #chiantiroosterselfie
WANT TO TRAVEL CHEAPER & EASIER?
Subscribe to follow our blog and be the first to read our new posts!
Success! Happy dance optional :) P.S. check your inbox for goodies!
Like this post? Share the love and pin it on Pinterest!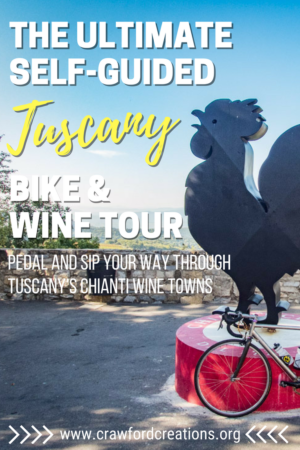 *** This post may contain affiliate links. By purchasing a product or service through these links you are helping to support this blog at no extra cost to you! We only recommend products we personally use and love! ***