gay men's health crisis center
45 Awe Inspiring Photos of Rome, Italy That Will To Make You Want To Buy A Plane Ticket
***This post may contain affiliate links.***
Oh, Rome. What a traveler's dream you are. From ancient ruins and stunning churches to incredible viewpoints, you have lived in the fantasies of many a dreamer.
I just wasn't one of them…until now.
For a couple that doesn't like cities, Rome stole our hearts in a very unexpected way. We only had a day and a half to explore the city during our recent trip to Italy and it wasn't nearly enough time to see all the incredible sights that Rome has to offer.
But it wasn't for lack of trying. We rode our bike around the city on a self guided bike tour, saw the Roman Ruins, and the Collesium (from the outside), climbed up to the top of the Monument of Victor Emanuel II, found the Key Hole (a secret key hole you can look through for a perfectly framed view of Saint Peter's Basilica), stared in awe at Saint Peter's Basilica, saw the Trevi Fountain (with about a thousand of our closest friends), walked around the Pantheon, marveled at the Arch Basilica of Saint John Lateran, and watched the sun set behind Saint Peter's Basilica from the top of Castel Sant'Angelo.
Rome is without a doubt the only touristy place I've been that I'm longing to go back to. It's definitely crowded, even in the shoulder season, and the major tourist spots were so packed with Americans it gave me culture shock just being surrounded by so many people speaking American English, but once you escape from the Collessium crowds you can easily find yourself alone exploring one of the hundreds of hidden gems around the city.
If you're looking for recommendations from this list, well it's easier for me to tell you what to skip. If I had to do it again, I wouldn't even bother with the Pantheon. It's not much to look at and it's just one room. Other than that, do it all! And maybe leave yourself more like 4 days instead of 1.5 to get a true Roman experience.
Also, I just want to say an extra special thank you to Justin for taking a good portion of these photos over people's heads. It helps to have a tall husband in times like these!
Now let's swoon over all the beautiful photos, and maybe start figuring out how to make that dream of wandering the streets of Rome a reality!
Warning, impulsive flights might be bought by the end of this post. 
Related Posts
Roman Ruins
Admittedly, we only saw the ruins from the outside on our bike tour of the city and never actually had time to go inside. They looked beautiful from what we could see though!
Monument of Victor Emanuel II
The views from the top of the war memorial (another name for this monument) were absolutely incredible. You can look down over all the ancient ruins! Totally worth climbing all the stairs to the very top of the building. It's a popular vantage point, so you might have to wait a few minutes to get this shot.
Vatican City
The giant line leading into Saint Peter's Basilica can be a little frightening. There were hundreds of people in it when we go there at around 10 am, but it moves pretty fast. They do a really good job of crowd control in Vatican City. Starting at the back of a line full of hundreds of people, it took us an hour to make it inside of the Basilica. Not bad considering you're technically entering another country and have to go through security. I can't imagine how long that kind of a line would take in an airport!
Saint Peter's Basilica was seriously jaw-dropping in all its beauty. The lavish details inside were absolutely incredible! Totally worth standing in line for an hour to get in! When you go, make sure you're appropriately dressed otherwise they won't let you in. Appropriate attire for entering Saint Peter's Basilica is to have your shoulders and knees covered, not just when you walk in, but for the entire time you're inside. We saw a few people getting scolded by security for taking off their sweater or scarf and showing exposed shoulders inside the Basilica. Don't let that be you! To keep it simple, I just wore jeans and a short-sleeved shirt and was totally fine. Nothing fancy.
The Pantheon
As you can see, it's pretty plain looking inside the Pantheon, especially compared to most of the churches and basilicas in Rome. The whole thing is just one circular room and it all looks exactly like that first picture.
Trevi Fountain
Holy crowds, Trevi Fountain! This was the one place where I really felt like the crowds impeded with my experience of really seeing and appreciating the sights. It was just wall to wall people everywhere. It certainly doesn't help that the fountain is located behind a bunch of buildings down some tiny back alley. I expected it to be in the middle of a big piazza (square), but no. It's actually in the worst location for handling all the insane crowds that come to see it.
Arch Basilica of Saint John Lateran
The Arch Basilica of Saint John Lateran is the church where the Pope actually gives mass in Rome. It doesn't look like much from the outside, but man is the inside super elaborate! This place is simply drop dead gorgeous. It's kind of like a smaller version of Saint Peter's Basilica, except with about 1/100th of the crowds. Incredible!
Castel Sant'Angelo
That sunset though…so dreamy! When you go to Rome, you absolutely positively have to walk up to the top of Castel Sant'Angelo for sunset. Watching the sun set behind Saint Peter's Basilica was just nothing short of magical. That castle itself was nothing much to look at, but the views from the castle at sunset are worth the price of admission.
Have you bought your tickets yet? What are you waiting for! 🙂
WANT TO TRAVEL CHEAPER & EASIER?
Subscribe to follow our blog and be the first to read our new posts!
Success! Happy dance optional :) P.S. check your inbox for goodies!
Like this post? Share the love and pin it on Pinterest!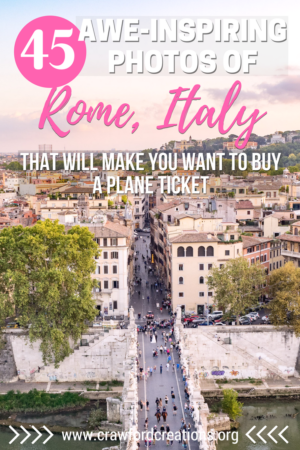 *** This post may contain affiliate links. By purchasing a product or service through these links you are helping to support this blog at no extra cost to you! We only recommend products we personally use and love! ***