How To Get A Visa For China: Step By Step Trip Planning Guide
***This post may contain affiliate links.***
I'm the first to admit that China is super confusing and often times just plain ridiculous. Even after living here for over 3 years, there are still things I don't, and probably never will understand, like pretty much everything about their driving. In fact, ranting on the Chinese drivers could easily be an entire post in itself, so let's not go there.
One thing that I have got down pat, by now though, is how to plan an awesome trip to China. Your first trip is definitely the hardest one to nail down because it requires getting a visa. And the process of getting a visa, when you've never gotten one before, can be a little daunting. Luckily, we've done it a time or two, and helped many a friend and family member get their visas to come visit us.
Now, we can share all our knowledge with you to help you feel comfortable enough to plan your own trip to China. Even if it's your first time!
Trip planning is seriously one of my favorite things, so I hope you're as excited as me to get started!
Related Posts
When To Start The Visa Application Process?
No more than 6 months before your intended arrival in China. If you apply too far ahead of your trip your visa might not be valid by the time you try to enter China, and you'll have to go through this process all over again!
We would recommend starting at Step 5 around 3 months before your trip.
How Easy Is It To Get A Visa To China?
It's very easy to get a tourist visa for China.
The only time you could run into trouble is if you list your occupation as journalist on your application. If this is you, I would recommend picking a related occupation like writer, that's still truthful, just maybe not your exact job title.
Another time you might have trouble is if you or one of your parents work/worked in a high-level government job. They won't like that very much.
Those are the only two examples that come to mind where you might run into an issue getting a tourist visa for China. Luckily, this doesn't describe most people.
Step 1: Pick Your Travel Destinations
This is the fun part. To do this for a country as big as China, I usually start with a Google search for "best things to do in China" or "must-see attractions in China". This will give you a general idea of what's out there. If something sparks your interests, do a more specific search on that destination.
If you know what kind of travel you like to do, like if you want to see more natural attractions like mountains and parks, or more cities and museums, you can narrow your search down that way by searching for something along the lines of "best hikes in China" or "national parks China".
Another resource I like to use at the beginning of my trip planning stage is the Lonely Planet Guidebook. When we first moved to China, I spent hours looking through the entire Lonely Planet China book and putting Post-It notes by all of the destinations that I wanted to visit.
Once you have your list of destinations, plot them on a map. A great way to do this is to use Google Maps' Your Places feature to save your own map with multiple pins on it. To find this just open up Google Maps and click on the menu right beside the search bar. Under the menu there will be an option that says Your Places. Click on that, and now you can search for all your destinations and save pins on the map as to where they're all located.
Google Maps is not 100% accurate in China, but it will give you a good idea of the area where all the tourist attractions you want to see are located.
Step 2: Decide How Long Your Trip Will Be
If you already have a set time frame based on limited vacation time (I'm looking at you Americans) then this step is super easy. Your hard part comes later when you have to narrow down all your destinations to fit into your set time frame.
If you don't have a set time frame, look at all your destinations on the map and plot a course of how to get from one to the next. You can search flights using Skyscanner and trains using C-trip. This will also help you weed out some outlying destinations that are just too far out of the way from all the other stuff you want to see. Moving around a lot gets expensive, so look up both time and price for getting to all your mapped out destinations and make sure it's reasonable.
Once you've narrowed down your group of destinations based on location, do some research on how much there is to see and do at each individual destination to decide approximately how long you want to stay in each place. You only need an approximate time frame, and I'll show you why you need to do this step now in a little bit.
Add up the time you want to spend in each destination as well as the time it will take to travel to and from each destination to find your approximate time frame for how long you will spend in the country. If your time frame is too long, make some edits or cut out a destination.
Step 3: Figure Out When Is The Best Time To Go
Look up the weather in each of your destinations to determine when you should book your trip. This comes mostly down to personal preference, but there's one tip that you should definitely head, don't go to popular tourist destinations (such as the Forbidden City in Beijing for example) during peak tourist season or over any Chinese national holiday. If you do, you'll end up herded like cattle with a million of your closest Chinese friends. Not fun!
Just for reference peak tourist season in China is the summer holidays (end of June – end of August). The two big Chinese national holidays you need to watch out for are Chinese New Year and National Day, otherwise known as Golden Week.
Chinese New Year is a floating holiday, so you'll have look up when it occurs during the year you're going. Regardless, it always falls between mid-January and mid-February. National Day is a fixed week-long holiday that occurs every year during the first week of October.
Step 4: Take a Look At Your Passport
Now that you've got a rough outline of your trip done, it's time to get down to the not fun nitty gritty visa details. First things first, you need to check the dates on when your passport was issued to make sure you have at least 6 months validity left. The Chinese Embassy will not issue you a visa if you send in your passport with less than 6 months validity.
If you are a US citizen and would like to be granted a 10 Year Multiple Entry Tourist Visa, you need to make sure you have at least 1 year of validity left on your passport.
The other thing you need to check in your passport is that you have 2 consecutive blank pages. The reason for this is that one page will be taken up by your visa, and you must have a blank page next to that for them to stamp your passport.
If you don't meet these requirements you'll have to either get a new passport or add pages to your existing passport before applying for a China visa.
Step 5: Take A Passport Photo
You'll need a recent passport photo to give to the Chinese embassy along with your visa application. You can take one yourself as long as it complies with all passport photo rules, or you can have a new passport photo taken at an authorized photo shop.
In the US you can get passport photos taken at CVS, Walgreens, RiteAid, UPS, and FedEx stores.
Step 6: Book A Round Trip Flight Into & Out of Mainland China
Yes, you need to have confirmation of a round-trip flight to China in order to get a Chinese visa. The kicker is that you need to make sure this flight is to Mainland China.
Do NOT book a flight to Hong Kong or Macau!
Hong Kong and Macau are special administrative regions to which most travelers do not need a Chinese visa to visit. As a result, booking a flight to one of these places is not proof that you are traveling to China, even though you can easily cross the border into the mainland by land or water.
The main international airports in Mainland China you can fly into from anywhere in the world are Beijing, Shanghai, and Guangzhou.
Insider Tip: To apply for a visa, you only need a copy of your flight booking confirmation. If you would like to fly in and out of Hong Kong while also visiting the Mainland due to location convenience, flight time, or price advantages just book a flight into Beijing, Shanghai, or Guangzhou airports, receive and save the confirmation email, and then immediately cancel the flight. The embassy only wants to see the flight confirmation, and will never know that you have since canceled the flight! You can then later book a round trip flight to Hong Kong and no-one will ever know!
This is what we did on our first trip to China since where we live in Zhuhai is closer to Hong Kong than any of the Mainland Chinese airports.
Step 7: Book Accommodation For The Length Of Your Stay
You will need to have accommodation booked for the entirety of your stay before applying for a visa. Don't worry, you can use the above book and immediately cancel technique if you're not exactly sure of your itinerary and don't want to be locked down so soon.
Again, you just need confirmation of hotel bookings for the length of your stay. China basically wants to know where you're going to be, and that you have the money to pay for hotels. The best sites to use for booking hotels in China are Agoda, Hostelworld, and C-trip.
If you're visiting a friend or family member in China then your process is a bit easier. You can just state that you'll be staying with said person the entirety of your trip. To do this you just need your friend/family member to provide you with an invitation letter stating that they agree to host you, for how long, that you can pay for your trip, the host's address in China, and copies of the host's passport photo page and residence permit.
Step 8: Fill Out A Chinese Visa Application Form
If you are traveling to China as a tourist, which if you're reading this post you are, you will be applying for an L Visa.
You can apply for this visa in 2 ways.
1. Directly at the Chinese Embassy or Consulate
To do this, first head to the Chinese Embassy's website, scroll down to where it says L Visa and click on the Visa Application Form link.
Fill out the form on the computer (it must be typed NOT handwritten), print it out, and sign it.
2. Use A Visa Processing Service.
If you don't have a Chinese Consulate or Embassy near you this is your best bet. You can also choose to use one of these services for some peace of mind and more of a guarantee that you will get all of your visa information and paperwork correct on the first try. A visa service will walk you through all the steps and look over all your documents to make sure there are no errors before submitting it to the consulate.
These services are all done online so it's super convenient. You just fill out the visa application forms on their respective websites and they will contact you via email with all the information and supporting documentation you need to get your visa.
Just keep in mind that these services do charge quite a significant fee, so your visa will definitely be more expensive if you go through a service versus doing it yourself.
Two great services us and friends/family have used to get our visas are Visa HQ and US China Visa.
Visa HQ can do China visas for citizens of many different countries whereas US China Visa is just as the name implies, only for US citizens.
Step 9: Submit Your Application & Supporting Documents
If you're applying directly with the Chinese Embassy or Consulate, simply bring your completed application form (printed single sided) your valid passport, a passport photo, a copy of your flight confirmation and a copy of your hotel confirmation or invitation letter from host friend/family member to the nearest Chinese Embassy or Consulate.
You do NOT need to make an appointment at the consulate. Just walk in and submit your application and supporting documents. The consulate will hand you a slip with the date when you are to come back and pick up your passport. Processing time is usually 4 days. The consulate will contact you if there are any problems or changes as to when you can pick up your passport.
If you're applying through a visa service like Visa HQ, simply apply for your visa online and mail in your passport and any support documents you need to their address. They will let you know when they receive your passport, when your visa is approved, and when they ship your passport back to you.
Step 10: Pick Up Your Passport
If you dropped off your passport at the Chinese Consulate yourself, return to pick up your passport on the date scheduled on your ticket. There is no need to make an appointment, just drop in any time they are open.
If you used a visa service, simply check your mail to receive your passport right at your doorstep.
Put The Finishing Touches On Your Trip
Once you've got your visa in hand, you can now go ahead and book your actual flights (if you booked and canceled in Step 6) and any accommodation you haven't already booked if you're planning on booking everything before you get there.
If you're planning on taking a longer trip to China, don't worry about having to book all your accommodation and transportation ahead of time. China has an abundance of hotels and modes of transportation so you never have to worry about everything being booked.
We've traveled during peak tourist season as well as over the national holidays without booking hotels in advance and not once have we ever run into an issue of not having somewhere to stay.
That's It! Your trip is now planned. Time to get excited!!!
Looking for more tips about traveling in China? Check out the posts below!
WANT TO TRAVEL CHEAPER & EASIER?
Subscribe to follow our blog and be the first to read our new posts!
Success! Happy dance optional :) P.S. check your inbox for goodies!
Like this post? Share the love and pin it on Pinterest!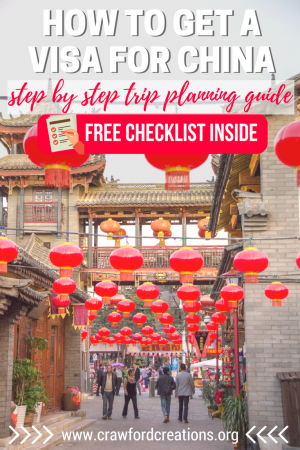 *** This post may contain affiliate links. By purchasing a product or service through these links you are helping to support this blog at no extra cost to you! We only recommend products we personally use and love! ***