7 Natural Wonders of China
***This post may contain affiliate links.***
In need of some serious travel inspiration? Look no further than the amazing country of China! We've put together a list of what we think are the top 7 Natural Wonders in China. We chose these incredible destinations based on the criteria of: wow factor (visual appeal), uniqueness (is there anyplace like this, first, in the world, and second, in China?), and exploration potential (is there only one small area to look at or can you walk around a large area with multiple viewpoints).
We hope this list inspires you to come explore the incredible wonders China has to offer!
1. Zhangye Danxia National Geopark
This place is home to not one, but two of the best and coolest national parks we have ever had the pleasure of stepping foot in (and by stepping foot I really mean climbing a f*** ton of stairs). Oh the dreaded and completely unavoidable China staircases, but anyway, back to the heavenly awesomeness of Zhangye Danxia.
What are the two parks you ask?
Drum roll, please….
RAINBOW MOUNTAINS + ICE VALLEY!!!!
Holy camel, guys (seriously, you'll probably see a ton of camels when you go out here, both inanimate and live) these two parks, called the 7 Colored Danxia and Binggou Danxia in Chinese, will absolutely BLOW YOUR MIND. You can hold us to that claim, we are not exaggerating.
Here's some photographic proof of the awesomeness you can feast your eyes on at this park.
Yes, this place is actually for real (although I admit when you're at the Rainbow Mountains they kind of do look like someone took a giant can of spray paint to place…but that's not true, we promise).
Zhangye Danxia National Geopark houses 2 of the most unique geological formations in the world and without a doubt one of China's most awe-inspiring natural wonders. The striking layers of color of the Rainbow Mountains and oddly phallic shaped rock columns in Ice Valley are formed from layers of sand and mudstone that have slowly eroded away over the years exposing the striking colors and shapes seen today.
China is actually home to many different danxia formations around the country, with Zhangye Danxia, of course, being the most spectacular of them all. What actually is danxia you ask? It's a specific geological formation in China created when sand/mudstone is broken apart by tectonic movements creating many different faults and resulting in the creation of dramatic red cliffs.
For more info on these two incredible places, check out our detailed travel guides:
Ultimate Guide to Exploring China's Rainbow Mountains
Discovering Nature's Artwork: The Complete Guide to Binggou Danxia Geopark
2. Tibetan Plateau
We left this one pretty broad as the Tibetan Plateau covers quite a bit of ground, but that's because you absolutely, positively, can not go wrong with a trip to Tibet. Go literally ANYWHERE on the Tibetan Plateau and you'll be greeted with some of the most stunning vistas, unrivaled anywhere in the world.
Located at 3000+ meters of elevation, the Tibetan Plateau boasts some of the highest views in the world, including its most famous, of course, Mt. Everest. This area is so raw and beautiful you'll have to pinch yourself to realize that no, this is not a dream, natural beauty this pure really does exist in China!
While Tibet is, in fact, a part of China, think of it more as a colony of China than actually the same country. Even though it has been 50+ years since the takeover, the people in these areas of China basically act like nothing's happened. They refer to the land as Tibet, themselves as Tibetan, speak Tibetan (in fact, most of them can barely speak any Chinese), and kind of flout the Chinese rules as if they don't exist.
The locals even call all foreigners "Chinese". Literally, it doesn't matter if you're white, black, brown or purple, if you're not Tibetan, you're Chinese. Super strange coming from people who live in Han China (the majority Chinese ethnic population) where we get called "foreigners" literally every single day walking on the street. Maybe I should tell them, "No, the Tibetans say I'm Chinese". Ha, that would spark some controversy.
Seriously, don't do that, it was just a joke. For real.
All joking aside, when we go to Tibet we truly do feel like we've crossed over into another country. Different landscapes, different architecture, different culture and different languages all flood your senses in a beautiful way up on the Tibetan Plateau. It truly is a must see Natural Wonder of China…and cultural wonder and architectural wonder and yeah, it's just wonderful place!
For more info on the Tibetan Plateau check out the posts below:
How to Travel to Tibet Without a Tour
30+ Jaw Dropping Tibet Travel Photos From Beyond the Border
3. Wulingyuan Scenic Area, Zhangjiajie
Ever watched the movie Avatar? You know those floating mountains called the "Hallelujah Mountains" in the movie? Well, welcome to Wulingyuan Scenic Area, the incredible mountain formations in China that were the inspiration for Avatar's floating mountains.
While the mountains in Zhangjiajie don't actually float, disappointing, I know, they are still pretty wonderous to behold and you can certainly imagine that if you cut off the bottom of the mountains they would look exactly like the Hallelujah Mountains from Avatar. In fact, the lamens term name for Zhangjiajie (if you haven't noticed the Chinese name is a bit hard to say in English) is the Avatar Mountains. There's even a viewing platform inside the park with an almost identical view to that in a screenshot from the movie.
Declared a UNESCO World Heritage Site in 1992, the stunning pillars of Wulingyuan Scenic Area formed as a result of physical erosion from wind and water over many thousands of years. The rock in this area is composed of sandstone, which is easily eroded from weathering. The erosion that caused the incredible "floating mountains" of Zhangjiajie is quite unique compared to other geological formations throughout the world. The majority of the weathering in Zhangjiajie is actually a result of the freezing and thawing cycle of the dense foliage that grows on the rocks. Over thousands of years of freeze and thaw, the mountains have been gradually chipped away little by little, forming the now independently standing columns seen today.
For more info on this mystical natural creation, check out our Zhangjiajie Travel Guides:
Hiking the Avatar Mountains of Zhangjiajie
4. Li River, Guilin
As the photo on the back of the 20 Yuan note, the scenery around the Li River has a pretty serious claim to fame. With scenery stunning enough to be stamped on the back of the nation's currency, you know this place has some good stuff.
Formally known as the Lijiang River Scenic Zone, the Li River in Guilin definitely lives up to its hype. Here, striking, finger-like karst mountains line either side of the river making for some unique and jaw-dropping views. The mountains here are similar to those of Zhangjiajie, except not as "column", or finger-like. These guys still retained their typical mountain shape, unlike those of Zhangjiajie which are just straight up and down columns.
Unlike the sandstone mountains of Zhangjiajie, the mountains here are of karst composition, meaning they're made of limestone. The natural erosion that causes the unique mountains of Guilin is due to chemical dissolution, in which the rock gets slowly dissolved by the water surrounding it. This also creates some insane caves inside the mountains, of which Guilin has some of the largest in the world.
The scenery along the Li River is best viewed from a bamboo raft cruising along the water, and popular and highly recommended activity for any tourist coming to admire the area's magnificent scenery. In addition to just admiring the stunning scenery from the river, Guilin is an outdoor lover's dream. Hiking, rock climbing, caving, cycling, hiking, and kayaking are all popular activities in the area and are often the best ways to enjoy the beauty of the surrounding scenery.
For more info on the noteworthy (see what I did there?) scenery of the Li River, Guilin check out our posts below:
25 Insane Photos of Guilin, China That Will Make You Want to Pack Your Bags
Floating on a Bamboo Raft in Guilin
5. Huanglong Pools
Picture stunningly clear water and natural multicolored pools that cascade down a picturesque mountain valley lined with waterfalls and temples and you've got the awesomeness that is the Huanglong Pools. Formally known as the Huanglong National Scenic and Historic Interest area, this beauty has been a UNESCO World Heritage Site since 1992.
Inside of the Huanglong Scenic Area you can feast your eyes on over 2600 pools, a stunning 14 meter tall 68 meter wide waterfall, another smaller waterfall, a "washing cave" as they call it (basically it looks like a cross section of a cave with water flowing over it), and two ancient temples.
Huanglong's travertine landscape (hold on to your horses now, we're getting scientific) was formed via a combination of terrain, glacial movement, rapid deposition of calcium carbonate from mineral springs in the area, and the strong natural sunlight that comes with being at a high altitude. Travertine is basically a type of limestone that formsthese kindsd of cascading terraces like you see at Huanglong.
While this landscape is not unique to China (other places in the world, like Yellowstone National Park in the US, for example) have these same type of pools, at 3.6 kilometers long from the first terrace to the last, the length of these cascading pools is the LONGEST IN THE WORLD making them an absolute wonder to behold.
This place is on our bucket list as a must see destination before we leave China.
As we haven't made it there yet, if you want more info, check out the experiences of some other cool peeps who have!
Huanglong: A Surreal Fairy Tale Landscape by Chris Travel Blog
The Hidden Huanglong National Park, China by Be My Travel Muse
6. Tiger Leaping Gorge
One of the largest and most legendary gorges in the world, Tiger Leaping Gorge is simply spectacular to behold. At 3790m deep and 15 km long there is certainly a lot to marvel at and explore. Sharp rocky peaks cut through the clouds while the Jinsha River (a primary tributary of the famous Yangtze River) roars through the canyon below. As a section of the Yangtze River flows through the gorge, the area is actually considered a part of the 3 Parallel Rivers of Yunnan Protected Areas World Heritage Site (wow, that's a mouthful).
The gorge gets its unique name from a legend that tells of a tiger that was chased by a hunter into the gorge and escaped by leaping across the narrowest part of the river (25 meters in width) from one boulder to another.
One of the best things about this gorge is that you can hike the entire 15 km length of the gorge, an activity that is surprisingly not taken advantage of by the majority of tourists. There are even multiple guest houses along the trail you can stop at for lunch or to stay the night if you are planning on completing the entire trail there and back.
We stayed in the town of Qiaotao right next to Tiger Leaping Gorge on our cycling trip through Yunnan and Sichuan Provinces. Unfortunately, we didn't have time to hike the gorge, but we did get some cool photos from the road as we were riding in.
We will be back to hike the gorge for sure, but until then, check out these articles for more info:
Tiger Leaping Gorge Trekking Guide by Nomadasauras
Tiger Leaping Gorge Tips by Victor's Travels
7. Detian Waterfall
Guys, this waterfall is a beast! Located on the border between China and Vietnam, the Detian waterfall or Ban Gioc waterfall as it's named in Vietnamese is the 4th largest transcontinental waterfall in the world and the LARGEST WATERFALL IN ASIA!!
Detian Falls is 200 meters wide and 70 meters tall and is divided into a total of 3 layers of cascades that flow through tropical trees and brush creating a very surreal and ethereal look. While the waterfall runs year round it is most impressive from late spring to early fall when the flow of water is at its strongest.
With all those stats you would think this would be a major attraction right? But guess what, Detian waterfall has literally no hype in China. It is NOT a popular tourist destination, which means, no crowds (aka amazing views AND no tourists in your photos, can we get a heck yes over here?!).
The reason this waterfall hasn't yet become a popular tourist destination is because number one, it's pretty off the beaten path and kind of annoying to get to (it's a 3+ hour bus ride from the nearest city of Nanning) and two, because there is no historical or cultural significance to the Detian Waterfall, most of the Chinese tourists could pretty much care less about coming to see it.
I don't know about you guys but I think anyone who sees a picture of this place and doesn't automatically want to go see it is totally missing out. We haven't been there yet, but it's on our list for sure!
For more info on this stunning off the beaten path wonder check out the articles below:
From the Vietnam side: Ban Gioc Waterfall by Motorbike by The Lost Passport
From the China side: Detian Waterfall by Suitcases and Sunsets
Inspired to come discover some of the epic natural wonders that call China home? We hope so!
WANT TO TRAVEL CHEAPER & EASIER?
Subscribe to follow our blog and be the first to read our new posts!
Success! Happy dance optional :) P.S. check your inbox for goodies!
Like this post? Share the love and pin it on Pinterest!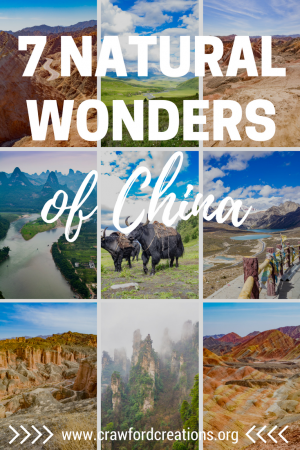 *** This post may contain affiliate links. By purchasing a product or service through these links you are helping to support this blog at no extra cost to you! We only recommend products we personally use and love! ***