https://crawfordcreations.org/dating-in-a-pandemic/
What To Eat In China: Must Try Chinese Foods By Region
***This post may contain affiliate links.***
China has a long tradition of food. A tradition that is very much alive and well today. In fact, I've never met a more food obsessed nation. Food is one of the main topics of both conversation and debate here in China. When people go home to their hometowns to visit family over Chinese New Year, the one gift they bring back to share with friends is always some sort of local food.
I've even been asked many times in casual conversation whether I prefer to eat rice or noodles. Like what?! We would never ask such a random question in the west. Food is just THAT ingrained in Chinese culture.
Lucky for us, it's the Chinese obsession with food that makes the country such a great travel destination for us foodies. Trying all the local foods is a major part of the travel experience here in China, and every region in China has their own unique types of food. But not all of them are worth trying, which is why over the course of the past 3 years we've tested all the different Chinese foods and have created this insane list of all the best foods you have to try when traveling in China.
I've started my list working from North to South. So buckle up and prepare to get hungry.
Related Posts
Dongbei 东北
Dongbei cuisine hails from Northeastern China, the literal translation of "dongbei" in Chinese. Dongbei food is also called Manchurian food due to the historical prominence of the Manchurian people occupying the Northeastern region of China and bringing their food with them.
Dongbei food is one of our favorite cuisines and is especially suited to western palates as most of the food is sauteed or fried and tends to be heavier on the meat than most other Chinese foods. Their staple food is also wheat based instead of rice, so you'll often see different types of bread, pancakes, noodles, and dumplings. They also do quite a bit of pickling and are famous for their pickled cabbage, which tastes remarkably like sauerkraut.
Here are some of our favorite Dongbei dishes. You can find these foods in abundance when traveling in the Northeastern territories of China such as the areas around Harbin and Beijing.
Disanxian (地三鲜)

 

Eggplant, Potatoes & Peppers
This dish is super simple but incredibly delicious. Eggplant, potatoes, and peppers are stir-fried together is a slightly sweet soy sauce. So yummy.
Niurouxian bing (牛肉馅饼)

 

Meat Pancake
Niurouxian bing is a thin crispy fried pancake stuffed with ground beef. It's a great substitute for when you're craving a sandwich, something very hard to come by in China.
Suantian rou/yu or Guobaorou/yu (酸甜肉/鱼)

 

or (果包肉)

 

Sweet & Sour Pork/Fish
This is a very familiar dish to anyone who's eaten Chinese food outside of China. At a Dongbei restaurant though, I would highly recommend getting the Dragon Fish, aka Sweet and Sour Fish. It's basically a battered and fried fish that's been deboned (a rarity in China) and cut into chunks that are left still attached to the fish.
It comes out looking like how most people see mangos served. The fish is still whole, with the head attached and sometimes they'll even put something like a candle coming out of the fish's mouth. Hence the name, Dragon Fish.
Beijing 北京
Beijing food is similar to Dongbei food in that it is more heavily focused on meat and wheat-based products than most other Chinese cuisines. Beijing cuisine is also quite a bit sweeter than Chinese food in other parts of the country. Like Dongbei food, Beijing food is also mostly prepared by frying.
Here are some of our favorite Beijing dishes you must try when in Beijing.
Beijing kaoya (北京烤鸭) 

 

Peking Duck
Known around the world, Peking Duck is one of China's most famous dishes, and it originated here in Beijing. The funny part is the dish Peking Duck is only the crispy skin of the duck. The skin is generally sliced off the whole duck at the table in front of you and served with thin crepes, a sweet sauce, and raw cucumber and green onion slices. You basically assemble a burrito with all the ingredients. It's really delicious, but I always find it funny that you don't actually eat any of the meat in this dish.
Jianbing (煎饼) Fried Crepe
Jianbing is a super popular street food, and an awesome snack when you just need that extra bit of fuel to get you through the day. You'll only find jianbing on the street, so look for a cart with the jianbing 煎饼 characters on it and a guy making what will look like crepes at it. It's a savory snack, not a sweet one, and is generally served with egg, pickled vegetables, and crispy fried noodle/cracker inside.
Jinjiang rousi (京酱肉丝)

 

Shredded Pork with Sweet Bean Sauce
Another burrito style preparation, jinjiang rousi is shredded pork served in a sweet sauce with tofu wrappers, cucumber, and green onion. You put the meat and veg on a tofu wrapper, wrap it up, and eat it like a burrito. So good.
Zhajiangmian (炸酱面)

 

Fried sauce noodles
Zhajiangmian is basically the noodle form of jinjiangrousi. It's the same preparation of meat, although sometimes it's ground pork instead of shredded pork, with raw cucumber slices served over noodles.
Inner Mongolia 内蒙古
Inner Mongolian food is honestly one of our least favorite foods we've had in China. There's not much variety and it basically consists of lamb, animal fat, noodles, and bread. The food here is super salty and rich. The salt for preservation over the long winter and the richness for energy to keep warm. Inner Mongolia has a very short summer and long cold winter and their grassy plains support animals better than crops.
The food in Inner Mongolia is basically Mongolian food, although you can still find Chinese food here as well.
Here are some of the best Inner Mongolian dishes we've tried.
Kaoyangrou (烤羊肉)

 

Roast Lamb
The roast lamb in Inner Mongolia is definitely one of the best lamb preparations we've ever had. It's super tender and very rich without much of the strong lamb flavor that turns a some people off to the meat. Mongolian roast lamb literally falls off the bone with the fat dripping off. Really good.
Jiaozi (饺子

) 

Mongolian Dumplings
Mongolian dumplings are typically made with lamb or beef as opposed the pork dumplings popular in most parts of China. The dough on the outside is thicker than a Chinese dumpling and more like a cross between noodle dough and bread dough.
Niurou/yangrou lamian (牛肉/羊肉拉面

) 

Beef/Lamb Pulled Noodle Soup
I have to give the Mongolians credit, their beef pulled noodle soup is definitely the best beef noodle soup I've ever had. The beef is super tender and the broth is really flavorful. Two thumbs up.
Shandong 山东
Shandong cuisine is one of the original 8 Culinary Traditions of China. In fact, both Beijing and Dongbei cuisine are said to be branches of Shandong cuisine. The Shandong region of China is known for its light aroma and rich fresh taste. Its famous for its wide variety of seafood dishes.
Here are some of our favorite Shandong dishes. You can find these in abundance when traveling in the city of Qingdao or around Shandong Province.
Basi digua (拔丝地瓜) Sugar Coated Sweet Potato
This dish reminds us a bit of the sweet potato casserole served at Thanksgiving in the US. It's basically cooked sweet potato pieces that are tossed in liquid sugar. The dish is served piping hot before the sugar has completely set with a bowl of cold water to dip the potato in so you don't burn your mouth. When you pick up a piece of sweet potato the sugar stretches in long strands which is why it's called "basi" which translates to "candied floss".
Congyoubing (葱油饼) Green Onion Pancake
Congyoubing is one of our absolute favorite snacks. It's a savory green onion pancake that's fried and comes out super flaky and delicious. So simple, but incredibly delicious.
Jiangsu 江苏
Jiangsu cuisine is another one of the 8 Culinary Traditions of China. It's most famous for the unique preparations of its food and it's soft texture as well as the use of a lot of seafood.
You will find Jiangsu cuisine when traveling in and around Shanghai, Suzhou, and Nanjing.
Here are some of our favorite Jiangsu dishes.
Xiaolongbao/tangbao (小龙包/汤包) Soup Dumplings
Xiaolongbao is without a doubt my favorite type of dumpling. They're called soup dumplings because in addition to the meat there's also broth inside. You definitely have to be careful when you eat these as you could easily burn your mouth with the hot liquid inside. Most Chinese put the dumpling on their spoon and poke a hole in it with their chopstick to let the steam out before putting it in their mouth.
Or you can just wait for them to cool down a bit before you eat them which is my preferred method. They are seriously the best.
Zhaniurou jiaozi (炸牛肉饺子) Fried Beef Dumplings
These fried beef dumplings come in second place to the soup dumplings. They're basically the same thing as the soup dumplings except minus the soup and adding the fried. Delicious.
Dazhaxie (大闸蟹) Hairy Crab
Who doesn't love crab? The Jiangsu hairy crab preparation is seriously so good. Although it is one of the more expensive dishes on this list.
Shizitou (狮子头) Lion's Head Meatballs
We actually first had Lion's Head Meatballs when traveling in Yunnan Province, but they hail from Jiangsu. These are basically giant ground pork meatballs that are first fried and then braised in a delicious savory red sauce. It's one of our favorite Chinese dishes as their super flavorful, tender, and moist and the sauce is delicious over rice.
Zhejiang 浙江
Another one of the 8 Culinary Traditions of China, Zhejiang food is fresh, mild, and not greasy. If you don't like spicy or greasy food, than Zhejiang food is for you.
You'll find Zhejiang food when traveling in Hangzhou. Here are best Zhejiang dishes you should try when traveling in Hangzhou.
Dongpozhouzi (东坡肘子) Dongpo Pork Belly
Dongpozhouzi is pork belly that is first fried and then stewed in soy sauce and wine. Yum.
Jiaohuaji (叫花鸡) Beggar's Chicken
Beggar's chicken is a whole chicken that is wrapped in clay and slow cooked for up to 6 hours.
There are many stories surrounding the origins of Beggar's Chicken. Some say a beggar stole a chicken from a farm, some say he stole it from the emperor, both ending in the beggar cooking the chicken underground to avoid detection from smoke. The emperor then was said to have discovered the beggar, dined with him on the chicken, and so enjoyed he added it to his menu and thus popularized it.
Another alternative story is that the dish was a childhood favorite of Emperor Gaozu who grew up as a peasant and popularized the dish once he became emperor.
Regardless, it is one delicious chicken.
Anhui 安徽
Anhui cuisine, another of the 8 Culinary Traditions of China, is made up of very local mountain ingredients native to the region. Anhui is located in the mountains outside of Shanghai where the locals are relatively poor, and thus most of Anhui cuisine is now regarded as peasant food.
This doesn't mean they can't make great food though. Here are some of the most delicious Anhui dishes you can find if you're traveling in Anhui Province, the mountainous region west of Shanghai.
Nongjia danjiao (农家蛋饺) Egg Dumplings
These are pork dumplings made with egg as the wrapper instead of dough. The egg is beaten and spread thin on a griddle to cook. It's then filled with the ground pork mixture and steamed. The dumplings are served with soy sauce.
Kaoya (烤鸭) Roast Duck
Unlike Beijing Roast Duck, the roast duck in Anhui is served meat and all. It's not a popular as Beijing Roast Duck, but it's equally as delicious.
Fujian 福建
Yet another of the 8 Culinary Traditions of China, Fujian food is known for diverse seafood and light, flavorful preparations. Fujian food stays away from frying and steers towards braising, stewing, steaming and boiling cooking techniques.
You can find Fujian cuisine when traveling in Fuzhou and around Fujian Province. Here are some of the best Fujian dishes.
Sanbeiji (三杯鸡) Three Cup Chicken
Sanbeiji or Three Cup Chicken gets its name from the restaurant preparation of this dish in bulk, which is made with 1 cup of sesame oil, 1 cup of rice wine, and 1 cup of soy sauce. The dish is typically prepared using chicken wings.
Juanzi (卷子) Spring Roll
The ever famous spring roll is actually said to originate from Fujian province. It's pretty hard to find spring rolls in most places in China, so if you're ever in Fijian, be sure to get some.
Guangdong 广东
Guangdong food is the most prominent Chinese food around the world, due to a large number of Southern Chinese people that have emigrated to countries outside of China. It's another of the 8 Culinary Traditions of China and definitely the most intricate of all the Chinese cuisines.
Guangdong cuisine is characterized by lots of seafood, animal parts, and re-hydrated ingredients. Admittedly that doesn't sound very appetizing, but there are a very wide variety of Cantonese (another name for Guangdong) dishes out there, which means there's plenty of delicious options to choose from.
Guangdong cuisine is famous for its steamed dishes, soups, and barbecue. Here are some of the best Guangdong foods you can find when traveling in Guangzhou, Shenzhen, Hong Kong, and Macau.
Dianxin (点心) Dim Sum
Dim sum is for sure the most famous of Guangdong foods. I mean, who doesn't love dumplings? The best way to experience dianxin in Guangdong is at morning tea or zaocha 早茶. Zaocha is typically a brunch meal where people go to a zaocha restaurant and order tea and many different plates of dumplings, steamed buns, and fried noodles. It's basically the morning version of Britain's afternoon tea.
Make sure to try the chashaobao 叉烧包 (barbecue pork bun) and shrimp dumplings.
Chashao (叉烧) Barbecue Pork
Chashao, also called charsiu (the Cantonese name) is basically the best thing ever. This is the most succulent rich barbecue we have ever tasted, and arguably the best food to come out of Guangdong Province. You seriously can not leave Guangdong without trying some chashao.
You can find chashao at a number of restaurants where you'll often see the slabs of barbecue meat hanging in the window. It's best though if you can ask a local where the best place to get it is. For us, it's this whole in the wall restaurant a 45 minute drive outside of Zhuhai that you would never find unless you had someone take you there. We were lucky to have friends bring us there for lunch on a bike ride. It was so good we've made the trek back many times since.
Ganchao niurou hefen (干炒牛肉河粉) Beef Fried Rice Noodles
This is by far my favorite noodle dish in all of China. It's rice noodles that are fried with beef, onion or green onion, and bean sprouts. I don't know how they make it so delicious because for how simple it is I certainly haven't been able to recreate it at home.
Fensi suanrong zhengxia (粉丝蒜蓉蒸虾/海扇) Steamed Garlic Shrimp/Scallops With Glass Noodles
These garlic shrimp are heaven for a garlic lover like me. Basically, it's butterflied shrimp that are steamed over glass noodles with heaps of garlic on top and a soy sauce based sauce on top. Pure shrimp heaven is what it is.
They also make this same dish with scallops. It's equally delightful.
Hunan 湖南
Hunan is known for its flavorful spicy food characterized by liberal use of red chili peppers. It's also another one of the 8 Culinary Traditions of China.
You can find Hunan food when traveling in Zhangjiajie and around Hunan Province. Here are some of the best Hunan dishes you should try.
Maoshi hongshaorou (毛氏红烧肉) Chairman Mao's Red Braised Pork
Red braised pork is a classic Chinese dish and a definite must try when in Hunan Province. The dish is named after Mao as he is from Hunan Province and red braised pork was his favorite dish. Red braised pork is pork belly that's been boiled, fried in sugar, and then braised in a delicious sweet and savory sauce.
Jiaozha oujia (狡炸藕家) Lotus Root Sandwich Fritters
These fried lotus root and meat sandwiches are without a doubt the best preparation of lotus root you'll ever have in China. This dish is composed of marinated ground pork sandwiched between two slices of lotus root, dipped in batter and deep-fried. I could eat these things all day long. They are seriously good.
Changde boziji (常德波子鸡) Changde Clay Bowl Chicken
Clay bowl chicken is all sorts of deliciousness. It's deep fried chicken that's then simmered in a spicy soy sauce and served in a clay bowl still boiling on the table.
Sichuan 四川
Sichuan cuisine is one of my absolute favorites of all the Chinese cuisines. It's known for its bold spicy flavors and it's unique use of huajiao, which translates to flower pepper but is otherwise known as Sichuan pepper, or numbing pepper. This is definitely a strange spice to get used to because instead of making your mouth feel like it's on fire like a chili pepper does, it numbs your tongue and lips, literally.
It's the last of the 8 Culinary Traditions of China. What can I say, I saved the best for last.
You can find Sichuan food when traveling in and around Chengdu in Sichuan Province. Here are some of the best Sichuan dishes, and some of my absolute favorite foods in China. As you can probably tell by the long list, I just couldn't choose, I had too many favorite Sichuan foods!
Shuizhu niurou (水煮牛肉) Spicy Boiled Beef
The Chinese name of this dish literally translates to "water boiled beef" which makes the dish sound bland and rather unappetizing, but the name literally couldn't be more misleading. Shuizhu dishes are jam-packed with spices and flavor and is one of the most flavorful dishes I've ever had.
You can get this dish with beef, fish, or pork, but I think the beef dish is the best. Shuizhu niurou is generally made with some mixture of bean sprouts, enoki mushrooms, or water spinach that's cooked and placed a the bottom of a big bowl. Then on top of the vegetables is a spicy broth made with chili bean paste, chili peppers, Sichuan peppers, and chicken broth in which the beef slices have been boiled.
The broth and beef are poured over the vegetables and the dish is served. So, dang, good. It's that kind of good that I felt the need to learn how to make it at home and now make it on a semi regular basis.
Ganbian sijidou (干煸四季豆) Dry Fried String Beans
Dry Fried String Beans might take the title for my favorite Chinese food in the history of Chinese foods. Which might seem strange to you, because it's green beans. But these are the green beans that put all other green beans, and vegetables, and basically, all other food to shame. I could eat these green beans every day and not get sick of them, they're just amazing.
I make these at home as well, although they never quite turn out like the restaurant dish. When you order these they come out crispy on the outside, tender on the inside, and tossed in a spicy soy sauce with garlic and a lot of times some ground pork as well. My mouth is seriously watering.
You must order this dish if you ever see it on the menu. Regardless if you're in Chengdu or not.
Dandan mian (担担面) Dan Dan Noodles
Well hello there dandan mian. These noodles just have the funest name, but they're also one of my favorite Chinese noodle dishes. Dandan noodles are noodles with a spicy sesame ground beef sauce on top.
Huoguo (火锅) Hotpot
If there was ever a place in China to try hotpot, it would be in Sichuan Province. Both the cities of Chengdu and its neighboring municipality of Chongqing are famous for their spicy hotpots.
If you aren't familiar with hotpot, you basically order a pot of boiling broth that you choose either spicy, not spicy, or half and half, which comes with a divider down the middle so that your spicy and not spicy broths don't mix. Then you choose your ingredients you want to cook in the broth which ranges from sliced meat to fish balls, to all sorts of vegetables.
All the ingredients are brought out raw and you cook them yourself in the broth. Every hotpot restaurant generally has their own dipping sauce or selection of dipping sauces on the table for you to dip the food in once it's cooked in the broth.
Hotpot is definitely an experience for those who have never had before, and a must try when traveling in Sichuan Province.
Gongbaojiding (宫保鸡丁) Kungpao Chicken
For sure Sichuan's most famous dish, kungpao chicken or gongbaojiding as it's called in China is a classic Sichuanese dish of diced chicken, peanuts, and dried chili peppers in a sweet and sour sauce. It's as well like in China as it is outside of it.
Yuxiangrousi (鱼香肉丝) Fish Flavored Pork
The name of this dish is super misleading. Never fear, this dish doesn't taste anything like fish, nor have any fish of any kind in it. Yuxiang or "fish flavor" is just used to characterize the sauce used in this dish because the sauce was first popularized on fish in China. It's not used on all different meats and vegetables in Sichuan Province.
Yuxiangrousi is shredded pork, cabbage, carrot, and mushroom stir-fried in the yuxiang sauce, which is spicy, savory, and a little bit sweet.
I put yuxiangrousi on here as a specific yuxiang dish, but really any yuxiang dish on the menu is worth ordering. Another awesome yuxiang dish you should definitely try is yuxiangqiezi 鱼香茄子 or fish flavored eggplant.
Guangxi 广西
Guangxi food is centered around the famous Li River that runs through the province. Its food is super local from river fish to rice paddy snails, but there are a couple really good dishes you should try when traveling in Guangxi.
You'll find Guangxi food when traveling to Guilin and Yangshuo in Guangxi Province. Here a couple local foods that are super yummy.
Pijiu yu (啤酒鱼) Beer Fish
Beer fish is fried catfish from the Li River that is simmered in a beer sauce and served with vegetables. Beer fish originated in Yangshuo and you can find the dish at pretty much every restaurant there.
Tese qiezi (特色茄子) Special Eggplant (Aubergine)
You can find this specific dish only in the tiny town of Xingping halfway in between Guilin and Yangshuo. We haven't seen it anywhere else, but we ate it every day when we were in Xingping because it really was that good.
Special eggplant is an eggplant that's been sliced into rounds, but not quite sliced all the way through so all the rounds are still attached to each other. The eggplant is then battered and deep fried and then smothered in some sort of tomato sauce. It is chopstick lickin good.
Yunnan 云南
Yunnan cuisine is a unique mix of different minority cuisines and flavors. This makes the food really varied and super fun to try a bunch of different things. What Yunnan does best though is street food, specifically grilled food.
You can find Yunnan food when traveling in Kunming, Dali, and Lijiang in Yunnan Province. Here are some of the best Yunnan foods.
Kaoqiezi (烤茄子) Grilled Eggplant (Aubergine)
This will be, without a doubt, the best eggplant you'll ever eat, or one of the best if you've had the special eggplant in Xingping. They prepare it by grilling the eggplant whole, butterflying it, and sprinkling a bunch of garlic, chili, green onion, and soy sauce on it. So, insanely, good.
Kaorou (烤肉) Meat Kabobs
The other grilled deliciousness you must try in Yunnan is the meat kabobs. You can't go wrong with any type of meat on a stick, but the lamb, goat, beef, and chicken wings are particularly mouthwatering. It's pretty rare to get grilled food in China, so Yunnan is a treat for us with all their grilled street food.
Xinjiang 新疆
Xinjiang is an area in Western China that is occupied primarily by Muslim people, and the food definitely reflects that. Xinjiang food is absolutely delicious and is flavored heavily by the use of cumin, garlic, and chilis. They also make some of the most delicious flatbreads.
You can find Xinjiang food when traveling to Urumqi or anywhere in the extremely large Xinjiang Province. Here are some of our favorite Xinjiang foods.
Mianbao (面包) Uyghur Bread
Bread lovers rejoice! Especially because this is about the only place you can get legitimate bread in China. I left this one purposefully vague because I've never had an Uyghur bread I didn't like. So find a bread shop and go crazy.
Kaoyangrou (烤羊肉) Lamb Kabobs
Let me tell you, Muslim food knows what they're doing when it comes to preparing lamb. The Xinjiang lamb kabobs are out of this world good. If you see lamb on a stick, eat it.
Lamian (拉面) Pulled Noodles
There are Muslim noodle restaurants all over China, even down here in Guangdong Province, but the noodle originates from in and around the Xinjiang area. These noodles are pulled by hand from what starts out as one thick block of dough. I'm always so fascinated to watch the chef pull the noodles through the window in the kitchen.
Once they pull the noodles, they cook them and put whatever toppings you order on top of them, which is generally a mix of beef or lamb and vegetables.
Lamian restaurants are really popular in China, so if you can't make it out to Xinjiang you can still try these noodles at any Lanzhou Lamian restaurant in China.
Tibet 西藏
Tibetan food is definitely the most unique of all the Chinese foods. The Tibetan people survive mostly by raising yaks. Up on the Tibetan Plateau, the growing season is really short so Tibetan food consists mostly of all things yak, yak meat, yak cheese, yak butter, and yak milk. Because of this Tibetan food is really heavy on the bread, meat, and dairy, which is totally contradictory to all other Chinese foods.
You can find Tibetan food when traveling in the Tibet Autonomous Region, but also in the Tibetan regions of Sichuan and Qinghai Provinces, otherwise known as Kham and Amdo. Here are some of our favorite Tibetan dishes.
Zhishi jiaozi (芝士饺子) (Momos) Cheese Dumplings
In all honesty, I kind of made up the Chinese name for this dish because it's not a Chinese dish and I have no idea if the Chinese have a name for it or not. Honestly not that it matters because most Tibetans don't speak hardly any Chinese to begin with so you can feel free to stick with the Tibetan name for these dumplings, which are Momos.
You do have to specify that you want the cheese ones though because they come in many different flavors including yak meat, cheese, vegetable, and potato. Trust me, you want the cheese momos.
Cheese momos are a dumpling wrapper that's kind of a cross between a noodle and a steamed bun filled with yak cheese and green onion. Omg they're so delicious! It's basically like the Tibetan version of an Italian ravioli.
Suannai (酸奶) Yogurt
Every Tibetan restaurant has this delicious homemade yogurt, made from yak milk of course. It's a really thick yogurt that's not flavored at all. It's usually served with either sugar to put in it or with raisins and bread as a dip.
Maoniurou (牦牛肉) Yak Meat
Of course, you can't go to Tibet without trying yak meat. Well, honestly you can't avoid it really, unless you just don't eat meat. Because, in Tibet, your only choice of meat is yak. It's great in a stir-fry or even just boiled and served with a dry spice mix dip.
Tangmian (汤面) (Thukpa) Tibetan Noodle Soup
This is another one of those dishes that I only know the Tibetan name for. Thukpa is a Tibetan noodle soup of which there is generally 2 kinds, meat, and vegetable. The noodles are hand rolled and cut so they're thick and more resemblant of the dumplings you would get when you order chicken and dumplings in the US. All the vegetables in the dish are wild local greens and it's cooked in a chicken broth. Super yummy.
So, are you hungry yet?
Hope you're prepared to eat your way through China and try all the things, because they really are super delicious!
P.S. Want to try your hand at making these foods at home?
Click the links under each photo to find an authentic Chinese recipe! Almost every photo in this post links to a food blog that will teach you how to cook all this awesome food at home. Sneaky, I know 😉
WANT TO TRAVEL CHEAPER & EASIER?
Subscribe to follow our blog and be the first to read our new posts!
Success! Happy dance optional :) P.S. check your inbox for goodies!
Like this post? Share the love and pin it on Pinterest!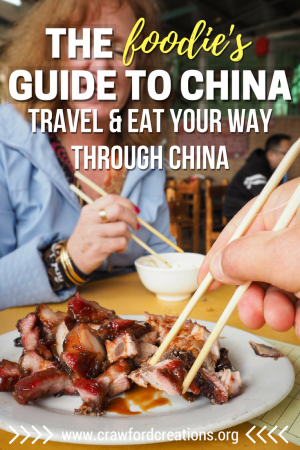 *** This post may contain affiliate links. By purchasing a product or service through these links you are helping to support this blog at no extra cost to you! We only recommend products we personally use and love! ***