8 Books You Must Read Before Coming to China
***This post may contain affiliate links.***
You've decided to come live and work abroad in China. Now what?
Between all the logistics, contract signings, apartment hunting, and nights spent crying in a ball on the floor reevaluating your life choices (oh, wait, that was just me…anyway…) you've probably had some sort of freak out about the insanity of it all.
The best cure for a life altering decision freak out?
Education…oh, and ice cream, lots of ice cream (seriously, stock your stomach up because you ain't getting any in China!).
Prepare yourself to face the unknown so you can, at the very least, say, "Oh yeah, I read about that" when you come across one of the many jaw-droppingly ridiculous situations you'll soon find yourself in after moving to this miraculous place we call China.
Before moving here we sent our brains into information overload on all things China. I think we bought around 20 different books on the country ranging from historical accounts, politics, economic growth, travel memoirs, and language learning. In all honesty, most of these books were not really worth the read, but a select few were complete gold mines chock full of countless nuggets of invaluable information.
More on expat life in China:
After sifting through the gambit of information floating around out there on China, we've put together a list of the 7 books that we keep opening up, even after multiple years of living in China. Ready to put some of those pre-move jitters to rest and get excited about everything that China has in store?
1. Decoding China by Matthew B. Christensen
This book is the absolute best resource for teaching you how to navigate life in China. This cultural handbook gave us all the tools we needed to get things done in China, even when we first moved here and had no language skills. Through Decoding China we learned how to deal with everyday situations like eating out at restaurants and shopping in the local markets. This book really empowered us to be able to function in China despite the language barrier and really mentally prepared us for our new life abroad.
Check out Decoding China on Amazon here.
2. Visual Mandarin Chinese/English Bilingual Dictionary by DK
This book is so amazingly, insanely useful it is an ABSOLUTE MUST HAVE in any expat's arsenal of reading material. The visual dictionary has been our life saver many a time when translators were spewing out nonsense. If you don't know it yet, I'll let you in on a little secret, translating between Chinese and English is really freakin' hard. Quite often I run across instances where there's like 3 Chinese translations for the English word I'm looking up and trying to decipher which one is correct can be quite daunting. But, fear no more, my friends! If ever you need to identify what something is (aka, look up nouns) you'll almost always be able to find the correct word in this book. And how do you know it's correct? That's right, there's a picture, it's visual. Sometimes, words just won't do.
Check out the Visual Mandarin Chinese/English Bilingual Dictionary on Amazon here.
3. Travel to China|Everything You Need To Know Before You Go by Josh Summers
This book is an incredible resource for first-time China travelers. Unlike the Lonely Planet, which comprehensively covers all the places you'll want to see and where to stay, Travel to China | Everything You Need to Know Before You Go prepares you for what to expect and teaches you how to navigate China like a pro. Basically, it teaches you "how" to travel to China where most other travel guides show you the "what" and the "where".
What is the best way to get cash in China? Can travelers use their phones to pay for things like local Chinese do? What should you expect with Chinese hotels? Author Josh Summers, a veteran expat who has lived in China since 2006, covers all of these topics in such a way that it feels like you're sitting down talking with a friend who is answering every question you had about China!
Check out Travel to China on Amazon here or read more about the book on TravelChinaCheaper.
4. On China by Henry Kissinger
Written by Henry Kissinger, a former National Security Advisor and Secretary of State in the United States, Kissinger has negotiated talks between the US and China for 40 years, acting as the lynch pin to bring the two countries together into a working relationship. On China takes you through the majority of China's history, a large chunk of the book focusing on the Mao era and the modern age of development that followed. This book delves deep not only into China's history but its philosophy and political and economic development as a nation as well. On China helped us to really understand China's background and what the country and people have gone through to arrive at their current course in history. A lot of the idiosyncrasies we've experienced in China are better understood after reading this book.
That being said, while the book is helpful, it is thorough to the point of being dense. At 550 pages this is not a short, or light read, but will be extremely illuminating for those willing to devote the time to learn about China's historical, political, and economic development.
Check out On China on Amazon here.
5. Lonely Planet China by Lonely Planet
Just revised in 2017 Lonely Planet China is the most comprehensive guidebook out there for traveling in China. This book is great for giving any China newcomer ideas about all the different places to explore during their time in country. Perusing through this guidebook is one of the things that really got me excited about coming here. There are so many cool places outlined in this book that I had never even heard of living in the US, and I suddenly wanted to see all the places! I still use Lonely Planet China as my first stop when deciding which place in China to travel to next. It's great for giving you an idea of what places are worth going to and for how long based on the number of attractions listed.
Just be warned if you bring it to China, it may be confiscated. It does not include Taiwan as part of China, so it is seen as not truly about China. Just keep it in your bag when going through checkpoints.
Check out Lonely Planet China on Amazon here.
6. Lost on Planet China by J. Maarten Troost
Lost on Planet China is a funny memoir of traveling long term through China. This book really brings China to life in an entertaining way and shows you a real first-hand account of a foreigner navigating life in this crazy country. I pretty much laughed out loud throughout this entire book. It is such an entertaining and quick read, I literally could not put this book down. If there's one take away from this book, I'd say it's that China requires a sense of humor and we've definitely taken this to heart now having lived here for multiple years. Lost on Planet China definitely showed us that it's not just possible for a foreigner with no language skills to travel around China, but that living and traveling here is fun, and well, entertaining, to say the least!
Check out Lost on Planet China on Amazon here.
7. Sharks Fin and Sichuan Pepper: A Sweet-Sour Memoir of Eating in China by Fuchsia Dunlop
Shark's Fin and Sichuan Pepper follows the author, Fuchsia's, hilarious, and sometimes gross, journey of living and eating her way through China. Fuschia first went to live in China back in 1994 as a student and has returned continuously since then. She works as a food writer, and her stint as the first foreigner to attend the Sichuan Institute of Higher Cuisine, China's premier culinary school, made for some truly unique and entertaining tales. We actually read this book after we had already been living in China for about a year, and we both found ourselves really identifying with the author and her experiences, so I can definitely vouch for the authenticity of this book. If you love food, you'll love this book for sure!
Check out Sharks Fin and Sichuan Pepper on Amazon here.
8. Every Grain of Rice by Fuchsia Dunlop
Another awesome book by Fuchsia Dunlop! If you love Chinese food like we do, then this book is a must have on your shelf. Cooking Chinese food is way different from making your typical western staples. If you want to get past the stage of Chinese food = ingredients + soy sauce (don't lie, you know this is the majority of the "Chinese food" you cook at home…if you even make Chinese food that is) then you need this book! Every Grain of Rice is the best Chinese cookbook we've come across that really teaches foreigners like you and me how to make authentic Chinese food at home, using Chinese ingredients, which is perfect for all of us living in China! You know these recipes are authentic because, as we talked about above, the author trained at the most prestigious cooking school in China.
Before we got this book, I used to get so frustrated at trying and failing to replicate my favorite Chinese dishes that we would eat out in restaurants here. I loved the food I ate out, but couldn't seem to make anything that was really good at home. Well, fast forward a year, and now, Justin and I both like my Chinese cooking better (a lot of times) than what we eat in the restaurants! Turns out, I had all the right ingredients, but I lacked the technique to get the right taste. Thank you, Fuchsia for teaching me how to make authentic Chinese dishes in my own kitchen!
Check out Every Grain of Rice on Amazon here.
Conclusion
Inspired to crack open those books? I hope so because you will feel so much better about coming to China once you read even some of them. These are our staple reading materials that sit on our bookshelves and get referenced constantly even after living here for years! We hope you enjoy them as much as we do!
For quick reference here is all of them again:
What other China books do you have sitting on your shelves? Let us know in the comments.
WANT TO TRAVEL CHEAPER & EASIER?
Subscribe to follow our blog and be the first to read our new posts!
Success! Happy dance optional :) P.S. check your inbox for goodies!
Like this post? Share the love and pin it on Pinterest!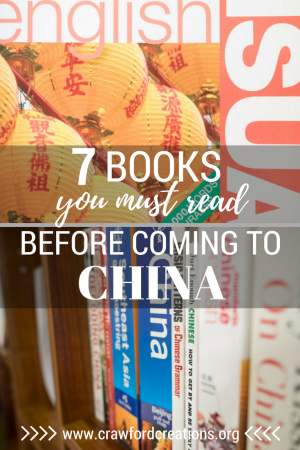 *** This post may contain affiliate links. By purchasing a product or service through these links you are helping to support this blog at no extra cost to you! We only recommend products we personally use and love! ***