How To Spend A Long Weekend In Beijing: The Ultimate 3-Day Itinerary
***This post may contain affiliate links.***
What's the first city you think of when you think of China? Hands up if you said "Beijing". Almost everyone feels like they can't visit China without going to Beijing. It's like going to Italy without seeing Rome, or France without visiting Paris. And I totally get it. I don't necessarily agree, but I feel you.
Do I think that Beijing is the greatest city in China? Definitely not, but if you're in the mindset of "I can't visit China without going to Beijing" then go! There's a lot of really cool things to see and do in Beijing so you definitely won't regret going.
It took me over 3 years of living in China to visit Beijing, and, if you can believe it, I was actually debating never visiting, and just spending my 4 years in China seeing, what I thought were better things. I have to say, having recently visited for the first time, I'm really glad I went! The Great Wall was EPIC, the walking streets were super cool, and the food was incredible.
My Beijing itinerary included a total of 4 days, but the first full day I was there it snowed all day so I didn't see hardly anything. Just my luck, by the way, my snow day was their first drop precipitation in over 100 days! And I was there at the end of March so snow in Beijing at that time of year was pretty unusual.
Luckily, the snow day didn't mess up my plans too much, which is why I know with our Beijing itinerary you can absolutely see all the city highlights over a long weekend with 3 full days in the city. Of course, you're not going to see everything in Beijing with just 3 days, but anyone who knows anything about me knows I'm not a city person, so packing 3 days full of the city's highlights was the perfect amount of time for me.
The only reason I would've wanted to stay longer was to go camping along the Great Wall. In fact, if I ever go back with Justin, that's at the top of my list for things to do. However, if you are a city person, feel free to extend this itinerary to suit your needs.
Related Posts
Day 1
1. Summer Palace

圆明园
To kick things off, head out to Beijing's Summer Palace, the most well preserved imperial garden in the world, and the largest garden of its kind in China. It's basically a huge park with lakes, gardens, temples, and hills that covers an area of around 3 square kilometers.
The park was built in 1750 as a place for the royal family to rest and relax. It was named the Summer Palace as after it was built it became a place of summer residence for the royal families as they preferred the beautiful open park to the walled Forbidden City during the warm summer months.
Naturally, the park is most beautiful during the summertime, again, it is called the Summer Palace (original, I know), but you really can't go wrong with exploring the park during the spring and fall as well.
Walking in from the East Gate, you'll first get to explore the palace buildings where the emperors used to stay before walking on the path along the lake. Beside the lake, you'll reach Longevity Hill, which you can climb for a beautiful view overlooking the park and the surrounding area. You can also take a boat ride along the lake as well as watch a traditional Chinese performance at the palace theater, a 3 storied theater that is the largest original wooden theater in China.
How To Get To The Summer Palace
Take subway line 4 and get off at 圆明园 Station (Yuan Ming Yuan). Take exit A or B to exit the station.
Ticket Price
40 RMB
Just a note, both riding the boat and climbing Longevity Hill require an extra fee, not included in the entrance ticket.
Opening Hours
8:30 am – 5:00 pm
2. Lama Temple

雍和宫
Known in Chinese as Yonghe Temple, Lama Temple is a monastery teaching Tibetan Buddhism and preparing pupils to become monks. The temple was built in 1694 during the Qing Dynasty and was constructed in a unique combination of Han Chinese and Tibetan style.
Today it is both a functioning tourist attraction and a functioning temple. The temple has 5 main halls located on a north-south axis, the last of which holds the temple's main attraction, the 18-meter tall statue of Maitreya Buddha, a futuristic bodhisattva. While you can only see 18 meters of the standing Buddha, there's actually another 8 meters of Buddha underground, making the entire thing an impressive 26 meters tall.
Oh, and what's even more impressive is that the entire statue is carved out of one single piece of white sandalwood. The Buddha was a gift from the 7th Dali Lama to the Qianlong emperor. The Buddha was carved in Tibet and transported to Beijing, a process that took 3 years to complete. And no, I have absolutely no idea how they transported a giant piece of wood that big in the 1700s.
How To Get To Lama Temple
From the Summer Palace take line 4 to 西直门 Station (Xi Zhi Men) and transfer to line 2.
Take subway line 2 and get off at 雍和宫 Station (Yong He Gong). Take Exit C to exit the station.
Entrance Fee
25 RMB
Opening Hours
9:00 am – 4:30 pm
3. Jingshan Park

景山公园
Jingshan Park is an absolute must visit, especially at sunset, which is when I would recommend you going, not just because you'll get the most beautiful view, but, believe it or not, there will also be less people there than during the day.
The park is located directly behind the Forbidden City and has the absolute best views in all of Beijing. The tallest hill in the park directly overlooks the Forbidden City and gives you an incredible view of the scale of the Forbidden City and just how big the place really is.
Jingshan Park and its hills are actually entirely manmade, which is crazy considering the park was constructed during the Liao and Jin dynasties around 1000 years ago. The dirt from digging the moat around the Forbidden City was used to create the hills inside of the park.
Jingshan Park was opened to the public in 1928 and today marks the central point of Beijing City.
How To Get To Jingshan Park
From Lama Temple take subway line 5 to 东四 Station (Dongsi).
Take Exit B out of the station, turn left, walk to the 4-way intersection and turn left again. Then walk down the road to the bus stop, a total of 350 meters.
Take bus number 58, ride it 3 stops and get off at 景山东门站 (Jingshan Dong Men Station). Walk 150 meters further and you'll find the entrance to Jingshan Park.
Ticket Price
2 RMB
Opening Hours
April – October: 6:00 am – 9:00 pm (ticket sales end at 8:30 pm)
November – March: 6:30 am – 8:00 pm (ticket sales end at 7:30 pm)
4. Nanluoguxiang Hutong 

南锣鼓巷
After watching the sunset at Jingshan Park, take walk down Nanluoguxiang Hutong and find some dinner. Nanluoguxiang was originally built in 1750 during the Qing Dynasty and has since become one of Beijing's most beautiful hutong alleyways. Today, Nanluoguxiang is lined with restaurants, live music, coffee shops, and souviners. To walk the entire length of the Hutong, or alleyway, is 800 meters.
How To Get To Nanluoguxiang
From Jingshan Park you can walk 1 km to arrive at the start of Nanluoguxiang. Simply exit the park from the North Gate, walk straight ahead to the next major road and 4-way intersection and turn right.
Walk down the road until you arrive at Nanluoguxiang Station. Take the underground walkway across the street and you'll arrive at Nanluoguxiang Hutong.
Ticket Price
Free
Opening Hours
24/7
Day 2
1. Great Wall of China (Jinshanling Section) 金山岭长城
No visit to Beijing is complete without seeing the Great Wall. While there are many sections of the wall to visit at varying distances from Beijing City, I chose Jinshanling for its beautiful scenery, great hiking, and lack of crowds.
I've seen those photos of hordes of people crammed onto the Great Wall like sardines, and yeah, no thank you. When sights are that crowded they're just not fun to visit anymore.
At 130 km away from the city and a 2.5 hour drive, the Jinshanling section is definitely one of the furthest feasible Great Wall sections to visit from Beijing, but the added drive time is absolutely worth it. Not only was the entire section of the wall nothing short of drop dead gorgeous, but I only saw a handful of other tourists the entre time I was there. Mission avoid the crowds, complete.
The Jinshanling Great Wall was originally built in 1358 and was restored in 1567, but since then the wall has only been maintained, not restored, so it's about half in good shape, and half crumbling. Because of this when you visit Jinshanling you get a really cool mix of wild and restored wall. It's the best of both worlds when it comes to scenery.
To walk the length of the Jinshanling section of the Great Wall takes 4 hours, and every single one of them is stunning. The wall runs along the mountain ridge so there's quite a bit of up and down the entire way, and while there are a few steep sections with stairs, most of the hills here are more gradual. The climb from the entrance to the wall itself is the most grueling part as you walk straight up the mountain for about 30 minutes.
There really isn't anywhere around this part of the wall to get food, so bringing snacks, or even packing a lunch to eat on the wall is a must. Oh, and also make sure you bring plenty of water. There are a couple vendors inside some of the watchtowers selling snacks and drinks, but they're insanely overpriced and really limited on selection so I wouldn't rely on them as a source of food and drink for the day.
How To Get To The Jinshanling Great Wall
The best way to get there, especially if you're going with more than one person, is to hire a driver for the day. You can arrange a car either through your hotel or through Wechat if you have it, although if you've never booked a car through Wechat before you might need a Chinese person to help you.
Regardless of how you book your car, the price is still pretty steep at 900 RMB for a driver to take you to Jingshanling, wait, and bring you back to the city at the end of the day.
Supposedly there is a public bus that leaves from Wangjing West Station at 8 am, drops off at the Jinshanling Great Wall ticket gate, and returns to Beijing at 3 pm. Times change depending on the season and how many people are taking the bus, so it's best to confirm at your hotel before you attempt this option as I have no personal experience taking this bus.
Ticket Price
65 RMB
Opening Hours
8:00 am – 5:00 pm
2. Deyuan Roast Duck Restaurant 德缘烤鸭店
End your day of hiking along the Great Wall with a stroll through Dashilan Walking Street on your way to dinner at Deyuan Roast Duck Restaurant. There's simply no better way to reward yourself after a long day of hiking than with a giant, and super delicious dinner of Beijing Duck (or Peking Duck as some of you know it by, but they don't call it that in China).
Deyuan Roast Duck Restaurant is located on the super cool Dashilan Walking Street which is lined with restaurants, shops, and yummy street food, as well as incredibly elaborate looking buildings just begging to be photographed.
The restaurant is a local hot spot for eating Beijing Duck as not only is it one of the best spots in the city to eat Beijing Duck, but at 150 RMB for an entire duck, it's also one of the cheapest. I can definitely attest to the fact that not only is the place popular, but it's packed with locals. I only saw one other foreign family there when we went on a Friday night.
It's also the longest I've ever had to wait to get a table at a Chinese restaurant, which, by the way, was 10 minutes. A testament to just how good this place is, and also to the fact that normally the wait at a restaurant in China is 0 minutes.
How To Get To Deyuan Roast Duck Restaurant
Take subway line 2 to 前门 Station (Qian Men) and take Exit C.
Turn left at the exit and take the underground walkway to cross the street.
Turn left after you come out of the walkway and follow the road for 380 meters.
Turn right onto Dashilar (大栅栏) Pedestrian Street, walk straight for 250 meters and Deyuan Roast Duck Restaurant 德缘烤鸭店 will be on your left.
Price
150 RMB for 1 Duck. One duck is plenty to feed 4 people with one side dish.
Day 3
1. Tiananmen Square

天安门

& Forbidden City

故宫

(**MAYBE**)
I'm putting a GIANT asterisk by this one because personally, I really wouldn't recommend it UNLESS you're a history buff. I am not, which is why I could've cared less about Beijing's two most famous attractions.
I know that a lot of you think not going here is akin to not seeing the Colosseum in Rome, aka travel catastrophe, but this is coming from someone who went to Rome, and indeed did not tour the Colosseum. Horrifying, I know. We did see it from the outside though, just didn't go in.
Why You Shouldn't Go To Tiananmen Square or the Forbidden City
1. Crowds
The Forbidden City was so insanely crowded it was hard to enjoy being there. You know the sardine can analogy? Yeah, it was like that. And I was there during the off-season.
2. Lines
Even though Tiananmen Square is free to enter, you have to go through airport style security to get there, which means waiting for at least an hour in a long line.
3. You Can't Actually See Much
They have the insides of all the buildings at the Forbidden City blocked off so tourists can't go inside. Some of the doorways have glass in front them so you can still see inside, but in order to do so you have to push your way past at least 50 other people all vying for the same view. I didn't even bother.
The outside of the buildings all look exactly the same, so after I while I just got bored of seeing the same thing over and over again.
Again, admittedly I haven't acquired a taste for ancient history so it was hard for me really appreciate Tiananmen Square and the Forbidden City.
If you are a history lover though, you will love the Forbidden City. This is your time to shine history buffs, so go explore and enjoy.
How To Get To Tiananmen Square & The Forbidden City
Take subway line 1 to Tiananmen East Station 天安门东 or Tiananmen West Station 天安门西
Ticket Price
Tiananmen Square: Free
Forbidden City
Off-season: 40 RMB
Peak-season: 60 RMB
Opening Hours
Tiananmen Square: Sunrise to Sunset
Forbidden City: 8:30 am – 4:30 pm
Photography Tip: You can actually see Tiananmen Square from across the street, you just can't get up close without going through security. But, if you've got a zoom lens, you can still get a photo of the gate without having to wait in any line.
For the rest of us…
2. Temple of Heaven

天坛
Skip Tiananmen and the Forbidden City and head straight to the Temple of Heaven.
The Temple of Heaven is the largest completely wooden temple in existence in China. Construction on the temple started in 1406. The temple was built as a place for the emperor to go and pray for good harvests, hence its other name "Hall of Prayer for Good Harvests".
This temple is not only unique in structure and building style, but the painting on the outside of it is just incredible! It's so intricate and colorful.
Fun fact, the original temple that was built in 1406 was actually struck by lightening and burned down in the 1800s. Today's temple is an authentic reconstruction, wood beam by wood beam.
The Temple of Heaven isn't just this one temple, there are actually a couple other temple buildings alongside it as well as a surrounding park. The park is a cool local hangout for Beijingers as we saw a lot of people hanging out playing cards and mahjong while we were there.
How To Get To The Temple of Heaven
Take subway line 5 to 天坛东门 Tiantan Dongmen Station and exit the station at Exit A.
Ticket Price
Entrance Fee
November – March: 10 RMB
April – October: 15 RMB
Hall of Prayer for Good Harvests: 20 RMB
They kind of get you on this one, as there are actually 2 separate tickets you have to buy in order to see the Temple of Heaven unless you buy a combo ticket at the gate.
The cheap 10-15 RMB price is just the entrance fee for the park. Then there's another entrance fee to actually see the Hall of Prayer for Good Harvests (i.e. Temple of Heaven).
You can either buy your ticket for the Hall of Prayer for Good Harvests at the ticket booth inside the park (it's located the bottom of the steps leading up to the temple) or you can buy a combo park entrance/temple entrance ticket at the ticket booth located outside of the park entrance. The price is virtually the same either way.
Opening Hours
Park
Off-season: 6:30 am – 10:00 pm
Peak-season: 6:00 am – 10:00 pm
Temples
Off-season: 8:00 am – 5:00 pm
Peak-season: 8:00 am – 5:30 pm
3. Panjiayuan Antique Market

潘家园
If you were wondering when you were going to get the chance to shop on this trip, this is it. Panjiayuan Antique Market is by far the coolest market in Beijing, especially when it comes to souvenirs. The place is jam packed with all sorts of replicas and traditional Chinese things like scrolls, calligraphy, paintings, knots, fans, etc..
It's certainly the coolest and most unique market in town and you really can't go wrong with paying this place a visit. Just remember to hone your bargaining skills and never take the first price offered by the vendors. They will most definitely try to rip you off. Nothing unique to this particular market, they do that at every market in China.
How To Get To Panjiayuan Antique Market
From the Temple of Heaven take subway line 5 one stop to Puhuangyu Station.
At Puhuangyu Station change to line 14 and take line 14 two stops to Shilihe Station.
At Shilihe Station change to line 10 and go 1 stop to Panjiayuan Station 潘家园.
Ticket Price
Free
Opening Hours
8:30 am – 6:00 pm
4. Wangfujing Snack Street 王府井小吃街
While Wangfujing Snack Street is short, at just one block long, what it lacks in length it makes up for in density. The entire street is jam-packed with street food vendors selling foods from all over China. You can pretty much find anything on a stick here, from delicious meats, to seafood, to bugs.
It's a great place to sample lots of different Chinese foods, all grilled to order. Street food is my favorite food in virtually all country's and China's street food certainly doesn't disappoint. You can easily make an entire dinner out of the street food at Wangfujing, and you definitely should!
Must Try Snack Foods
Stick Meat – literally any kind of meat skewer you want grilled to perfection
Jianbing – a thin crepe filled with egg, vegetables, and a crunchy fried noodle
Roujiamo – basically a Chinese hamburger
Tanghulu – sugar coated hawthorn/crab apples
How To Get To Wangfujing Snack Street
From Panjiayuan Antique Market take subway line 10 three stops to Guomao Station.
At Guomao Station change to subway line1 and ride 4 stops to Wangfujing Station 王府井.
Ticket Price
Free
Opening Hours
9:30 am – 10:00 pm
WANT TO TRAVEL CHEAPER & EASIER?
Subscribe to follow our blog and be the first to read our new posts!
Success! Happy dance optional :) P.S. check your inbox for goodies!
Like this post? Share the love and pin it on Pinterest!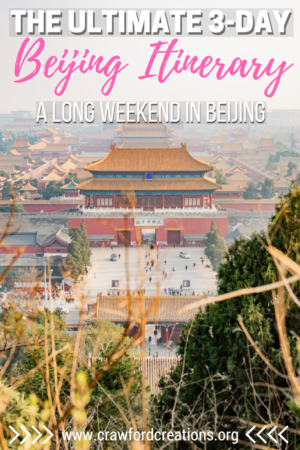 *** This post may contain affiliate links. By purchasing a product or service through these links you are helping to support this blog at no extra cost to you! We only recommend products we personally use and love! ***