5 Best Lightweight Tents For Trekking
***This post may contain affiliate links.***
The following article is a guest post written by Tadej from Camping Valley. Tadej shares his passion for camping and the outdoors on his website to help others find the best camping gear for their needs and have the most enjoyable camping experience.
Backpacking season is back in style! Today, I'd like to talk to you about some of my favorite and best lightweight tents for trekking through the wilderness trails. Whether you're next to a riverbed, surrounded by trees, in a lush field, or on top of a mountain, you need a tent that's going to perform consistently and give you peace of mind.
What to look for in a tent
When you're shopping for a new tent, here are some careful considerations as you compare different products and decide which one is right for you.
Seasons
A typical tent is made for the 2 seasons, spring and fall. A 3 season tent includes summer. 4 season tents are harder to find as they need even more special design considerations for the harshness of winter and the weight of heavy snow.
Capacity and size
You'll want extra room if you're going to bring extra friends, so knowing how many people are going with you is a part of the planning and purchasing process. Some 1 person tents are just barely big enough for a sleeping bag and a pair of boots. If you need more room, you can look for a larger tent, or a tent that has a vestibule area: a covered but not contained entryway.
UV Protection
Sunburn exists all year long. Even if there is no sunshine, the Sun's UV rays still shine down from above. You'll want a tent that has UV protection even if you don't think you'll be gone that long, as it provides a safe shelter in case anyone gets weary.
Weight and folded size
With backpacking, your pack distribution, weight, and size is important. Not only does it affect your stamina and walking speed, but an improperly distributed hiking pack is a fall risk. Know what size your pack is, how much weight you can afford for a tent, and how big each tent is folded up so that you can plan accordingly.
Footprint availability
While tents do include a flooring, that piece of fabric is the most used and battered piece of the entire tent. A footprint is a ground cloth that goes underneath the tent and helps to significantly reduce wear and tear. It will also help reduce heat loss through the ground beneath. Footprints are custom-made for each specific brand and model of tent, so they aren't available for all tents. If your tent has a limited warranty, this is a great option to preserve your investment.
Read More Gear Posts
Our Top 5 Best Lightweight Tents for Trekking
Here are my top 5 picks for the best lightweight tents for backpacking, camping, and wilderness survival.
5. Kelty Grand Mesa 2 Person Tent
The Kelty Grand Mesa 2 Person Tent is a freestanding 3-season tent that weighs in at 4.75 lbs or 2.15 kg. The tent packs down to just 12×15 inches and has color-coded clip construction for easy setup. The Kelty Grand Mesa is waterproof, with a rain fly included and stands up well to hard rain and wind.
This tent is long enough for a tall 6'+ person to fit comfortably inside, although with 2 people it will be a bit cozy. It also comes with pockets on the inside to store your small gear such as phones and flashlights. The vented back wall is also nice and works well to prevent the tent from getting stuffy, especially when it's raining.
The biggest downside I can find about this tent is that there is only 1 door, which can make the tent feel a bit crowded with two people inside as if you have to get up in the middle of the night you might need to step over your companion before getting out.
All in all the Kelty Grand Mesa 2 Person Tent is a great value for your money.
Check the latest prices on Amazon here.
4. ALPS Mountaineering Lynx 1 Person Tent
ALPS Mountaineering Lynx 1 Person Tent is a grey and orange polyester, UV proof, semi-geodesic style tent with only 2 poles for a fast assembly time of just 3 minutes. It is a 3-season tent weighing 3.5 lbs and has 1 door and 1 optional vestibule area. The inside of the tent has storage pockets and a mesh hammock for your stuff and comfortably fits one sleeping bag with extra room on all sides, especially the top and bottom.
Because the Mountaineering Lynx is by Alps, it comes with a limited lifetime warranty. I found this tent to be very sturdy, even in high wind conditions. It stands up great to rain, sleet, and snow.
The ALPS Mountaineering Lynx 1-Person Tent Floor Saver is an additional product that you can buy for this tent. It is well worth it as the floor saver for this model and will act as a vapor barrier.
Check the latest prices on Amazon here.
3. Mountainsmith Morrison 2 Person 3 Season Tent
At 3rd place is the Mountainsmith Morrison 2 Person 3 Season Tent, in citron green, and weighs 4 lb 11 oz and is of excellent quality. This is a polyester imported tent with two doors, two vestibules, rainfly, and windows. It has room for two people with a little to spare at the top or bottom for personal effects. It also has a ceiling that is removable, as well as removable ceiling shelf space.
Check the latest prices on Amazon here.
2. Coleman Sundome 3 Person Tent
Coleman is a trusted wilderness company and their Coleman Sundome 3 Person Tent is easily deserving of sharing that reputation. The Sundome 3 comes in two color schemes: navy blue and stormcloud grey with neon yellow accents, or leapfrog green with beige and black accents. It sleeps 3 people, weighs under 5 lbs, and sets up in under 10 minutes with a pole and clip system and polyester fabric. Assembled, this dome tent is 7 ft wide x 7 ft x deep and 4.3 ft tall. It is manufactured in the USA and comes with a carry bag and a 1-year limited warranty in case of any issues.
The Sundome 3 has a rainfly that can be put into different configurations such as a sunshade or a vestibule and acts as a privacy flap for the mesh window screen atop the door. It even has built-in pockets on the interior, and pole sleeves to help prevent snags during setup.
Separately, consider the Coleman Seam Sealer as a waterproofing agent to help protect your investment and keep you dry. This liquid works for any tent and it is easily applied to all the corners and seams. It helps to both waterproof the seams as well as give them longer life and durability. Even if it drips, the liquid will dry and disappear over time.
Check the latest prices on Amazon here.
1. MSR Hubba Hubba NX
The MSR Hubba Hubba NX Tent has a funny sounding name but it is built with tender love and care. The fabric is a hefty rip-resistant 20-denier, and comes in crimson red and slate grey. It sleeps two with just enough room for a pair of shoes on one side. The MSR Hubba Hubba also has two doors, two vestibule areas, built-in rain gutters, and a cross-ventilation system using the rainfly. It has straighter walls than most for added space.
It also has an awesome color-coded set-up using the hub-and-pole traditional system, along with a super-compact compression carry bag. For forgetful hikers or instruction sheet avoiders, this color coding system can be really nifty.
The MSR Hubba Hubba NX Footprint can be purchased separately for this tent for added durability.
Check the latest prices on Amazon here.
WANT TO TRAVEL CHEAPER & EASIER?
Subscribe to follow our blog and be the first to read our new posts!
Success! Happy dance optional :) P.S. check your inbox for goodies!
Like this post? Share the love and pin it on Pinterest!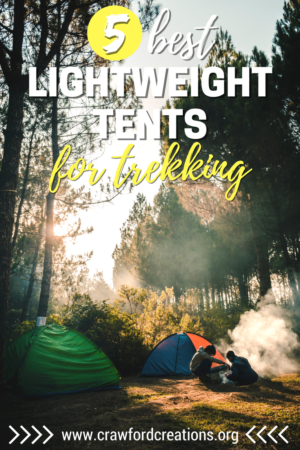 *** This post may contain affiliate links. By purchasing a product or service through these links you are helping to support this blog at no extra cost to you! We only recommend products we personally use and love! ***