Celebrating Lantern Festival In China
***This post may contain affiliate links.***
China's Lantern Festival is one of the world's great mysteries to us. The name implies lots of bright, colorful lanterns strung up through the streets, winding down rivers, and floating up into the air. In reality, such lanterns don't actually exist here in China. Not that we've seen anyway.
Although apparently in some spots the tradition is as the name implies, a festival of lanterns. Such magical places include Nanjing, Xiamen, Shanghai, and Guangzhou. We live in neither of those cities. Hence our Lantern Festival disappointment.
There is one awesome event we get to attend every year over Lantern Festival weekend, though, the Doumen Lantern Festival Parade. A striking display of traditional Chinese costumes, dragons chasing balls, and lions dancing in the street. It is, without a doubt, the best thing that happens in our small little city all year. That's right, it's all downhill from here.
Lantern Festival History
It didn't use to be this way though. The Chinese Lantern Festival dates back over 2000 years. According to history, at the beginning of the Han Dynasty Buddhist Emperor Hanmingdi heard that all the monks lit lanterns in their temples at the start of the first full moon of the Lunar New Year. If it was good enough for the monks than it was good enough for the masses, and the emperor ordered all the people to follow suit and light lanterns in their homes. And so Lantern Festival was born.
The festival corresponds with the first full moon after Chinese New Year, which takes place on the 15th day of the first lunar month. It also marks the end of the Chinese New Year holiday, subsequent festivities, and insane taboos.
What kind of taboos you ask?
No sweeping or taking out the garbage as to avoid taking good luck out of the house, no washing your hair or clothes as to avoid washing the good luck away, no taking medicine otherwise you'll be sick the whole year, don't eat porridge for breakfast as it is a poor man's food, and of course, for all you married ladies out there, don't even think about visiting your parents on New Year's Day as you'll definitely bring them bad luck! Oh, and these are just the taboos for New Year's Day! The superstitions for the entire 2-week holiday celebration would be far too long to list.
Basically, if you don't want to be cursed with bad luck in the new year just wear red, hang a bunch of red decorations everywhere, and light off some firecrackers. That should do the trick.
How To Celebrate Lantern Festival
But don't worry, Lantern Festival puts an end to all that nonsense with an elaborate parade and the eating of tangyuan or sweet rice balls (yes, they are as disgusting as they sound), and culminating in a night of fireworks. We've gone to our local Lantern Festival Parade every year for the past 4 years and it has never disappointed. The Chinese know how to put on a parade. The Lantern Festival celebration is an elaborate display of costumes, make-up, dancing, and music that really is a cultural experience not to be missed!
Related Posts
Lantern Festival Parade
The parade always starts off with dragons. The luckiest and best of all Chinese animals.
Women are not allowed to carry the normal cloth dragons, so they march with their own wicker dragon instead. Honestly, I'm not entirely sure why this is as my research has proved futile.
As we live in a small city and the Lantern Festival Parade is held in one of the outlying districts, we're often two of only a handful of foreigners at the parade. Aka, we're just as entertaining to the performers as they are to us and everyone loves to pose for our photos and wave at us. Chinese spectators and photographers alike always end up asking (or sometimes just taking) to take photos of us.
The dragons are always shown either chasing a ball or with a ball in their mouths. The ball symbolizes a pearl, and the chase for the pearl is a metaphor for pursuing wisdom as dragons are thought of as very wise and powerful creatures in Chinese culture.
The dancing fish was a new act this year. Fish are always a lucky animal in China as the name for fish in Chinese, yu, sounds exactly like the word for abundance, also pronounced yu. Many lucky and unlucky words in Chinese are such because they sound like other words with auspicious or ominous meanings.
Men carrying red lanterns. The only abundance of lanterns we've ever encountered during Lantern Festival.
Girls walk by carrying plates of apples, a symbol of peace in China. Apple is another homonym in Chinese that sounds just like the word for peace.
Fish and shrimp swimming above the lily pads. Another symbol of abundance and affluence.
Little Chinese girls up in a tree. Yeah, I've got no idea what's going on in this one…
These women with the painted faces and elaborate dress are one of my favorite acts. I just love their costumes and face paint. They're always so bright and colorful! I think they're supposed to be Chinese royalty.
Little Chinese emperors and emperesses (is that a word?). The future generation.
These actors were representing the Chinese minority groups. The tools they're carrying are what they use to farm the land as the minority regions in China tend to be made up of farmers, even to this day.
The live animals really added an extra touch to the parade. These guys really seemed to enjoy parading around with their ducks down the street!
2017 was the year of the chicken, so, of course, chicken costumes were in abundance that year. Are these little girls in their costumes not the cutest?! That hand gesture they're making is the symbol for the Chinese phrase "gong xi fa cai 恭喜发财" which means "wishing wealth and prosperity".
The closing act of the parade every year are the dancing lions. Each lion is composed of two people, one who wields the head and forelegs, and another to make up the back and hind legs. It's an incredibly rigorous job as not only is the costume incredibly heavy and required to be held in an awkward position, but the dance and acrobatics performed by the lion dancers are based on kung fu, or martial arts. Lions are incredibly revered in Chinese culture as a symbol of good luck and fortune.
Finding Your Nearest Lantern Festival Parade
If you're spending the 15th day of the first lunar month in China be sure to ask around as to where the nearest festivities are being held. A quick search on baidu.com, the Chinese version of Google, of yuanxiaojie (元宵节, the Chinese name for lantern festival) plus the name of the city you're in should tell you when and where the Lantern Festival celebrations in your city are happening, although you might have to translate the page to find the info. You'll definitely want to check it out. Trust me, you won't be able to put down your camera!
WANT TO TRAVEL CHEAPER & EASIER?
Subscribe to follow our blog and be the first to read our new posts!
Success! Happy dance optional :) P.S. check your inbox for goodies!
Like this post? Share the love and pin it on Pinterest!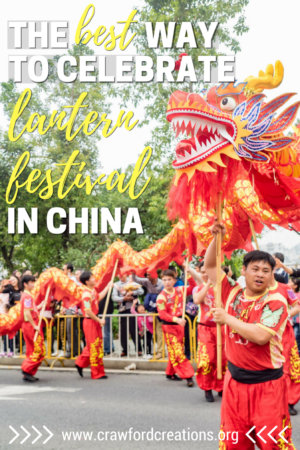 *** This post may contain affiliate links. By purchasing a product or service through these links you are helping to support this blog at no extra cost to you! We only recommend products we personally use and love! ***