Jiayuguan Photo Tour: A Photographic Journey to the Great Wall of China & Wenshu Grottos
***This post may contain affiliate links.***
Among the vast desert of northwest China over 2000 miles and 5000 kilometers away from the sea lies what is now the city of Jiayuguan. A settlement that started with the end of history's longest manmade landmark, the Great Wall of China.
While Jiayuguan City itself is famous as the home of the end of the Great Wall of China, the surrounding countryside is riddled with Tibetan history, seen in the form of dust laden temples and grottos strewn throughout the land. The marriage of Tibetan and Han Chinese ancestry runs deep in this part of China making for an interesting mashup of cultures, and an all the more interesting photograph.
Overhanging Great Wall
First Strategic Post of the Great Wall of China
Jiayuguan Fort
Wenshu Grottos
Ready to come explore Jiayuguan? Put it on your list and start planning your next trip!
WANT TO TRAVEL CHEAPER & EASIER?
Subscribe to follow our blog and be the first to read our new posts!
Success! Happy dance optional :) P.S. check your inbox for goodies!
Like this post? Share the love and pin it on Pinterest!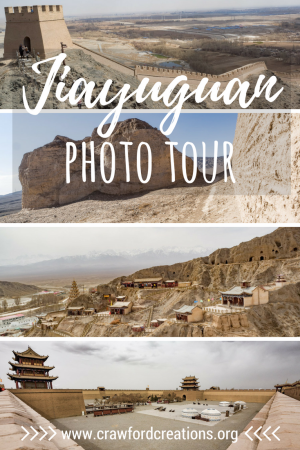 *** This post may contain affiliate links. By purchasing a product or service through these links you are helping to support this blog at no extra cost to you! We only recommend products we personally use and love! ***