Money Matters: The Cost of Travel in Indonesia
***This post may contain affiliate links.***
One of the benefits of living abroad as an expat in China is the Chinese New Year's holiday. We were able to spend 2 weeks off on a wonderful vacation bike tour in Indonesia because of a week-long holiday mandated by the Chinese government. I spent one week of my vacation and we were able to travel for 2 weeks.
Chinese New Years (CNY) goes along with the lunar calendar and is the annual lunar new year. It is between mid-January to the end of February each year and lasts at least a week of festivities for the Chinese. It is also the largest human migration annually in the world, as lots of Chinese head to their hometowns to visit family and celebrate another new year. To go along with the biggest holiday in China, it is also the most expensive time of the year to travel.
We took our chance to escape the chaos of China and the huge migration by leaving before the new year started and returning after the government-mandated holiday. This allowed us to miss some of the crowds and save some on travel.
Bike Touring to Save Cost
We brought our coupled tandem road bike with us. This was our main form of transportation once we arrived in Indonesia. We used it to tour various sites around Yogyakarta and also used it to travel across Indonesia and eventually end up in Bandung at the end of the trip where we took a bus back to the Jakarta airport.
Bringing your own transportation on a trip really frees you up to explore on your own terms.
It is free since it takes no fuel.
It also allows you to see the countryside and stop at any location you want.
You get to interact with locals instead of blowing by them.
It is a great conversation starter.
Like the view on the side of the road where it says no stopping? Go ahead and stop and take a picture of the scenery before you continue on your way.
There are certainly downsides to bike touring:
It takes longer to get places than on motorcycles or buses.
If you are tired, the last thing you want to do is ride your bike 50 km one way to go see a sight outside of the city you are staying in.
While having a "real job" and a set vacation time, you "waste" valuable days riding from one place to another.
The negatives are outweighed by the positives of freedom and choice. We get to explore on our own terms.
We were able to save hundreds of dollars on bus and motorcycle rental fees by bringing our bike and traveling the way we did. One destination, Sri Gethuk, a beautiful waterfall outside Yogyakarata, certainly had no buses going to it. The only way to get there is by motorcycle or bicycle, and we were able to go on our own schedule and get to experience it.
Cost Review of 2 Weeks in Indonesia
| Expense | Cost |
| --- | --- |
| Transportation | $505 |
| Housing | $297 |
| Food | $210 |
| Activities | $144 |
| Souvenirs/Goods | $109 |
| Total | $1,265 |
We flew in and out of Jakarta on our adventure to Indonesia. Because of CNY, flights are usually astronomically priced during those weeks, so we had our first foray into travel hacking and flying on rewards points. During our investigation into living in China, we were flown over to China by the company multiple times and we were able to rack up 56,000 rewards miles on Cathay Pacific. Nearly enough points to fly both of us round trip to Indonesia.
The tickets for this trip were supposed to cost $400 each, but by using rewards points the cost was $90 in fees. We also had to purchase points, which is a major rip-off at $60 per 2000 miles, for a total round trip cost for 2 people to Jakarta, Indonesia from China of $210. I did not see us using the Cathay Pacific points anytime soon and they were set to expire as well, so purchasing points to travel made sense in our situation and it worked out for the best.
Along with the round-trip flight to Jakarta we also were scammed into a higher cost in-country flight from Jakarta to Yogyakarta (Jogjakarta locally). When I went to book the $35 flight in Indonesia, it would not accept any foreign credit card. I had to book via a travel agency raising the cost to $50 per ticket. This is one of the drawbacks to traveling on a schedule set by work. If we had time and freedom, we would have just arrived in Jakarta and then booked the ticket to Yogyakarta.
Our trip worked out to be more expensive than I expected, but very cheap in terms of time-limited vacations. 40% of our cost was transportation, and of that 40%, 92% ($467) was just to get to there and back. This goes to show, that the longer the trip is, the cheaper it is per day. Our trip was 40% transportation cost, almost entirely spent on getting there and getting home, so if we had doubled the trip length, transportation cost would drop to 20-30% of trip cost depending on increases of food, housing, and activities.
Housing Cost
We paid on average $20 per night for accommodation for a total trip cost of $297. $20 is the upper limit of what I like to spend per night on accommodation in locales in Southeast Asia and it affords pretty nice hotels. We got ripped off a couple of times because we were staying in a tourist trap and because we didn't book ahead. We learned to book at least a day ahead using Agoda to secure the cheapest cost and to find the lowest cost hotels in a city/town. Our favorite stay in Pangandaran was in a small house by the beach, with included breakfast and the sound of geckos all night was $15 per night.
Check the latest prices and availability here.
Food Cost
Food in Indonesia left something to be desired. Everything was fried, which is pretty good when you start, but after a while gets old. One thing I will never get tired of though is a dinner cost for 2 of $2.25. No, the food is not exquisite, but it is not bad either. Indonesia does spicy right. Just one dab of their hot sauce is burn-your-face-off spicy.
Want a fried hush puppy? Here is a handful of fresh chilies to go with it!
We had an "expensive" seafood dinner one night with tiger prawns and fresh fish for a total cost of $18. In the end, everything was very cheap in Indonesia. Even though the meals were usually not enough to fill us up, we could stop at a convenience store for snack foods and still be way ahead on cost, even compared to China.
Activity Cost
Activity cost in Indonesia is outrageous when compared with the local prices. As a foreigner, you can expect to pay 3-10x the local price to go see any and all attractions. They believe because we are foreigners, we have lots of money to spend and they all want a part of it. Our big ticket items here were Borobudur temple complex ($39 for 2), Prambanan temple complex ($35 for 2), and Tangkuban Parahu volcano ($30 for 2). The one high ticket activity we paid for, that I thought was worth it was the Green Canyon float trip with lunch ($34 for 2). All the other locations we visited were just nickel and diming us, instead of outright scamming us.
Souvenirs/Goods Cost
We like to bring back something to remember each country we travel to. Since we are on the bike, these items must be small and not break easily or we will never get to enjoy them at home. We were able to pick up 3 pieces of Batik art for ourselves and our family in Yogyakarta. The first one, we paid the same as the next 2, and they were all the same size! This goes to show, that the sellers are really just out there to scam us as best they can. The quality on all of them was the same and they were beautifully made and colored. The total cost for these was $60 and the rest of our goods cost was in fixing the bike and attempting to fix our broken camera. Our wonderful Olympus E-M10 camera had its shutter freeze shut at Borobudur, so we went more than half of the trip without our nice camera.
In Conclusion
We had a fantastic and relaxing trip to Indonesia. Living in the high-stress environment of full-time employment, coupled with living in a city when you are country-folk, leads to a desire to escape. Indonesia filled that desire and then some. We were able to relax and enjoy ourselves for 2 weeks all on a reasonable budget.
We spent a total of $1,264 over the course of 2 weeks on this trip, which worked out to $74 per day. This is a sustainable forever travel budget, and I still feel it was on the expensive side with transportation cost so high.
WANT TO TRAVEL CHEAPER & EASIER?
Subscribe to follow our blog and be the first to read our new posts!
Success! Happy dance optional :) P.S. check your inbox for goodies!
Like this post? Share the love and pin it on Pinterest!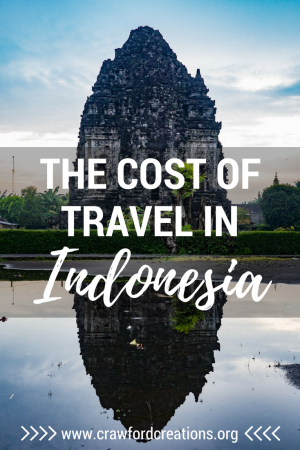 *** This post may contain affiliate links. By purchasing a product or service through these links you are helping to support this blog at no extra cost to you! We only recommend products we personally use and love! ***