How to Hike Hong Kong's MacLehose Trail: Sections 1-4
***This post may contain affiliate links.***
Hong Kong, while known for its big city lights and stunning skyline is home to some of the best hikes in the region, including 3 long-distance trails: MacLehose Trail, Lantau Trail, and the Wilson Trail. The MacLehose Trail is the longest of the 3 at a whopping 100km, a long ways considering Hong Kong is nothing more than a few little islands floating off the border of mainland China.
As an avid hiker you can complete the entire trail in about 4-5 days, but with only a 3 day weekend of free time, a heat wave, and an unsure start time, we aimed to, at most, complete half of the ten stages.
Related Posts
Preparation
The last time we hiked in Hong Kong, completing part of the Lantau Trail, we brought only snacks, with dinners eaten at restaurants close to the trail. You'll have no such luck with this method on the MacLehose Trail. The only 2 restaurants near the trail reside on Sai Wan Beach along stage 2, and after that, you'll be foraging in the woods if you haven't brought your own food. A couple of the trailheads have vending machines, but it's slim pickings.
If you want to camp along the trail, as we did, definitely plan to cook your own meals. We opted for the easy method of ramen noodles so the only thing we actually had to do was boil water. If you'd rather make a fire instead of carting around a camping stove, all the campgrounds along the trail have barbecue pits and tables for cooking and eating, although we noticed a severe lack of grates on top of the pits for actual cooking, so you might have to get creative if you choose this method, or bring your own.
All sugar coating aside, the trail is pretty grueling. Hong Kong is not a fan of the switchback and opts instead for a straight up and down approach, often including steps. Because of this lovely method of trailblazing, we would definitely recommend bringing some hiking poles if you have them. When your legs get tired of the steep slopes (which they will) you'll be grateful for the support of a set of hiking poles. We've done the trails in Hong Kong both with and without poles, and have definitely concluded that poles make the experience much better, especially if you'll be hiking for multiple days.
One way or another you will be wet. The weather in Hong Kong is as follows: rainy and cool (winter), about 2 weeks of pleasant warm and dry weather (spring), blazing hot and sunny with wicked thunderstorms (summer), and another 2 weeks of pleasant, warm, dry weather (autumn). When the combined 1 month of perfect weather in the spring and fall occurs is anyone's guess.
The point? You'll either be wet from rain or wet from sweat. Either way, it'll be a wet hike for sure, so depending on which kind of wetness you'll be experiencing make sure to pack either your rain gear or lots and lots of water.
Water
Speaking of water, the tap water in Hong Kong is SAFE TO DRINK!!! In fact, Hong Kong actually enjoys one of the safest water supplies in the world. Who knew!
I think it's a pretty common misconception that the tap water in Hong Kong is unsafe. We even fell prey to it ourselves as coming from mainland China, right next to Hong Kong, the tap water is most definitely not potable. We only quite recently had this myth debunked by some friends who live in Hong Kong. They told us they had been drinking the tap water there for the past 5 years with no issues. It's been tried and tested my friends!
At the start/end of most of the stages of the MacLehose Trail, there will be bathrooms with sinks for washing. You can feel free to fill up your water bottles from the taps here. We filled our water bottles from the taps throughout our entire trek and never had any issues, even when occasionally the signs at the bathrooms warned us not too. I think they are just being overcautious for tourists, but if you're really worried about it you can always bring a filter.
We've gotten into the habit of trekking with our Lifestraws, just in case we ever get into a bind where there's no potable water available.
Accommodation
As for accommodations, you can camp FOR FREE in Hong Kong, with numerous campgrounds along the trail, mostly located at the trailheads of each stage, although camping on the beaches is also an option. We love camping in Hong Kong as not only is it free (a huge bonus in a city where accommodation is absurdly expensive) but there are an abundance of well-kept campgrounds with both bathrooms and potable water.
If you're not so keen on camping, not to fear. The beauty of hiking in Hong Kong is that you are never far away from the city. You're so close, in fact, that you can actually hike the entire MacLehose trail while returning to a nice plush bed in the city every night (like Mike and Elizabeth of Two Backpacks No Plan did), which also means you wouldn't have to cook your meals on the trail either.
The downside: hotels in Hong Kong are ridiculously expensive, and you'll spend a big chunk of time out of your day getting to and from the trail (expect a 1-2 hour commute each way). Also, not all of the stages start/end at a road with easy access to public transport back to the city, so you could easily end up adding a good bit of walking onto your day as well just to find a bus or taxi back to your hotel.
How to Get to the Start of the MacLehose Trail
The 100km long MacLehose Trail is divided into 10 sections or stages. Stage 1, the start of the trail, begins at Pak Tam Chung in the Sai Kung District of Kowloon, Hong Kong.
To get to the trailhead, take the metro/subway (or MTR as it's called in Hong Kong) to Diamond Hill Station.
If you start hiking on a Sunday or public holiday (like we did) you can simply exit the MTR and take bus 96R from the bus station, located directly outside the MTR entrance/exit, to the Pak Tam Chung trailhead.
If it's not a Sunday or public holiday it gets a little bit trickier. You'll have to take 2 buses after you arrive at Diamond Hill. First, bus 92 from Diamond Hill MTR to Sai Kung Town, and then transfer to bus 94, which will take you from Sai Kung Town to the start of the trail at Pak Tam Chung.
The MacLehose trail is pretty popular so you can bet that there will be other people taking the same buses as you to the trailhead. If you get confused, following the crowd of people wearing hiking boots and backpacks is a pretty safe bet to make sure you're headed in the right direction. You can also confirm with the bus driver that the bus does indeed stop at the trail (the beauty of being in a place where even the bus drivers speak English!).
Hiking Sections 1-4
Sections 1-4 are the most popular sections of the trail and for good reason. The views are STUNNING! We've heard sections 5-8 are pretty nice as well, so I'm sure we'll be back to complete them sometime soon. The ending 2 sections have pretty unanimously disappointing reviews, so unless you are in it to through-hike, I think you can probably skip it. Of course, do your own research as we have not hiked those two sections, and aren't planning to.
Stage 1 – Pak Tam Chung to Long Ke Wan – 10.6 km
Stage 1 got some mixed reviews in our research, but we're glad we walked it. A lot of people weren't huge fans of the first stage simply because it's all on a road so it's not "real hiking". While that's true, the views were great. You walk with a reservoir on one side and the ocean with islands dotting the water on the other. If you have to walk on asphalt this is about the best walk you can possibly ask for.
This section only contains gradual hills. It's often referred to as flat, which is a bit of a misconception, but it is relatively flat compared to the following stages. Enjoy it while it lasts.
Stage 2 – Long Ke Wan to Pak Tam Au – 13.5 km
Stage 2 starts at what is perhaps one of the most unique beaches you will ever come across. This part of the trail is actually considered a geological park as the mountains were formed from volcanic activity centuries ago. The volcanic activity formed hexagonal columns of rock that line the cliffs on either side of the beach. The beach itself is pristine with crystal clear turquoise waters that are perfect for swimming. Many people choose to camp on the beach for the night. A potable water source can be found on the trail just behind the beach where you can fill up bottles and wash cookware.
From the beach, the trail leaves the road and enters the mountains. A 300-meter climb greets hikers once you leave the beach. This doesn't sound very tall, but don't let the shortness in height fool you. It is steep, and the trail blazes straight up the mountain with no shade for most of it.
Once over the first peak, you'll continue up and down passing over another slightly higher peak with beautiful views of the ocean on both sides. Down below you can see the next two beaches, Sai Wan and Ham Tin, both popular camping spots.
With a late start to our day, we ended up camping on Sai Wan beach. If you have more time you can continue on and camp either at Ham Tin beach, the reservoir you hike by after Ham Tin beach, or the small campground at the end of stage 2.
Stage 3 – Pak Tam Au to Kei Ling Ha – 10.2 km
Stage 3 was the most difficult of all the stages we completed. It has an absolutely brutal start with stairs straight up a mountain to the highest peak you'll encounter thus far. There's an amazing view about ¾ of the way up of nothing but islands and sea on all sides. Continuing to the peak you reach an elevation of 428 meters. Enjoy the view from the lookout point ¾ of the way up because there's little to no view due to trees at the top.
The trail continues gradually up and down for a while before heading up another steep climb. Once you reach the peak it is downhill to the start of stage 4.
The trailhead at the end of stage 3/start of stage 4 crosses a road and has a really nice big campground and resting area with picnic tables, barbecue pits, bathrooms, and potable water. The facilities were so nice we decided to call it a day and camp there. If you wanted to continue on there are definitely flat grassy areas along stage 4 you could camp at as well.
Stage 4 – Kei Ling Ha to Tai Lo Shan – 12.7 km
Stage 4, while also difficult, was nothing compared to stage 3. As always (it seems), the stage starts with a climb, but it's milder than the previous stage 3 and 2 climbs we'd done so was a welcome relief.
The terrain and scenery throughout stage 4 were different from the seaside sections we just completed. Stage 4 winds inland where you're surrounded more by mountains than sea. The vegetation is much lusher in this section and there are parts where you'll walk across big grassy bluffs instead of sandy arid slopes.
We woke up to intense clouds and fog at the start of the trail which hung around all morning and dissipated just after we'd finished hiking this stage. Walking along the ridge, we came across a big grassy hilltop with a paraglider putting on a show for his friends as he prepared to run off the edge of the cliff.
This area has the most amazing viewpoint, which, unfortunately, due to the fog we couldn't truly appreciate. The views extend out over Sai Kung and the surrounding sea, and on a better day I'm sure would have been stunning. The open grassy area around this viewpoint would make a great spot for a picnic on a nice day, which means we'll definitely have to come back to appreciate it in all its glory!
How to Get Back to the City
Stage 4 doesn't end at any sort of parking lot or real trailhead (of course because this was the end of our hike and we needed to start heading back into the city). We were aiming to complete stage 5 but simply ran out of time before we had to catch the ferry home. Stage 5 ends at a road where it's super convenient to catch a bus back to the city, so if you have the time you should definitely continue on. We wish we could have for sure as it took us an hour just to make it back into the city from where we were on the mountain at the end of stage 4. Live and learn.
Conclusion
In total, we hiked around 47 km in 2.5 days hiking over some of the hardest sections of the trail. With this in mind I think it's totally reasonable to complete the entire 100 km trail in 4 days if you wanted to (depending on how fast you hike, of course).
Hiking in Hong Kong is definitely a unique experience, even for the seasoned hiker. Come prepared for lots of steps, pavement, and steep mountains and you'll be treated to some of the most stunning island and seaside views over Hong Kong. You won't find a better way to explore the islands of Hong Kong than to hit the trails.
WANT TO TRAVEL CHEAPER & EASIER?
Subscribe to follow our blog and be the first to read our new posts!
Success! Happy dance optional :) P.S. check your inbox for goodies!
Like this post? Share the love and pin it on Pinterest!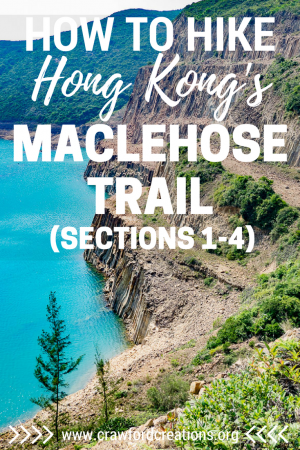 *** This post may contain affiliate links. By purchasing a product or service through these links you are helping to support this blog at no extra cost to you! We only recommend products we personally use and love! ***