Follow Us To GUILIN: The Ultimate 1 Week Guilin Itinerary
***This post may contain affiliate links.***
Guilin is where your China travel dreams are made of. If you dream of traveling somewhere with jaw-dropping mountain views, beautiful cascading rice terraces, and a lazy river meandering through towering karst peaks that is. Which, of course, we do, all the time (for real though, we've vacationed here 3 times). If you're looking for an outdoor lover's paradise and a tourist-friendly spot in China, look no further because you found it, and it's called Guilin.
It really surprises me that more people haven't heard of Guilin. I mean, it's not exactly hiding, the place is printed on the back of the 20 yuan note for crying out loud. But outside of China, it's kind of a no-name city, which is just crazy to me because I truly believe that Guilin is one of the best places to go for a first time (or any time really) tourist in China.
Author's Note: When I say Guilin, I'm referring more to the general area in which Guilin is located, and less to the city of Guilin itself.
The area of Guilin encompasses about a 2-hour radius around Guilin city and includes the towns of Longsheng, Guilin, Xingping, Yangshuo, and many many others. Guilin city is centrally located around all these towns, and, as the base for exploring the surrounding area, it's just simpler to refer to the whole area as Guilin. Plus, it would definitely get annoying to list all the different places. I mean just think of the title of this post "The Ultimate 1 Week Guilin, Longsheng, Xingping, and Yangshuo Itinerary" just doesn't quite roll off the tongue very well. Plus, I got tired just writing that.
Read More From Guilin
The Best Time To Visit Guilin
April/May
The best time of year to visit Guilin overall is late April or May. This is the time of year when you'll experience the best weather both high in the mountains at the rice terraces and down on the Li River.
Up at the Longji Rice Terraces, the farmers have planted their rice and filled the terraces with water to allow the young rice plants to grow, with bright green grasses sticking up out of the water. This is when the rice terraces are the most beautiful, especially at sunrise and sunset when the colors of the sky reflect off the water. Temperatures at the rice terraces this time of year are comfortably warm during the day, and chilly at night.
On the Li River, the water is turquoise blue with calm currents as the river is still low from the dry autumn and winter seasons. The temperatures are just about perfect here this time of year, hovering around 25 degrees C for a high (77 degrees F). This means it's comfortable to both be out on the water or hiking up a mountain.
How To Plan A Trip To Guilin
The two core areas to visit on any trip to Guilin are the Longji Rice Terraces and the Li River in Yangshuo County. The rice terraces are a 2- 2.5-hour bus ride north of Guilin City while Yangshuo County is a 45-minute bus ride south of Guilin City. Guilin itself should really just be used as a base for traveling between those two places.
How Long Should You Spend In Guilin?
To see both the rice terraces and the Li River scenery, I would recommend staying at least 1 week. I say at least because honestly, once you visit Guilin you probably won't want to leave, I know we never do. 1 week is the minimum amount of time you need to really see and experience all that Guilin has to offer. Anything more than that is just icing on the cake.
The Ultimate 1 Week Guilin Itinerary
Day 1: Guilin
Day 1 is spent exploring the city of Guilin. While the highlights of any trip to Guilin lie outside of the city limits, the town itself certainly has its highlights that are worth a peak.
Sun and Moon Pagoda
Start your day off right in Guilin by taking a walk around Fir Lake to admire the Sun and Moon Pagodas. The significance of the two iconic pagodas is a bit of a mystery, but they are thought to symbolize growth and prosperity for the city of Guilin as the Chinese characters for sun and moon combined mean life. You can actually pay to go inside both of the pagodas. There's a glass tunnel under the lake that connects the two together. You can also climb to the top of the Sun pagoda for a cool view over the city.
Seven Star Park
After checking out the Sun and Moon Pagodas, walk across the river to Seven Star Park, Guilin's city park of epic proportions. Seven Star Park is, admittedly, a bit pricey to enter with a ticket price of 70 RMB per person ($10 US dollars), but that's because they basically grouped all of Guilin's cool natural attractions together into one huge park. The park is named after the seven hills it encompasses, including the famous Camel Hill, pictured above.
Zhengyang Pedestrian Street
Finish the day off with a stroll down the seemingly endless maze that is Zhengyang Pedestrian Street. This place is not only a great place to grab dinner, but also an awesome spot to try some tasty, and weird (if you're into that) street food, bugs included, and shop for souvenirs.
Buy Bus Tickets To The Longji Rice Terraces
Tomorrow you'll be traveling to the Longji Rice Terraces. To maximize your time there you'll want to buy your tickets today to get a seat on the 8:30 am bus tomorrow. Most hotels and hostels in Guilin can arrange your bus ticket for you. Just ask at the front desk, pay them, and they'll give you a receipt that will act as your bus ticket.
Overnight In Guilin
We recommend staying at Ming Palace International Hostel. This place is seriously the best value money can buy in Guilin. Don't let the fact that there's the word hostel in the name fool you. Ming Palace is without a doubt the nicest accommodation we've ever stayed in in China. Plus the location can't be beaten as it sits right down the street from the back entrance to Zhengyang Pedestrian Street.
Day 2: Longji Rice Terraces
Today is all about leaving Guilin City and heading up to the Longji Rice Terraces (Dragon's Backbone Rice Terraces in English). To maximize your time here you'll want to catch the first bus out of Guilin that leaves at 8:30 am.
The Longji Rice Terraces (also called the Longsheng Rice Terraces) are 66 square kilometers (25 square miles) of pure terraced heaven. The rice terraces are home to two different minority groups that farm the area's mountain slopes, the Zhuang and the Yao people. These communities are split between two different villages, Ping'an, home to the Zhuang people, and Dazhai, home to the Yao people.
The difference between the two villages is minimal, but Ping'an Village is definitely larger and more developed than Dazhai.
We've stayed in both Ping'an and Dazhai Villages and had a great time at both places. I will say, however, that we felt the scenery was a bit better at the Dazhai Rice Terraces and there was more opportunity for hiking, although none of the trails are marked.
Ping'an Rice Terraces
Dazhai Rice Terraces
There are just so many more rice terraces at Dazhai, don't you think?
Ping'an vs. Dazhai
If you want to get a direct bus to the Longji Rice Terraces you need to decide which village you want to stay in as direct buses from Guilin either stop at one village or the other, but not both. So which village should you stay in at the Longji Rice Terraces?
Dazhai
We would recommend staying in Dazhai over Ping'an for a more authentic experience, better hiking, and better views. At Ping'an you have a mountainside full of rice terraces, but at Dazhai, you have an entire valley of rice terraces.
Overnight At The Longji Rice Terraces
To get the most out of the rice terraces you really need to spend the night. It's hard to really do much on a day trip as you'll spend 5 hours traveling there and back. Not too many people spend the night in Dazhai or Ping'an Villages so it's best to just arrive, scope out hotels, and then book the one that you like the best.
Rooms at the Longji Rice Terraces are super basic, so don't expect high quality or 24-hour hot water. Also, most of the hotels at the rice terraces are not listed online anyway, so it's a bit hard to book ahead. Expect to pay 120 – 180 RMB for a basic private room. While the rooms at the Longji Rice Terraces are pretty basic, the views are phenomenal.
Day 3: Longji Rice Terraces
Hiking the Longji Rice Terraces
Hiking among the rice terraces is an absolute must when visiting Longji. There is simply no better way to experience the beautiful scenery than to walk among the fields. You'll get the best photos that way too.
The only downside is that they are not on top of marking the trails around here. There are a couple of known routes that link between the villages, including a 4-hour hike along a trail that connects the Dazhai and Ping'an Rice Terraces, and many many other trails that are discovered mostly by chance. The best thing to do is to check out Maps.me for the trails near where you're staying, and even then, be prepared to ask the locals for directions.
Plan to hike until around 2:00 pm, when you'll need to start heading down the mountain to catch the afternoon bus back to Guilin.
Return to Guilin
In the morning, or even the night before if you want, ask the people who run your hotel to book your seats on the 4:00 pm bus to Guilin. This is the last bus that leaves the rice terraces to go back to the city.
Overnight in Guilin
Spend the night back in Guilin to enjoy some modern comforts and eat amazing street food at Zhengyang Pedestrian Street. By staying in Guilin instead of the rice terraces you'll get to maximize your day on the river tomorrow. Speaking of which, ask your hotel receptionist when you check in this evening about booking transport for you tomorrow to go to Yangdi Pier. Yangdi Pier is where the bamboo rafts leave from to go down the Li River. The pier is a 45-minute drive away from Guilin City either by bus or private car.
Day 4: Xingping
Take today to have a lazy morning at your hotel in Guilin before hitting the road to Yangdi Pier to chill on a bamboo raft down the Li River. The river is often cloudy and foggy in the mornings so your best chance of having nice sunny weather during your raft ride is in the afternoons.
Bamboo Rafting Down the Li River
Tickets for the bamboo rafts are sold from the ticket office at Yangdi Pier in the afternoons between 12:00 – 3:30. Most people arrive before 12 and wait to make a mad rush to the ticket booth at exactly 12:00. I guess people are afraid they'll run out of boats? I'm not really sure. The result is that all the rafts head out at the same time, which means bye, bye peaceful river float. As you can see from the above photo the rafts do have motors, so when the river is filled with them it's not exactly quiet.
To avoid this, wait for everyone else to buy their tickets, then buy yours and mosy on down to the dock after all the other boats have left. This way you'll have the entire river virtually all to yourself.
We did this by accident the last time we were at Yangdi Pier as we lost track of time and just happened to notice that people were being let on the rafts. By the time we bought tickets, got our driver, and made it out on the river, there was no one else in sight. It was so much better than our first bamboo raft experience a couple years ago when we left en-masse and had to battle the other rafts for space and photo ops.
Make sure you buy tickets from Yangdi to Mural Hill. They sell two different tickets, one from Yangdi to Mural Hill and another to Xingping. Xingping is only 1.5 kilometers down the road from Mural Hill, but the difference in price between the two tickets is astronomical. A bamboo raft to Mural Hill costs 118 RMB per person whereas a raft to Xingping costs 216 RMB per person.
Save your ticket for the entirety of the raft ride, because once you get to Mural Hill there's a free shuttle to Xingping Town as long as you present your bamboo raft ticket.
Xingping Old Town
Once you get to Xingping, check in to a hotel (we recommend This Old Place) grab some lunch, and wander around the charming old town.
20 Yuan Note Scenic Spot
Have you ever noticed the drawing on the back of the 20 Yuan note? Do those karst mountains and river look familiar? They should, because this drawing was made right here in Xingping! You can actually go to the exact spot drawn on the 20 Yuan note and take an identical photo. Kinda cool, yeah?
Laozhai Mountain
Laozhai Mountain has a killer sunset view. Probably the best sunset view I've ever seen actually. The mountain is located just on the edge of town right next to the river.
It takes 30 – 50 minutes to hike up all the stone steps to the top of the mountain. Close to the top, there's a short ladder you have to climb in order to continue up the final few steps, so just be warned. It's very sturdy, but I know ladders on the side of a mountain can tend to freak some people out regardless.
There's a nice safe platform at the top of the steps with a railing, and it's got a nice view and all, but the real magic happens on the actual rocky peak of Laozhai mountain. Climb up the rocks above the pavillion and you'll be rewarded with an absolutely unbeatable epic sunset view. The sun sets right over the mountains behind the Li River, and the view is just simply the best. If we lived in Xingping I would climb this mountain for sunset every damn day. No joke. It's that magical. Look…
I mean, come on. There aren't enough words in the dictionary to describe a view like this.
A word of caution though, if you're planning to stay on top of the mountain until dark, make sure you have a flashlight for the hike down. There are no lights on the trail and the steps are really uneven, not to mention the ladder that you have to climb down.
Overnight In Xingping
We recommend staying at Xingping This Old Place International Youth Hostel. It's by far the best place to stay in Xingping. This Old Place is way better than any of the Chinese hotels in the area, it's got a super cool atmosphere, a great restaurant that serves up delicious wood-fired pizza, epic views from the outdoor terrace, and friendly English speaking staff. Plus it's located right around the corner from Laozhai Mountain.
Day 5: Yangshuo
After breakfast walk over to the Xingping Bus Station and take the bus to Yangshuo. Buses leave every 15 minutes or when full and cost 10 RMB per person. The ride to Yangshuo takes 1 hour.
Gold Water Cave
When in Yangshuo, you have to go to Gold Water Cave. And bring your swimsuit. Why? Because you can bathe in a hot spring inside of the cave! It's awesome, and surprisingly not crowded because hardly any of the Chinese go in. So it's basically just a pool full of foreigners, which is kind of funny.
The only reason I can come up with for why the Chinese don't go in is because the combo ticket to enter the hot springs is slightly more expensive than just touring the cave sans swim. The extra fee is minimal, and totally worth it for a dip in the hot springs, inside of a cave! I mean how cool is that. I don't know about you but I've never seen a hot spring inside of a cave before.
There's also a mud bath but unlike the hot spring, it's freezing cold. It's supposed to be good for your skin and all, so if your into that kind of thing and can brave the cold, lather up.
Ticket Price
73 RMB per person
Radio Mountain (马山 Ma Shan)
Get ready for another epic sunset view, this time from Radio Mountain, located right at the edge of Yangshuo. The view from the peak of this mountain is of karst hilltops as far as the eye can see glowing in the setting sun. Yet another magical mountaintop sunset view, are you sensing a trend here?
It takes around 45 minutes to climb to the peak. The entire trail up is just one big set of stairs. I have to warn you, the top of the steps is a bit discouraging as it ends at a locked gate with not a great view.
Don't worry, there's a catch. Call out "hello!" and the man who lives on the mountaintop and runs the TV tower will come out of his house to let you in. Pay him 5 RMB per person and he'll unlock the gate and let you in to enjoy the view. The payment is totally worth it to take in the incredible view from the peak. Best 5 RMB you will ever spend.
Overnight In Yangshuo
We recommend staying at either of Wada Hostel's locations either at Yangshuo Wada Hostel West Street to be close to the good restaurants and nightlife, or Yangshuo Wada Hostel Yulong River for a more quiet, peaceful vibe. Wada Hostel is awesome, with two of the most perfect locations in Yangshuo, beautiful decor, and insanely friendly staff that will give you the inside scoop on all the best things to do and see in Yangshuo.
Day 6: Yangshuo
One of the main activities that Yangshuo is famous for is cycling. So, of course, as cyclists, we were all the heck over that.
Cycling Yangshuo
Yangshuo is chock full of quiet country backroads with absolutely zero cars or traffic of any kind. The roads crisscross the countryside winding between sharp mountain peaks, past rice paddies and kumquat farms, and of course along the stunning Li River. There really is no better way to experience Yangshuo's breathtaking countryside than by bike.
The best price we found to rent a bike was at the bike rental place located at the entrance to Yangshuo Park. Mountain bikes cost 25 RMB to rent for the day.
The best roads are the ones that follow the water, so follow the river in either direction out of town and you'll be in for a treat. The bike rental places will also be able to give you suggestions about where to go.
West Street
A Yangshuo staple, West Street is Yangshuo's giant maze of pedestrian streets and the place to go for Chinese street food or to get your western food fix in Yangshuo. The place is absolutely packed in the evenings and is home to tons of bars, restaurants, and souvenir shops. It's pretty much the place to go for dinner in Yangshuo.
West Street is definitely worth a wander, but unless you're really into the bar scene, once is enough. Despite the chaos, it's worth it to come here for dinner as West Street has all the best restaurants. Be sure to try some beer fish, it's the local specialty!
Day 7: Yangshuo
Today is all about embracing the unique landscape of Yangshuo, and nothing says Yangshuo more than rivers and karst peaks.
Kayaking
If you enjoyed your bamboo raft ride down the Li River, then you will love getting out on a kayak along the Yulong River, one of the Li River's many tributaries that runs through Yangshuo. A peaceful paddle down the river is the perfect cherry on top of a trip to Yangshuo. You'll be on a part of the river with hardly any boat traffic so you can have a nice relaxing paddle just soaking in those beautiful mountains one last time.
To go kayaking in Yangshuo, simply inquire at one of the many tour providers at their storefronts in downtown Yangshuo, or ask at your hotel/hostel for a good recommendation.
Rock Climbing
Personally, we're not super into rock climbing, but if you are, Yangshuo is THE PLACE for you. There are over 300 climbing routes in Yangshuo alone where you can climb both independently or with a guide.
If you're an experienced rock climber, there are rock climbing shops in town where you can rent gear and get advice about all the best climbing spots to go it alone. If you're a beginner in the world of rock climbing or a complete newbie like us, there are a couple dedicated climbing spots that are set up for tourists where you can basically just stop on the side of the road and scale a rock wall. They've got all the equipment set up already and service hundreds of tourists a day. You'll see one such spot on the main scenic road near Gold Water Cave, Moon Hill, and the giant butterfly (literally a giant stone butterfly stuck to the cliffside, you can't miss it).
Wuzhi Hill
Photo Credit: Jordan Hammond. Be sure to check him out on Instagram, he's amazing!!
What better way to end the last night of your Guilin trip than with one last epic sunset view. Wuzhi Hill is located in the tiny village of Cuiping, 26 kilometers north of Yangshuo. This is a super local spot with no entrance fees whatsoever. The hike is a short 20 minutes up a set of stairs built by the locals a couple years ago.
The view of patchwork fields, winding rivers, and finger-like mountains from the top of Wuzhi Hill is simply unbeatable, especially at sunset. To get there, hire a driver, motorbike, or rent a bike for the evening and get make an extra workout out of it. Just make sure you have a headlight for the ride back.
WANT TO TRAVEL CHEAPER & EASIER?
Subscribe to follow our blog and be the first to read our new posts!
Success! Happy dance optional :) P.S. check your inbox for goodies!
Like this post? Share the love and pin it on Pinterest!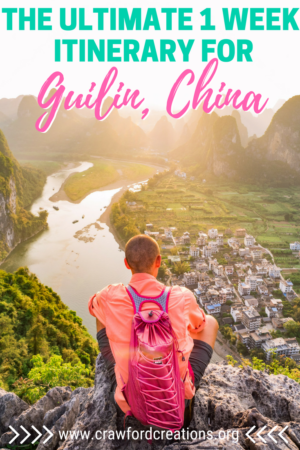 *** This post may contain affiliate links. By purchasing a product or service through these links you are helping to support this blog at no extra cost to you! We only recommend products we personally use and love! ***