The Expat's Guide to Taobao Part 3: Making Your First Purchase
***This post may contain affiliate links.***
Table of Contents
You are currently reading post #3 in the 5 part series: The Expat's Guide to Taobao
Making Your First Taobao Purchase
---
Now that you've made an account it's time to start buying all the things! In order to complete the Taobao signup process you have to first make a purchase.  It is here where you will enter your address and payment information that will then be saved in Taobao for use in all your future purchases.
To do this you will need 3 things:
1) Your address written in Chinese characters
2) Your Chinese bank card
3) The name and phone number associated with your bank account
For number 3 it's helpful if you can find the receipt from when you originally set up your bank account.  This is the easiest way to make sure that all of your information gets entered into Taobao exactly as the bank entered it into their system.  What I mean by this is that the bank will sometimes write an English name in the wrong order, miss spell it, or type it in all caps.  It is imperative that all of your information matches, whether it's correctly spelled or not!
Once you've got all the necessary items on hand go to the Taobao homepage and log in (if you're not logged in already).  Then click in the search bar and type in something you want to buy, ideally in Chinese characters.  The easiest way to do this if you can't speak Chinese is to use a translator like Baidu translate www.fanyi.baidu.com.
Since this is your first purchase and it's possible (but not likely) that there could be some glitches with your order as you work out the process of buying things on Taobao I would recommend starting with something inexpensive.  This way you can test to make sure payment works and the package arrives without worrying that there's a lot of money on the line.
Step 1
Now that you've got your translation it's time to make a purchase.  Copy and paste your translation into the Taobao search bar (or if you know Chinese just type it in the search bar) and press the orange search button.
Step 2
Scroll through the results and click on something you want to order.  For more details on how to search Taobao stay tuned for our next post, but for now, just find something that looks good to you that you're comfortable ordering.
Once you've clicked on the product you want to order, select the color (if there's a color choice), again some copying and pasting into a translator might by necessary to decipher color and or size if it's clothing.  I've highlighted the characters for color in yellow.  To view the colors simply click on each of the little pictures beside the highlighted word for color.
Select the color you want and then click on the orange shopping cart button.
Sometimes when you click on a product from the Taobao homepage it will take you to an affiliate shopping site, such as Tmall.  No worries, any site you are taken to when clicking on a Taobao image is under the Taobao umbrella.  The item will still show up in your Taobao shopping cart and the purchase will be run through Taobao.
This is what that will look like.
Step 3
Once you put the item in your shopping cart you will get the success message pictured below.  To actually purchase this item click the orange button that says 去购物车结算 "Go to Shopping Cart" or click on the shopping cart icon in the page header.
Step 4
Once in your shopping cart check the empty box next to the item you want to purchase.
Step 5
Then click the orange button that says 结算 "Settle Accounts".
Step 6
You will now get a pop up prompting you to enter your address.
The first drop down menu at the top left of the screen with the characters 中国大陆 says "Mainland China".  Leave that alone and click on the second dropdown menu.
1) Select the province you live in.
2) Select your city.
3) Select your district.
4) Select your neighborhood.
Step 7
We filled in line one in the previous step.  Now, just fill in the rest of the numbered boxes.  These are the required fields.
1) Already filled in during step 6.
2) Type your street address in Chinese characters.
3) Type your name.
4) Enter your phone number.
Next click the orange button to continue.
Step 8
Your address is now saved on Taobao.  Next click the orange button at the bottom right of your screen with the characters 提交订单 "Submit Payment".
Step 9
Enter your Taobao password in each of the blanks and click the orange button.
Step 10
In the blank below enter your Chinese bank card number and press the blue button with the characters 下一步 "Next Step".
Step 11
You will get a pop up like the one below.  Keep the first choice selected to quick pay with Alipay.  The only thing you need to click on this screen is the blue button at the bottom that says 下一步 "Next Step".
Step 12
On this screen you will enter the rest of your payment information.
1) Type your name EXACTLY as it appears on your bank statement (receipt the bank gave you when you set up your account).  You can also check this by logging into your bank account online, if you have online banking.  Your name will likely need to be typed in all caps.
2) Enter your identification.  It is automatically set for a Chinese ID card.  To change this click the dropdown menu and select the characters for passport 护照.  In the blank next to the drop down menu enter your passport number.
3) Enter your debit card number.
4) Enter your phone number.
5) Alipay will send you a 6 digit code via text message.  Enter the code in the box and then press the orange button.
SUCCESS!!!  If all the information was entered correctly you will get a payment complete screen that looks like this.
TO USE A FOREIGN CREDIT CARD FOLLOW THE STEPS BELOW

1) When you get to Step 10 instead of entering your Chinese bank card number go to the drop down menu at the top of the page and change the selection from 中国大缺版  to the last last option 海外其他地区版.
2) Once 海外其他地区版 is selected the screen will change to English. Enter your card number, press continue and then follow the remaining steps to complete the signup process.
WANT TO TRAVEL CHEAPER & EASIER?
Subscribe to follow our blog and be the first to read our new posts!
Success! Happy dance optional :) P.S. check your inbox for goodies!
Like this post? Share the love and pin it on Pinterest!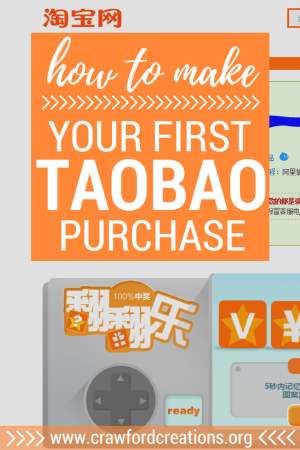 *** This post may contain affiliate links. By purchasing a product or service through these links you are helping to support this blog at no extra cost to you! We only recommend products we personally use and love! ***