5 Best Carry-On Sized Travel Backpacks Under $100
***This post may contain affiliate links.***
The summer holiday season is right around the corner. That means it's time to give yourself a gear makeover, starting with your backpack. Whether you're taking a weekend trip or traveling around the world, a good quality backpack is a must-have item in your gear arsenal to protect your belongings.
But your luggage doesn't have to break the bank. With all the insanely expensive backpacks and luggage on the market today, we're changing it up and giving you a list of the best carry-on sized travel backpacks under $100. Because travel gear doesn't have to be expensive.
Read More Travel Gear Posts
What Is A Travel Backpack?
In a nutshell, it's a soft-shelled suitcase with straps. Let me explain. Basically, a travel backpack is a backpack that's designed to open completely like a traditional wheeled luggage would. This gives you access to everything in your backpack without having to pull stuff out first. It also allows for airport security to more easily inspect your bag when they (inevitably) have to.
Travel Backpack vs. Hiking Backpack
1. Travel backpacks zip completely open almost 180 degrees whereas hiking backpacks open from the top.
2. Travel backpacks are made of super durable heavy-duty material whereas hiking backpacks tend to be lightweight to help reduce the weight on your back during long walks.
3. Travel backpacks are designed to protect and store electronics such as laptops and tablets whereas hiking backpacks are mostly just stuff sacks.
4. Travel backpacks are minimalist on the outside whereas hiking backpacks generally have tons of straps for attaching things such as tents, sleeping pads, etc.. This means they can easily go through airport security or be checked if needed without worry of straps getting caught on something and ripping your bag.
5. Travel backpacks are designed to fit the maximum amount of stuff with an ergonomic design being secondary, whereas hiking backpacks are ergonomic and designed to fit your body comfortably for long walks on uneven terrain.
Why Should You Travel With A Travel Backpack Instead of Wheeled Luggage?
1. It's easier to manage during travel as you can pick it up easier, and more easily transport it over rough terrain such as cobblestone streets and dirt roads.
2. You can stuff more things into an expandable soft shelled backpack than you can into a hard suitcase. Which is great for those trying to go full on carry-on only.
3. You can get away with taking a heavier bag on the plane as carry-on backpacks are less likely to be weighed than a traditional wheeled suitcase.
4. Travel backpacks are lighter than wheeled luggage which means more of your weight allowance can be spent on the things inside of your suitcase rather than waisting weight on the suitcase itself.
What To Look For In A Travel Backpack
Laptop Sleeve
These days most everyone travels with their laptop or tablet. These things are expensive and not made to be jostled around, so you want to make sure they're well protected during your travels.
Fully Opened Front Flap
Ideally, you want a backpack that flips completely open like that of a traditional suitcase. This way you can easily pull out a specific item without having to take everything else out with it. It also allows for easier inspection at airports.
Quality Construction
Travel backpacks need to not only protect your valued electronics, but they also need to be able to withstand the rigors of airline travel, which often include getting tossed in overhead bins or cargo holds. Because of this, travel backpacks are generally made of much more durable, heavyweight material than the average backpack.
Padded Back & Shoulder Straps
When traveling you often need to walk with your backpack for good stretches of time whether it's to find your hotel in a new city or sprint through the airport to catch a flight. You'll really appreciate some extra padding to protect your back, especially when carrying your hard laptop and heavy electronics on your back.
The Best Carry-On Sized Travel Backpacks Under $100
1. Kelty Redwig 32 Liter Backpack
The Kelty Redwig 32 Liter Backpack by far the best all-around travel backpack you can buy with our budget. It's got all the essentials, a full access u-zipper, a padded laptop sleeve, water bottle pockets, air mesh shoulder pads, and a lumber pad. Plus it's also got a tuckable waist belt for better weight distribution.
The Kelty Redwig has a super ergonomic design that's great for both traveling and hiking. It's incredibly durable and has both front panel loading as well as top loading like a traditional hiking pack.
This backpack measures 22 x 11 x 15 inches and weighs in at 2.5 lbs.
Check the latest prices on Amazon here.
2. Hynes Eagle 40 L Carry-On Backpack
The Hynes Eagle 40 L Carry-On Backpack is a true carry-on suitcase transformed into a backpack, in both looks and function. It's designed in the typical boxy shape you think of most luggage having, yet in backpack form. This boxy design, while not the most flattering, translates to maximum packing room.
The backpack features 2 handles, 4 exterior compression straps, a padded laptop sleeve, a zippered front pocket, a zippered side pocket for water bottle storage, inner tie-town straps, and hideaway air mesh contoured shoulder straps. This bag was truly made as a backpack version of a traditional carry-on piece of luggage.
The large size and shape of this bag make it best for week-long trips or more as you'd feel awkward packing this bag for just a weekend with the extra size and space as the bag has a fairly large profile.
The Hynes Eagle 40 L Carry-On Backpack measures 13.4 x 9.8 x 20.1 inches and weighs in at 2.45 lbs.
Check the latest prices on Amazon here.
3. Osprey Packs Nebula Daypack
The Osprey Packs Nebula Daypack is one of Osprey's most affordable packs. Don't be fooled by the name "daypack", this 34 L backpack is built to last and really fits a ton of stuff making it ideal for both weekend and week-long trips.
The Osprey Nebula features a TSA airport approved padded laptop sleeve, a suspended mesh ventilated back panel, separate zippered laptop access, multiple internal and external organization pockets, and a large main compartment.
Its small profile means you can avoid getting second looks when going through airport security, while still packing in a ton of stuff. It can also lay completely flat when going through scanners or stand up on the ground when waiting in lines.
The Osprey Nebula Daypack measures 19 x 12 x 11 inches and weighs in at 1.98 lbs.
Check the latest prices on Amazon here.
4. Kensington SecureTrek 17" Lockable Anti-Theft Laptop & Overnight Backpack
The Kensington Secure Trek 17″ Anti-Theft Bag is perfect for those worried about having their things stolen. Its security features include a secure trek lock base to lock the zippers together and an anti-puncture zipper for the device compartment.
It also has a padded laptop sleeve that fits a 17″ laptop, a padded back for comfort, and a wheeled luggage pass-through that enables you to strap the bag to a piece of rolling luggage if you're going on a long trip and need to bring a checked bag.
This bag opens 180 degrees and lies flat to enable you to better organize your things inside of the bag as well as see everything easily if you ever need to take something out. It also retains its shape well allowing it to stand on its own like a wheeled luggage would.
The Kensington Secure Trek bag measures 8 x 13 x 19.5 inches and weighs in at 3lbs.
Check the latest prices on Amazon here.
5. SwissGear Travel Gear ScanSmart Backpack
The SwissGear Travel Gear Scansmart Backpack has all the quality you would come to expect from SwissGear with some additional perks for travelers as well as a larger size than most normal backpacks.
The Travel Gear Backpack features a lay flat design that allows the laptop compartment to open 180 degrees for ease of scanning at airports, a large opening main compartment for easy packing and taking items out of the bag, a laptop sleeve that fits a 17″ laptop, an additional tablet pocket, a padded back panel, multiple internal accessory pockets, side water bottle pockets, a headphone cord port, adjustable side compression straps, a top handle, and a front quick access pocket.
This backpack is big enough to pack for a week-long trip, while small enough that if you were traveling for just a weekend you wouldn't feel weighed down.
The SwissGear Travel Gear ScanSmart Backpack measures 9 x 13.5 x 18.5 inches and weighs in at 2.5 lbs.
Check the latest prices on Amazon here.
WANT TO TRAVEL CHEAPER & EASIER?
Subscribe to follow our blog and be the first to read our new posts!
Success! Happy dance optional :) P.S. check your inbox for goodies!
Like this post? Share the love and pin it on Pinterest!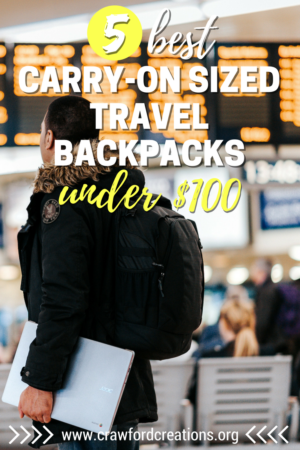 *** This post may contain affiliate links. By purchasing a product or service through these links you are helping to support this blog at no extra cost to you! We only recommend products we personally use and love! ***