The Ultimate Guide To Visiting The Angkor Wat Temples Without A Tour
***This post may contain affiliate links.***
Once the capital city of Cambodia, the temples of Angkor Wat are what remains of the powerful Khmer Empire. Surviving weather, war, and the ever encroaching jungle, this Temple City, as the name translates is nothing short of marvelous.
The city of Angkor thrived from the 9th to the 15th century and was then a megacity housing 0.1% of the world's population. Angkor fell from power in 1431 when a Khmer rebellion forced the ruling power to flee southward.
While the city of Angkor laid abandoned for centuries after its fall from power in 1431, today it flourishes yet again under a slightly different name, Angkor Archaeological Park.
Angkor Wat city is speculated to, at its peak, have been home to around 1 million people. Most of the temples are surrounded by moats, which were used as irrigation and as a tool to help collect water during the monsoon season.
Angkor Archaeological Park is named after the largest and most well-preserved temple in the city, Angkor Wat. The park is absolutely huge, stretching over an area of 400 square kilometers and containing over 1000 temples. Its biggest temple, Angkor Wat, is the largest religious monument in the world.
The park was declared a UNESCO World Heritage Site in 1992 and has since seen a rapidly increasing tourist crowd that peaked out at an astonishing 5 million people in 2016. And I'm pretty sure all 5 million of those tourists walked through the main temple of Angkor Wat given the insane amount of crowds we had to push through when we visited this year.
Related Posts
Location
Siem Reap, Cambodia
The main temple complex of Angkor Wat is located 6 km north of Siem Reap.
Ticket Price
Prices are in US dollars as this is the primary currency used in Cambodia.
Note: As of January 2017 Angkor Wat ticket prices have increased substantially. These are the current ticket prices for visiting Angkor Wat.
1-Day Pass: $37
The ticket is valid only on the date of purchase.
3-Day Pass: $62
The ticket is valid until 10 days after the date of purchase. You can visit Angkor Archaeological Park on any 3 of the 10 days after you've purchased your ticket.
1-Week Pass: $72
This ticket is valid until 1 month after the date of purchase and enables you to visit the Angkor Wat complex on any 7 days you choose within a month after you bought your ticket.
Recommended Angkor Wat Pass
3-Day
We felt that this was the perfect amount of time to explore all the Angkor Wat temples. We definitely didn't get to see them all, but honestly, by the middle of the 3rd day of visiting temples we were about templed out.
If you're a real temple fanatic and want to visit every single Angkor Wat temple, then you'll definitely need the 7-Day pass.
How To Get To The Angkor Wat Ticket Office
The Angkor Wat Ticket Office is called Angkor Enterprise. As of January 2018, Angkor Enterprise has moved locations from the checkpoint in front of Angkor Wat to downtown Siem Reap.
The current address is: Angkor Enterprise, Street 60, Siem Reap, Cambodia.
The office is located next to Angkor Panorama Museum and across the street from the Asia Traditional Museum.
You do NOT need your passport to buy tickets to Angkor Wat. Simply walk up to the window and tell them what kind of pass you want. They will then take your photo and issue your ticket.
Angkor Enterprise Hours Of Operation
5:00 am – 5:30 pm
Dress Code
You must cover your shoulders and knees at all times when inside of any of the temples at Angkor Archaeological Park.
Guards are stationed at the entrance to each temple and will not permit you to enter unless you're wearing appropriate clothing.
You also need to make sure that your shoulders and knees are covered when buying your ticket at Angkor Enterprise otherwise they won't sell you a ticket.
The current dress code at Angkor Wat is still relatively new. The dress code became much stricter after multiple incidents of nude photography took place at some of the temples in 2015. Apparently topless and butt photography were very in that year.
In reality, most of the guards are not that strict about tourists' clothing choices, and they definitely seemed more concerned about people covering their shoulders than their knees. Justin wore a pair of convertible hiking pants that, when unzipped, come just to the top of his knee and he was allowed into all of the temples even though his knees were showing.
It's really hot in Cambodia, and the guards definitely recognize that most tourists aren't used to the tropical heat. As long as you dress relatively conservatively when entering the temples you shouldn't have any issues.
Remember, Angkor Archaeological Complex is home to the largest religious monument in the world. It only makes sense that our wardrobe should reflect that.
The worst that's going to happen is the guards will ask you to cover up. They're really nice about how they enforce the dress code. If we all respect the rules hopefully it will stay that way!
Also, you only need to cover your shoulders and knees inside of the temples. When you're walking, riding, or just hanging out inside of the park but outside of the temples you can wear whatever you want.
Opening Hours
7:30 am – 5:30 pm
All temples with the exception of Angkor Wat, Sras Srang, Pre Rup, and Phnom Bakheng are open from 7:30 am – 5:30 pm. The above-mentioned temples are either open early for sunrise or late for sunset.
Angkor Wat: 5:00 am – 5:30 pm
Sras Srang: 5:00 am – 5:30 pm
Pre Rup: 5:00 am – 7:00 pm
Phnom Bakheng: 5:00 am – 7:00 pm
Pro Tip: You can enter the Angkor World Heritage Site for FREE every day after 5:30 pm. You don't even have to have a ticket.
That means you can go into the park for sunset without a ticket as many times as you want. The downside is only 2 of the temples will still be open, but you can still see the rest of the temples from the outside.
Angkor Wat Tour Routes
There are 2 roads that run throughout Angkor Archaeological Park that form two different cycling routes.
The routes are often referred to as the small and large circuits, as both the roads run in a circle, one larger than the other. The small circuit is a 17 km loop while the large circuit is a 26 km loop.
Main Small Circuit Temples
Angkor Wat, Angkor Thom, Ta Keo, Ta Prohm, Banteay Kdei, Prasat Kravan
Main Large Circuit Temples
Angkor Wat, Angkor Thom, Preah Khan, Neak Poan, Ta Som, East Mebon, Pre Rup
How To Navigate The Small and Large Circuits
All the tour guides and tuk-tuk drivers will drive in a clockwise direction around the circuits. This means that virtually everyone in the park ends up arriving at the same temple at the same time.
If you want a better experience that's less jam-packed with tourists, don't follow these set routes! You can ride them backwards, you can break them up, do whatever you want, but honestly, there are just too many crowds to follow the "recommended" route.
Our "Off The Beaten Path" Route
Day 1: Baksei Cham Krong & Angkor Thom
Right before you enter Angkor Thom you'll arrive at the pyramid-shaped temple of Baksei Cham Krong. It's the only pyramid shaped temple in the entire complex, and also one of the few that's devoid of tourists so be sure to stop and marvel at the ability to have an entire temple to yourself.
After you ride through the picturesque face topped entrance and cross the moat, you will enter Angkor Thom. Angkor Thom is a huge walled area that encompasses dozens of temples. Because of this, we managed to spend an entire day just exploring the temples of Angkor Thom, and we didn't even see them all!
Inside of Angkor Thom you'll find Bayon (the temple with the faces), Preah Pitu, North and South Kleang, Terrace of the Elephants, Terrace of the Leper King, Phimeanakas, Baphuon, Preah Palilay, and Tep Pranam.
Must See Temples in Angkor Thom
Bayon, Phimeanakas, Baphuon
Day 2: Angkor Wat + Large Circuit
We hit up Angkor Wat first thing after the sunrise crew had faded out at 8:30 am. Angkor Wat is open for sunrise from 5:00 – 7:00 am. My research said that "post sunrise" was the best time to see Angkor Wat if you're looking to avoid the crowds, which we were.
Honestly, we probably should have gotten there at 7:30 or 8:00 am, but I'm not sure if even that would've made much difference. Angkor Wat was packed with tourists already at 8:30 in the morning. With 5 million tourists visiting Angkor Wat every year, I don't think there is such a thing as "avoiding the crowds" anymore. Just expect it to be crowded at all times.
Pro Tip: If you are looking to avoid the crowds at Angkor Wat do NOT go to Angkor Wat Temple for sunrise.
We've heard from many people that all it is is a battle for the perfect reflection photograph in front of the pond. If you're seeking a peaceful sunrise experience to start your morning, this is not it.
Honestly, Angkor Wat was, without a doubt, our least favorite temple in the whole park. It's ridiculously crowded and there's really not much too look at inside. There is one wall of impressive carvings and that's it. The rest is really quite plain. It's also so big that it's hard to really see it from the inside.
I would recommend spending most of your time walking around the outside of the temple, with just a quick walk-through around the inside. You'll avoid the major crowds and get to see the temple a lot better and really appreciate its scale.
After pushing our way through the crowds at Angkor Wat we gladly left, got back on the bike, and rode through Angkor Thom to Preah Khan, stopping at the small Kraol Romeas and Prasat Sngout along the way. Considering my lack of photos of the two small temples I would say they're probably not worth stopping at.
After exploring Preah Khan, which, by the way has a super cool giant tree growing out of the back of it, we rode on to Neak Poan and Kraol Ko.
Kraol Ko is super tiny without much to see, but Neak Poan is built on the water in the middle of a wetland marsh. You have to walk on a boardwalk through the marsh to get to the temple, which is built in the middle of a pool.
After Neak Poan we rode around the corner to Ta Som. Ta Som's coolest feature was definitely the ridiculously tall tree that has completely enveloped the back exit. If you can't tell we like the temples that have been taken over a bit by the jungle.
Our last temple of the day was East Mebon. This guy's different from a lot of the other temples in that it's made out of brick instead of stone. East Mebon just didn't seem as impressive to us as the others. There are hardly any carvings or sculptures so it's basically just a bunch of brick towers.
Must See Temples On The Large Circuit
Preah Khan, Neak Poan, Ta Som
Day 3: Banteay Srei, Pre Rup, Small Circuit
We got a super early start on the bike this morning and rode 35 km from Siem Reap to Banteay Srei Temple. Even though Banteay Srei is technically not a part of Angkor Archaeological Park, it's still included in the Angkor Wat Pass so you don't have to pay an entrance fee as long as you bring your Angkor Wat ticket.
They will punch your ticket though, so visiting Banteay Srei does use up one of the days on your Angkor Wat Pass. It's not a big deal as long as you combine your visit to Banteay Srei with other Angkor Temples.
We were debating whether or not the 35 km ride to Banteay Srei would be worth it considering its small size (it's only 500 square meters large with very short towers) and the fact that it's kind of a haul to get to there by bike, but, having done it, we have absolutely no regrets! It is oh so worth it!
Banteay Srei ended up being one of our favorite temples in all of Angkor Wat. Banteay Srei is worth the trip. Just make sure you get there early. We got there at 8:00 am and by the time we left at 9:30 it was packed with tour buses.
The road back into Siem Reap from Banteay Srei enters Angkor Archaeological Park right next to East Mebon Temple, which we had visited on Day 2 of our pass, so we turned left back onto the large circuit and headed to Pre Rup.
Pre Rup was super interesting because not only is it one of the bigger and taller temples, but it's also made out of a mix of both brick and stone with these cool lion statues around the top level.
Pre Rup marked the completion of the large circuit so we continued straight after the Sras Srang Lake and met up with the small circuit at Banteay Kdei.
Banteay Kdei was another cool temple set back in the woods that reminded us of Preah Khan except without the tree growing out of it.
After Banteay Kdei we rode on to our final temple, and one of the most famous of all the temples, Ta Prohm. Ta Prohm and Bayon make up what is known colloquially as the Tomb Raider Temples.
While Bayon was simply the inspiration for the face that gets pulled down by workers in the movie to reveal the entrance to the tomb, Ta Prohm is the actual temple where they filmed Angelina Jolie following that little Cambodian girl and finding the special flower that, when picked, drops the character Lara Croft into the tomb below.
Because Tomb Raider was filmed on location at Ta Prohm, the temple is insanely popular with tourists. Its also got a giant tree growing out of the front of it, which is, ya know, pretty cool. The fact that you have to stand in line to take a picture in front of said tree, though, is not.
After Ta Prohm, you will ride past one more temple on the small circuit called Ta Keo. We stopped to look at it from the outside but decided it wasn't worth a stop in as it was another brick built temple that didn't look very appealing to us.
That's the thing after 3 full days of touring temples. They all start to run together and what was once a novelty on day one becomes "just another temple" by the end of day 3.
Must See Angkor Wat Temples
Bayon
Located at the center of Angkor Thom, Bayon was the last state temple built at Angkor Wat and the only temple in the complex dedicated solely to Buddha. Bayon's most striking feature is its 216 stone faces. The faces are carved in identical serene, almost smiling expressions giving the temple an atmosphere of contentment and happiness.
Bayon is famous not just for its stone faces, but also for its appearance in the movie Tomb Raider. Bayon was the inspiration for the temple that was raided in the movie.
Banteay Srei
One of the most unique Angkor Wat temples, Banteay Srei, otherwise known as the Pink Temple or the Tiny Temple, was built in the 10th in dedication to the Hindu God Shiva.
Its nicknames refer to its unusual color and size. Banteay Srei is made out of red sandstone, giving it a pink color. The sandstone makeup lends itself particularly well to carving, which, at Banteay Srei is elaborate and done with painstaking detail. Almost every inch of the temple is immaculately carved.
The buildings of Banteay Srei are miniature in size compared to the other Angkor Wat temples, giving it its tiny temple nickname. It is unclear as to why the style of Banteay Srei is so strikingly different from the rest of Angkor Wat. But it's this mystery that allows it to stand out from the crowd.
Another major difference between Banteay Srei and the rest of the Angkor Wat temples is that tourists are not permitted inside the buildings. We can only walk inside the wall of the temple, but the interior is roped off.
Roping the interior off from tourists is probably one of the reasons that Banteay Srei is so incredibly well preserved. We actually didn't miss climbing around inside the temple as we were having to much fun actually being able to take photos that captured the beauty of the temple without a million tourists in them.
Preah Khan
Preah Khan was built in the 12th century as a Buddhist temple. The temple is flat with seemingly endless doorways leading further and further into its depths.
Preah Khan has been left largely unrestored. Because of this, over the years it has become slowly intertwined with the surrounding jungle. The back wall of the temple even has a large tree growing out of it.
The endless hallways, rooms, and doorways of Preah Khan make this temple super fun to explore. You really do feel like you're discovering a lost temple when walking around this place.
Ta Som
Another 12th-century temple, Ta Som was built by King Jayavarman VII in dedication to his father. While smaller than Preah Khan it is similarly overtaken by jungle. The coolest feature is definitely the back exit that has been completely enveloped by a Banyon tree.
Pre Rup
Pre Rup is a tall temple with many different layers that was built in dedication to the Hindu God Shiva. As its name means "turn the body" it is believed to have been the place where funerals were conducted at Angkor Wat.
Because of its height, Pre Rup has some of the best views in all of Angkor Wat, especially at sunset when the sun sets directly in between two of the towers.
Ta Prohm
Built in the late 12th and early 13th century, Ta Prohm functioned as a Buddhist monastery and university. Ta Prohm is the most engulfed of all the Angkor Wat temples by jungle and has been left, up until now, completely untouched.
They were actively working on restoring the temple when we visited, with dozens of workers painstakingly restoring the original carvings on the interior of the temple.
Ta Prohm is another one of the most touristed temples at Angkor Wat, thanks again to the movie Tomb Raider. No visual liberties were taken when portraying this temple in the movie and tourists flock to the tree growing out the top of the temple to take a photo and "stand where Angelina Jolie stood".
Because of the temple's popularity wooden platforms, fences, and ropes have been put up to protect the temple from the influx of tourists. Surprisingly, this really didn't detract from our experience. The fact that there were workers there restoring the temple as we walked around made it really feel like we're on the set of Tomb Raider.
We really loved seeing the temples that were overtaken by jungle so despite its popularity Ta Prohm actually lived up to all the hype.
Best Sunset Spots at Angkor Wat
Phnom Bakheng
Pre Rup
Sras Srang
Angkor Thom Moat
Phimeanakas
Angkor Wat Moat
Photo Credit: Trip Advisor
West Mebon
Food/Drink
There are tons of food and drink stalls set up around the major temples, especially Angkor Wat and Angkor Thom selling beverages, fruit, noodles, and sometimes barbecue. At highly inflated prices of course. A bottle of water that costs $1 in town cost us $6 in front of Angkor Wat.
If you want, you can leave the park and head back into town for lunch as well, which would also be a good break from the midday heat.
Your Angkor Wat Pass is checked by date so you can come and go however many times you want from the park within any given day. It won't cost you extra days to leave the park and re-enter.
What To Bring
Water
You definitely want to enter the park with as many water bottles as you can carry. Not only because they're expensive to buy in the park, but also because it's just so dang hot. You will sweat like a pig touring Angkor Wat, especially when riding a bike between temples, so make sure you've always got water to drink throughout the day.
Snacks
In addition to the food in the park being expensive, it's also pretty slim pickings when it comes to getting an actual meal. Noodle stands are few and far between and the only other option is some barbecue pork and fish that you can get served with rice in Angkor Thom.
It's best to just bring snacks to tide you over until you make it back to town.
Appropriate Temple Clothes
If you come wearing this for the day, like say pants and a t-shirt then you don't have to worry about bringing extra clothes. When I went to Angkor Wat though I was wearing a long flowy dress that was cool and comfortable, but exposed my shoulders, so I made sure to bring a light blouse to put on over top to cover my shoulders when walking inside of the temples.
If you want to wear shorts, you can, just bring a sarong or long skirt to throw on over top of your shorts before you walk into a temple. The "Cambodia Skirts" they sell at the Old Market is great for this.
Comfortable Footwear
When you visit the Angkor Wat temples you'll be walking a lot, and a lot of that walking will be over uneven stone. Make sure you bring comfortable sneakers or sandals that will both protect your feet from the uneven ground and not give you blisters while doing so.
Sunscreen
I never went anywhere in Cambodia without sunscreen. The sun is so intense here that anyone with pale skin will get burnt in no time.
Angkor Wat Travel Tips
1. Your Angkor Wat Ticket is valid from the date you purchase it unless you buy your ticket after 5:00 pm, in which case it is valid starting the next day.
2. You can visit Angkor Archaeological Park any day of the week after 5:30 pm for free, no ticket required.
3. Avoid (some of) the crowds at Angkor Wat by visiting towards the end of the day. Most people visit Angkor Wat first thing in the morning as it is the first temple you come to when you enter the park.
4. Don't visit the temples in order. Avoid following the same clockwise circuit that everyone else does and you'll sneak past the major crowds.
5. Visit the park for sunset on days when you haven't already spent all day there. You'll get extra time in the park without having to use up a day on your pass.
6. Keep your shoulders and knees covered when entering any of the temples.
7. Make sure to keep your Angkor Wat pass with you at all times in the park as the guards will need to check it before you enter each individual temple.
8. If you plan on seeing sunrise or sunset from Phnom Bakheng plan to get there earlier than you need to be to catch the sun. They only let a certain amount of people into the temple at a time, although you can still see the sunset from outside of the temple as well.
9. Bring plenty of water and snacks with you into the park. Food and drinks inside of Angkor are incredibly expensive.
10. There a number of temples outside the main complex that also take your Angkor ticket. If you want to visit these temples, they will also punch your pass for the day, so manage your pass days wisely.
WANT TO TRAVEL CHEAPER & EASIER?
Subscribe to follow our blog and be the first to read our new posts!
Success! Happy dance optional :) P.S. check your inbox for goodies!
Like this post? Share the love and pin it on Pinterest!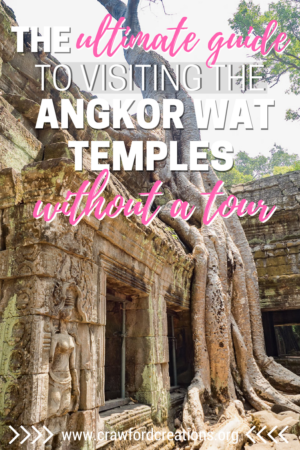 *** This post may contain affiliate links. By purchasing a product or service through these links you are helping to support this blog at no extra cost to you! We only recommend products we personally use and love! ***