https://crawfordcreations.org/young-hairy-gay-men/
10 Best Socially Distanced Vacation Ideas for Adventure Travelers
***This post may contain affiliate links.***
I think we can all agree 2020 has been a trip, and not the fun kind. But that doesn't mean you can't get out and have some good old fashioned socially distanced fun. The key: limit your exposure to crowds and be self sufficient.
If you're searching for vacation ideas that follow social distancing guidelines and keep you and your family safe in these challenging times, we're here to help. Let's get reading and planning your very own pandemic proof vacation.
10 Best Socially Distanced Vacation Ideas for 2020
1. Backcountry Camping & Hiking
One of the most rustic options on this list, planning a short hiking and camping trip is the perfect way to commune with nature while avoiding the crowds. While many of the big campgrounds remain closed, there are plenty of primitive/backcountry campsites to take advantage of.
What is Backcountry Camping?
These are campsites that have nothing but a place to put your tent, sometimes a privy, and a water source (like a stream or lake) nearby. They are completely free and many times can only be reached on foot.
The most important part of backcountry camping? Leave no trace. You will have to pack in all of your food and pack out all of your trash.
Where to go Backcountry Camping?
Backcountry camping is available in all National and State Parks as well as any National Forest in the USA. You can camp at any backcountry campsite in a National Forest for up to 14 days at a time. For National and State Parks the rules differ by park, so be sure to look up the rules before you go.
2. RV Road Trip
RV sales have gone through the roof in 2020, and for good reason. By traveling in a RV you can avoid hotels and restaurants, and, provided your RV has it's own bathroom, could even stay on virtually any public land with a parking spot. You can also stay at campgrounds where the public restrooms are currently closed due to COVID-19.
And if you can't find a pretty spot in the country to call home for the night, there's always a Walmart parking lot waiting for you in the next town.
Don't own an RV? Rent one!
RVs are homes on wheels, and they give you an incredible amount of flexibility when traveling, espcially during a pandemic. Pick out your sightseeing locations, put em on a map and get behind the wheel. When it's time to stop for the night, simply pull into a campground, Walmart parking lot, or one of the many free parking spots in parks or even just off the side of a country road.
How to Find RV Campsites
To find free RV campsites all around the US, check out freecampsites.net. For both free and paid campsite options, download the RV Parky or FreeRoam apps.
3. Car Camping Road Trip
Don't want the expense of renting an RV? Take your car, grab a tent and some camping gear and hit the road! Justin and I did this a few weeks ago and it was a great way to explore a new area while keeping our social distance and getting out in nature.
How to Go On a Car Camping Road Trip
Simply plot your destinations on a map, search on Google Maps or freecampsites.net for the closest open campground or backcountry/primitive campsite accessible by car and then hit the road. Spend your days exploring new and interesting places and your night camping under the stars.
4. Rent a Mountain House
Not down with the whole camping thing? Not to worry, renting a vacation house is a great way to vacation safely during the pandemic. Rent a log cabin and enjoy the mountains for a much needed summer getaway.
Rentals enable you to have your own safe space for you and your family to enjoy without worrying about increasing your exposure to the virus. Renting a house in the mountains will enable you to keep your sense of normalcy while still experiencing the beautiful mountain scenery.
No need to wear a mask, or be constantly disinfecting since you're not using a shared space. Of course, be sure to clarify with the rental manager/owner about their disinfection process between guests to make sure they are cleaning and disinfecting the house properly prior to your arrival.
How to Rent a Mountain House
AirBnb is a great place to start looking for short term vacation rentals. Their website is easy to use and has a super wide variety of choices to fit any budget or need from tiny studio aparts to massive 4 bedroom houses. Plus you can rent for any time frame you want, from as little as 1 night to as long as a month or more.
Click here to search for a mountain house to rent on AirBnb.
5. Rent a Beach House
Renting a beach house is a great way to enjoy the beach without the crowds. Many beach rentals gain you access to more private areas of the beach so you can get some much needed beach time in without increasing your exposure.
Plus, you get the advantage of having your very own space to relax and enjoy the sights and sounds of the ocean.
Click here to search for a beach house to rent on AirBnb.
6. Rent a Lake House
Don't feel like driving all the way to the coast? Or maybe you simply live to far away to make a beach vacation feasible without flying. Renting a lake house is a great alternative to spend some time on the water.
If you're into fishing, you might even prefer this option to the beach. Break out your fishing poles, put your swimsuits on, and head down to the dock for a relaxing week on the water.
Click here to search for a lake house to rent on AirBnb.
7. Bike Touring/Bikepacking
After cycling from Thailand to Italy last year on our tandem bicycle I'd be lying if I said Justin and I aren't partial to this method of travel. An added bonus in these times is that, provided you don't cross international borders, it also happens to be an extremely pandemic friendly form of travel.
What is Bike Touring and Bikepacking?
Bike touring is simply traveling via bicycle. Grab a bike, put a rack and some paniers on it, pack a tent, camping gear, clothes, food, and whatever other essentials you need in your panniers, and start pedaling!
Bikepacking is essentially the same thing as bike touring except with much smaller packs. Instead of paniers, to go bikepacking you use small bags that attach directly to your bike frame without a rack.
Bike touring is a great way to get your exercise and travel done in one fell swoop. It's an incredibly freeing way to travel as you can stop wherever and whenever you want, no parking space needed, and it enables you to get a much better feel for the landscape, terrain, and local culture of the area than if you were traveling by car or van.
How to Go Bike Touring
Simply pick an area you'd like to explore by bicycle (generally one that has a lot of natural beauty), plan your route (we use a website called Ride With GPS to do this), and go. You can wild camp along the way or stay at campgrounds that allow tent camping.
Unless you have someone willing to drop you off and pick you up at the start and end of your trip it's best to plan a loop so you can start and finish at the same location. This way you can drive to the start point, leave your car in a parking lot, and return to it once you're done.
8. Motorcycle Road Trip
Like the idea of a bike tour but don't want to have to (or don't think you could) exercise that much every day? Or maybe you like the idea of a road trip but don't want to be stuck in a car for so long every day? You can do the same exact trip on a motorcycle instead!
Motorcycles are the perfect midpoint between a car and a bike. You get the speed and ease of a car and the freedom of a bike all in one. Another major benefit of riding a motorcycle instead of a bicycle is that you can cover a lot more distance in a day, which means you can explore more sights in less time, a major selling point for those with limited vacation time.
Never ridden a motorcycle before?
You'll need to get a motorcycle endorsement to rent or own a motorcycle in the US.
9. Canoe/Kayak Trip
Is there anything more serene than paddling down a river? Renting a canoe or kayak and planing your own self supported paddle down the river or around a lake makes for a perfect socially distanced vacation.
Camp on the river bank, cook on your camping stove, and maybe even enjoy a bon fire in the evening. River life is the best life!
How to Plan a Canoe/Kayak Trip
Decide which body of water you want to go out on and contact the local outfitter to rent a canoe or kayak. Pack your camping gear, dry bags, and all your other travel essentials, drive to the outfitter, pick up your boat, put it in the water, and simply follow the river or lake shore. No route planning necessary.
Pull your boat up onto shore or tie it to a tree for the night and set up camp on the river bank or lake shore. Repeat for as many days of paddling, camping, and fishing as you'd like.
The Most Epic Canoe/Kayak Trip in the US
If you're looking for the ultimate canoe or kayak trip that offers seclusion, gorgeous views, spectacular fishing, and an endless expanse of lakes and rivers to paddle through, we would highly recommend a trip to the Boundary Waters in northern Minnesota. Justin and his Dad have been there multiple times and can not stop raving about it no matter how many times they've been there.
10. Motor/Sail Boat Trip
Prefer the ocean to the river? Rent a motor boat or sail boat to live on while you cruise the high seas! Depending on your location you could spend your time fishing, whale watching, dolphin watching, snorkeling, scuba diving, island hopping, and so much more.
WANT TO TRAVEL CHEAPER & EASIER?
Subscribe to follow our blog and be the first to read our new posts!
Success! Happy dance optional :) P.S. check your inbox for goodies!
Like this post? Share the love and pin it on Pinterest!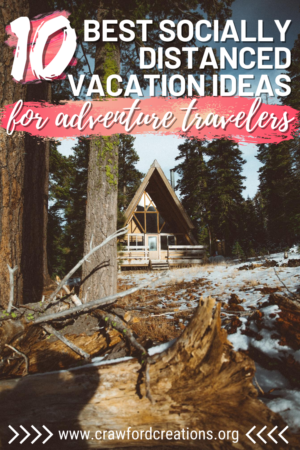 *** This post may contain affiliate links. By purchasing a product or service through these links you are helping to support this blog at no extra cost to you! We only recommend products we personally use and love! ***